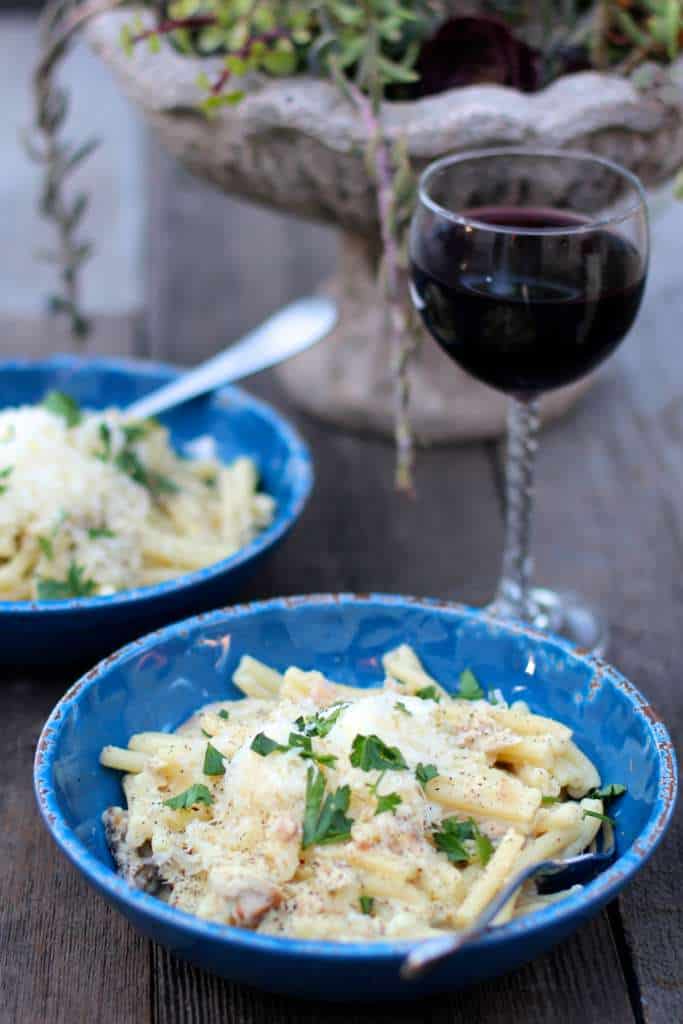 Being a food blogger means that I have to spend hours in the kitchen almost every day developing and testing recipes. When it comes to dinner on most nights, I am worn out. Generally my brain is depleted of any creativity and I resort to the classic easy dishes. Sometimes, however, I will get a spark, craving, or burst of energy and decide to make something more elaborate. Or, sometimes I just get lucky and make a dinner so delicious that we have to stop eating and quickly take a picture.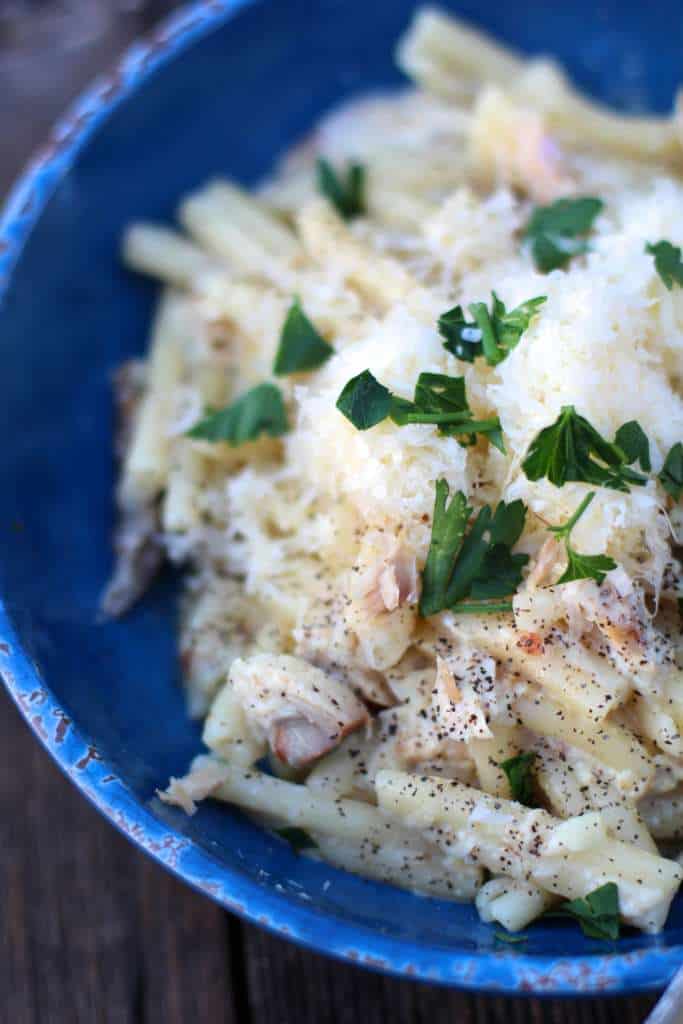 The latter happened last night. I had actually been cooking all day, not for the blog, but for home. I am trying to make and preserve all of the left of fruits and veggies that are growing in our yard or that we have picked at numerous upticks on our recent travels. After an exhausting day of canning and pickling, I resorted to our family favorite meal of Pasta Carbonara. Except, of course, we had no bacon (clearly the universe was trying to send me to the store again)!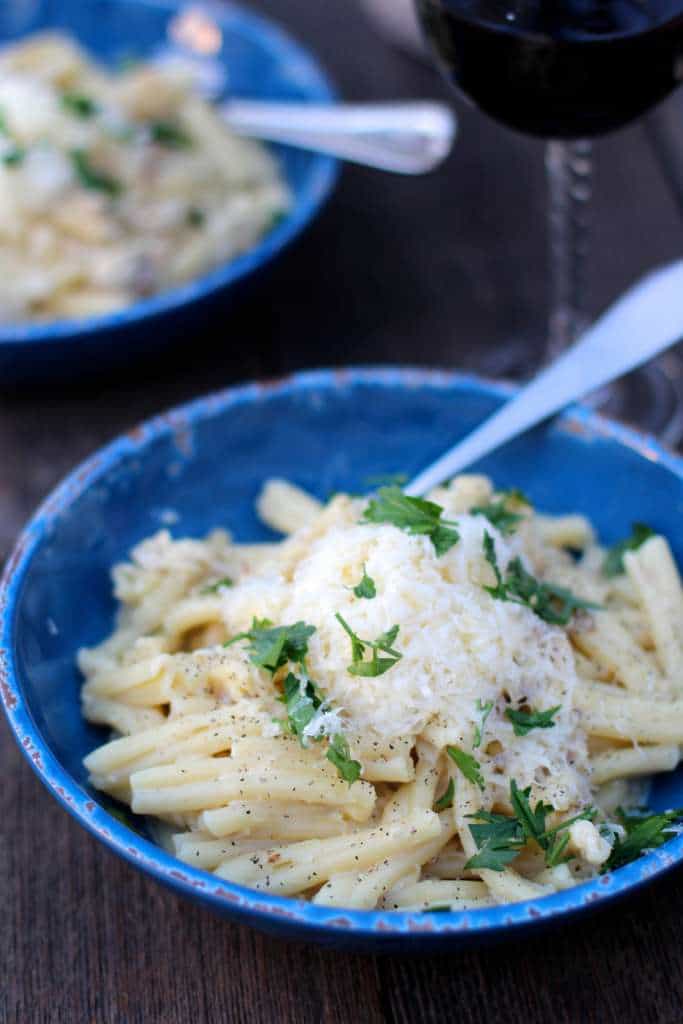 Last weekend we played hooky for a couple of days and went deep-sea fishing. It was the first time for my husband and older son, but they did not disappoint! They reeled those feisty Tuna and Yellow Tail fish in like a champ. I even caught a 30 pound yellow tail! We froze most of the fish, but I also smoked a few fillets.
When I realized I was out of bacon and about to head to the store, my husband suggested I use the smoked fish. I swear this man is so smart. The result was a creamy and smoky pasta dish that was just perfect. Everyone licked their plates. I think that just about any smoked fish would work in this pasta dish and I am eager to try it out with some smoked salmon!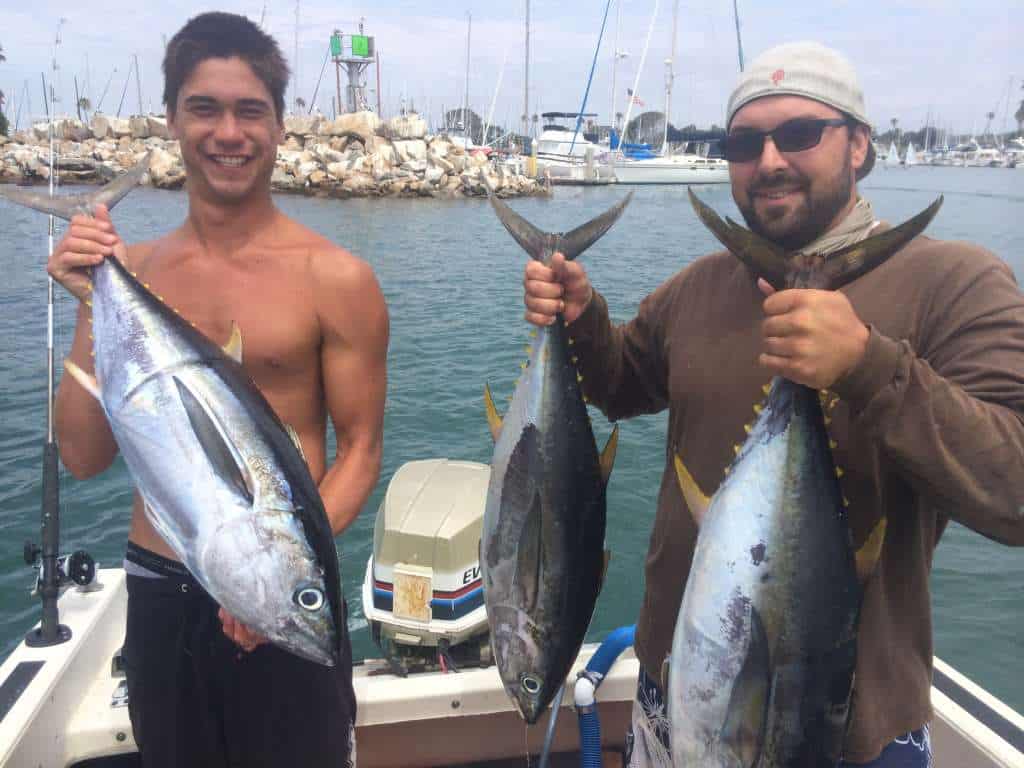 If you are not a fan of smoked fish, simply sub it out for the traditional bacon or pancetta.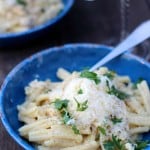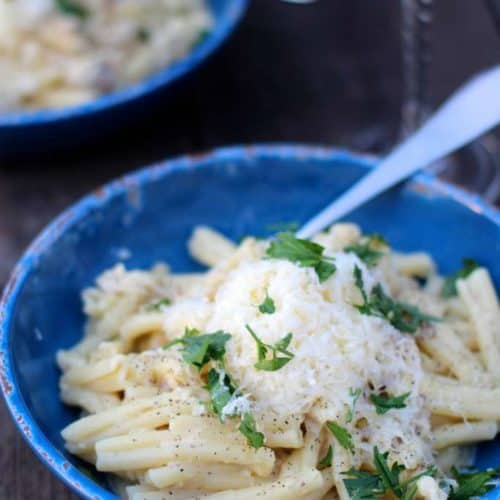 Smoked Fish Carbonara
Ingredients
1

pound

dry spaghetti

2

tablespoons

extra-virgin olive oil

½

cup

flaked smoked fish

4

garlic cloves

, finely chopped

2

large eggs

1

cup

half and half

1

cup

freshly grated Parmesan cheese

Freshly ground black pepper

1

handful fresh flat-leaf parsley

, chopped
Instructions
Make the pasta according to the directions on the package.

While pasta is cooking, make the liquid.

In a bowl, combine eggs, half and half, and Parmesan cheese and whisk to combine.

When pasta is ready to be drained, reserve ½ cup of starchy liquid before draining.

Pour pasta into colander, and place pan on medium high heat with olive oil.

Quickly sauté garlic for about 2 minutes, then add smoked fish and cook for another minute.

Reduce heat to low and add pasta and egg mixture.

Cook while stirring for 2 minutes.

If sauce begins to thicken, add a tablespoon at a time of the reserved pasta liquid.

Serve immediately with freshly grated pepper, chopped parsley, and more shredded parmesan.