These patriotic Red White and Blue Cake Pops are sure to be a hit at your 4th of July celebration! Kids and adults alike will love how snackable and portable these sweet treats are. Just the thing for serving up at all your summer parties and backyard barbecues.
What Are Cake Pops?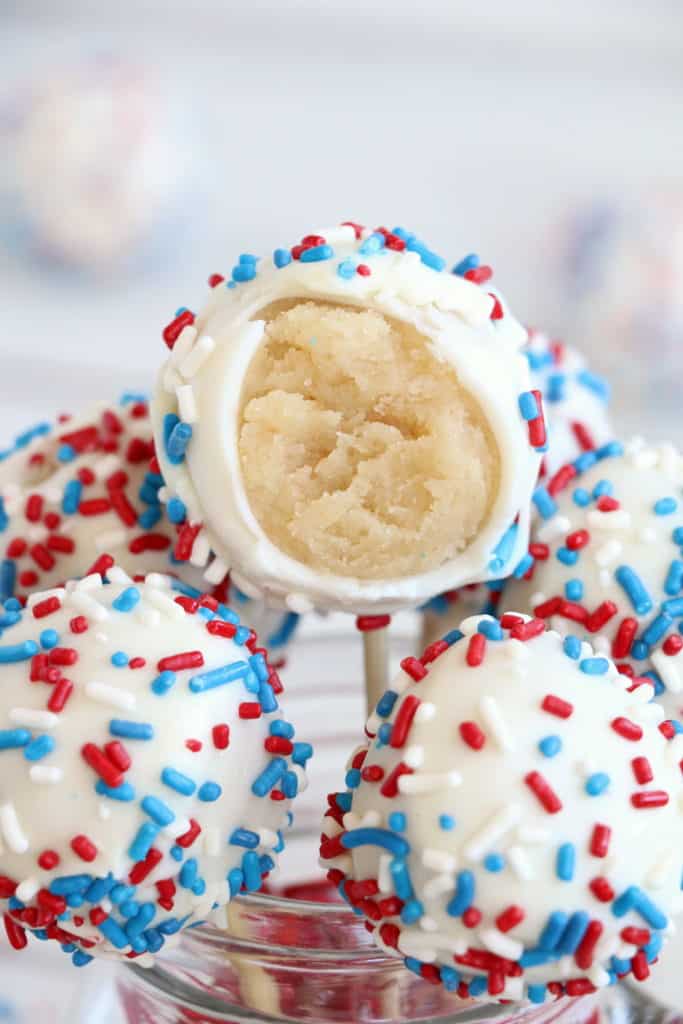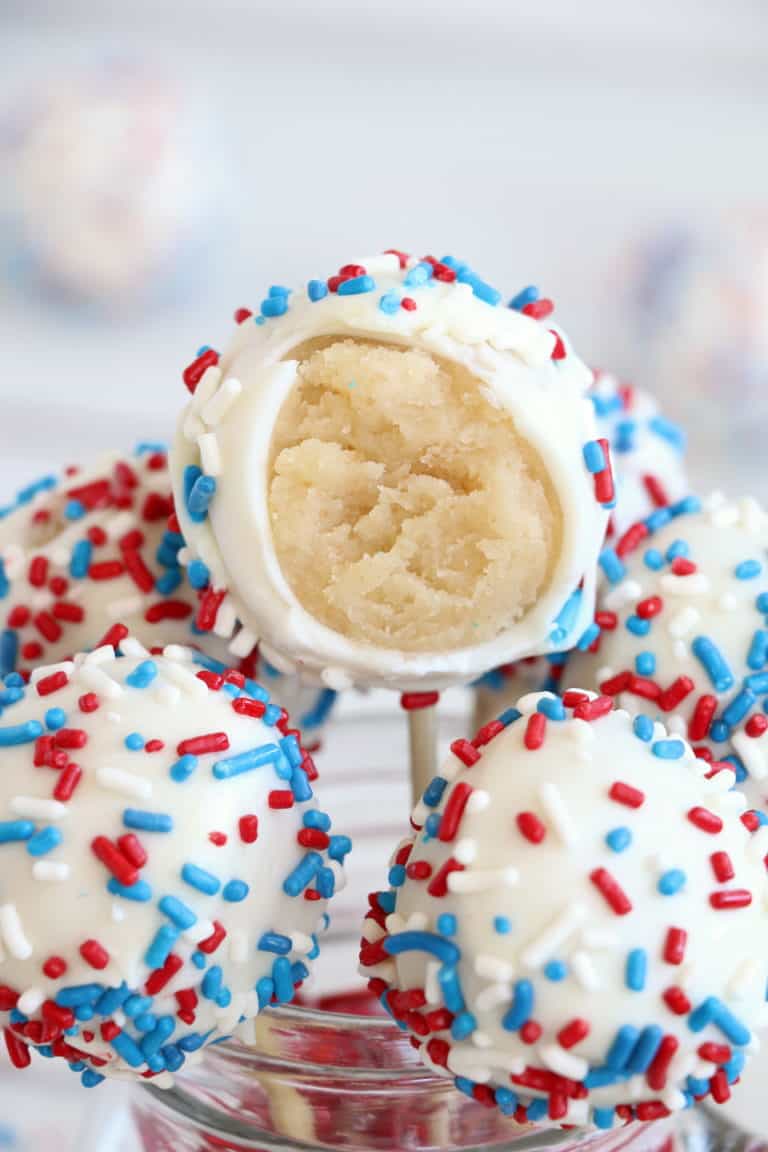 Cake pops are round pieces of cake covered in icing and served on a stick, lollipop style. A popular item sold at bakeries and coffee shops, they are quite easy and fun to make at home.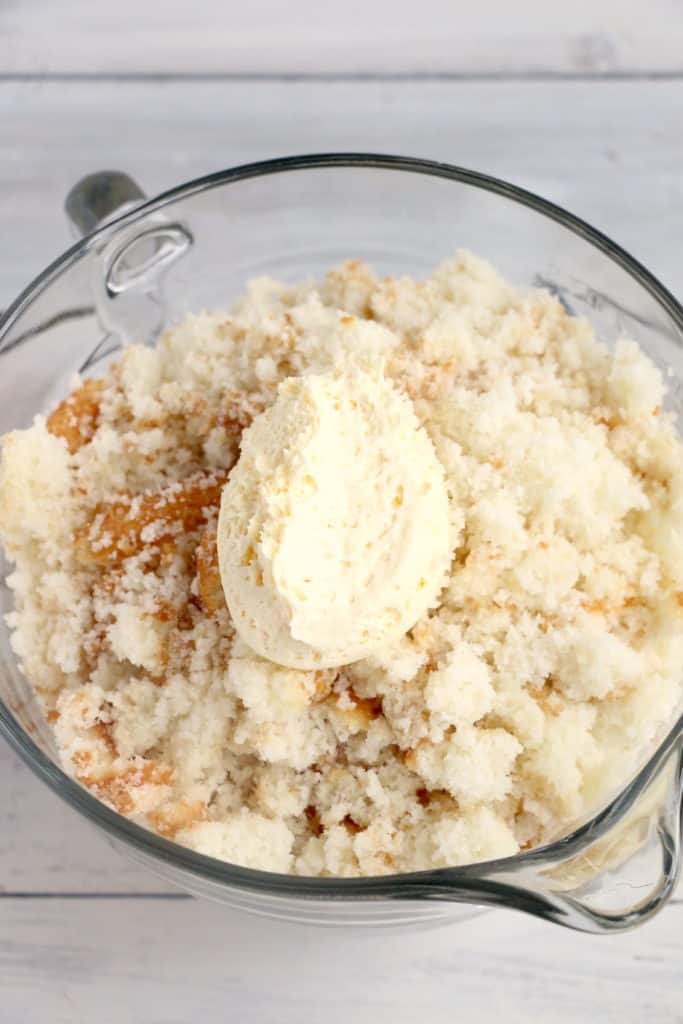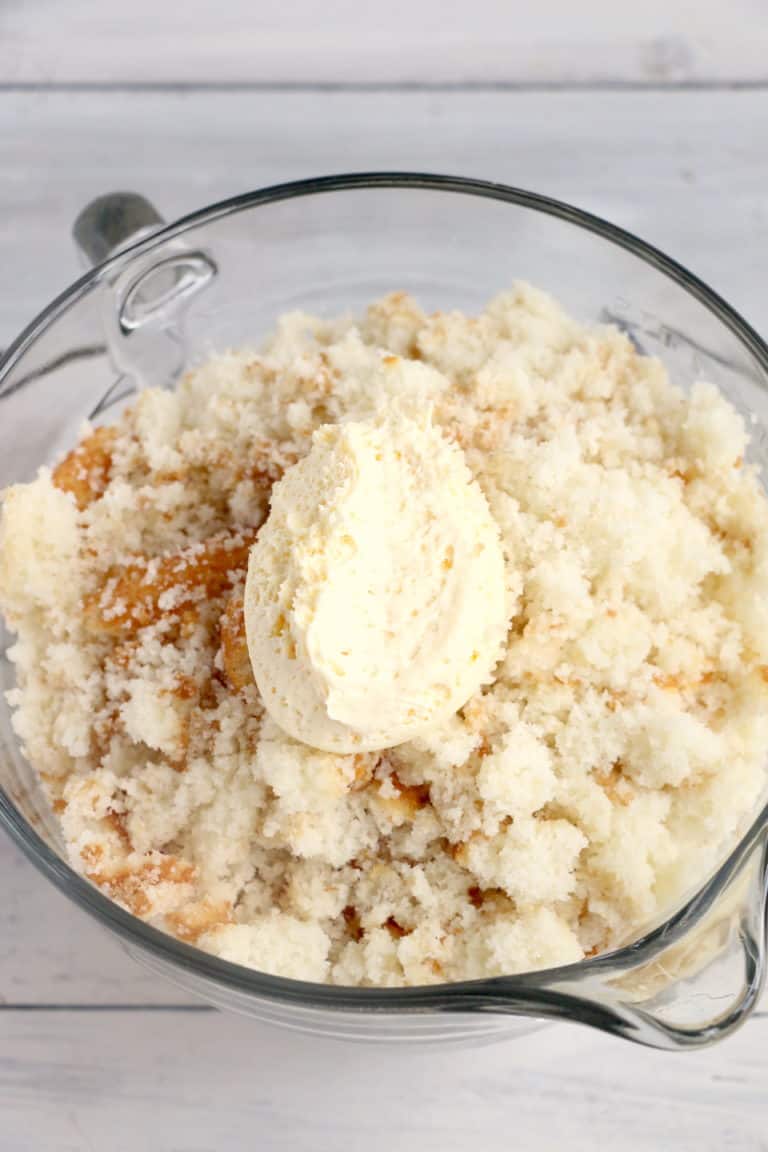 You can purchase special cake pop molds to bake individual cake balls, or you can form your own cake pop spheres using crumbled up cake, like I do in this recipe. My kids really enjoy helping to crumble up the cake (it's not often that I actually ask them to destroy my baked goods!) and then making the cake pop balls.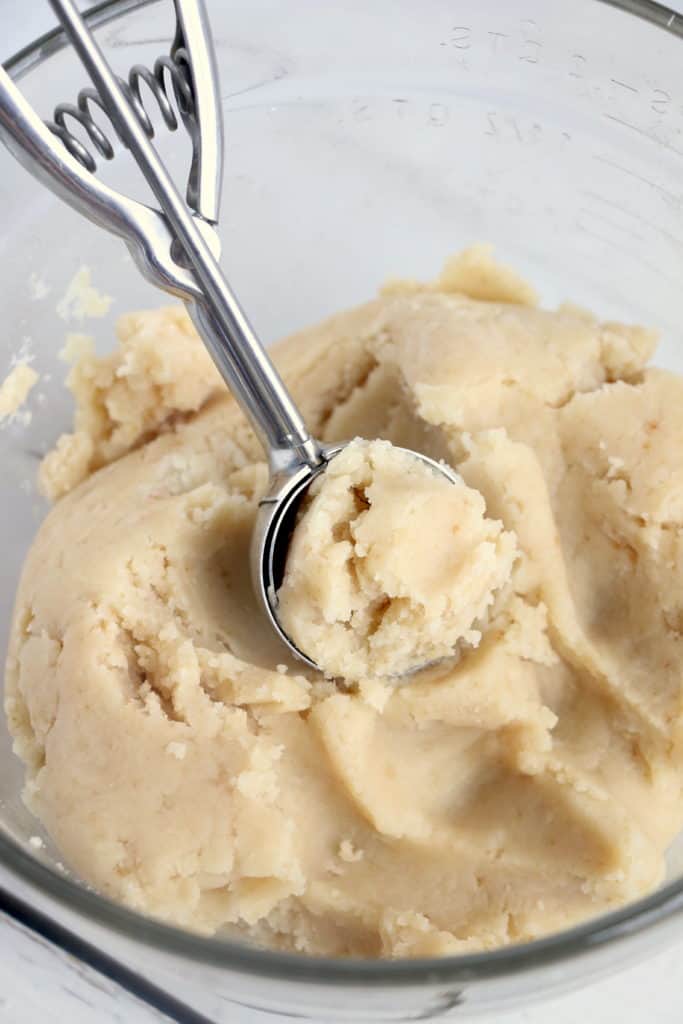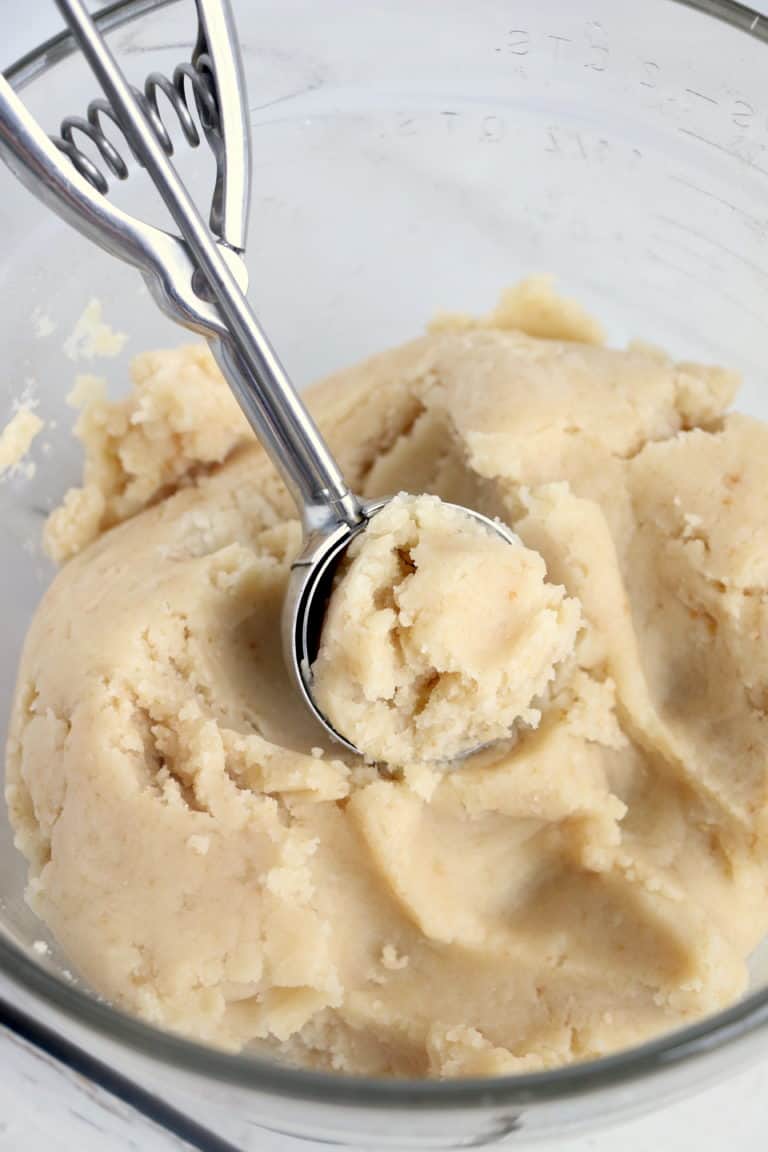 Tips for Making Red White and Blue Cake Pops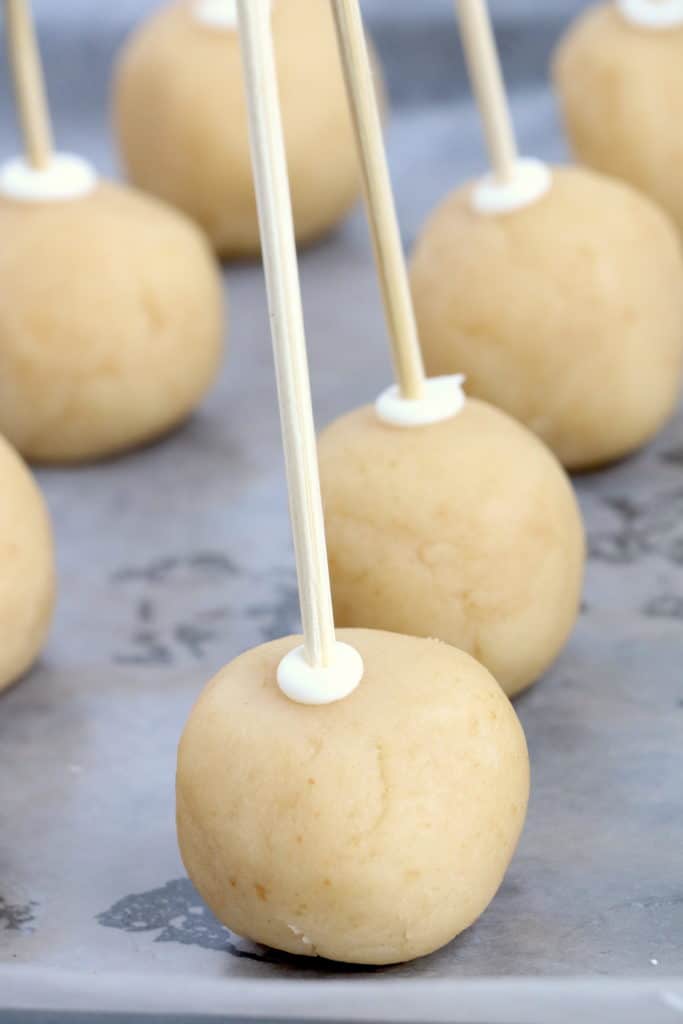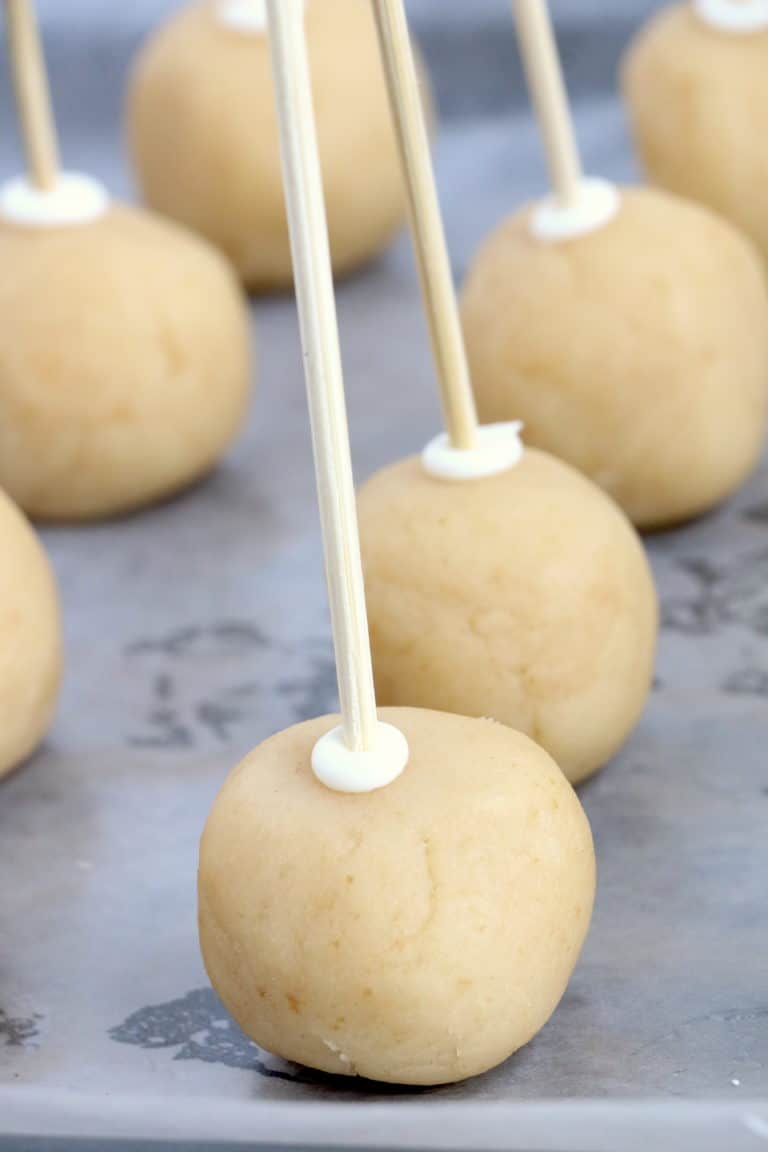 Use a spoon or a small ice cream scoop to shape the cake crumbles into a smooth and uniform ball shape.
Dip the cake pops when the cake balls and melted chocolate are about the same temperature. If the chocolate is too hot, the cake pops may end up with cracks in the coating.
To avoid having your sticks slide out of the cake pops, dip the ends of the sticks in the melted chocolate just before inserting into the cake. The melted chocolate will act as a glue and help to anchor the sticks inside the cake balls.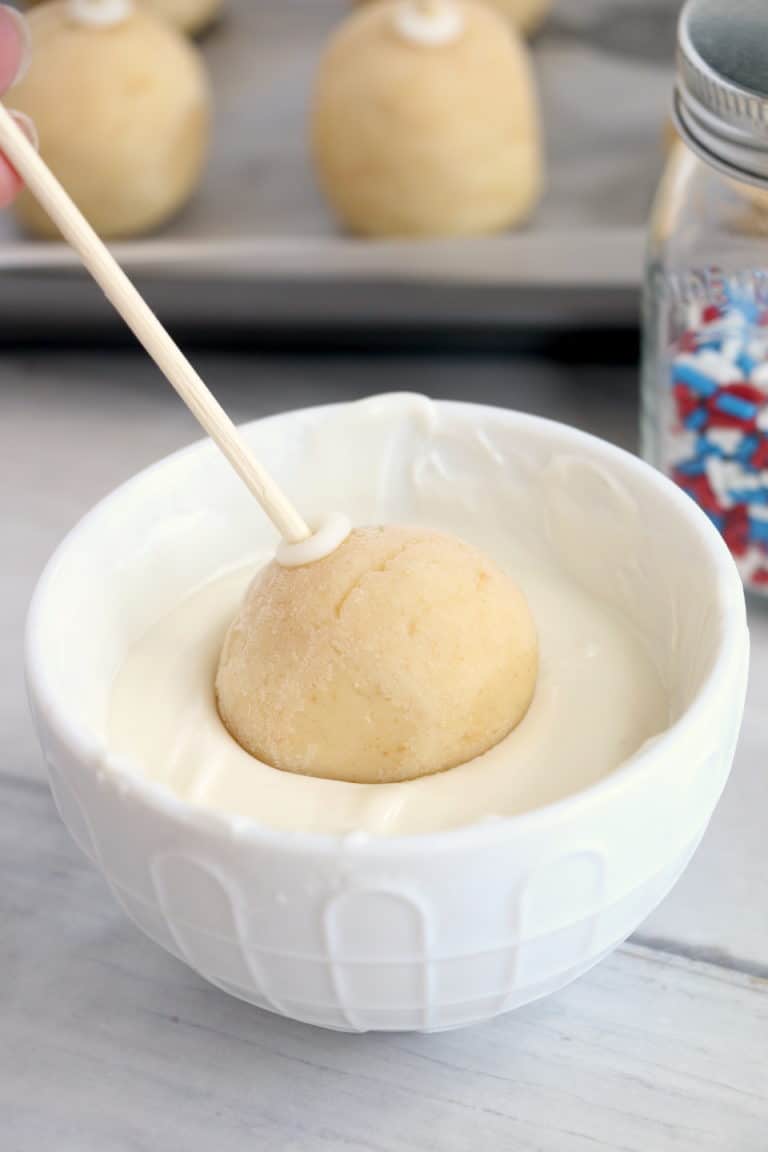 How Long Do Cake Pops Last?
The great thing about these Red, White and Blue Cake Pops is that you have options! You can make them when you want them, or whip up a batch well in advance!
I think setting up a DIY Cake Pop station is such a fun 4th of July activity, and great way to keep the kids busy while they wait for the fireworks to begin. But you can also get a head start on your holiday prep work and make them several days ahead of time. These cake pops will keep for 5 - 7 days when stored in an airtight container in a cool, dry location.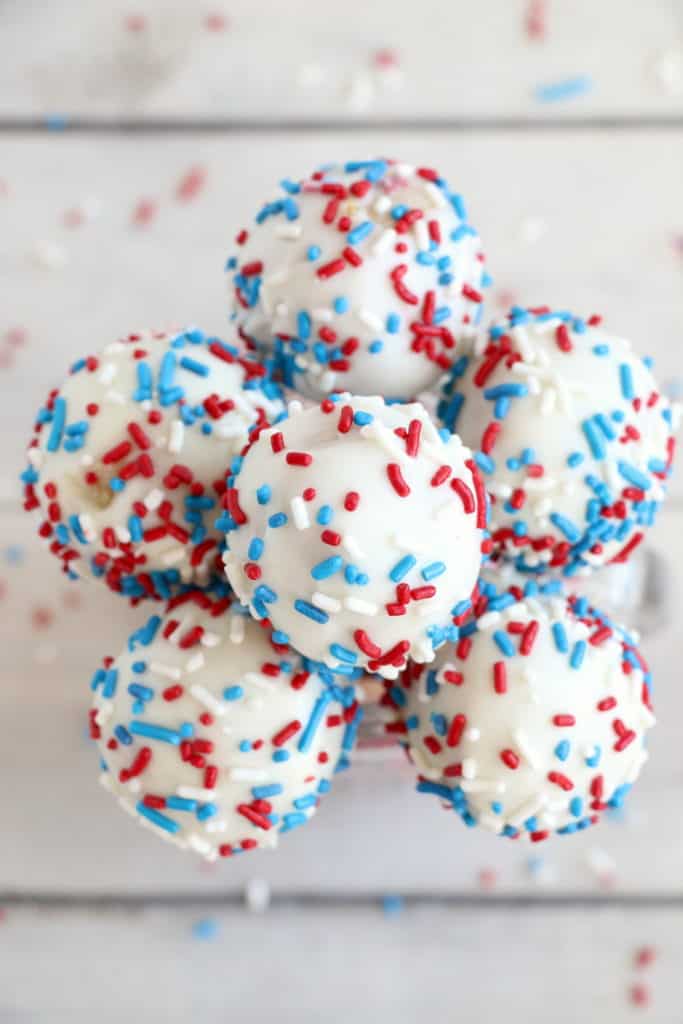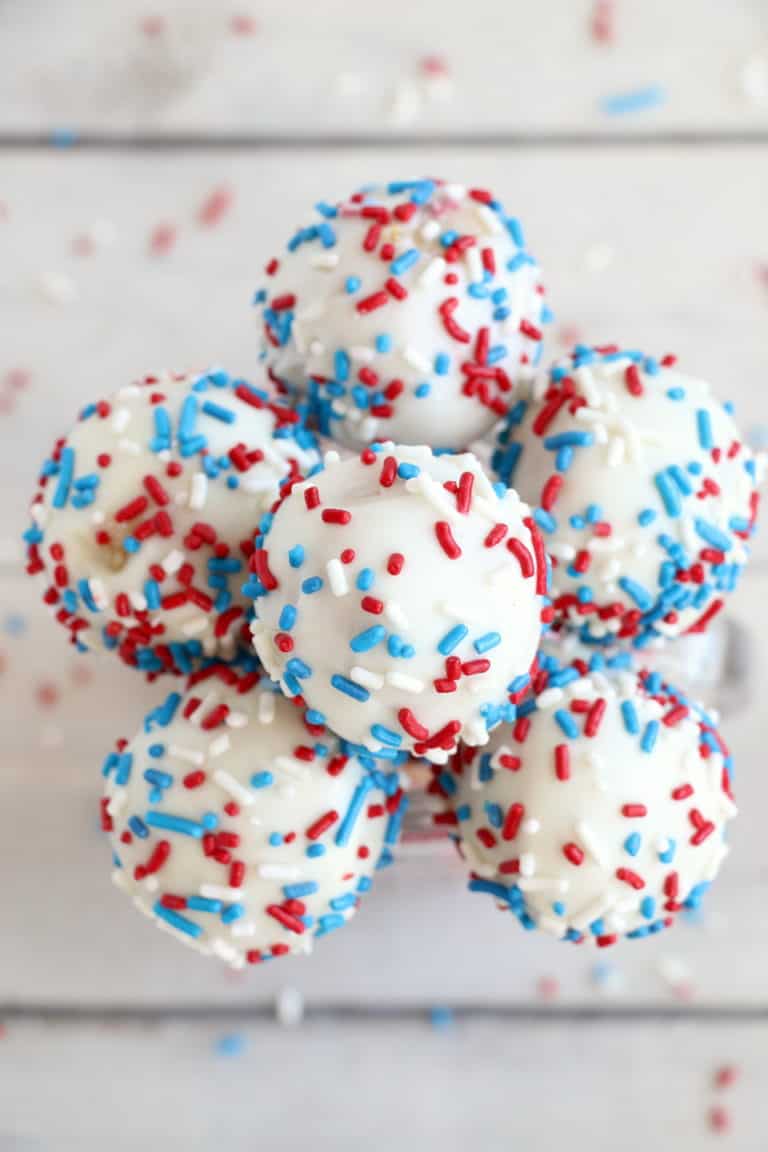 Patriotic Cake Pop Serving Ideas
Our 4th of July festivities are pretty casual, so I like to serve my Red, White and Blue Cake Pops in a few of these cute mason jar mugs and set them out for our guests to help themselves.
Another fun serving suggestion is to create a flag design with your cake pops. You can divide the melted chocolate into three bowls and then use food coloring to make solid red and blue cake pops. Once set, arrange them in a flag pattern by setting the cake pops upside down on a large platter or baking sheet.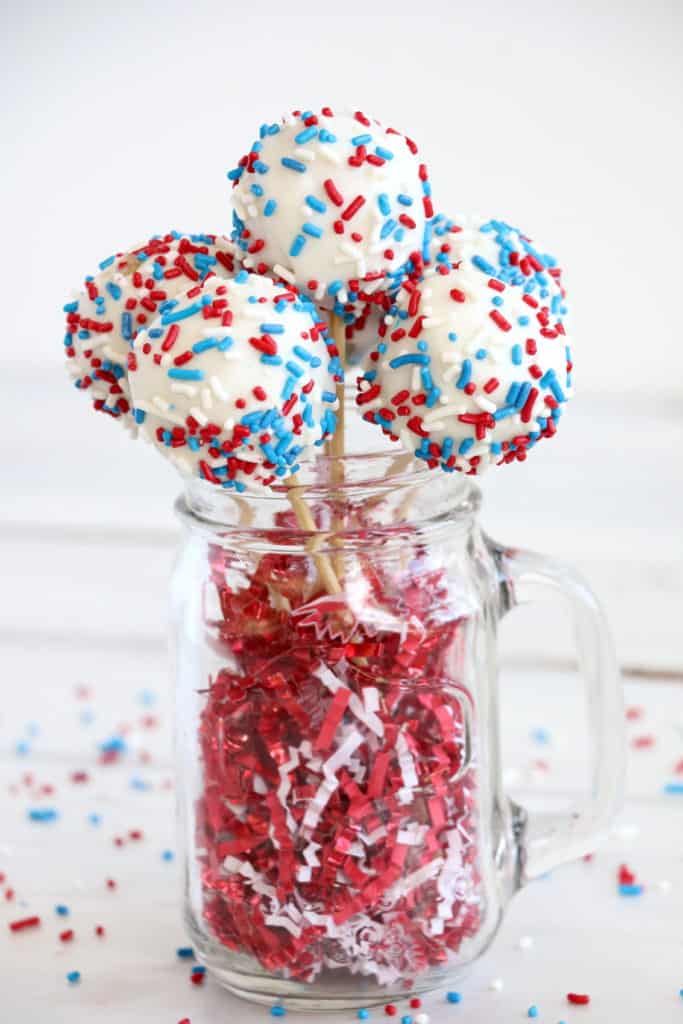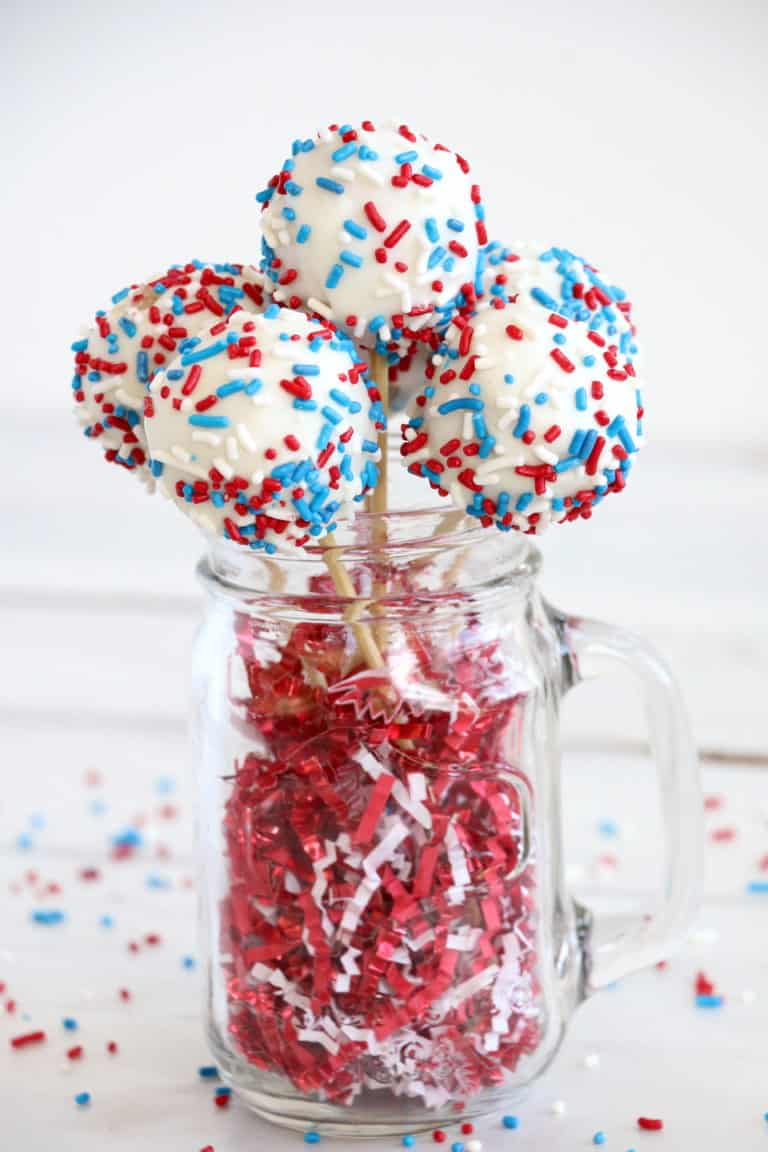 More Festive Recipes Like Red White and Blue Cake Pops
Looking for even more fun and festive recipes? Try this recipe for Red Velevet Twizzler Cake, these classic American Apple Pie Bars, or bake up this colorful Patriotic Cake.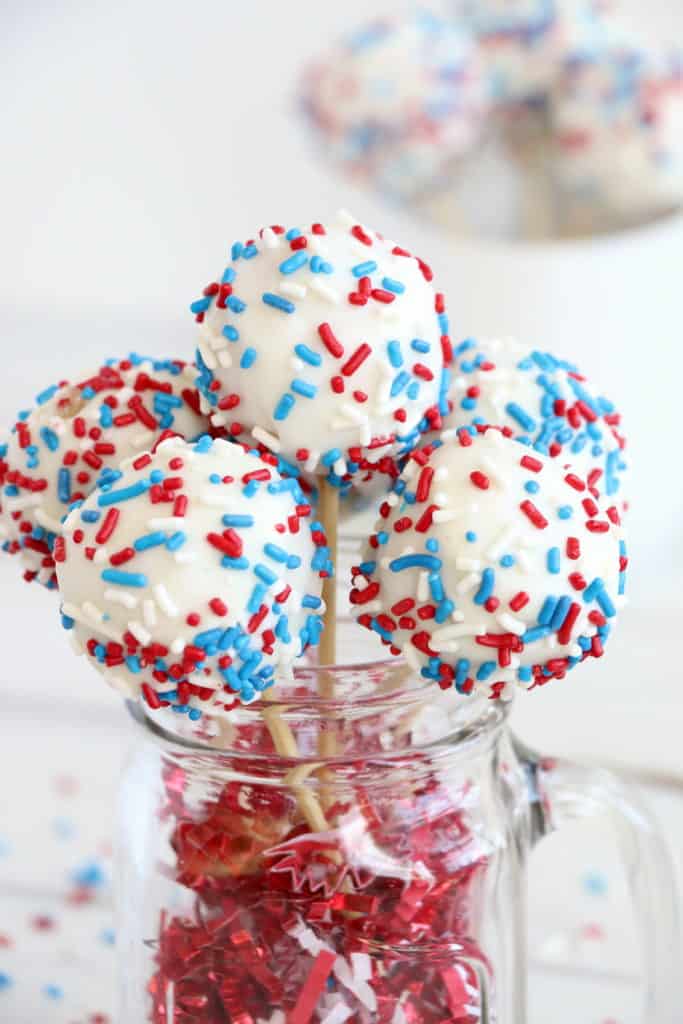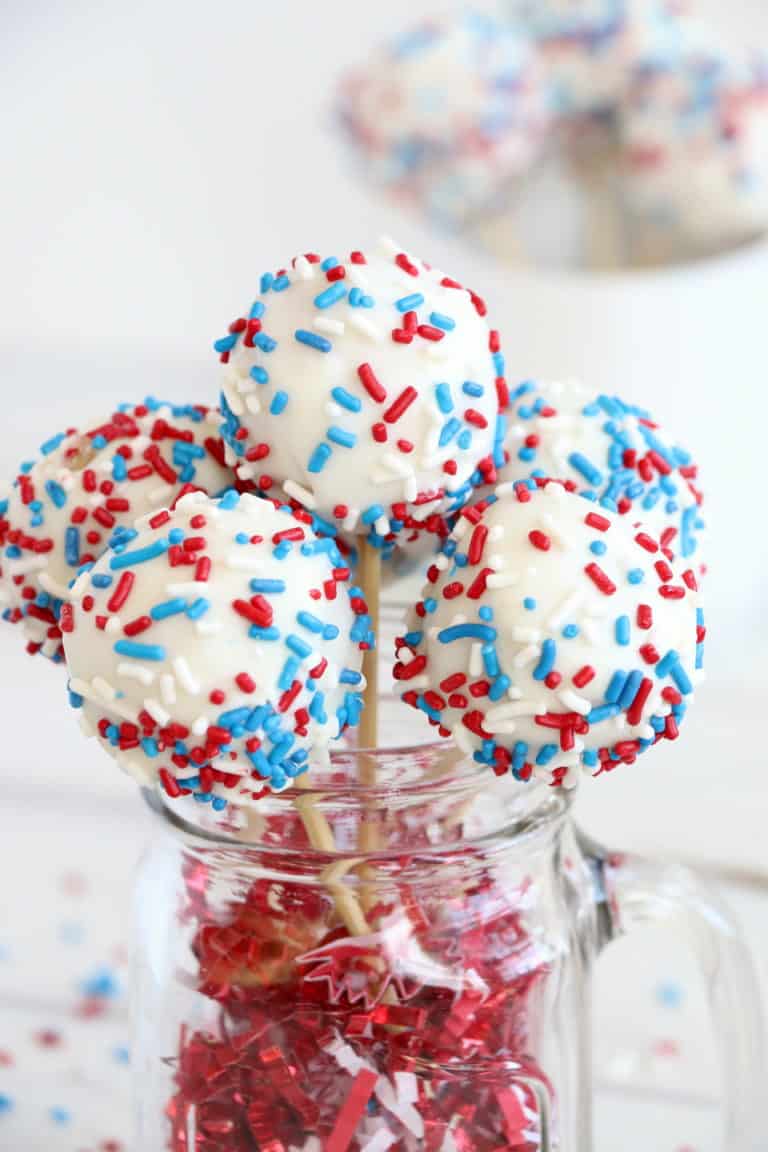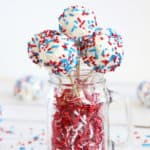 Red White & Blue Cake Pops
Festive cake pops perfect for 4th of July.
Ingredients
White Cake Mix

prepared according to box directions

2-3

tablespoons

white frosting

11

oz

white chocolate chips

1

teaspoon

vegetable oil

Red

white, and blue sprinkles

Cake Pop Sticks
Instructions
Allow cake to cool after baking according to box directions.

Using a fork, crumble entire cake.

Add frosting to crumbled cake.

Mix well (I use my handuntil dough is able to be formed into balls.

Roll dough into 1-inch balls and place them on a baking sheet lined with wax paper.

Melt white chocolate chips and oil in a microwave safe bowl for 1 minute. Let sit for 1 minute, then stir until smooth.

Dip sticks into melted chocolate and then push them into the cake pops.

Refrigerate for hour.

Re-melt white chocolate for 30-45 seconds and stir until smooth.

Roll each cake pop in melted chocolate, allowing access to drip off.

Add sprinkles quickly before chocolate hardens.

Chill before serving.