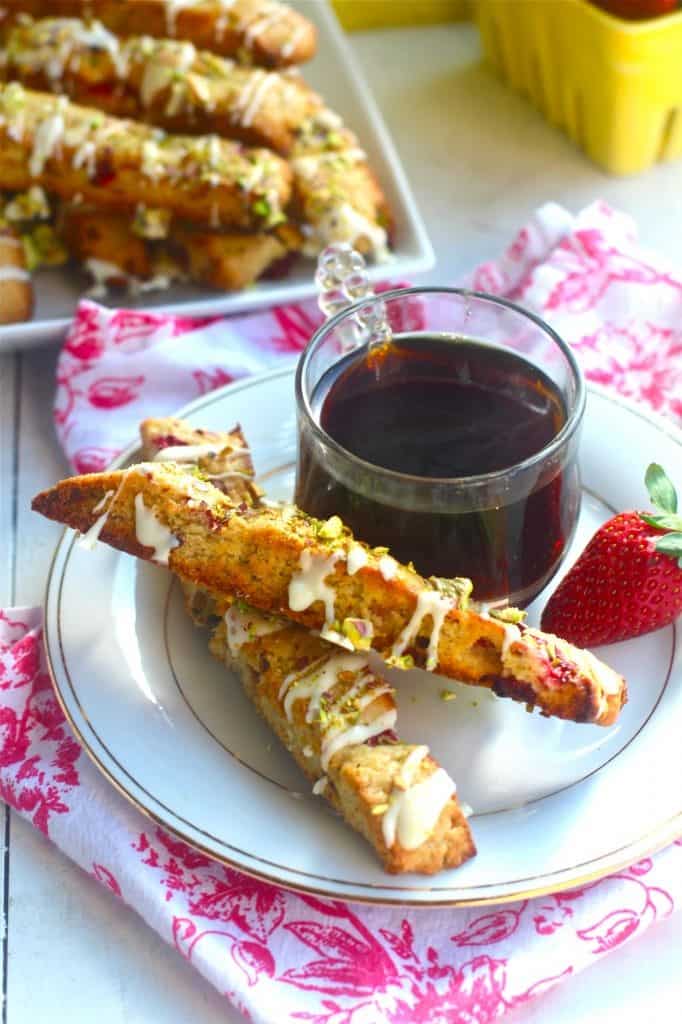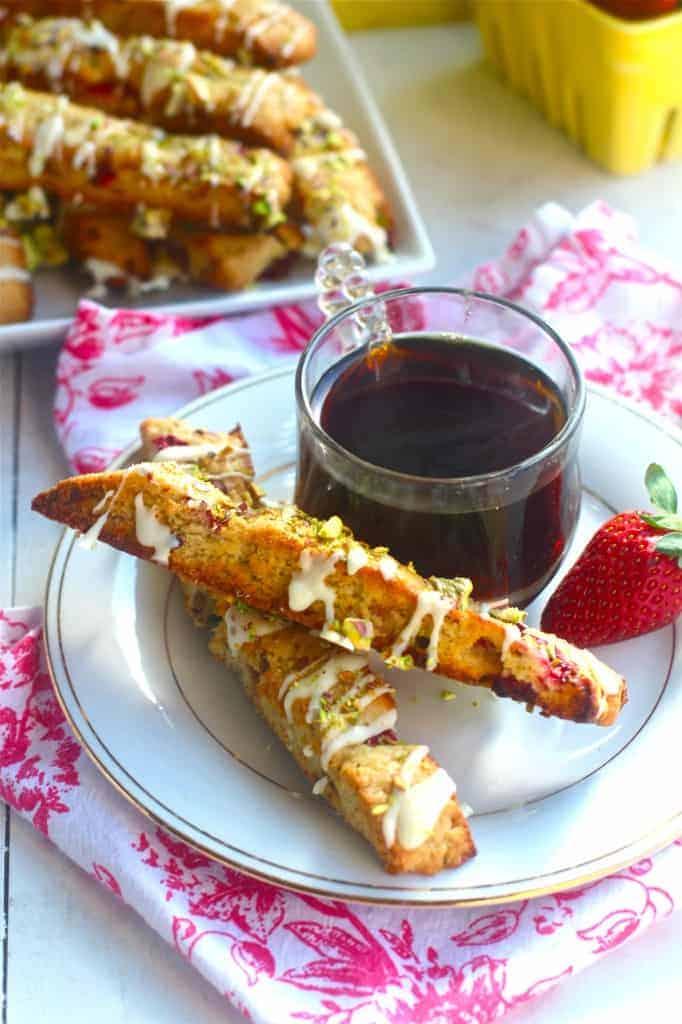 Today is National Pistachio Day!!! Did you know that Pistachios are native to the middle east and the oldest flowering nut tree? "For centuries they were hailed as the fruit of royalty.The pistachio has been used as a dying agent and a folk remedy for ailments ranging from toothaches to sclerosis of the liver. The pistachio's high nutritional value and long storage life also made it an indispensable travel item among early explorers and traders. Along with almonds, pistachios were frequently carried by travelers across the ancient Silk Road that connected China with the West" (pistachiohealth.com).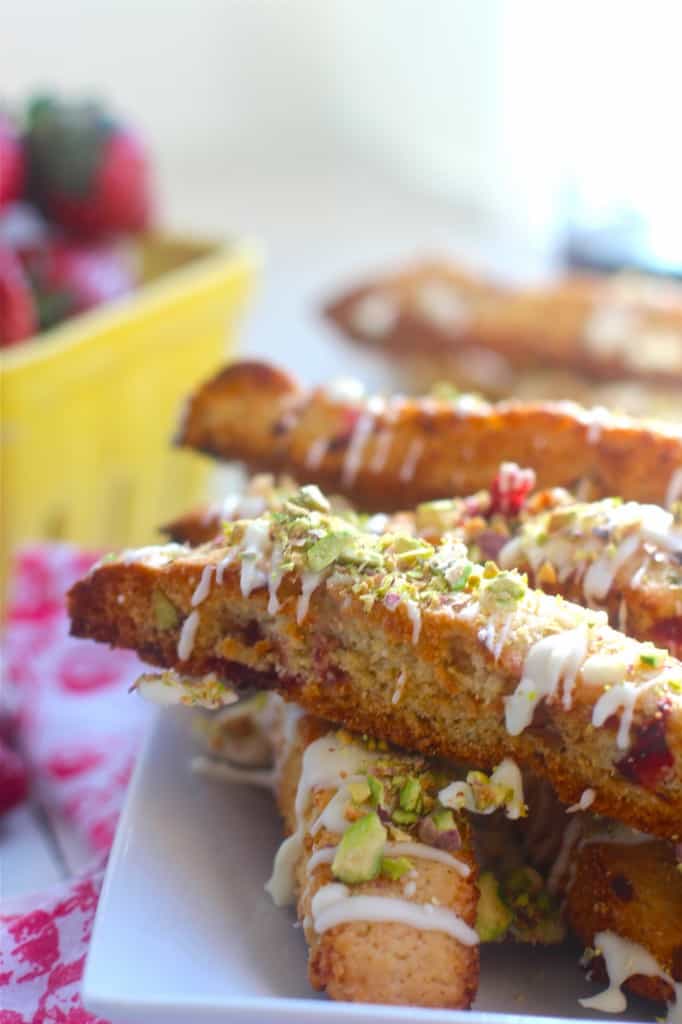 When I found that the California Farm Water Coalition had put a bag in my swag bag over the weekend, I was over the moon. Fresh roasted Californian Pistachio paired with deliciously sweet Carlsbad strawberries, I wanted something that would not over power the two, but rather let them shine. These Biscotti were spot on! Serve these at your spring brunch for a stunning, naturally colorful addition to your table.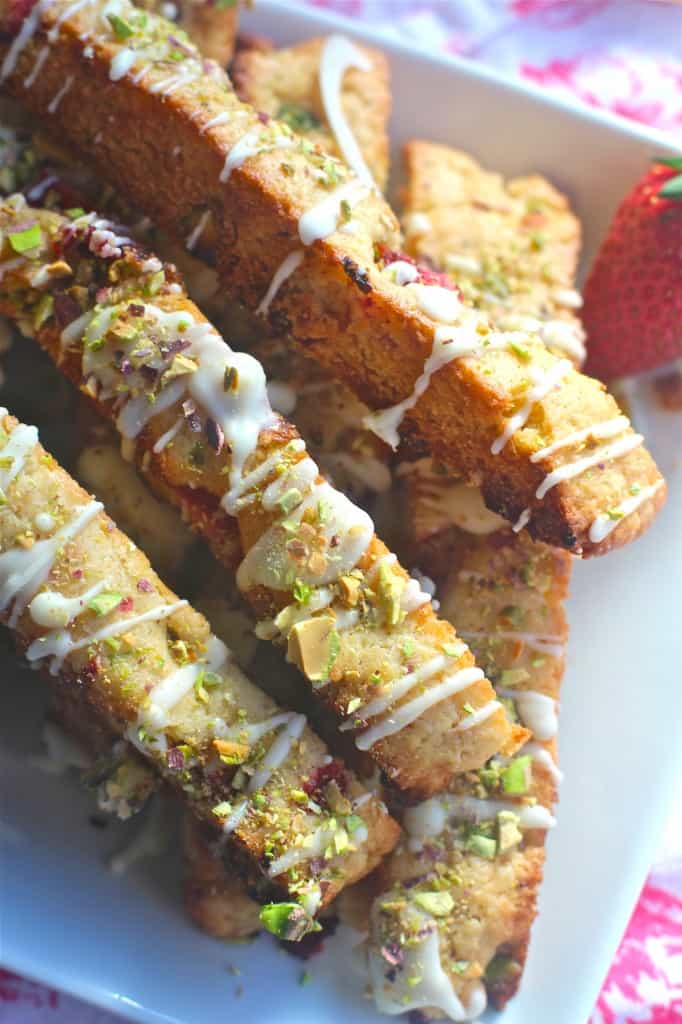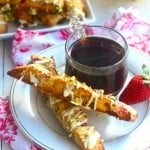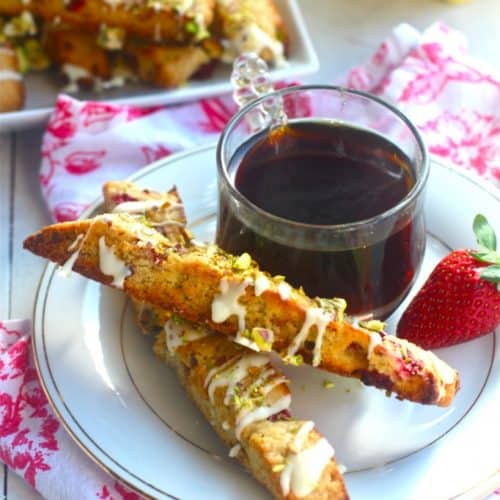 Fresh Strawberry Pistachio Biscotti
Ingredients
Strawberry Pistachio Biscotti
½

cup

of vegetable oil

1

cup

of white sugar

3

eggs

3 ¼

cup

AP flour

1

teaspoon

baking powder

½

teaspoon

salt

1

teaspoon

vanilla extract

½

cup

fresh diced strawberries

½

shelled and chopped pistachios plus ⅓ cup finely chopped pistachios for sprinkling

½

melted white chocolate for drizzle
Instructions
Strawberry Pistachio Biscotti

Preheat your oven to 375 degrees.

With a mixer, combine oil and sugar.

Add eggs and vanilla. Beat until combined.

In a separate bowl combine flour, baking powder and salt.

Add the dry ingredients to the wet ingredients and mix together.

Dough will form into little balls once combined, which will result into a heavy dough.

At this point, add strawberries and pistachios and mix in.

Compact mixture into two balls. Line two baking sheets.

Press each dough ball out into a long rectangle about ½ in thick.

Bake for 25-35 minutes, until tops have slightly puffed and goldened.

Once they have finished cooking, remove from oven and allow to cool for 10 minutes.

Once cooled, cut biscotti strips about 1 inch thick.

Place on baking sheet and broil until golden, about 3 minutes.

Turn the cookies over and broil the opposite side for another 3 minutes.

While cookies are cooling, melt your white chocolate.

Drizzle chocolate over cookies and sprinkle with crushed pistachios.

Allow chocolate to harden for 30 minutes before serving.