This shop has been compensated by Collective Bias, Inc. and The Coca-Cola Company. All opinions are mine alone. #NotSoFastMom #CollectiveBias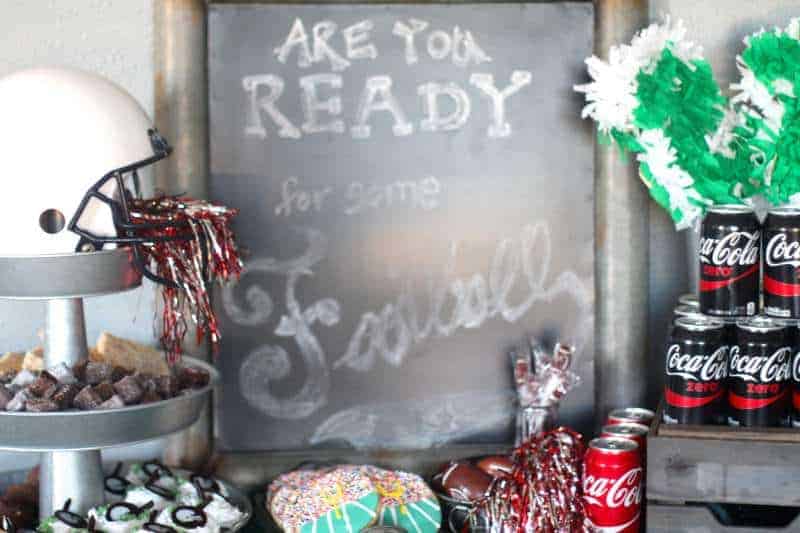 This year I have officially become a football mom. I have been a soccer mom for over a decade, but football is different. There is so much more energy in the bleachers! Now, don't think that I am one of those crazy mom's screaming at the kids....Just kidding I am one of those moms. In fact, I may just be one and a half! On Friday nights you can find me (and my other 2 littles) dressed in my son's school colors, armed with our cheering gear, and being consistently told by one of the coaches to get away from the sidelines. Yup, I am one of those. I scream, I cheer, and I have even shed a tear. Which is ironic, because I am still learning the game!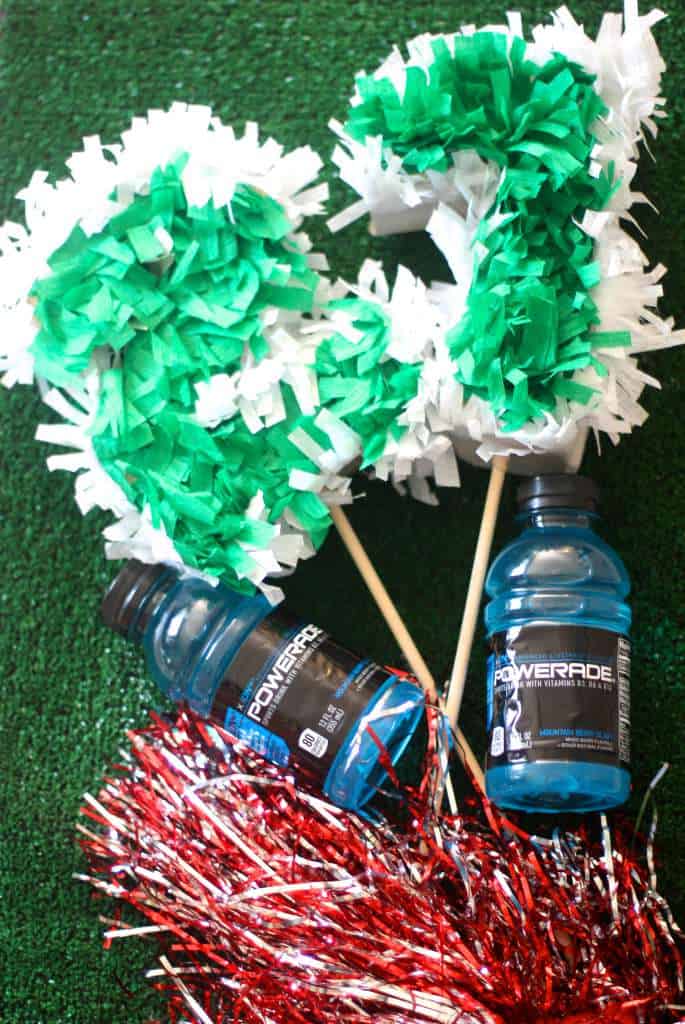 Before heading out for the game, we always fill up our cooler with ice-cold POWERADE. My son loves to hydrate before and during the big game. I always buy a few extra 12-packs of POWERADE at Walmart for the other boys on the team! They are going to need it if they plan on going to the finals!
I love making signs or little mini piñatas to cheer my son and his team on. The pinatas are very simple to make and only take about 15 minutes. I like to fill mine with bells and we make an extra one for my son and fill it with candy for after the game. Handing him a number full of candy is my way of being cool, supportive, and also sorry for all of the things I screamed durning the game!
To make your own, here's what you will need-
Heavy posterboard or cardstock paper – an empty cereal box works GREAT
Scissors
Masking tape (scotch tape will work, too)
Colored tissue paper – try using two colors for a two-toned pinata!
Hot glue gun
Pen or marker
Long Dowel for each number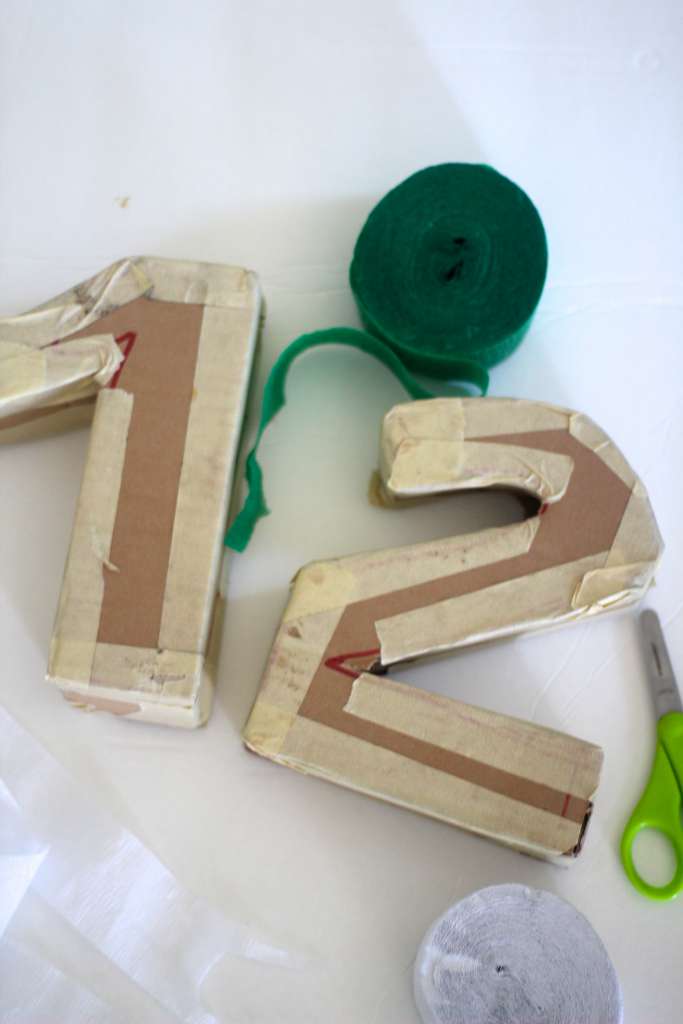 First, trace the number on cardboard or a cereal box then I cut it out. I also cut out a long strip that will go around the numbers. Next, tape the strips around the edge of one of the number shapes.  Then, tape the other matching number onto the back edge of the strips.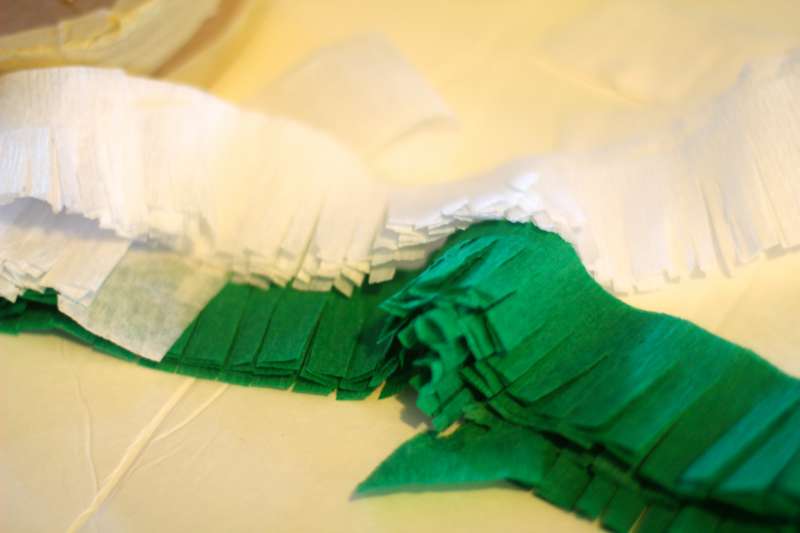 Once you have your numbers assembled to this point, I would recommend filling it with candy and bells now. Once filled, tape up opening. Also, on the bottom of the numbers, you will want to make a small hole with your scissors. Then insert about an inch of your dowel and use the hot glue gun to glue around it, securing it into place.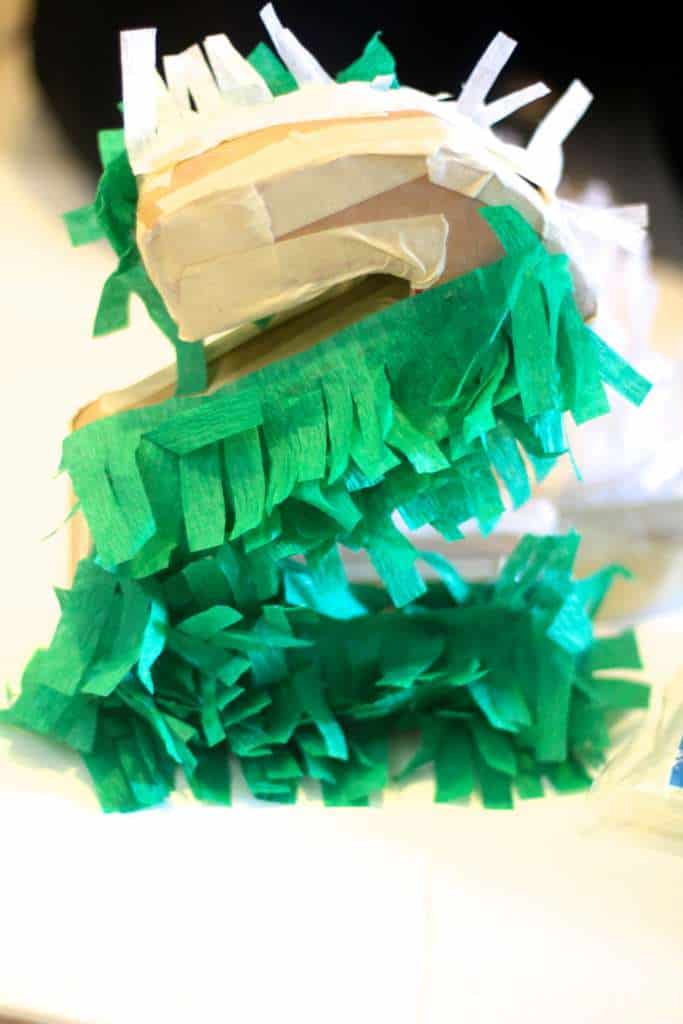 Using your choice of colored tissue paper, cut a stack of strips about ½″ wide and 5″-8″ long. Cut fringes along the side of each strip. Using a glue gun, attach your fringe to the piñata. Start at the bottom of one side and build up toward the top, overlapping slightly. Then do the edges, and finish with the other side, Et Voila! You are ready for the sideline madness!!!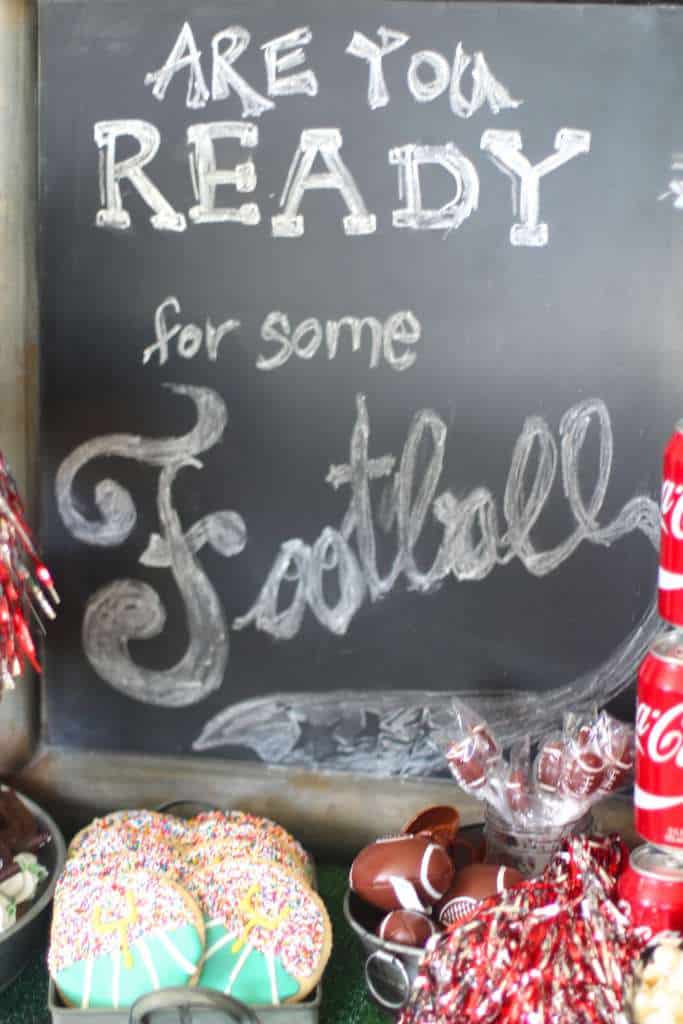 Now just because the game is over does not mean it is time to stop celebrating! We love to host Sunday College Football Watching parties with our friends and family. It is a great way to get some socializing time in, learn new plays (and rules) and most importantly, bring light on some awesome colleges that may be in my son's new future!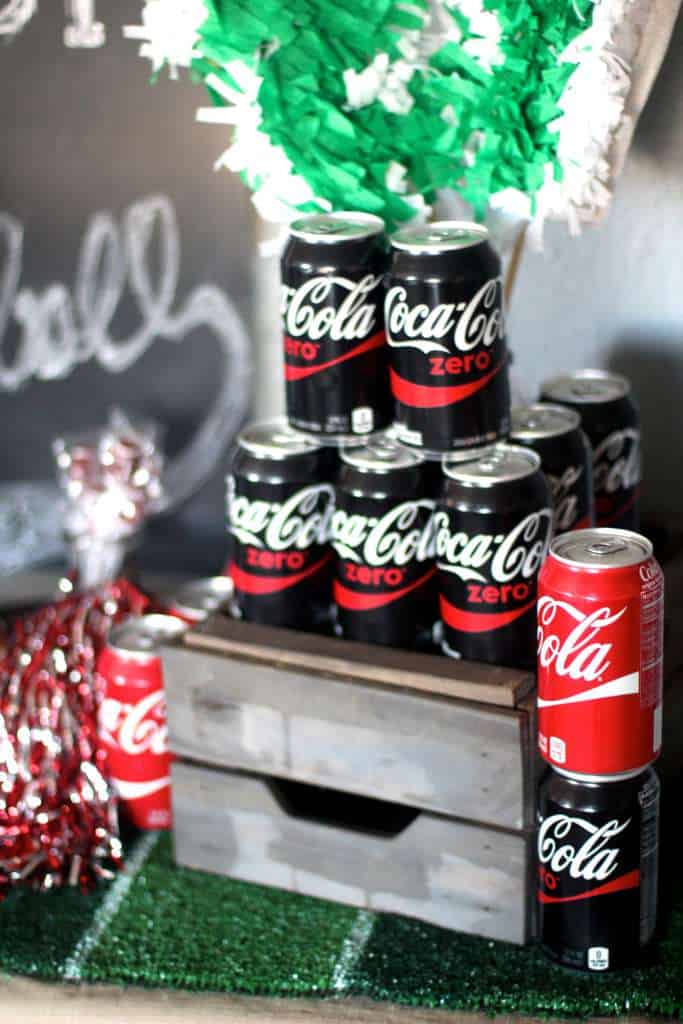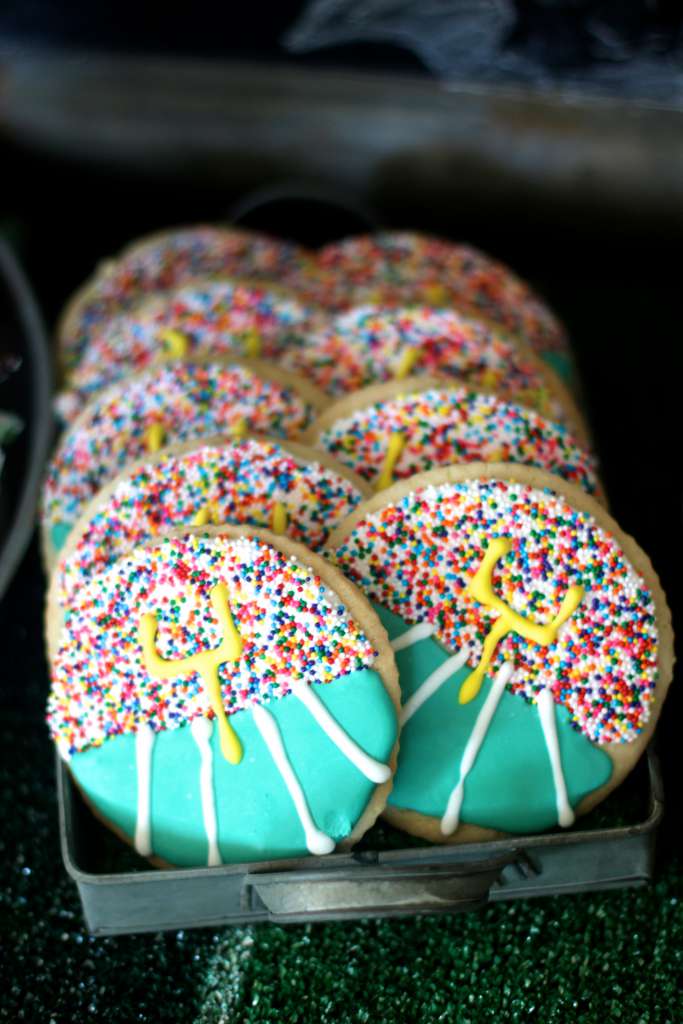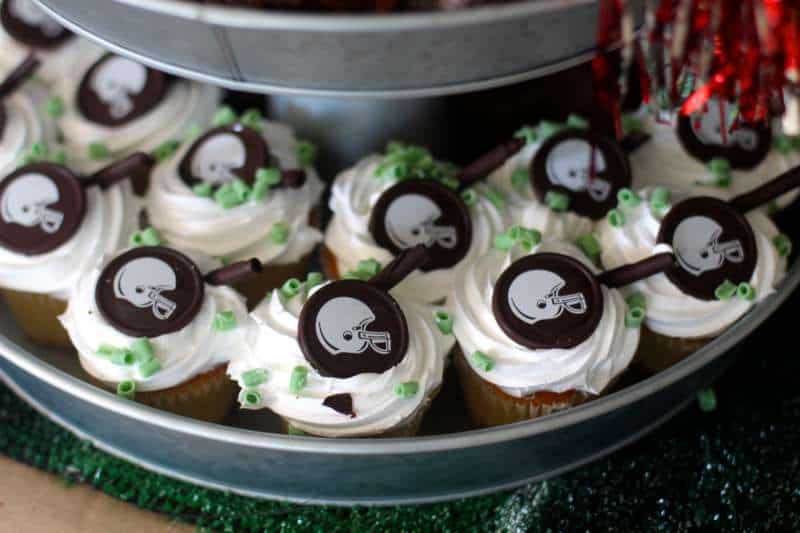 Armed with some Coke Zero and fine sideline snacks, we are ready to cheer on our team! I have a slight obsession with galvanized tin these days, so I thought I would incorporate it into the party theme. With a few different stands, trays, and boxes, I was able to create different heights and dimensions. I think this really add complexity to the table!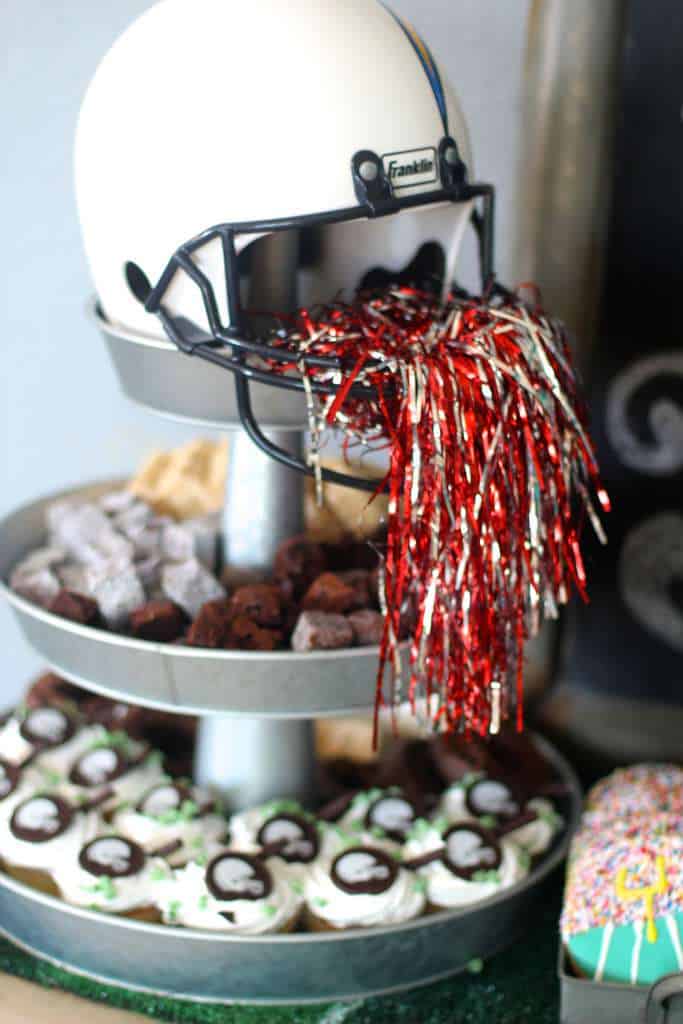 While at my local hardware store, I picked up some fake turf. This is great to keep on hand and I have used it for countless dessert tables. It is really cheap and super easy to roll up and store for the next party.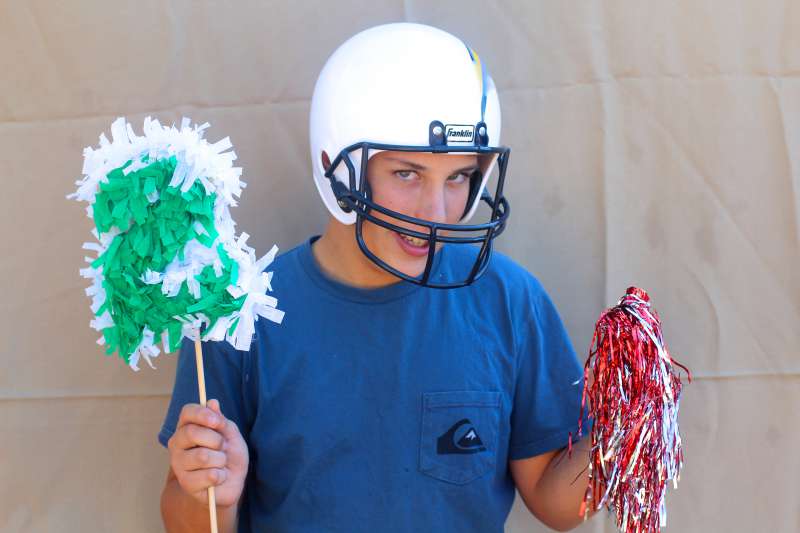 We also wanted to create a fun photo booth. High Schoolers are so fun and quirky and I just want to preserve all the memories as possible. Making a photo booth for parties is a great way to do that. What's even more fun, is looking through the photos after the party!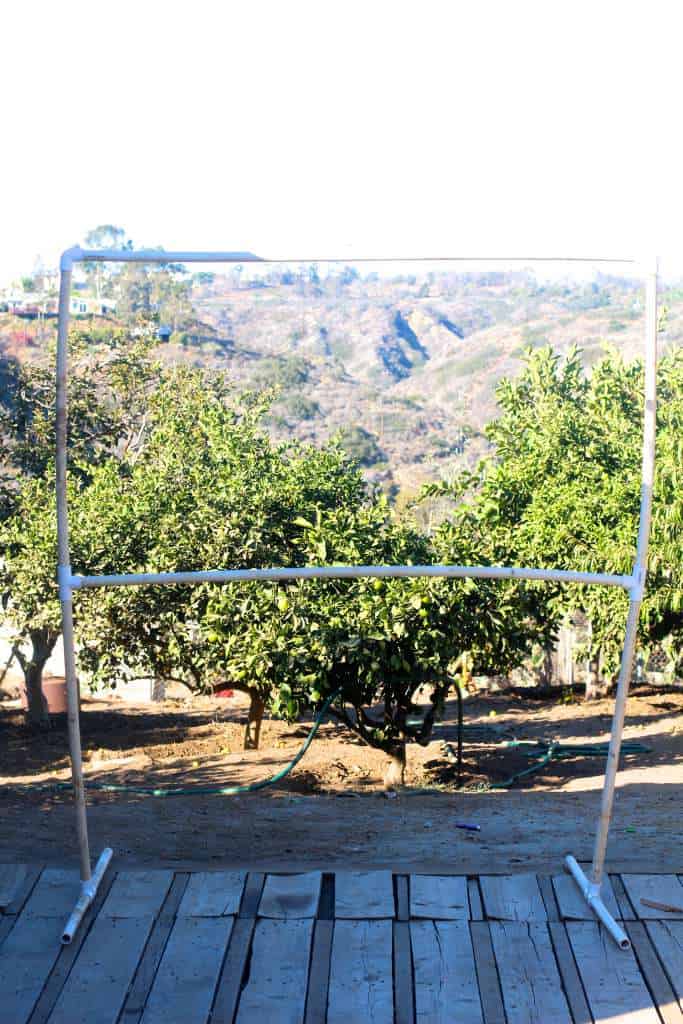 To make the photo booth I simply purchased 3 ten inch long ¾ inch PVC pipe, two ¾ inch "L" pieces, four ¾ inch "T" pieces, and four ¾ inch end caps (optional). Once home, my husband cut two of the long PVC pipes into 6in and 4in pieces. He then cut the bottom supporting "feet" from the remaining piece. He put it all together as seen here and we now have a standing Photo Booth backdrop that can be taken apart and reassembled for each party. During our Football Watch Party I clamped a large tablecloth to the stand and set up a bunch of props. The boys had a fabulous time taking pictures, especially mine!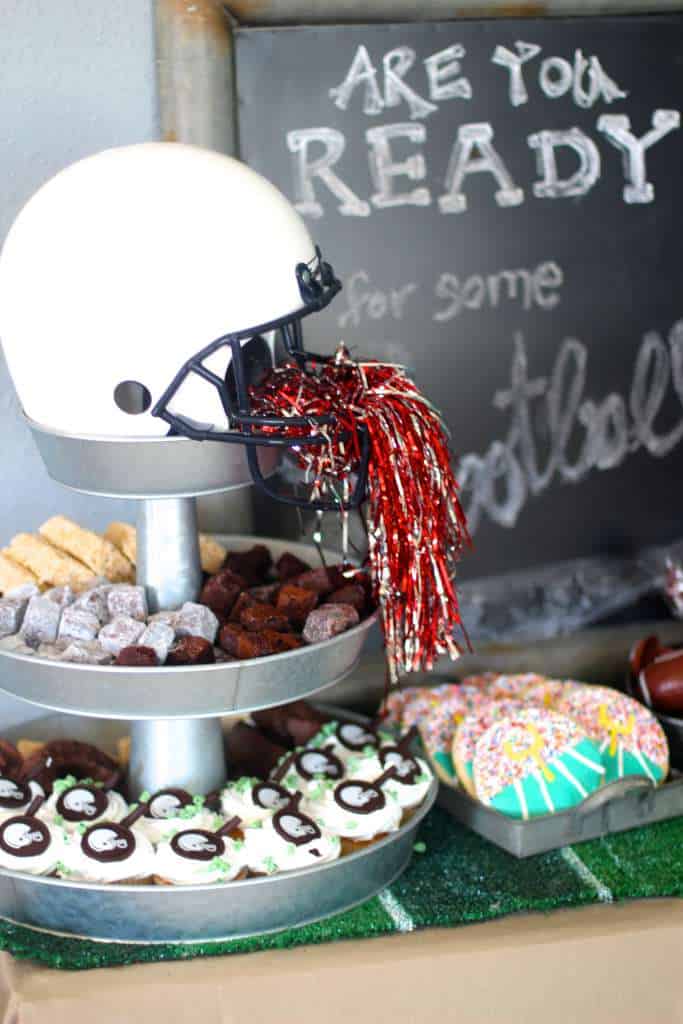 So, whether you're celebrating at home or cheering on your athletes from the sidelines, make the most of their game days! Head over to NotSoFastMom.com for more fabulous Game Day tips!