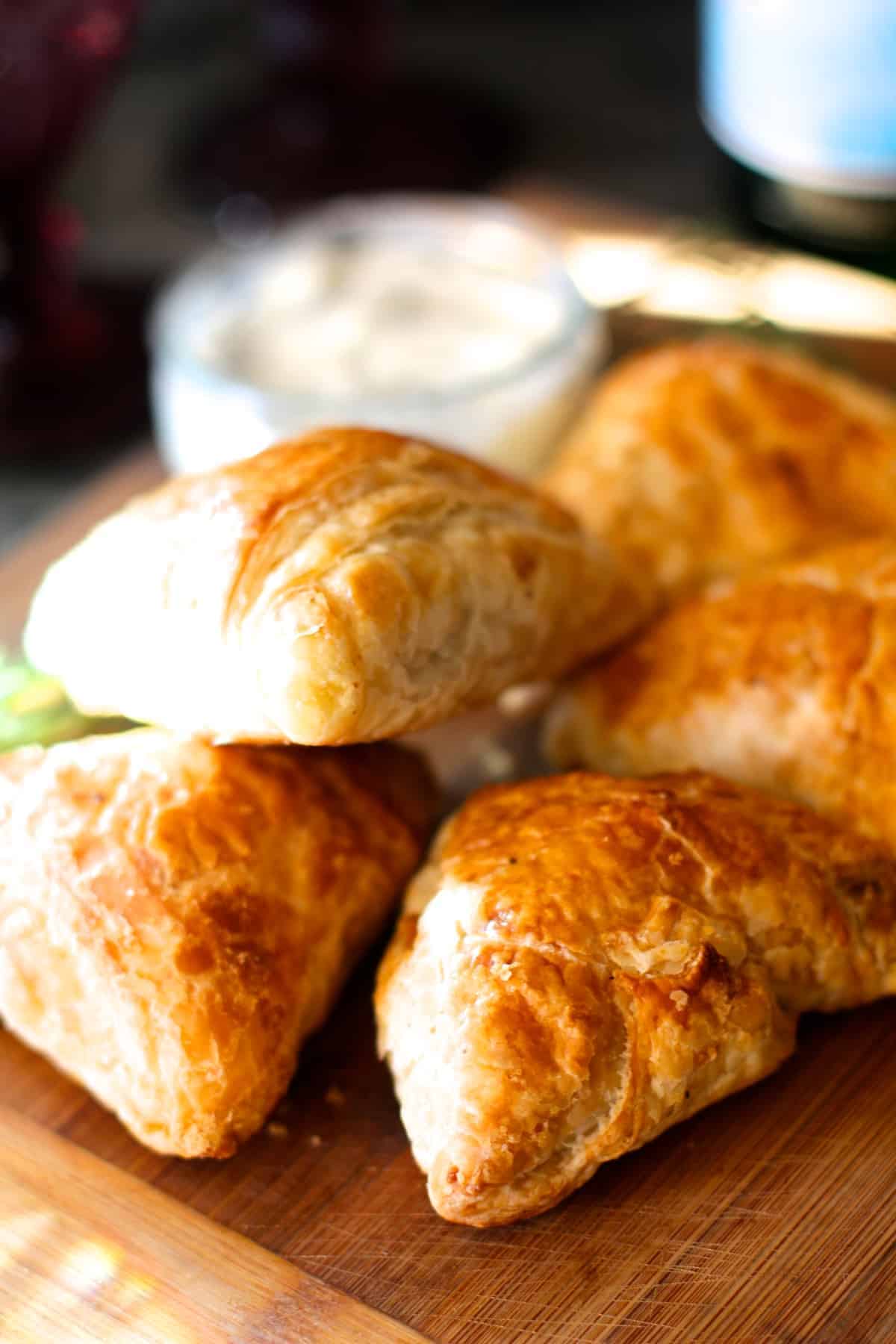 Can you believe that the holidays are almost completely over?!? I can't! It came and went so quickly. Now from what I am seeing on Facebook, most people are really looking forward to saying goodbye to 2016 and eager for the fresh start in 2017. We had a great year and are looking to continue it next year! This will be the first year in a long time that we will be celebrating it with friends so we want to do it right with gourmet appetizers and delicious cocktails. These Easy Lamb and Mushroom Puff Pastry Triangles will definitely be making another appearance at the New Year's Eve celebration.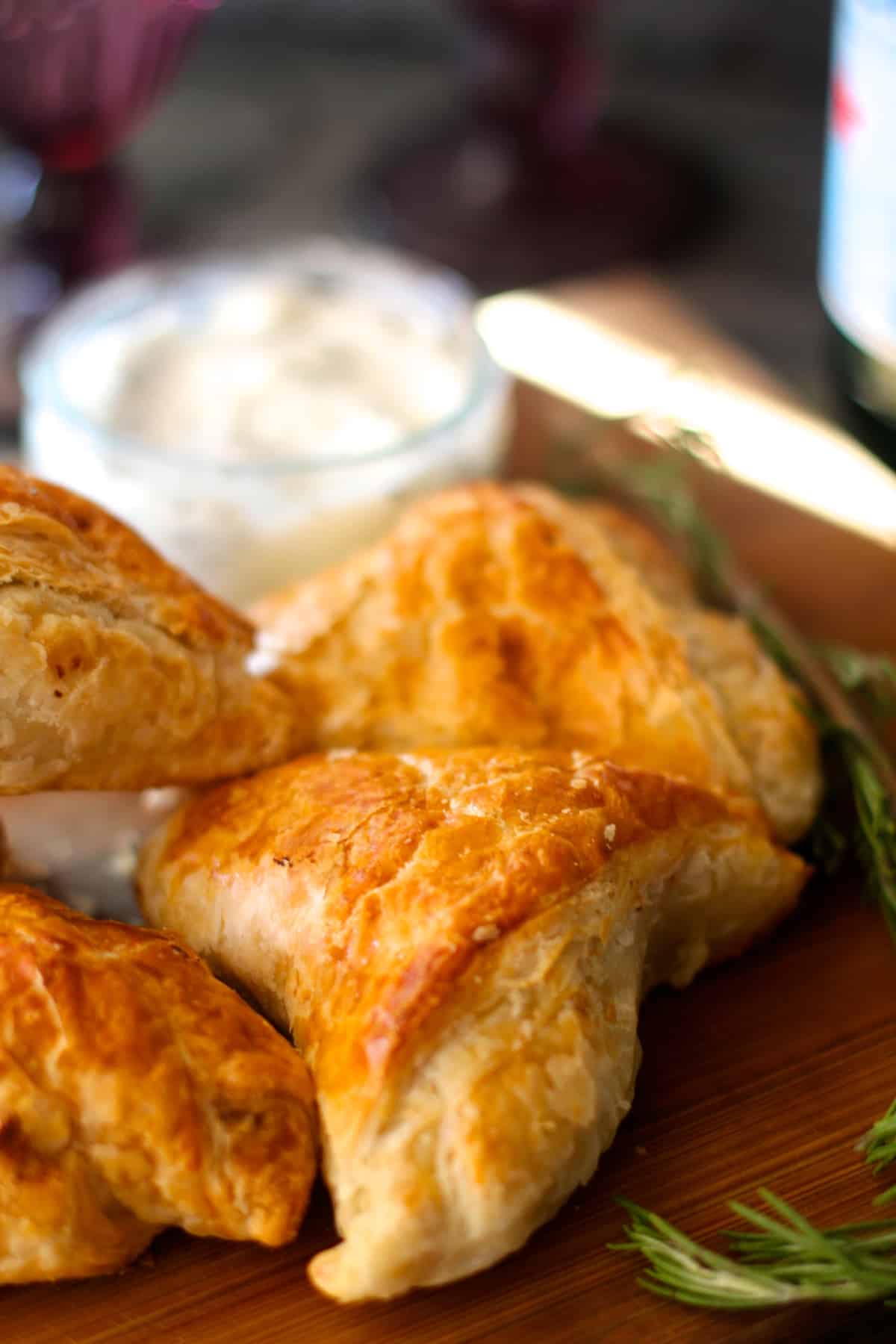 Puff pastry is like a super ingredient. No matter what your pair it with, the buttery flakiness of the pastry dough turns something ordinary into something spectacular. And with it being New Year's Eve and all, we wanted something spectacular! These kind of taste like a mini lamb wellington!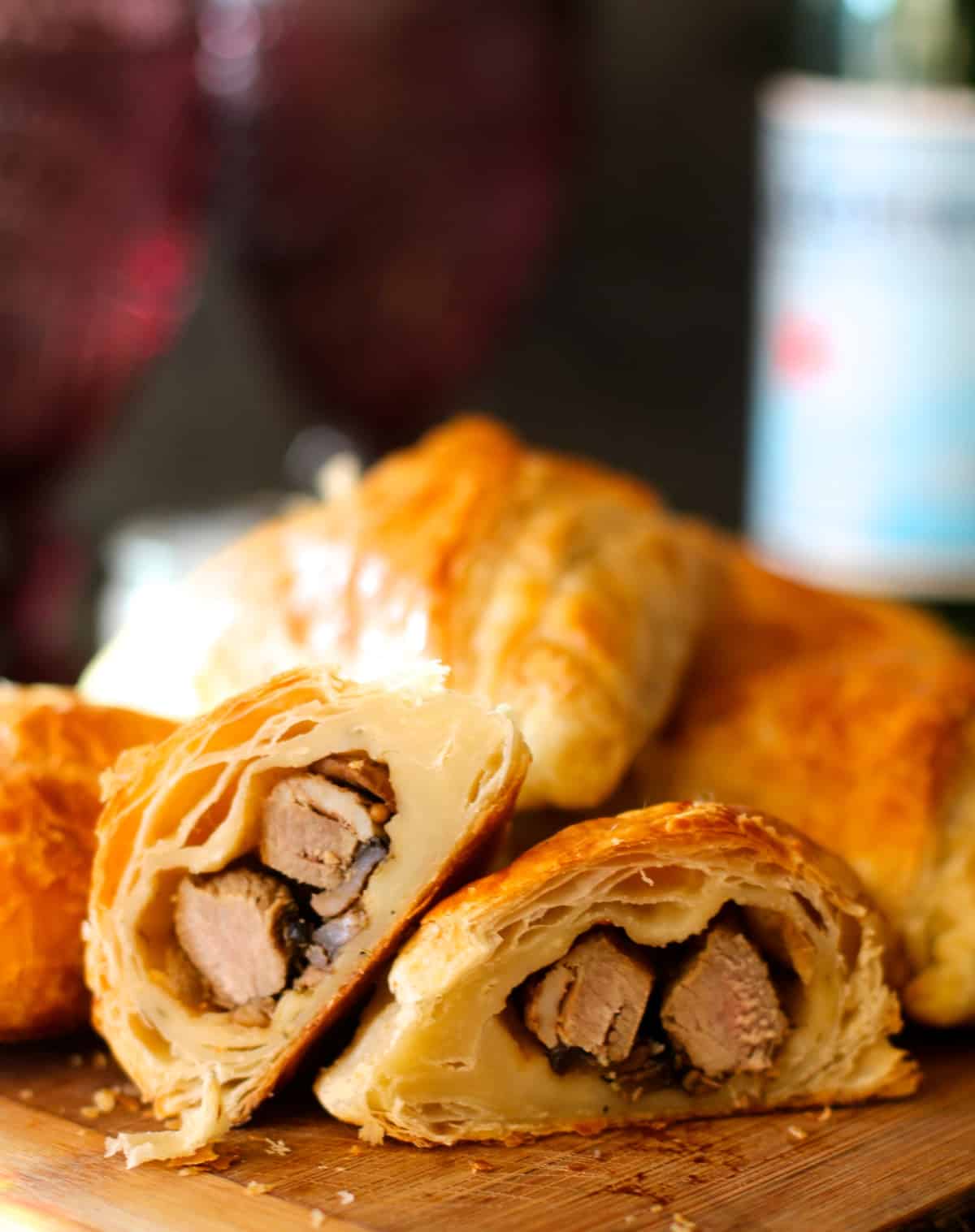 I did a post a couple weeks ago, Herb Crusted Leg of Lamb, and had some extra roasts from recipe testing so naturally I had to put them to good use. For this recipe, I simply cut up one of the roasts into tiny cubes, fried it with herbs, mushrooms, onions, and garlic, and wrapped it into puff pastry. I then baked them into golden perfection and served them with a rosemary garlic dipping sauce.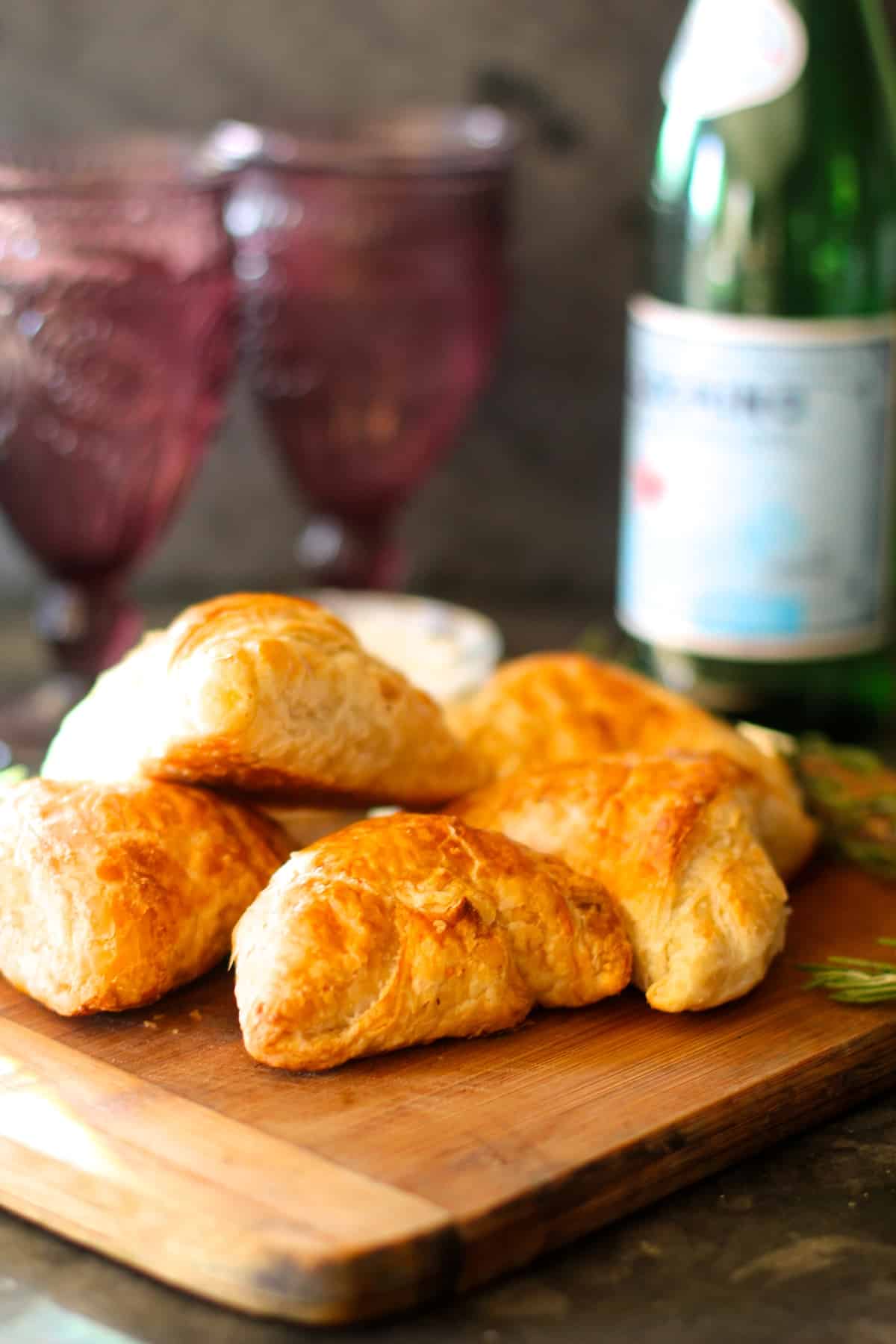 So whether you are saying goodbye to a bad year or celebrating a good year, these little appetizer will be perfect for ringing in the new year!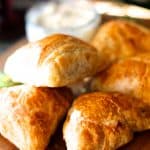 Lamb Mushroom Puff Pastry Triangles
A simple yet flavorful appetizer that everyone will enjoy!
Ingredients
2

tablespoon

olive oil

1

pound

boneless leg of lamb

, diced into small cubes, or use ground lamb

1

tablespoon

dijon mustard

1

cup

sliced mushrooms

, diced

½

onion

, finely diced

2

garlic cloves

, minced

1

tablespoon

dijon mustard

1

teaspoon

dried or fresh rosemary

½

cup

white whine

4

sheets of puff pastry

Flour for rolling

1

egg slightly beaten

For the dipping sauce-

½

cup

Sour Cream

½

cup

mayo

1 ½

tablespoons

fresh rosemary

, finely chopped

1

green onion

, chopped

1

clove

garlic

, minced

1

tablespoon

water
Instructions
In a large skillet, heat olive oil on medium high heat.

Once hot, add the lamb, dijon mustard, and salt and pepper and cooked until pieces are browned but still pink in the center.

Add mushrooms, onion, garlic, and rosemary and cook, stirring regularly, for about 4 minutes.

Add wine, cover skillet, and allow mixture to cook for an additional 5 minutes.

Remove from pan and bring mixture to room temperature.

Alternatively, this can be done a day ahead of time and chilled until ready to make triangles.

Preheat oven to 375°F.

Lightly grease 2 baking sheets.

Sprinkle the work surface with the remaining flour. Unfold 1 pastry sheet on the floured surface. Roll the pastry into a 9 x12-inch rectangle. Cut the rectangle into 6 (6-inch) squares.

Repeat with the remaining pastry sheets, making 24 squares in all.

Spoon about 2 tablespoons lamb mixture in the center of each square.

Brush the edges of the pastry with the egg.

Fold the pastry over the filling to form a triangle and crimp the edges with a fork to seal. Place the pastries on the baking sheets.

Brush the pastries with the egg wash.

Bake for 15 minutes or until the pastries are golden brown.

To make the dipping sauce, combine sour cream, mayonnaise, rosemary, green onion, garlic, and water in a blender and blend until smooth. This can also me made a day ahead of time, covered and stored in the refrigerator until ready to serve.

Serve warm lamb puff pastry triangles along side the dipping sauce and enjoy!