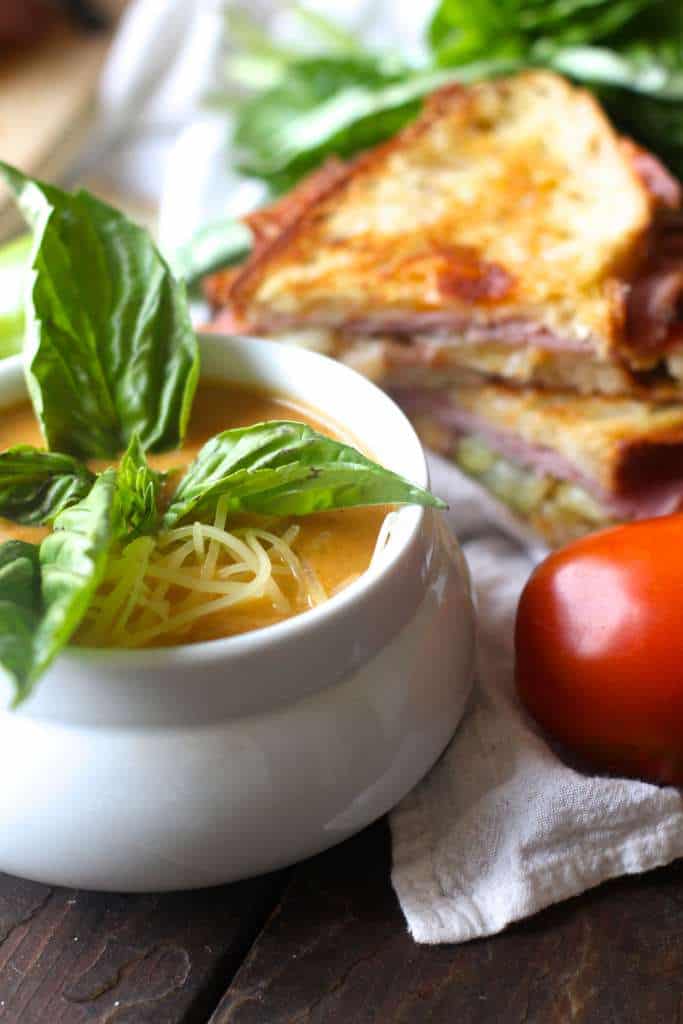 As the nights become chilly, we are craving warm, cozy meals more and more. Tomato Soup and grilled cheese sandwiches make the perfect combination for a delicious fall/winter dinner.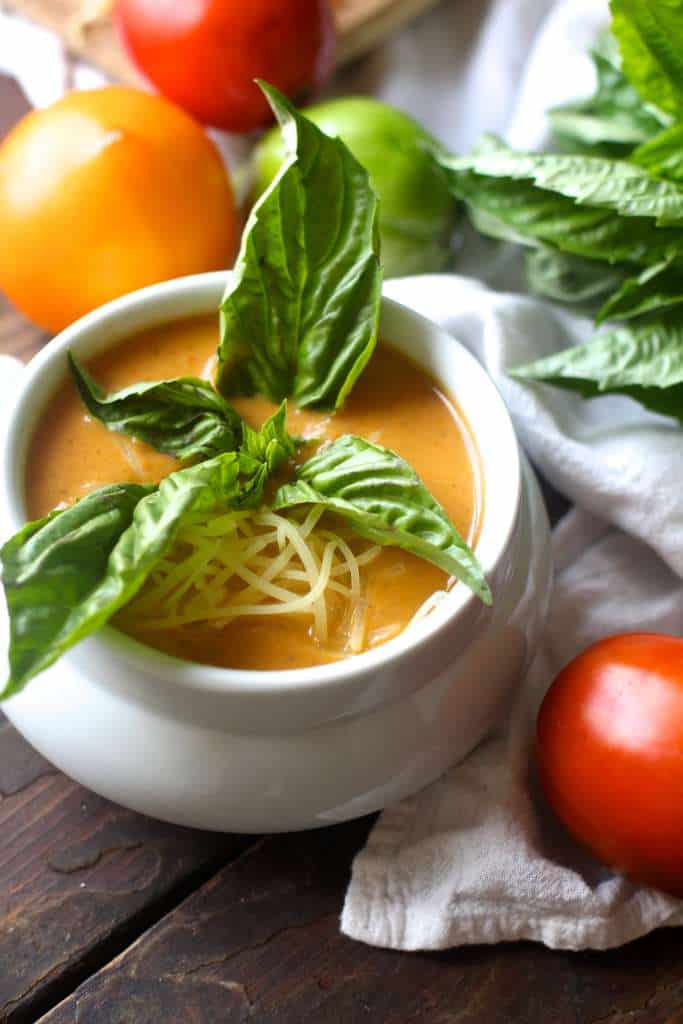 As I was researching what and how to talk about this soup (this doesn't happen often, but I was at a loss for words today), I came across this from Fine Cooking- "Silky tomato soup is like the little black dress of soups. Unadorned and paired with a simple grilled cheese sandwich, it's a comforting lunch. Dressed up with simple garnishes, it makes a sophisticated start to a dinner party."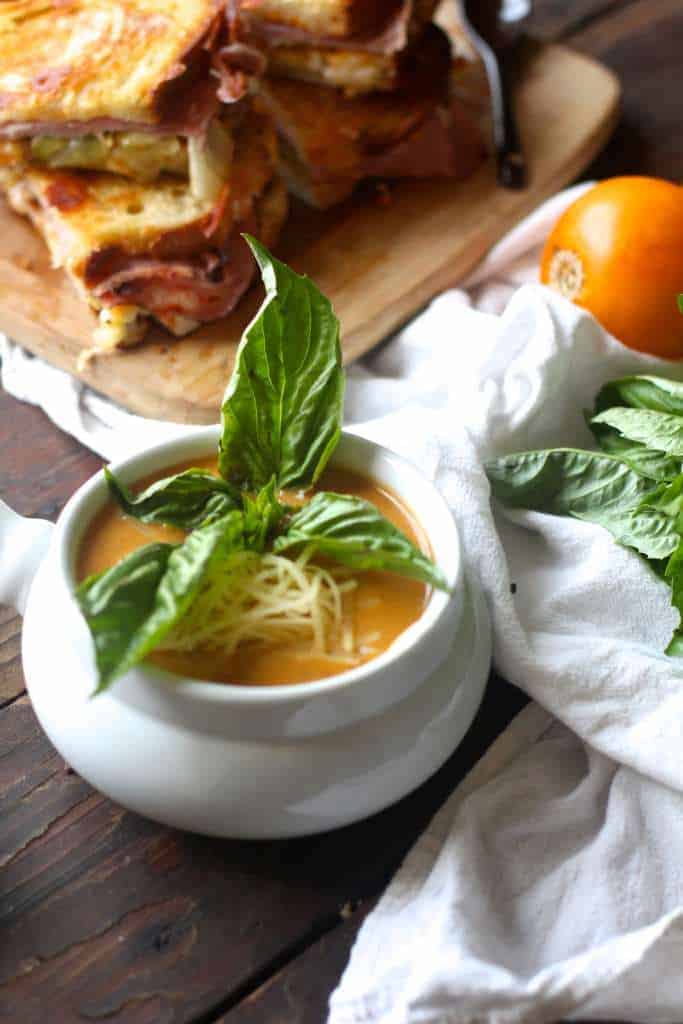 Simply put, this description describes Tomato Soup perfectly. Top it with some delicious shredded Gruyere cheese, and dip a melty, crispy, hot grilled cheese sandwich slice, and you have the perfect dinner.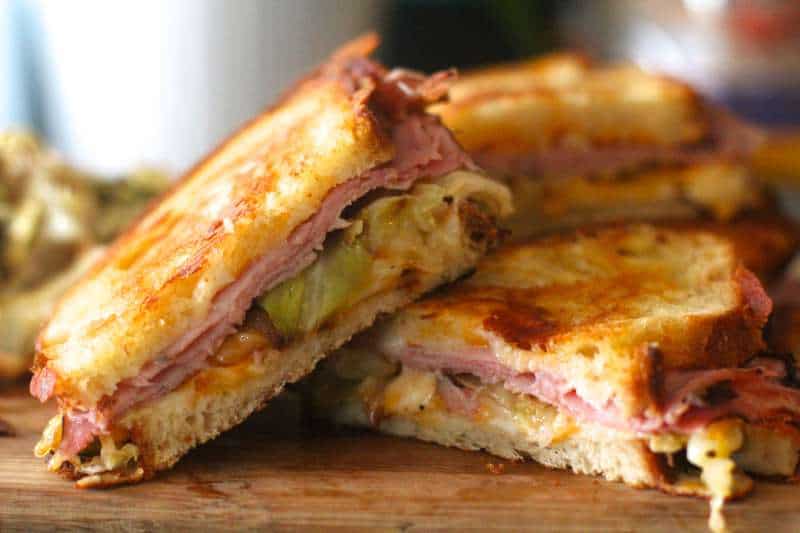 Since the soup was so simple to make, I took a bit of extra time on the grilled cheese sandwiches. I had some leftover roasted cabbage that I decided to add along with a couple of slices of ham. The extra crunch from the cabbage and salty flavors from the ham, definitely took this entire meal up a notch.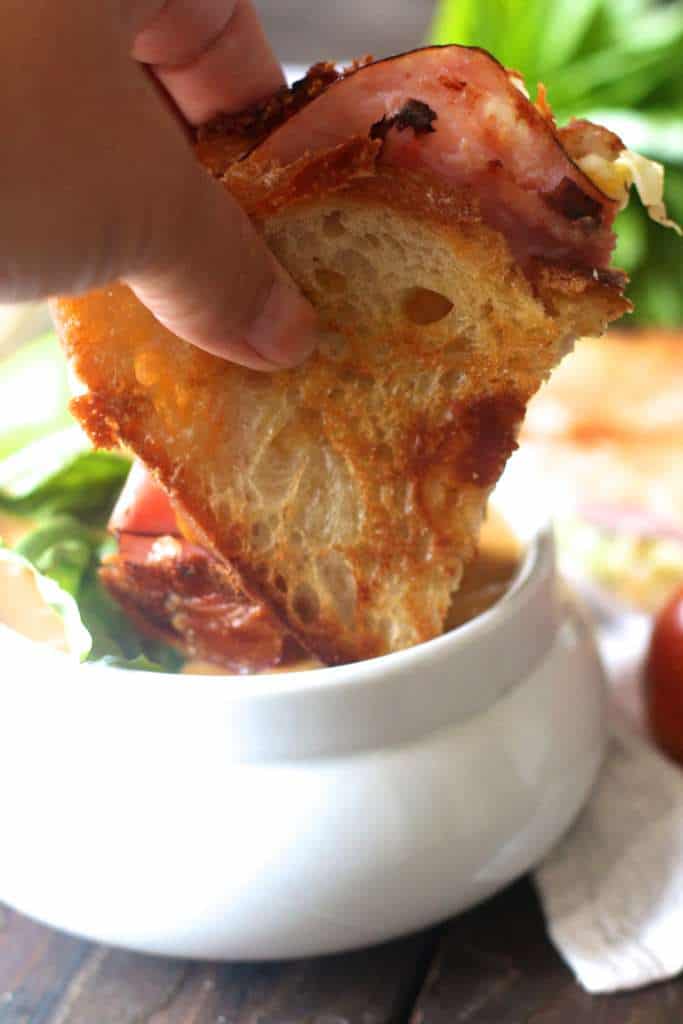 My husband and kids have requested the same meal tonight despite having it for lunch too. I would say that was a win in my book! I hope you like it too! Enjoy!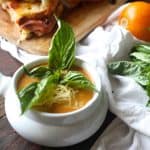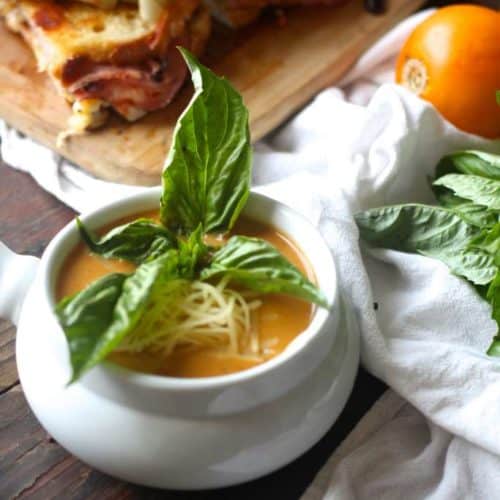 Easy Homemade Tomato Soup
Ingredients
4

slices

bacon

, cut into small pieces

1

medium sized onion

, chopped

4

cloves

garlic

, minced

1 ½

tablespoons

tomato paste

1

tablespoon

flour

4

cups

chicken broth

½

teaspoon

salt

½

teaspoon

pepper

1

tablespoon

fresh chopped basil

1 28-

ounce

can whole tomatoes

¼

cup

cream
Instructions
In a large heavy pot, fry bacon over medium heat until it is crispy.

Add onion and garlic to pan and sauté until soft, about 4 minutes.

Add tomato paste and flour to pot, and stir to combine.

Pour in chicken broth, spices, basil, and whole tomatoes, bring to a simmer.

Simmer soup for about 30 minutes.

Puree soup using an immersion blender or blender.

Return pureed soup to pot and stir in cream.

Sprinkle with shredded cheese and fresh basil. Enjoy!