Add some fun to your breakfast with this Cinnamon Toast French Toast. Crunchy on the outside and soft in the middle, it's the perfect way to start your day. This post has been sponsored by General Mills, however all opinions are 100% my own.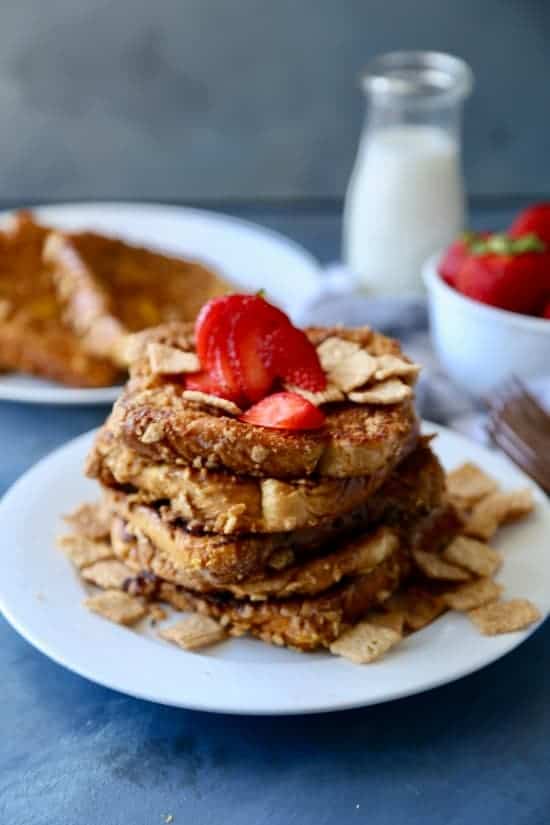 There are two school days a year that I get up extra early and make a big breakfast. With 3 kids in different schools in different counties it makes it a bit difficult to make a sit down meal every morning. Anyway, those two days are the first day of school, and the last. On the first day of school breakfast, we talk about our goals for the year and what we are most excited about. On the last day of school, we talk about what we have achieved and how we will celebrate!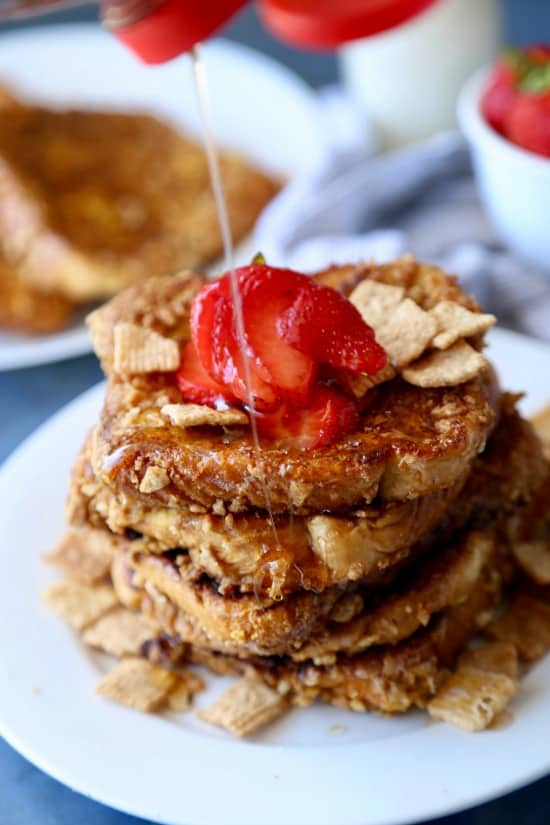 Without fail, every year my youngest asks me what are my goals for the year. While I would love to tell him they are all business related, I think he takes comfort in me telling him how I want to volunteer more (i.e. be in his classroom a few times a week). This year, my goal is to collect as many Box Tops as possible. With my oldest being in a small charter school, their funding is pretty limited. Without fundraisers and things like Box Tops, programs like Steel Drum and other electives would not be possible.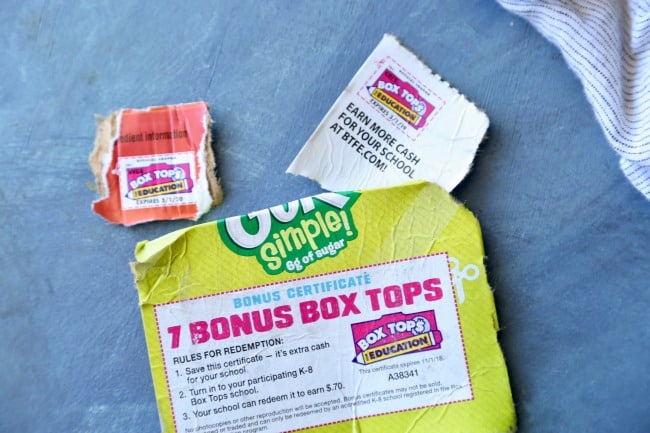 Collecting them is so easy too, as a ton of everyday items (especially breakfast and lunch snacks) have it on them. Each Box Top is worth 10 cents. While that may not seem like a lot, each school has the potential to earn up to $20,000 worth! If everyone comes together to collect, the number doesn't seem so far out there!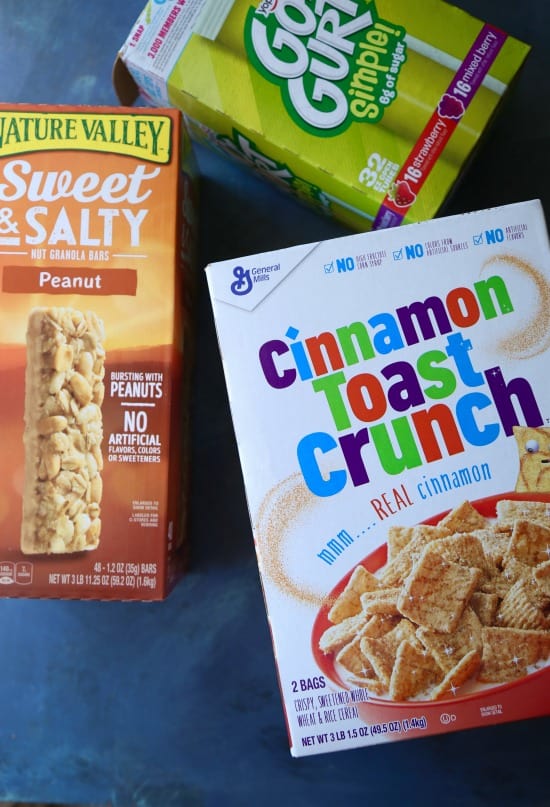 Personally, my weekly trip to Costco can almost guarantee 60-70 cents in Box Tops for Education. With brands like Go-Gurt®, Nature Valley™, and even Ziploc, I am sure to be able to rack up the points.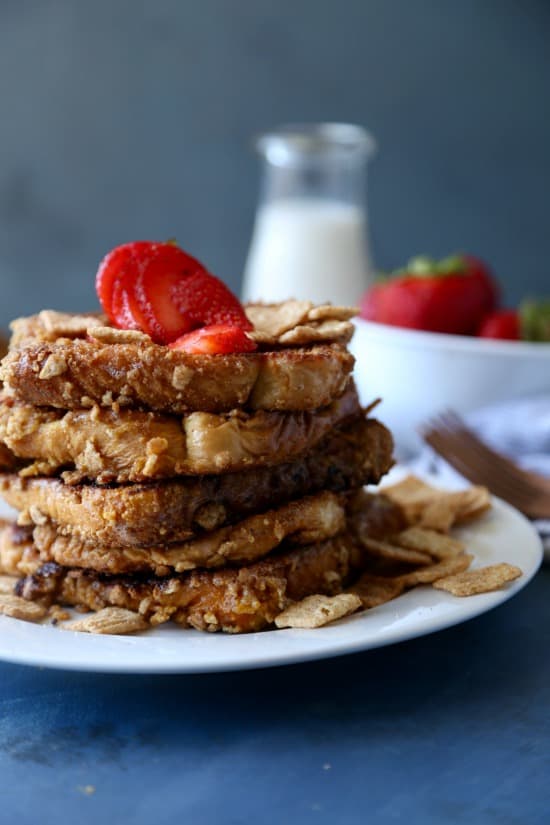 Ok, so back to my twice a year breakfast. On the first day of school I have to be upbeat, positive, and fun in every way. I like to create as much excitement as possible. Truth be told, I am probably the most excited! Anyway, what's more fun than Cinnamon Toast French Toast? Their absolute favorite cereal combined with their favorite Sunday morning breakfast!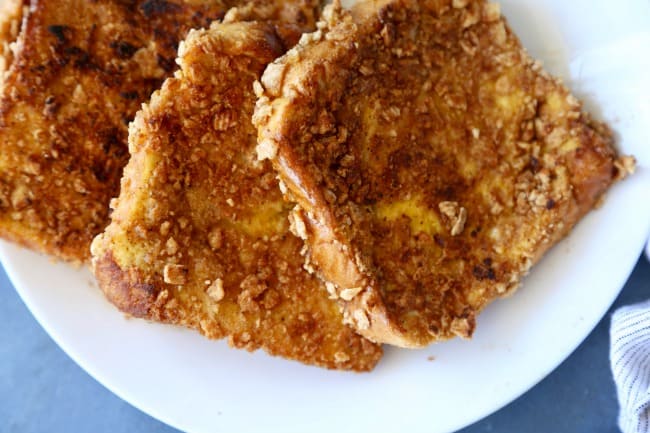 Cinnamon Toast French Toast is incredibly easy to make. I simply crush the cereal in a bag with a rolling pin. Then I dip the bread into the egg and coat it with the crushed cereal and fry it in butter. The crushed cereal not only gives the finch toast a cinnamon flavor, but it also creates a crust making it crunchy on the outside and soft in the middle. It was a total hit!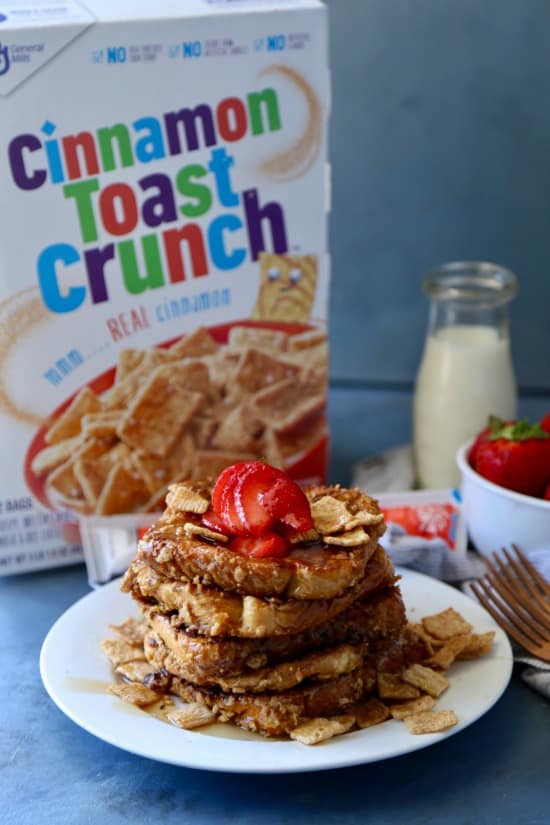 So whether you are shopping for breakfasts or school lunches, or just trying to stock your cabinets, make your purchase count. By a brand the has the Box Tops For Education Stamp, and send them in. Every little bit counts! My son's new found love for the Steel Drum has inspired my Box Top collecting, what inspires yours?
Head over to the Costco Box Tops for Education site and enter to win 100 Box Tops for your school! Enjoy!
How to Enter Costco Sweeps:
Take a photo about how Box Tops for Education inspires imagination in your kid

Preferred ways of entry: Instagram or Twitter
Can upload to microsite as well but is not the preferred way of entry

Follow @BTFE on Twitter or Instagram (this is how winner will be notified so must follow this handle)
Share and use hashtag: #InspireContest
Prize: 3,000 Costco members will win. Each winner will win 100 Box Tops for their school
Sweeps will not include/do not engage in e-box tops
NO PURCHASE NECESSARY. Legal residents of the 50 United States (D.C.) 18 years or older. Ends at 11:59 p.m. ET on 9/30/17. To enter and for Official Rules, including odds, and prize descriptions visit www.costcobtfe.com. Void where prohibited by law. Use of "#InspireContest" when posting entry constitutes entrant's agreement to Official Rules. Sponsor: General Mills.
Each box top is worth 10 cents to redeeming school when clipped from box tops products and sent to the redeeming school. Only BTFE registered schools can redeem box tops. Limit $20,000 per school per year for box tops redeemed through the clip program. See www.boxtopsforeducation.com for program details.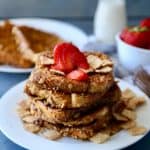 Cinnamon Toast French Toast
A crunchy, cinnamon-y French Toast
Ingredients
1

cup

Cinnamon Toast Crunch™

6

thick slices bread

2

eggs

⅔

cup

milk

¼

teaspoon

ground cinnamon
Instructions
Place Cinnamon Toast Crunch™ in a large Ziploc bag and crush with a rolling pin until they are fine crumbs.

Beat together egg, milk, and cinnamon.

Heat a lightly buttered griddle or skillet over medium-high heat.

Dunk each slice of bread in egg mixture, soaking both sides then coat both sides in cereal crumbs.

Place in pan, and cook on both sides until golden. Serve hot.