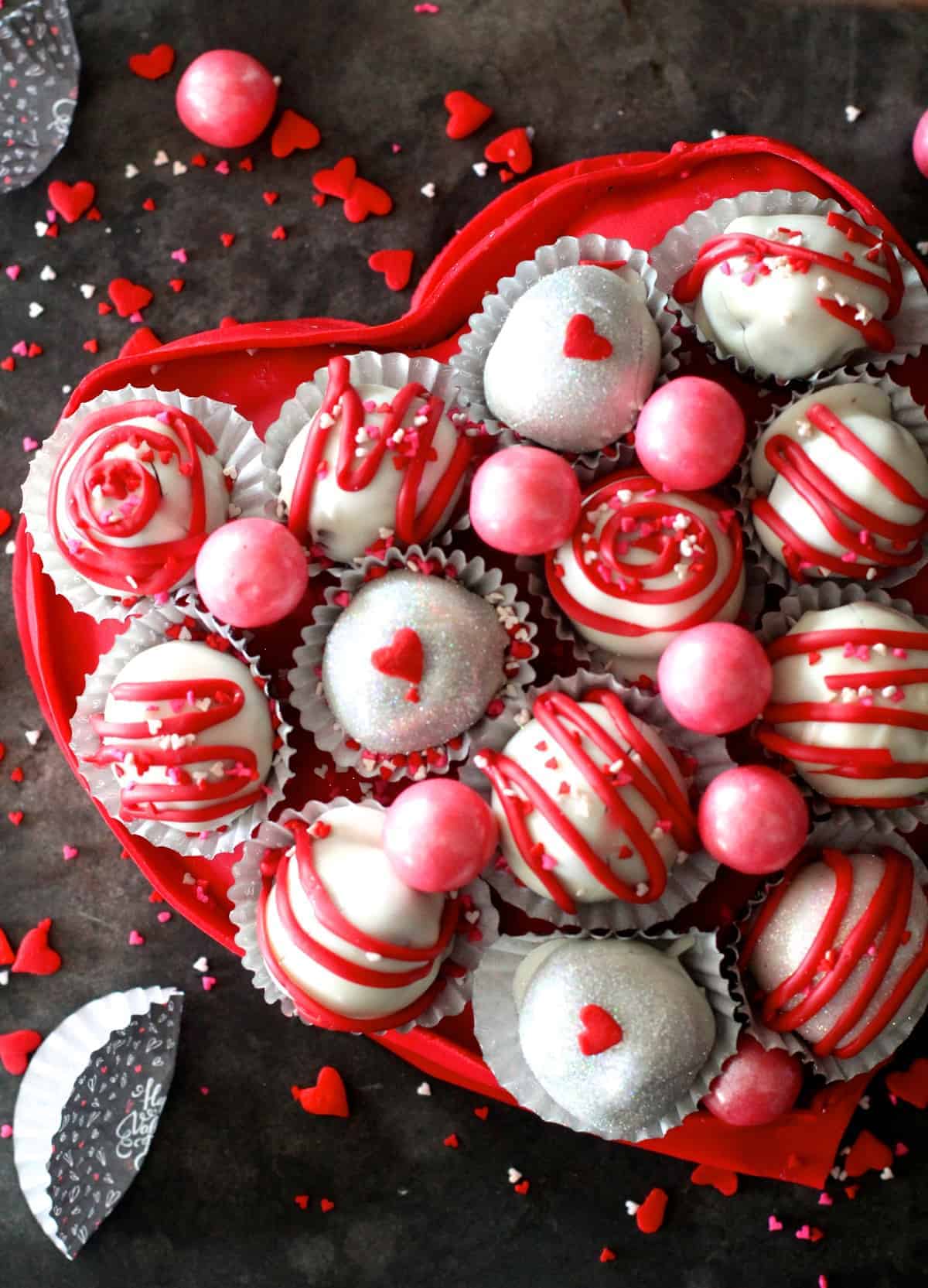 What is Valentine's day without a heart shaped box full of chocolates? Well this year, instead of buying one, make a completely edible heart box and fill it with fun cake balls.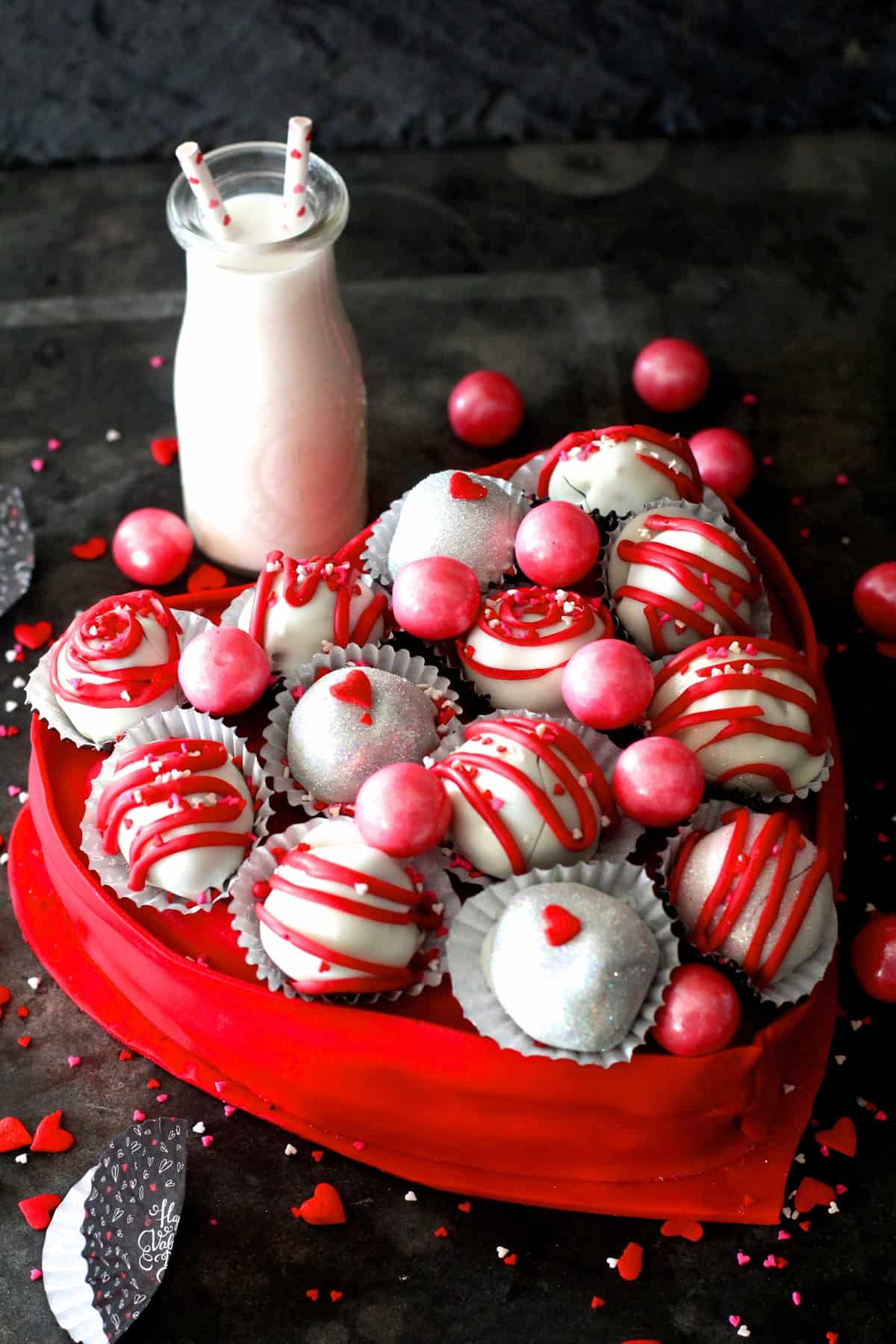 Have you ever come across a recipe or craft and wanted to make it for like years? It happens to me all the time. I seem to subconsciously "pin" stuff to my brain and think about it years later. It usually takes about that long for my inspiration to come to fruition. I had seen this cake many many years ago on Bakerella, and loved it instantly. I have always wanted to make it, but was too afraid of the fondant.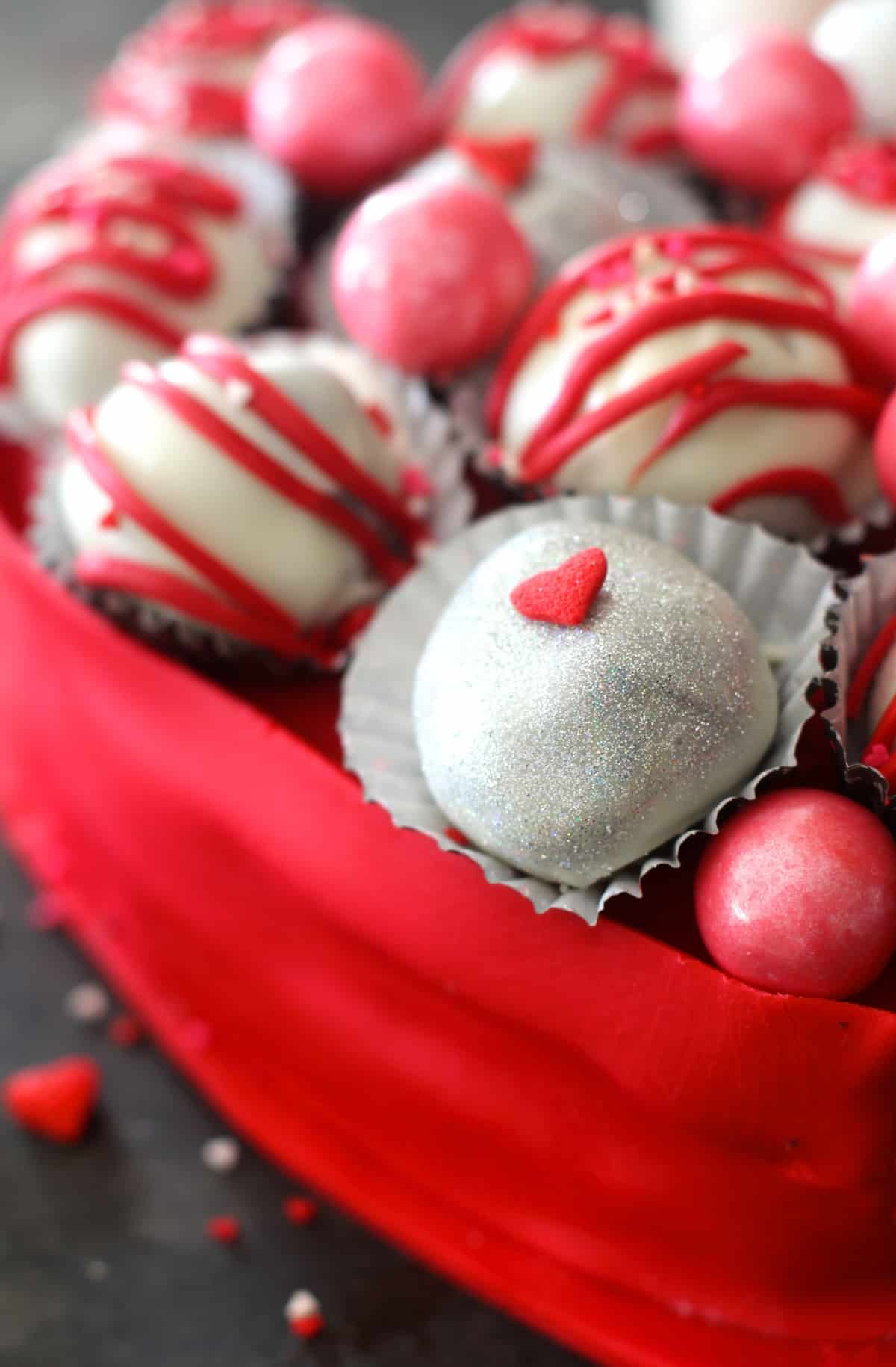 While I am still not a professional fondant cake maker, I was pretty excited with how it came out. It's not perfect, but it shows that I tried, which counts for something right!?  Besides making a double layer cake, I pretty much followed Bakerella's instructions which were easy and visual I highly suggest you head over to her site for the complete recipe.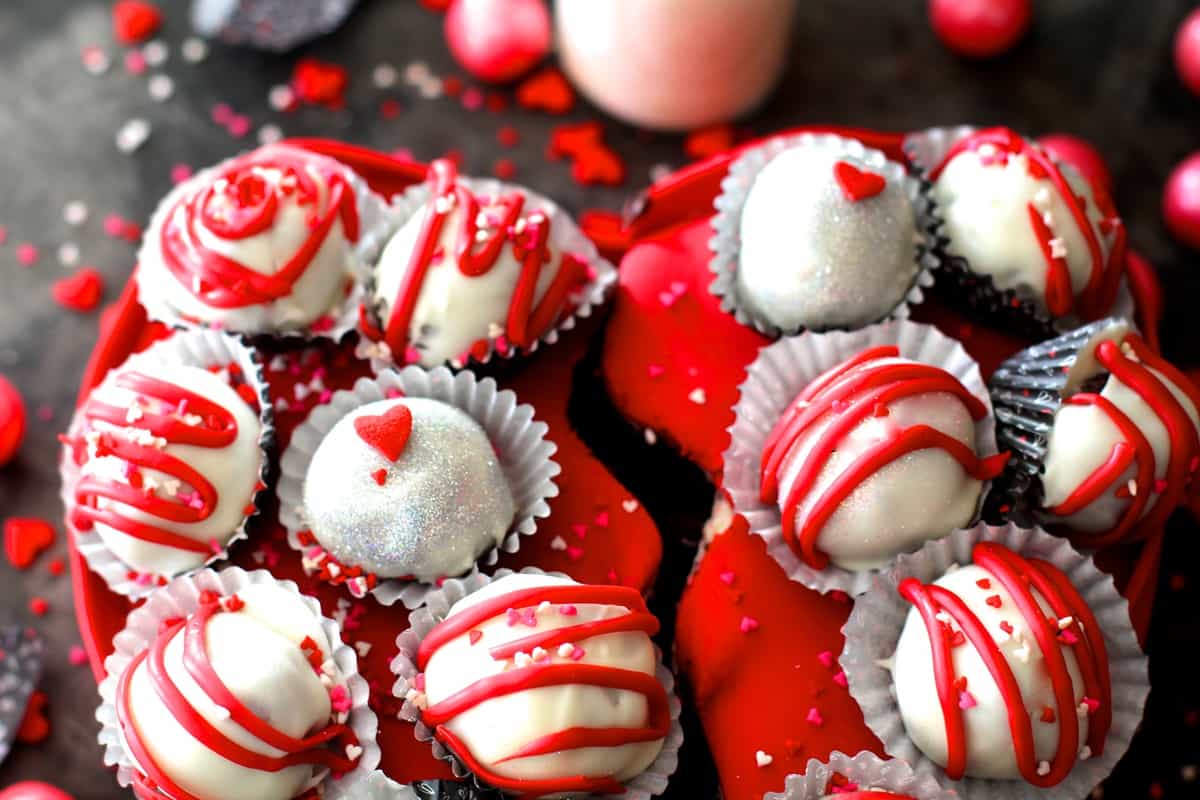 Since Oreo Almond Truffle Balls are my family's favorite, I filled the chocolate box with them. On a few balls I painted on some silver edible glitter (aff) which made them really cute, and the first to go.
If you have never made Oreo Almond Truffle Balls, you need to make them now. The are absolutely delicious with their smooth chocolate and hit of almond extract wrapped up in a thick white chocolate coating. They are easy to make and require no cooking!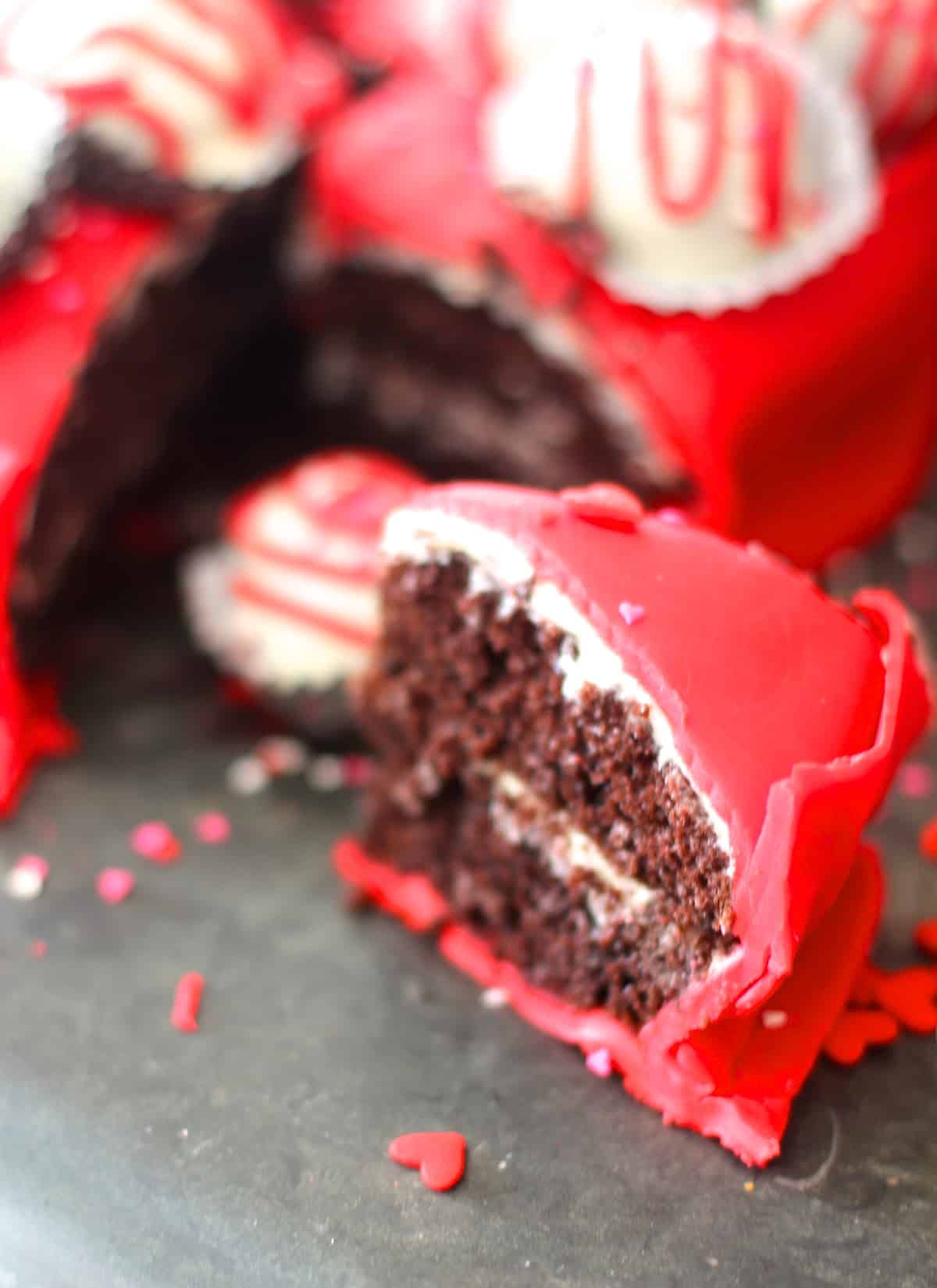 If you're looking to make a big impression this Valentine's Day or really say "I Loooooove You" this cake is the way to go! Enjoy!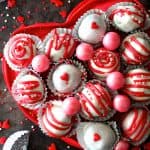 Oreo Almond Truffle Balls
A simple recipe that makes a decadent chocolate almond truffle and the perfect gift!
Ingredients
1

pkg

(8 oz.) brick cream cheese, softened

36

OREO Cookies

, finely crushed (about 3 cups)

2

cups

white melting chocolate

, melted

Optional: 1 teaspoon almond extract
Instructions
Mix cream cheese and cookie crumbs until blended.

If adding almond extract, add at this point.

Shape into 48 (1-inch) balls. Freeze 10 min. Dip balls in melted whited chocolate; place in single layer in shallow waxed paper-lined pan.

Drizzle with extra white chocolate and garnish with festive sprinkles.

Refrigerate 1 hour or until firm.