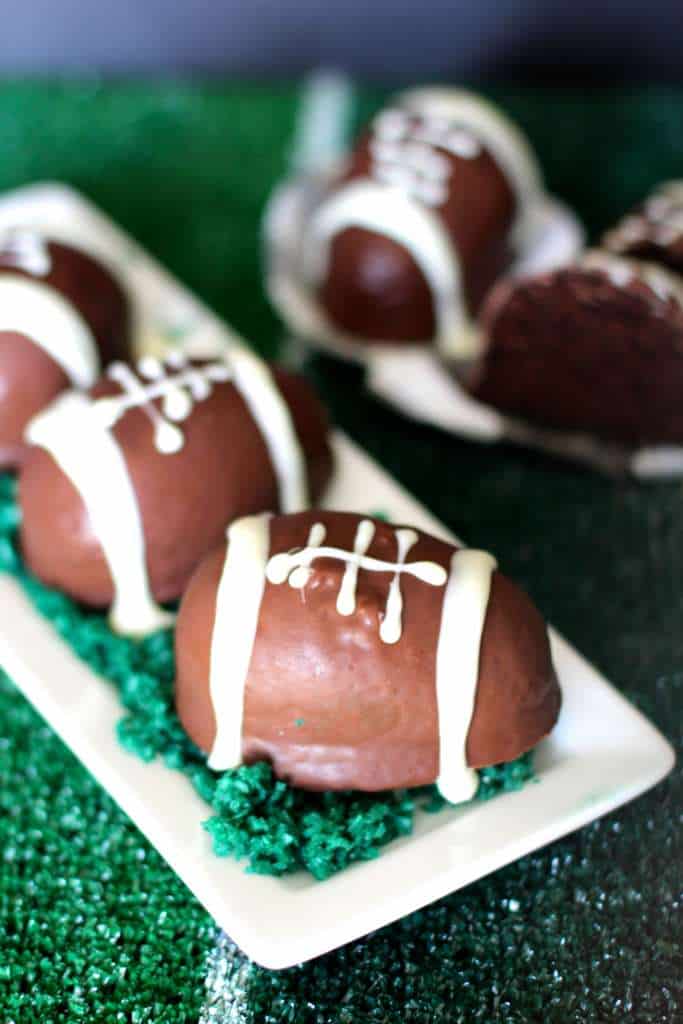 Super Bowl is right around the corner. As a food blogger I can say that it can't come soon enough. I have been working on football recipes for far too long, especially for someone who is not into football. It was fun, but I can't wait for it to be over. So, this my friends, will be my last football themed recipe of the year!
I purchased this pan
last year around this time. The little crevices make for perfect mini football and Easter egg cakes. I love all things mini, especially cakes!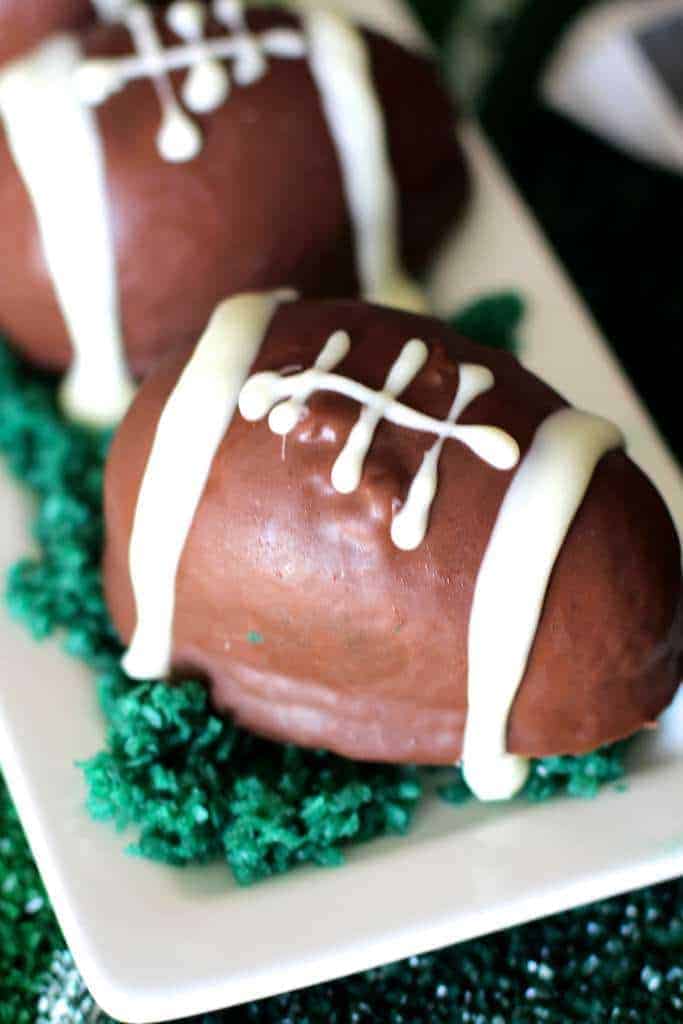 These little mini football cakes were incredibly easy to make. Simply make and bake the chocolate cake, dip in chocolate coating, and pipe the lines with white chocolate coating. Serve on a platter of green dyed coconut shavings for grass and you win best dessert!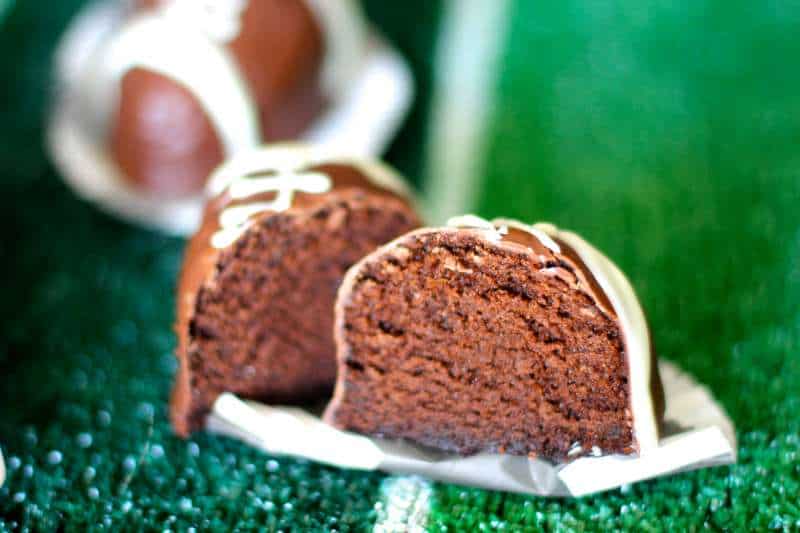 If your teams are playing this year, I wish you the best of luck. I will be sending my husband to a party with plenty of nibbles, while my daughter and I bow out. We will instead be attending the LA Cookie Conference and Expo. I am sooooooooo excited!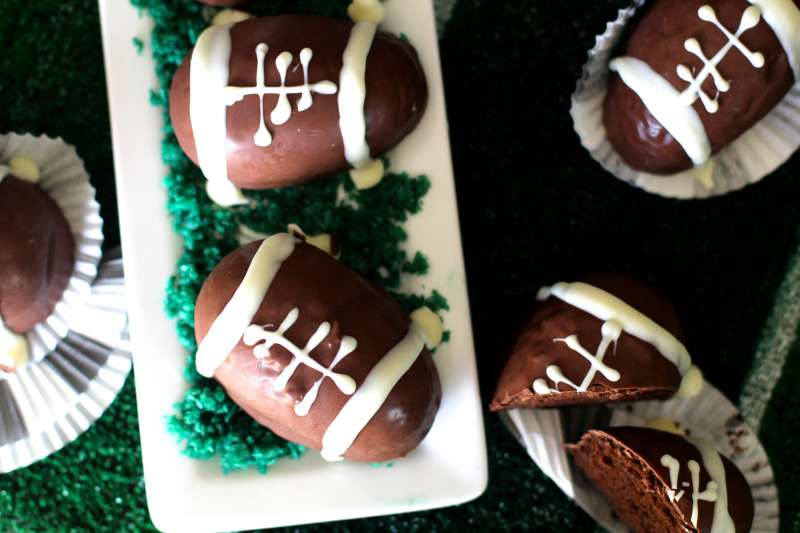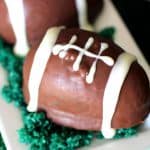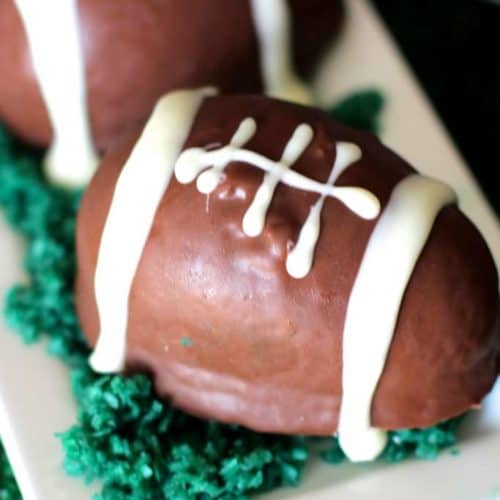 Chocolate Covered Mini Football Cakes
Mini football cakes that will have everyone cheering for you!
Ingredients
For the Cake:

1 ¾

cups

all purpose flour

2

cups

granulated white sugar

¾

cup

unsweetened cocoa powder

1 ½

teaspoon

baking soda

¾

teaspoon

salt

2

large eggs

1

cup

buttermilk

(or substitute by putting 1 tablespoon white vinegar in a cup then filling the rest up with milk; let stand 5 minutes until thickened)

½

cup

butter

, melted

1

tablespoon

vanilla extract

1

cup

freshly brewed hot coffee

(or 2 teaspoon instant coffee in 1 cup boiling water)

Assembly:

1

cup

chocolate coating such as Almond Bark or Candiquik

1

tablespoon

coconut oil or vegetable shortening

¼

cup

white chocolate coating

2

teaspoons

coconut oil or vegetable shortening
Instructions
Preheat oven to 350 degrees.

Lightly grease mini egg shaped pan with nonstick cooking spray.

In the large bowl of a standing mixer, stir together flour, sugar, cocoa, baking soda, and salt.

Add eggs, buttermilk, melted butter and vanilla extract and beat until smooth (about 3 minutes). Remove bowl from mixer and stir in hot coffee with a rubber spatula.

Batter will be very runny.

Pour batter in easy spot ⅔ of the way full and bake on middle rack of oven for about 18-20 minutes, until toothpick inserted in centre comes out clean with just a few moist crumbs attached.

Allow to cool 15 minutes in pan, then carefully remove each cake and place on a metal cooling rack until completely cool.

Once cool, place cakes in the refrigerator for 1 hour.

When cakes are cold, melt chocolate.

To melt the chocolate coating, combine chocolate and coconut oil in a microwave safe bowl.

Heat for 1 minute, then remove and stir. If chocolate is not smooth, heat again for increments of 10 seconds, stirring after each time, until smooth.

Once smooth, carefully dip each cake in chocolate coating, gently tap to remove excess coating, and place on a wire rack (or piece of waxed paper).

Allow to harden.

Once the footballs have set, melt the white chocolate and coconut oil and stir until smooth.

Place white chocolate coating in a pastry piping bag and snip the end.

Pipe the football lines on the football and allow to set.

Once set, serve immediately or place in an airtight container in the fridge for up to 3 days.

This recipe makes 12 mini footballs.
This post contains affiliate links.