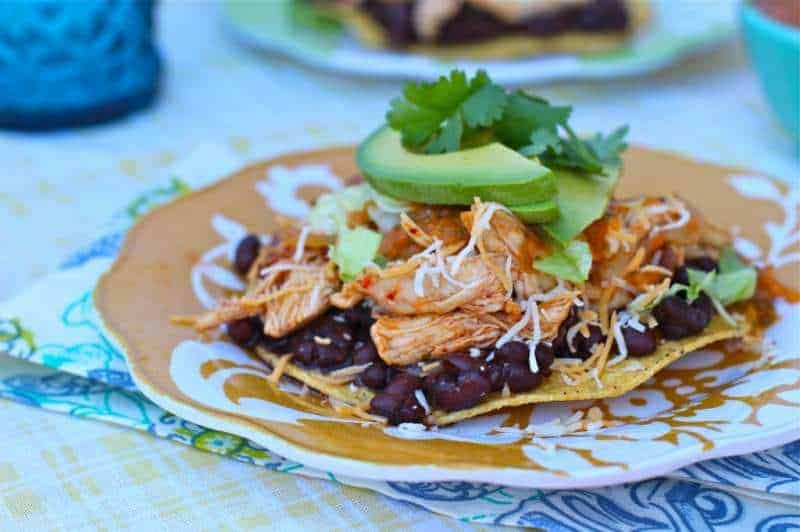 Yesterday was a long day. By the end of the day, I had a deep craving for a luscious mango margarita. My only problem when I have these kind of cravings is that I HAVE to eat Mexican food with them, regardless of what has been cooking in the crock pot all day. Margaritas and spaghetti just do not go well together. Thankfully, this is an easy meal to whip up!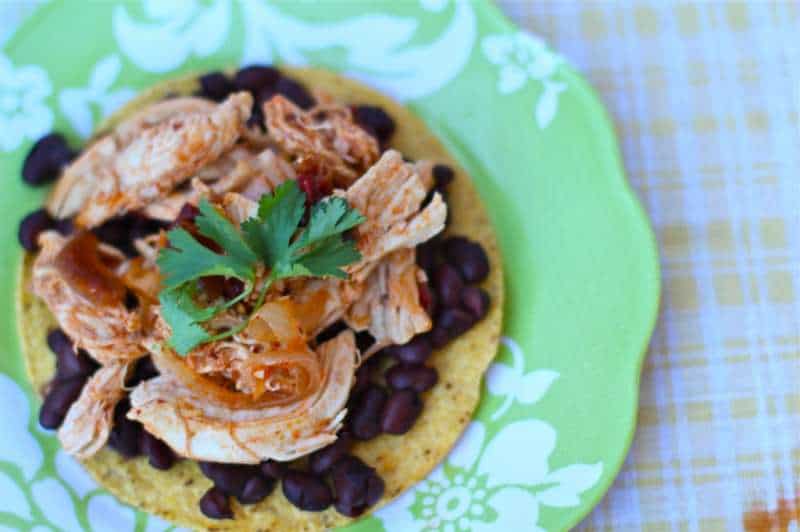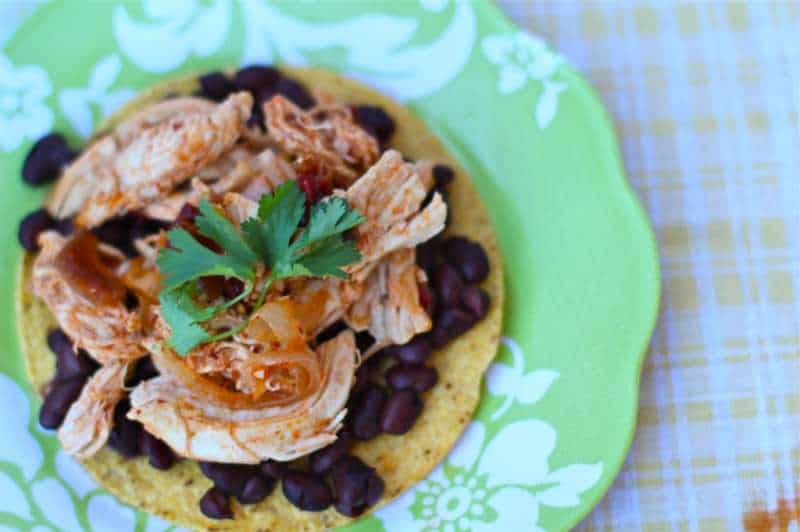 San Diego, hands down, has the country's best Mexican food. It is authentic, fresh, cheap, and delicious. On the rare nights where I am just not feeling up to make dinner, I send my husband to the local taco stop, which is our version of fast food.
Another benefit to leaving so close to the Mexican border, is that we have access to all of their delicious ingredients. One of my favorite ingredients is chipotle in adobo sauce. The spiciness and smokiness add depth to any dish. I have used it in chocolate cakes, dips, chili, and salsa.
Last night I made one of my husband's favorite meals, Chipotle Chicken Tostadas. Although, I make everything from scratch, it is a rather easy meal to put together. I usually put the beans on in the morning, but you can just as easily use canned beans.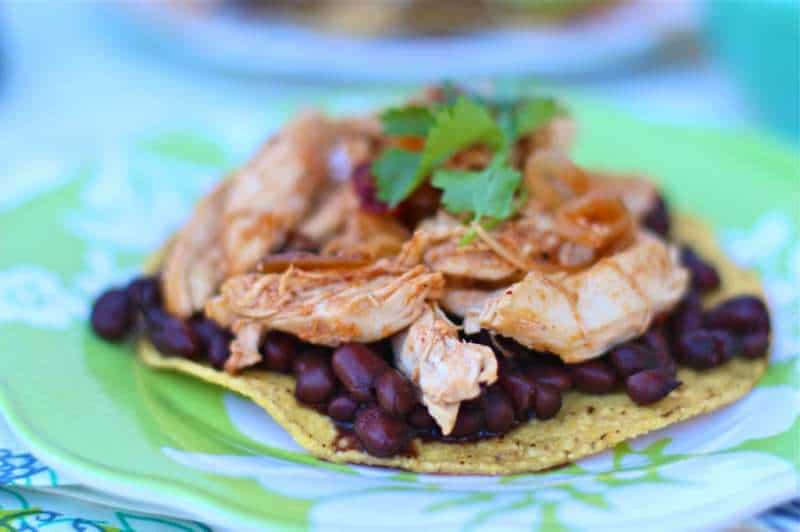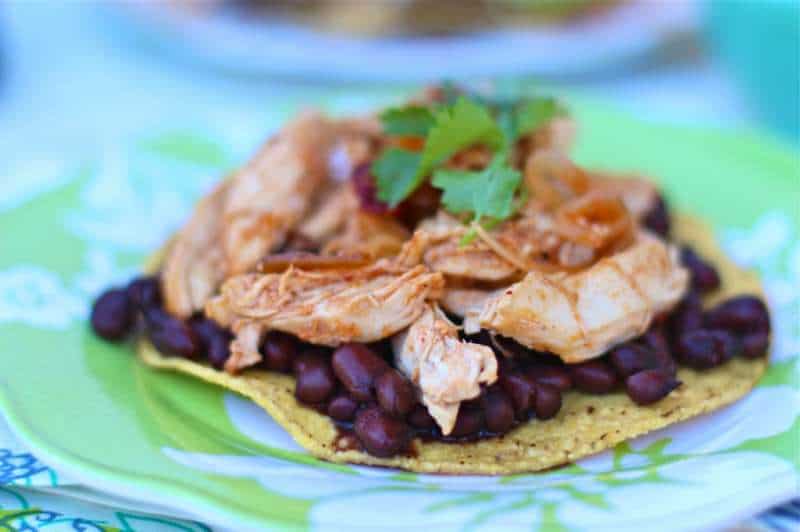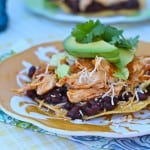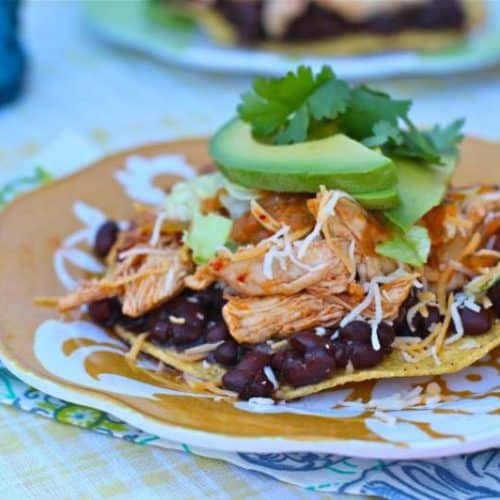 Chipotle Chicken Tostadas

Ingredients

Chipotle Chicken
4 boneless skinless chicken breasts
¼ of a small can of chipotle in adobo sauce
1 medium onion
1 cup chicken broth (I just use the water that the chicken has been boiled in)
2 tablespoons oil
Spicy Chipotle Roasted Salsa
4 roma tomatoes , cut in half
1 half an onion
4 cloves of garlic (keep skin on)
¼ cup fresh cilantro
1 chipotle pepper
½ teaspoon salt
Instructions

Chipotle Chicken
In a large sauce pan, boil your chicken until it is fully cooked (about 15 minutes).

Once cooled, shred your chicken. This step can be done the day before. If you have children eating you may want to reserve a bit of plain chicken for their meal.

Thinly slice the onion and cook, until clear and soft, in a pan and the 2 tablespoon oil.

Add the chicken.

Chop ¼ (or more if you like spicy) of the chipotle peppers and add to the chicken mixture.

Mix in the chicken broth.

Cook for 15 minutes on medium high.

This is also delicious poured over rice, or added to a quesadilla, ect. The possibilities are endless!!!
Spicy Chipotle Roasted Salsa
Preheat your oven to 415 degrees.

Roast the tomatoes, onion and garlic on a cookie sheet for 15 minutes.

Add the tomatoes, onion, peeled garlic, chipotle pepper, salt and cilantro to a blender or food processor and pulse about 7 times until smooth.

Serve with chips or on top of tostadas.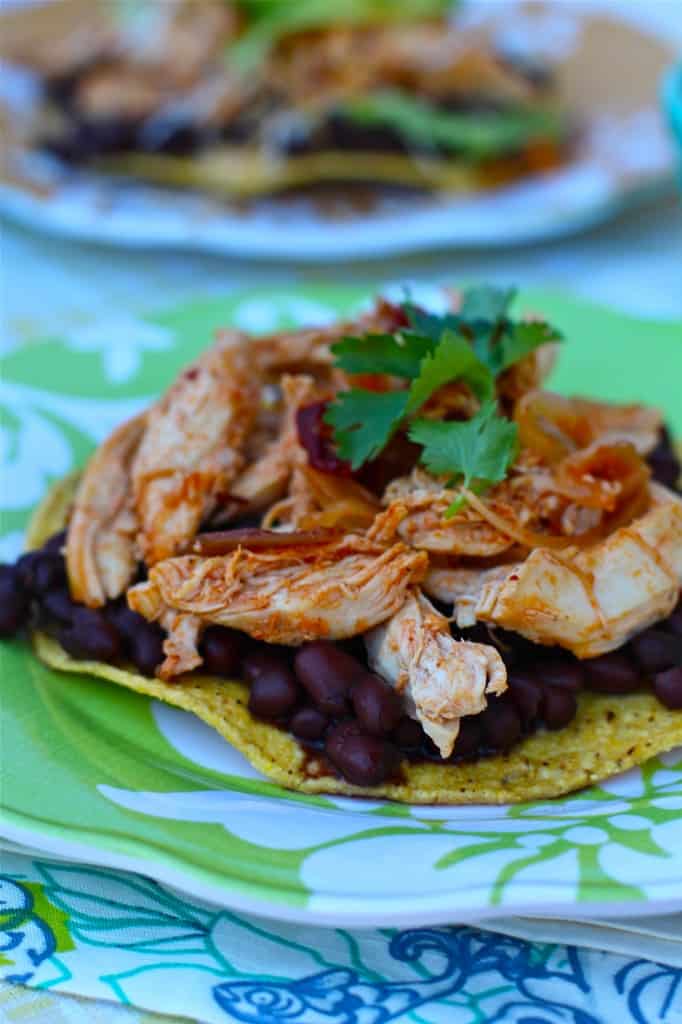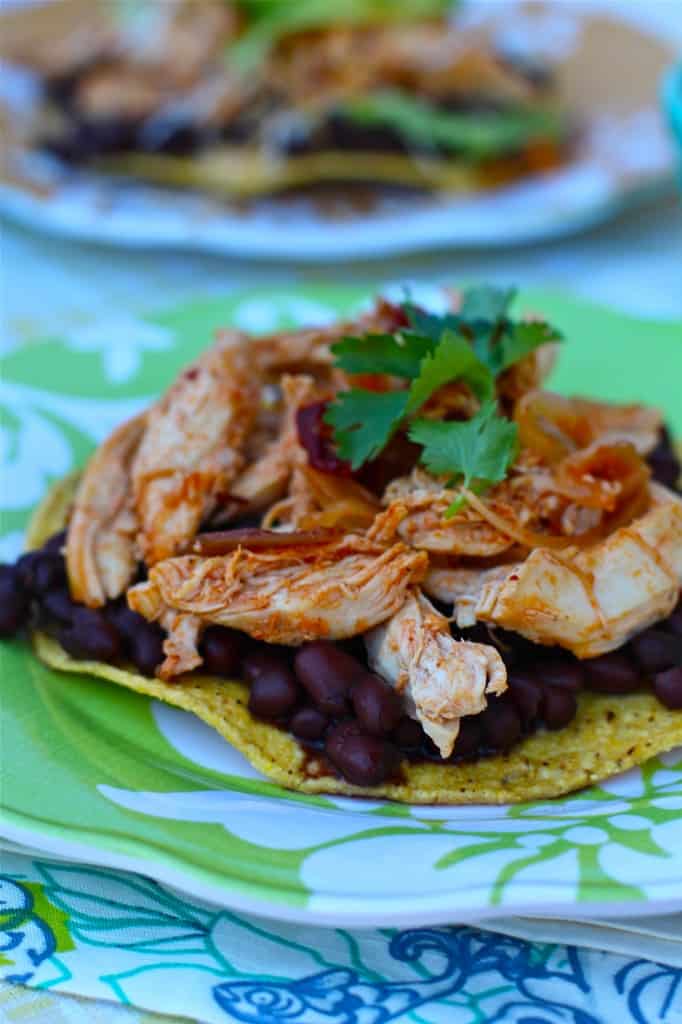 If you want to do as I did, and make tostadas, do the following:
Make or purchase refried beans and heat till hot

Make or purchase Tostadas (deep fried corn tortillas, also very simple to make)

thinly slice 1 cup iceberg lettuce

½ cup sour cream

½ cup shredded cheese
Put all of your ingredients in separate bowls. Allow everyone to assemble their own tostadas (this is my children's favorite part!).