This shop has been compensated by Collective Bias, Inc. and its advertiser. All opinions are mine alone. #doingthe99  #99yourholiday #CollectiveBias
Step away from the traditional holiday sugar cookies and have some fun with these Candy Land Sugar Cookie Houses! The kids will love making them!
I have a routine of stores that I hit every week. I'm a pretty savvy shopper and know where to find the best stores. Every Tuesday and Thursday morning I hit the 99 Cents Only right after dropping my kids off. I know that this is their delivery day (for my area) and that I am bound to find something new and exciting. In fact, it has become quite a tradition with my friend and I to call each other during our trip to see who has the best stuff and if we should pick up extra for each other!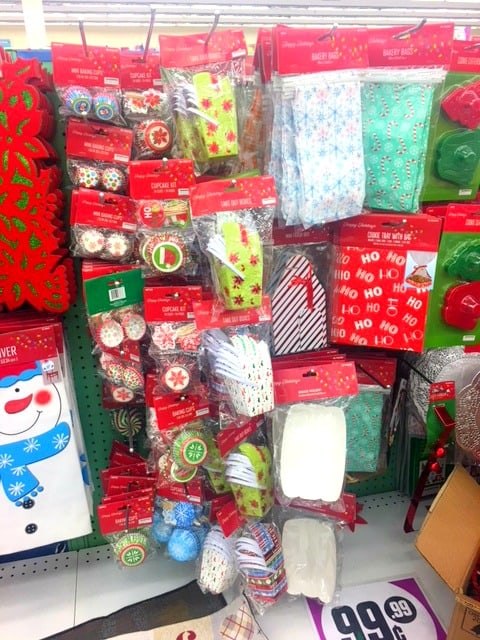 I buy everything from fresh raspberries, our favorite yogurts, to lunch snacks at the 99 Cents Only. Feeding a growing family of 5 can be really expensive, but not when you are able to buy half your groceries at the 99!!! Seriously folks, this place is awesome. If you haven't been yet, GO!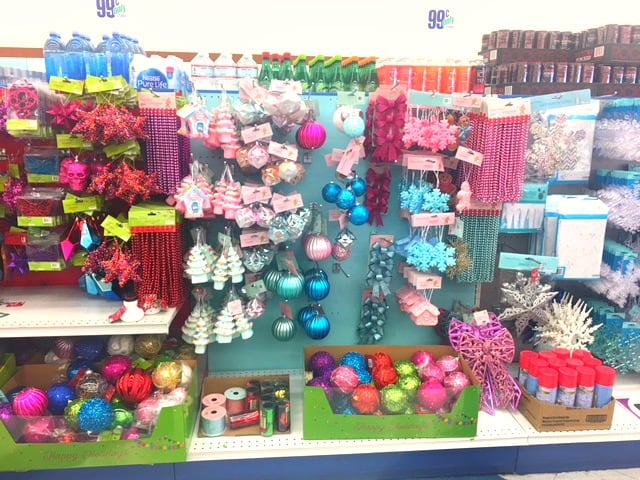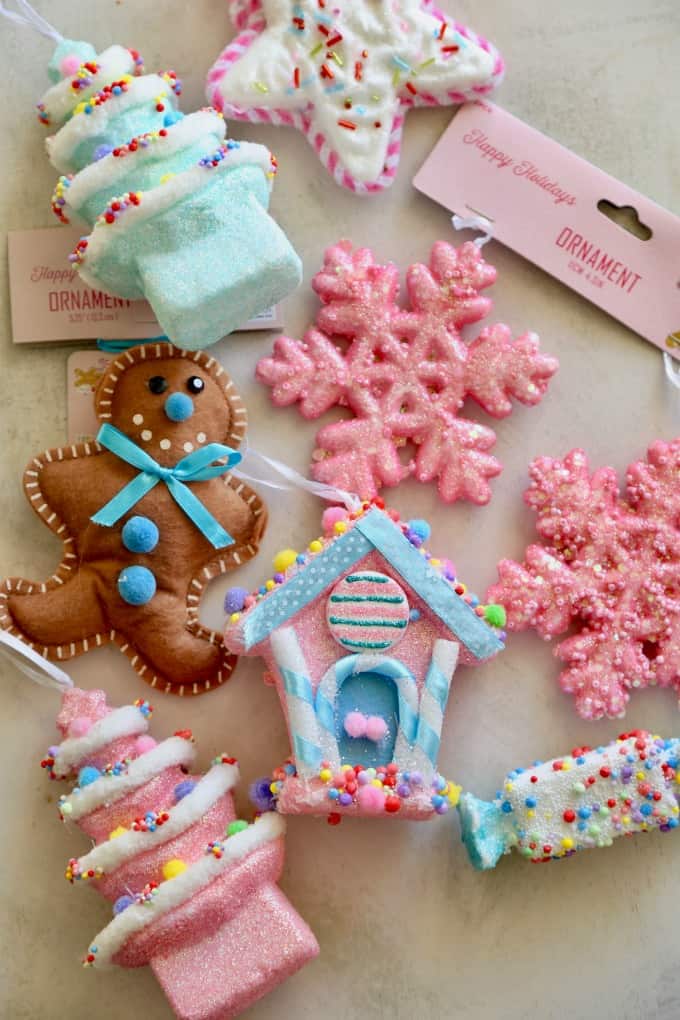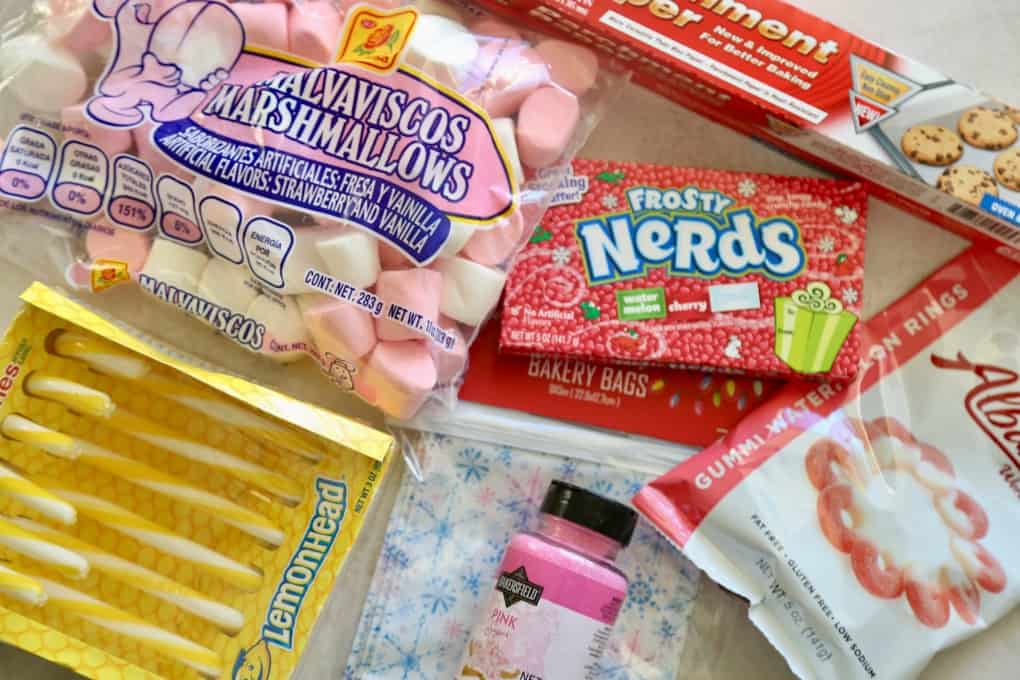 During Thanksgiving break, my shopping trips included my kids. We spent over an hour in the Christmas decoration section picking out fun ornaments, baking supplies, and adorable Christmas tins that will be filled with caramel and gifted to our family in Switzerland. I mean seriously, how cute are these gingerbread house tins?!?!
I was almost jumping with excitement when I saw their sweet pink and blue Christmas decor. It reminded me of my childhood when my mother used to decorate our mantle with vintage Rudolph, Abominable Snowman, and Candy Land Christmas decor. It was so cute and cheery. I knew I had to recreate this memory for my kids, so we bought all of the cute ornaments to make a special tree.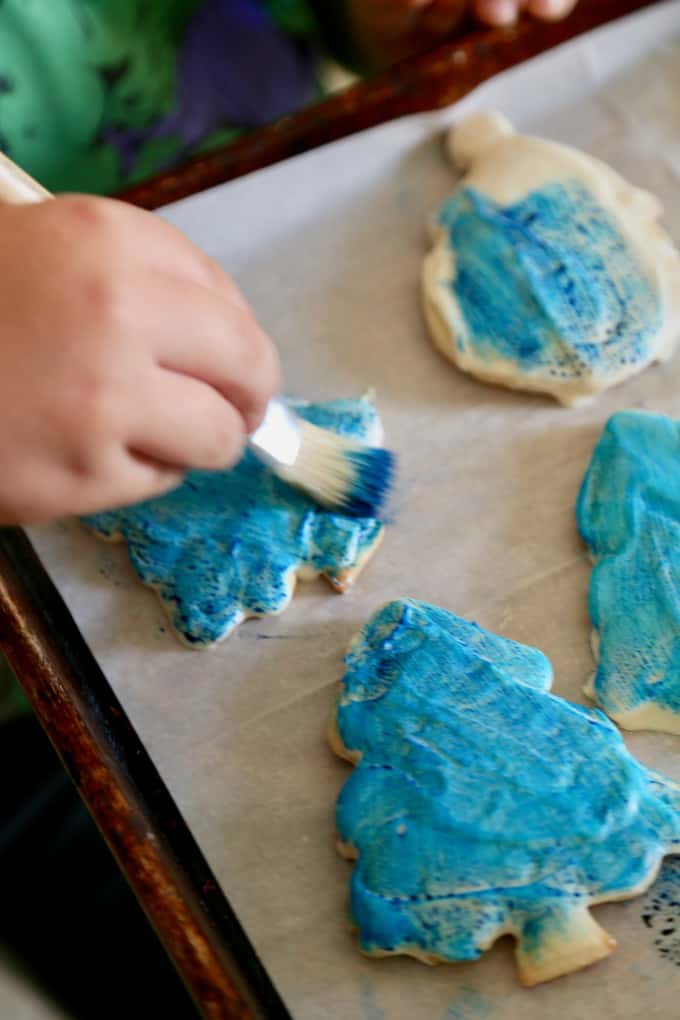 My kids, whom clearly love the holiday as much as I do, decided that they wanted to make Candy Land Sugar Cookies that looked like the ornaments. I let them pick out everything they needed to decorate the cookies.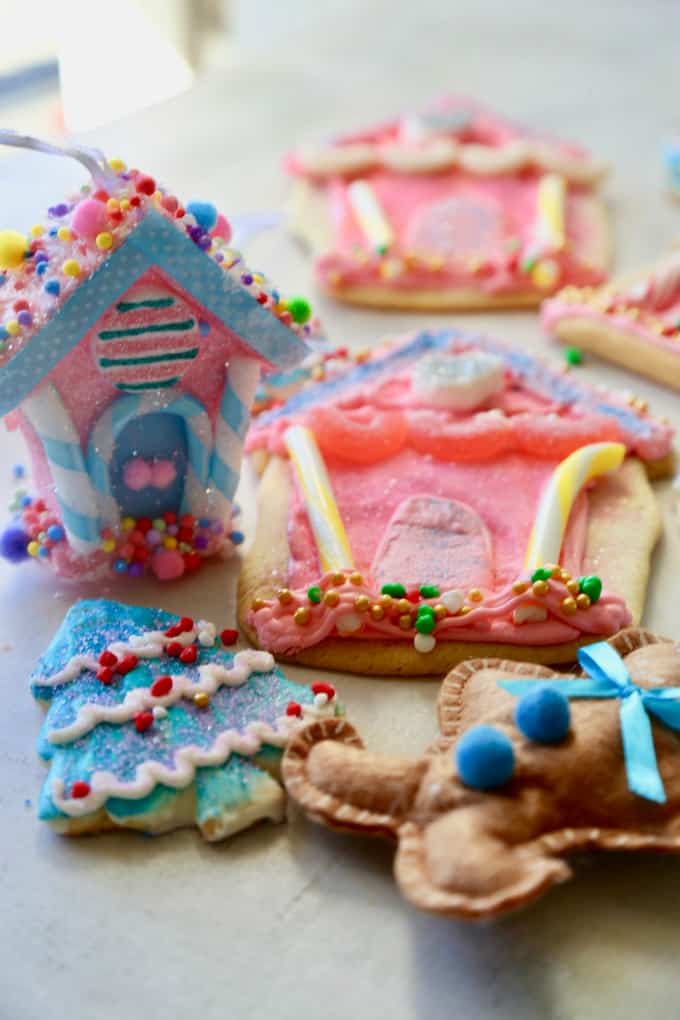 As soon as we got home, we got to baking. I didn't have a house cookie cutter, so I just freehanded it. We did however use the whimsical tree cookie cutters that we found in the baking isle from the 99.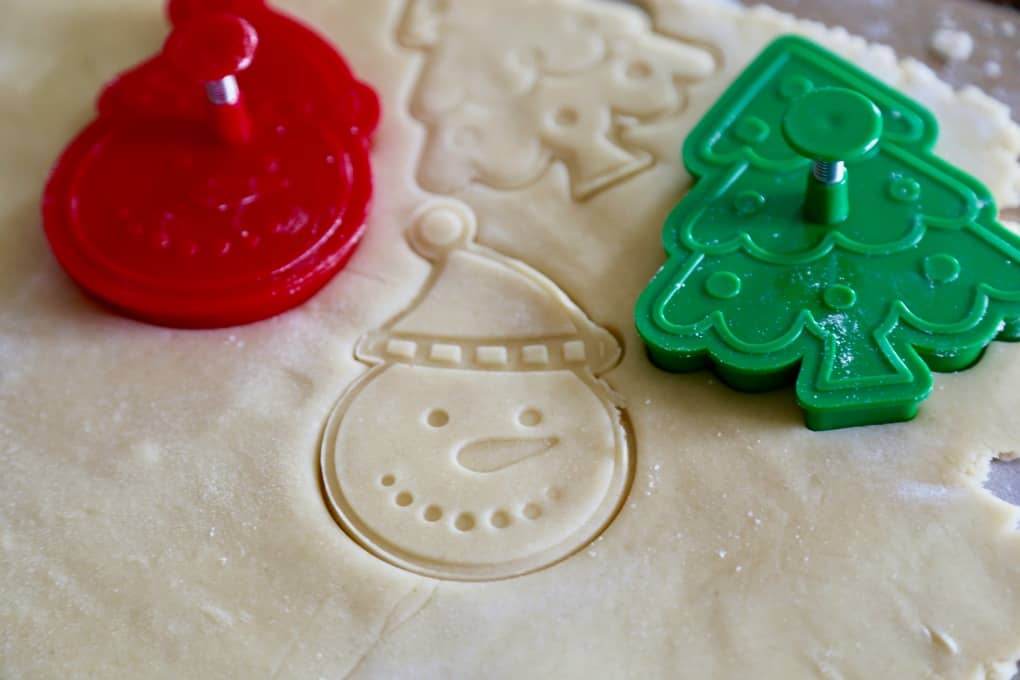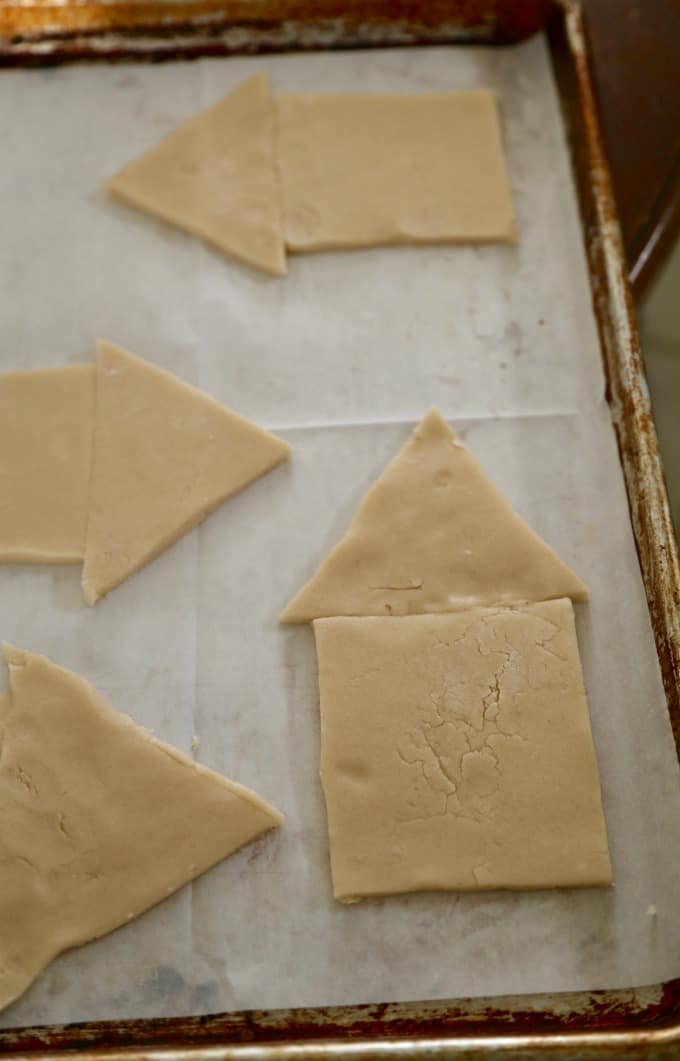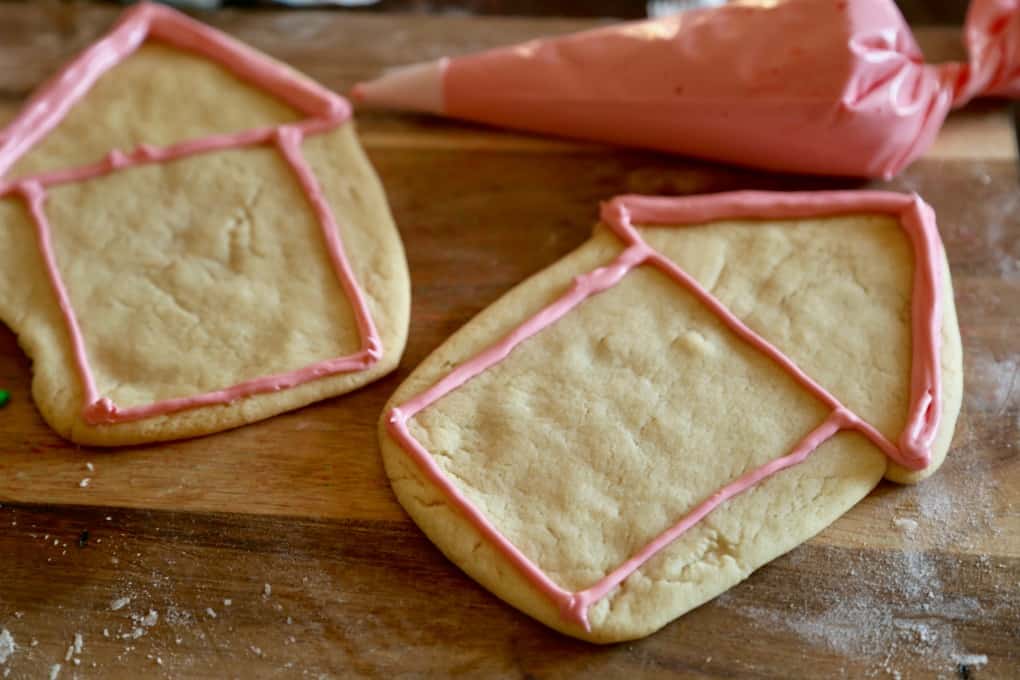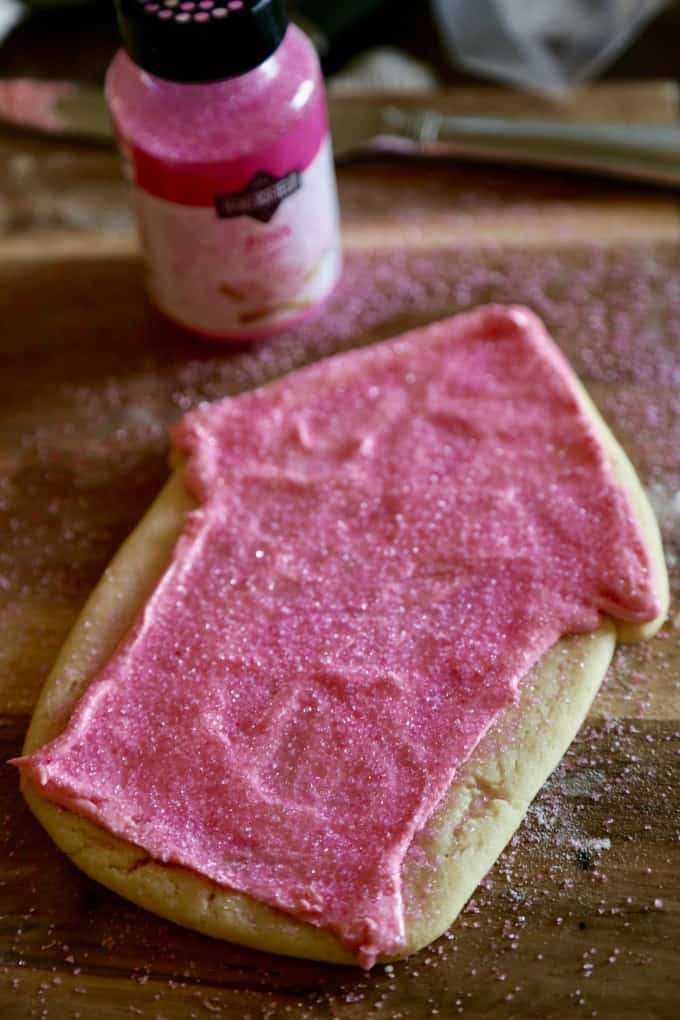 For the better part of the day, my kids frosted, sprinkled, and decorated their little houses as best they could to look like the cute ornament that we had found. I saved a few cookies to decorate them for the blog, but some neighbors came by to join in on the fun. It's the holidays, so I just went with it, because there is nothing better than a room full of children laughing, singing Christmas carols, and decorating their hearts out. They were so proud of them, that they packaged them up in the cute bakery bags we got at the 99 and gave them to their teachers.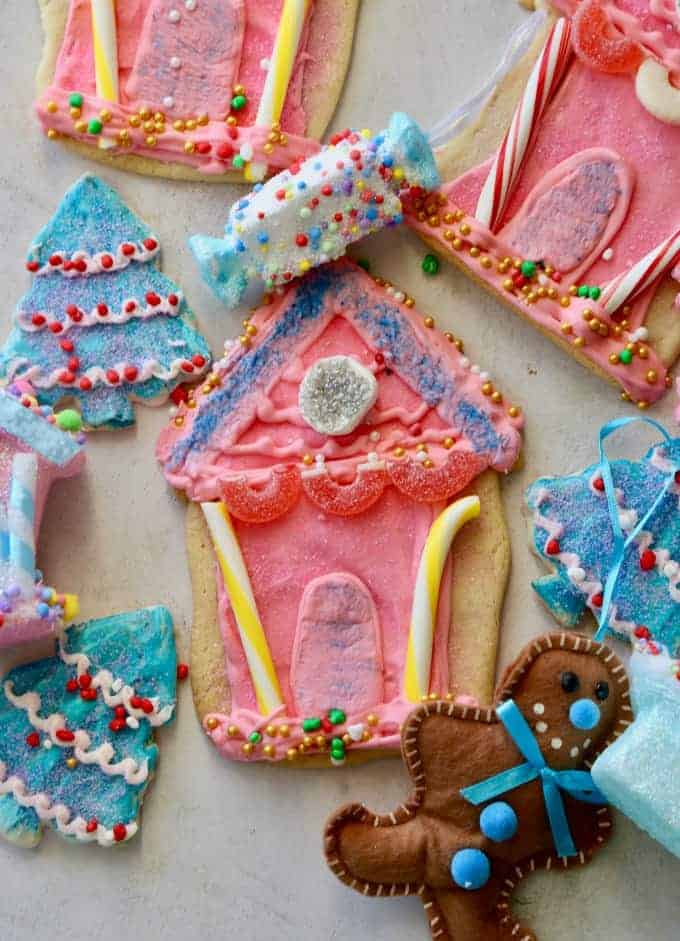 So here they are, perfect/imperfect Candy Land Sugar Cookies and Christmas Trees made by my sweet children. Enjoy the holiday. Don't stress about expensive ingredients and perfect cookies. Shop at the 99 for great deals on name brand ingredients and bake your hearts out! Enjoy!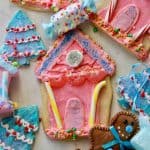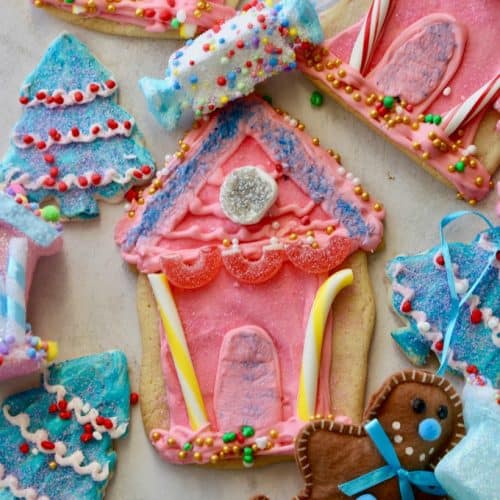 Roll Out Sugar Cookies
My favorite Sugar Cookie Recipe that is easy to make!
Ingredients
3

cups

flour

½

teaspoon

. baking powder

½

teaspoon

. salt

1

cups

granulated sugar

1

cups

butter

2 sticks

1

eggs

1

teaspoon

. almond extract
Instructions
Cream sugar and butter until light and fluffy.

Add eggs and vanilla.

In a separate bowl, mix dry ingredients.

Add dry ingredients to butter mixture and mix until combined.

Put a handful of the freshly made dough between two sheets of parchment paper and roll to desired thickness.

Repeat with the rest of the dough.

Put the rolled dough, including the parchment paper, on a cookie sheet and refrigerate for 10 minutes or longer.

Cut dough with cookie cutters and place on a parchment lined cookie sheet.

Bake at 350° F for 8 -10 minutes. Let cool before decorating.

Decorate with frosting, royal icing, or white chocolate.