Before going on any trip, I research places to eat and things to do on my favorite travel blogs. Usually, if traveling within the US, good places are always easy to find. I am finding that information for the countries we are visiting this summer are a little more difficult, however.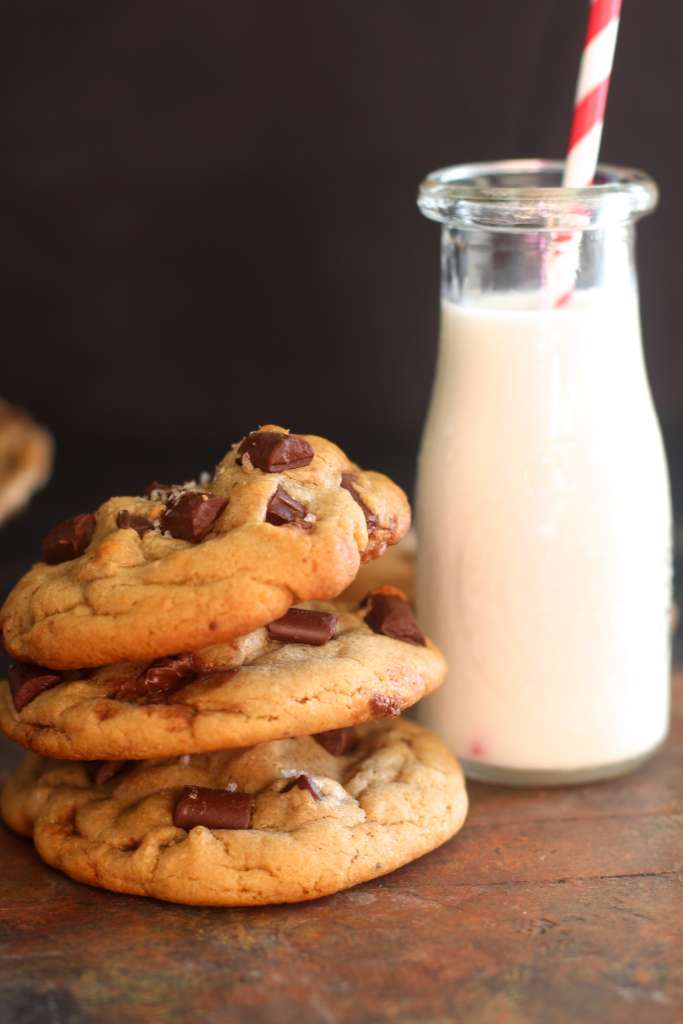 Even though I have been to San Francisco a million times, this time I wanted to try some new places to eat. I did a quick search and found some awesome recommendations from the travel blog Kevin & Amanda. We went to almost every stop that she recommended. One thing I was most excited for was the brown butter stuffed Nutella cookie. I was literally heartbroken when they told me that they no longer made the cookie.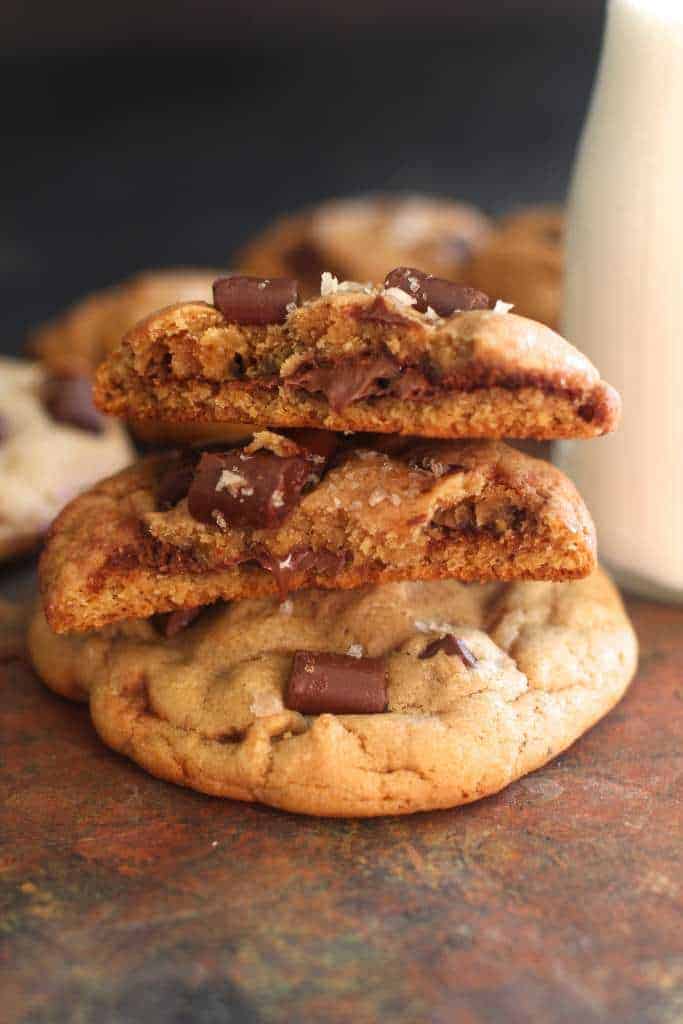 Hence my intense need to create this cookie at home. The dough is simple to make and results in a nutty flavored cookie (because of the brown butter). Because they are stuffed with a spoonful of Nutella, they are HUGE!!!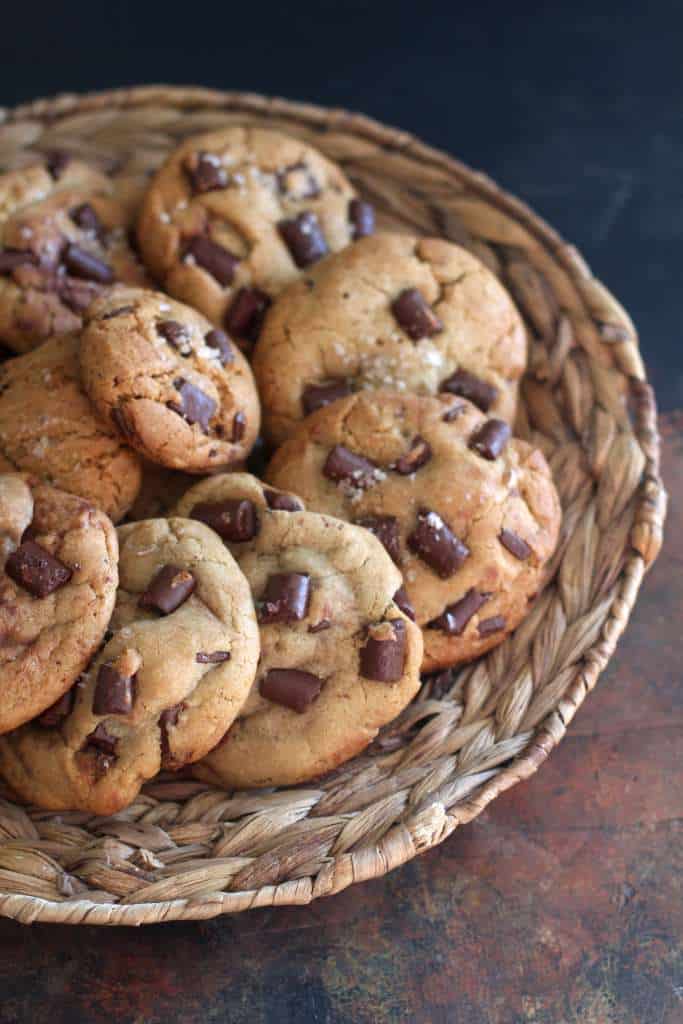 I thought that by making these cookies I would fulfill my cravings. Instead, I have created Brown Butter Nutella Stuffed cookie monsters, with 3 kids and one husband pleading for these cookies to be made day after day. Oh well, it was well worth it! Enjoy!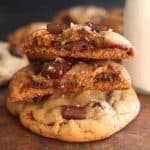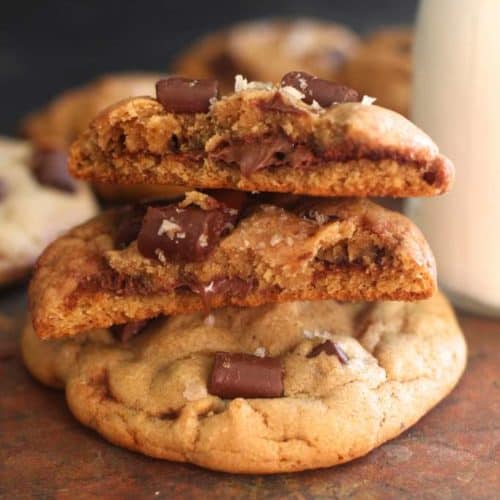 Brown Butter Nutella Stuffed Cookies
Ingredients
1 ¾

cups

unbleached all purpose flour

½

teaspoon

baking soda

1

teaspoon

kosher salt

2

sticks

(1 cup) unsalted butter

½

cup

granulated sugar

¾

cup

packed dark brown sugar

3

teaspoons

vanilla extract

1

large egg

1

large egg yolk

1 ¼

cup

semi-sweet chocolate chunks

1

cup

Nutella

, cold

Flaked sea salt
Instructions
Preheat oven to 350 degrees. Line 2 cookie sheets with parchment paper or a silicon liner.

In a heavy bottomed sauce pan, melt butter until browned. It takes about 5 minutes for butter to begin to smell nutty and start to brown, but watch carefully because it goes from perfectly browned to burned very fast.

Once browned, remove from heat and allow to cool for 5 minutes.

Combine flour, baking soda, and salt to a large bowl and set aside.

Combine browned butter and sugars to the bowl of your mixer and mix until combined.

Add egg and yolk one at a time then add the vanilla, mixing until completely incorporated.

With your mixer running on low, gradually add flour mixture; mixing until just combined.

Turn mixer off and mix in chocolate chunks with a spoon.

Refrigerate dough for at least 30 minutes.

Refrigerate Nutella for at least 30 minutes.

Once dough is cold, spoon a tablespoon of dough. Roll dough into a ball then flatten into a small disk.

Place a teaspoon of Nutella in the middle of the disk. Top with another disk shaped dough. Pinch sides together then carefully roll into a ball.

Place on a cookie sheet 3 inches apart (I usually only put 5 on a sheet)

Sprinkle balls with flaked sea salt (optional).

Bake cookies for 12-14 minutes, depending on your oven.