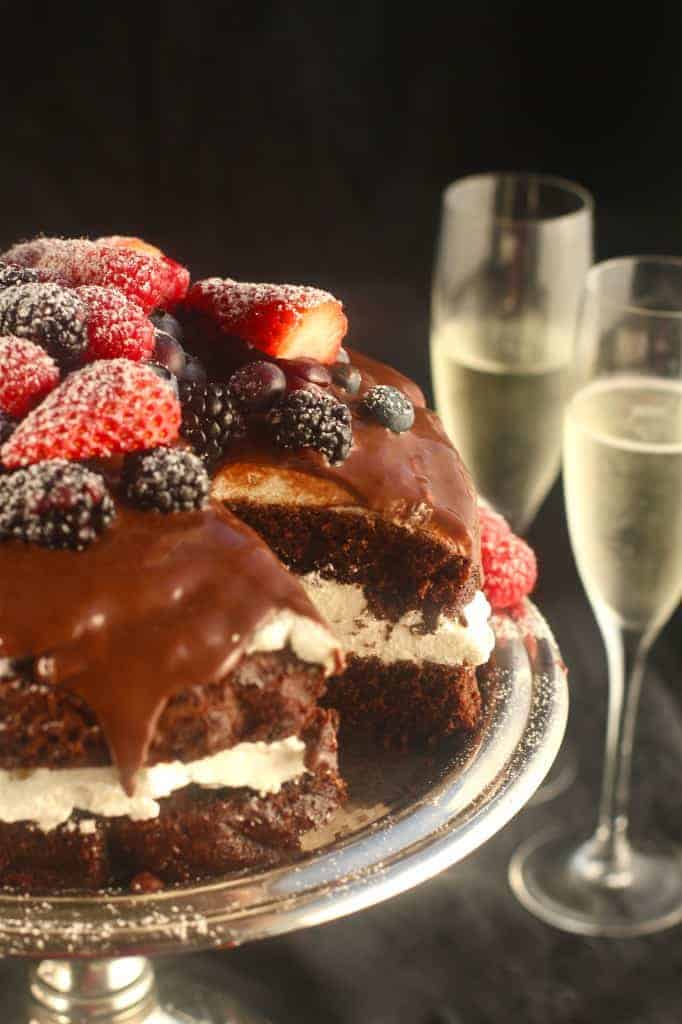 First of all, Happy New Year friends! I have my fair share of resolutions that I *may* share later today (because if I actually publish them they are for real, so I am not sure if I am ready for that!), but I would love to know what your resolutions are!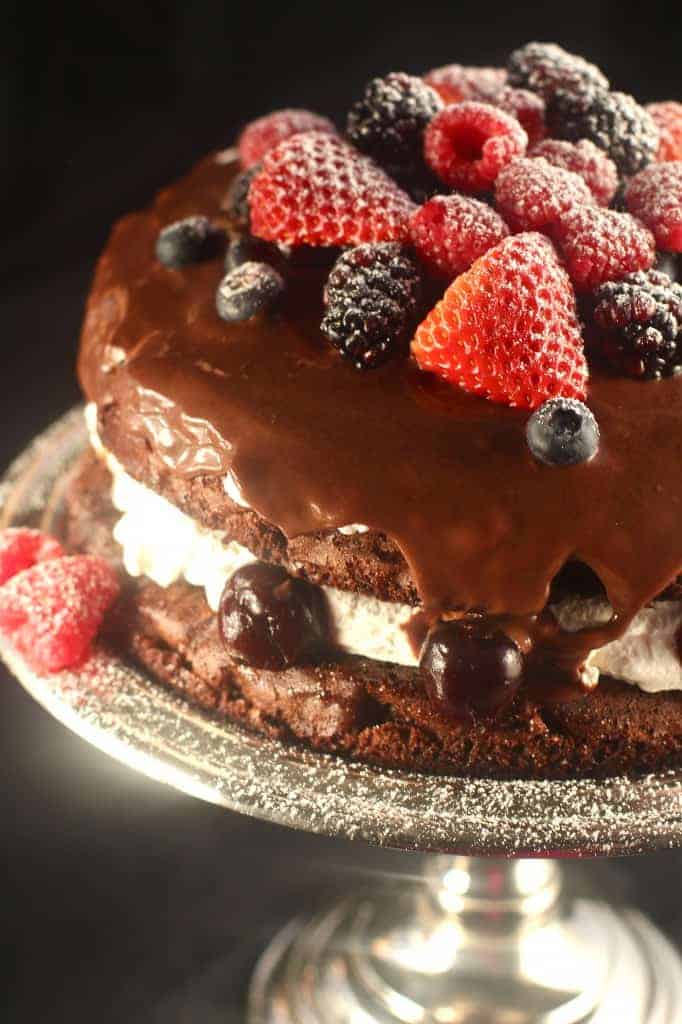 So, this post was supposed to go up yesterday, but as usual I am a day late and a dollar short. Because I have New Years dessert post planned, let's just pretend that today is the 31st again. Good, thanks. Now pop open another bottle of Champagne, because this is going to be a long read.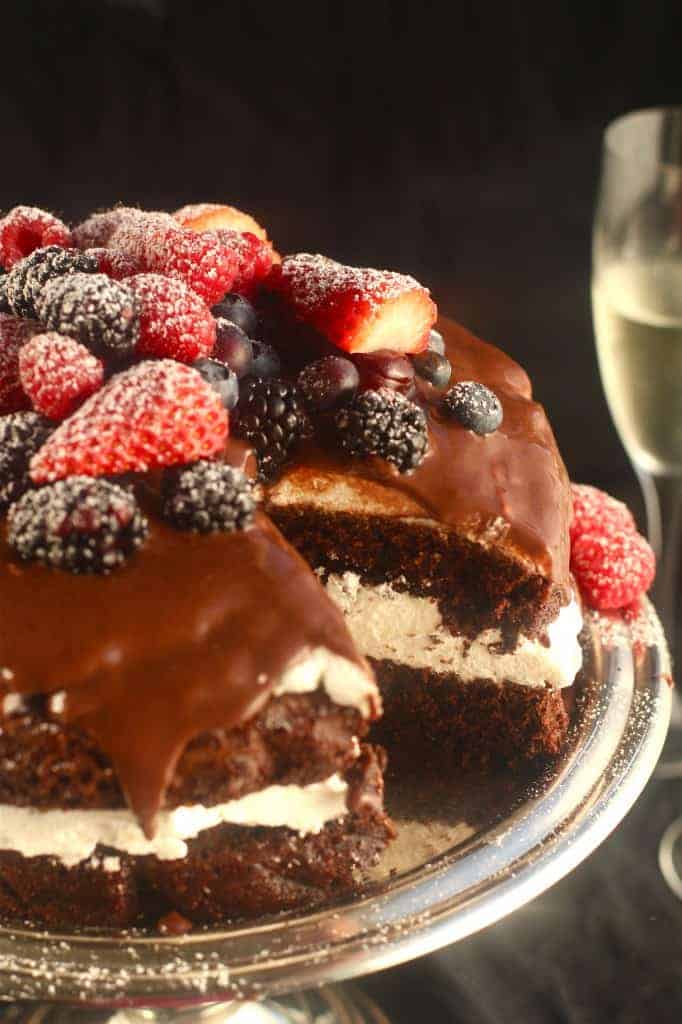 In an effort to get more personal with my readers, I figured I would start with my love story. Hopefully none of you are like the mothers in my ritzy neighborhood who once they find out my age, immediately lose respect and the digs start flying. But, in reality, it is simply because they are jealous I can still play with my children (and not be exhausted after 2 seconds) and I will not be eligible for social security at my child's 8th grade promotion. Annnnd moving on.
So when I was a junior in high school, I applied to be an exchange student. When I was accepted,  my mother decided that Switzerland would be the safest country. Little did she know what I would be coming home with.
When I arrived, I was welcomed with open arms from my host family. They had an older daughter who was doing her exchange in Iowa and another daughter who was the same age as me. She and her friends certainly showed me a good time and how the Europeans like to party.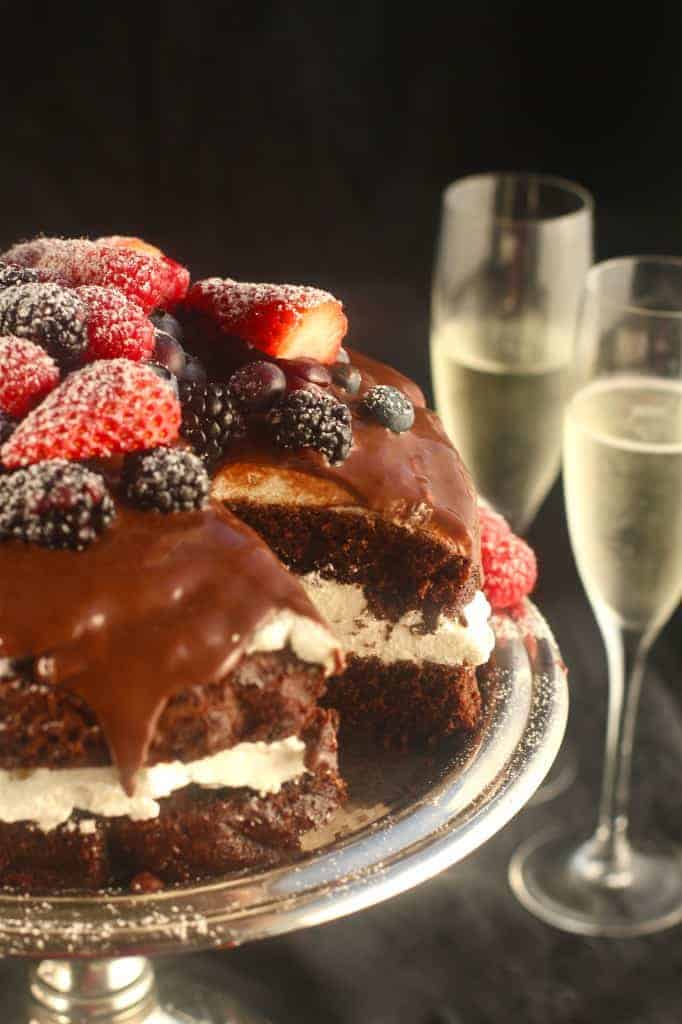 About 6 months into my exchange, I had found my bar of choice. It was an Irish pub in the middle of town. One night my friends and I walked into the busy bar and up the stairs. As soon as I walked into the room I made eye contact with this tall, skinny curly (long) haired guy with bottle cap glasses. He had an oversized Fubu jacket and tucked his jeans into his socks. In his defense, a lot of the guys in Europe used to tuck their jeans into their socks and it used to drive us (the American students) CRAZY!
Even though he was totally not my type, there was something about him that intrigued me. We talked, danced, and exchanged numbers that night. When I got home at 3am he drunk dialed me to profess his love for me. LOL, little did he know that he would be making a life long commitment very soon. From that night on we were pretty much inseparable.
About four months after first meet, he went to the Canary Islands with his mother. Aunt Flow had not come for quite a while, so I decided to text him that and tell him that we needed to take a test when he got home. Apparently, that ruined his trip. Needless to say, the day he got home we took a test and of course it was positive. We immediately went to the doctor to confirm it.
Even though I planned to have our son in the States, we planned to live together in Switzerland. However, coming from a stern Catholic family "living together" was not an option. So, at 17, he and I, along with his mother made the 5 hour trip to Las Vegas (my mother in law really wanted to go there while she was in town) where we were obligated decided to tie the knot on New Year's Eve.
Being 17, from 2 different countries, no money and a baby, we were destined for failure. Well, I am proud to announce that 11 years, 2 huge moves and 3 children later we are still going strong. We are not a statistic. He has a degree in Landscape Architecture and I am a year away from a degree in Political Science, with hopes of law school in the future. I truly believe that he is my sole mate, and that everything happened for a reason. It hasn't been easy, but we continue to beat the odds every day.
During my exchange, I mastered the language and the culture (on several counts), and came home with a hell of a souvenir.
Since my husband has been begging me to make him a black forest cake for sometime, I figured this would be a perfect time. It went perfectly with 3 bottles  a glass of champagne.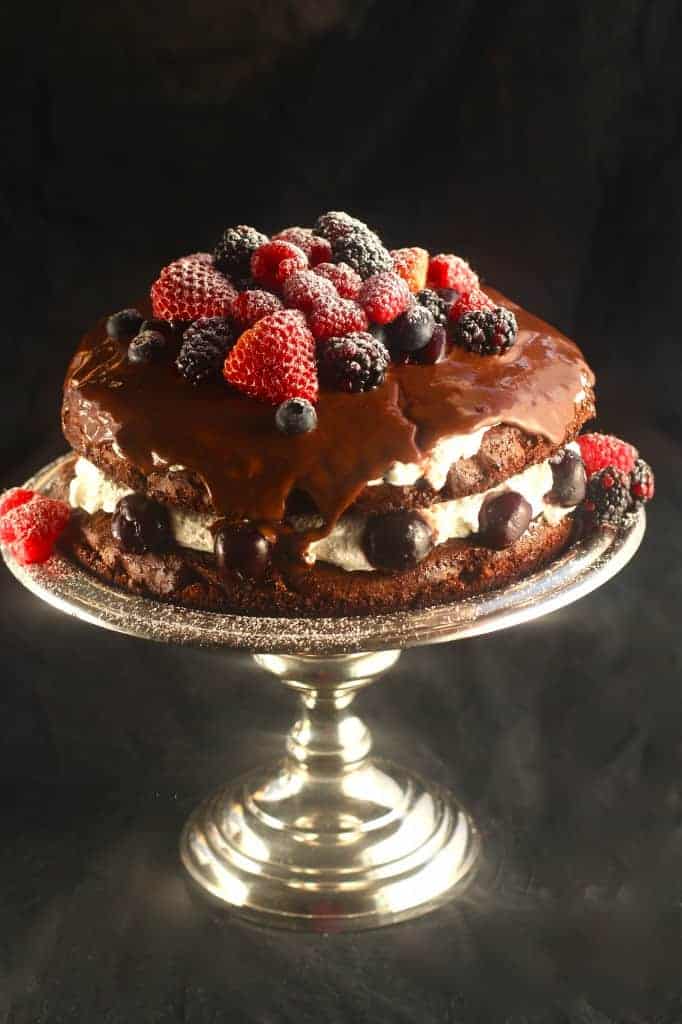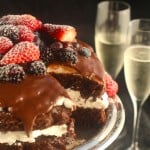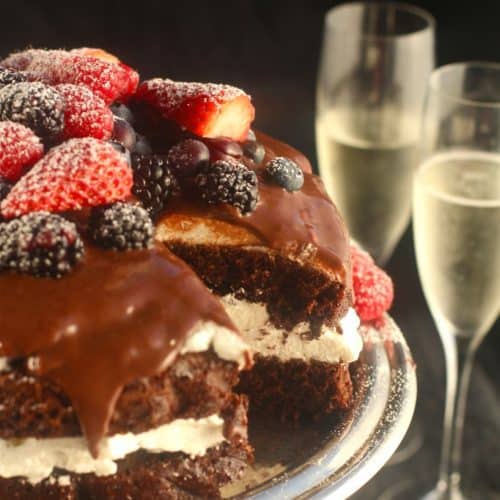 Berry Black Forest Cake
Ingredients
Perfect Chocolate Cake from Foodess.com
1 ¾

cups

all purpose flour

2

cups

granulated white sugar

¾

cup

unsweetened cocoa powder

1 ½

teaspoon

baking soda

¾

teaspoon

salt

2

large eggs

1

cup

buttermilk

(or substitute by putting 1 tablespoon white vinegar in a cup then filling the rest up with milk; let stand 5 minutes until thickened)

½

cup

butter

, melted

1

tablespoon

vanilla extract

1

cup

freshly brewed hot coffee

(or 2 teaspoon instant coffee in 1 cup boiling water)
Cherries and Berries
24

ounces

of Morello Cherries in Syrup

1 ½

cup

fresh berries such as blackberries

, blueberries, and raspberries

6

tablespoon

Kirsch or Cherry Brandy

¼

cup

granulated sugar
Whipped Cream Filling
1 ½

cups

heavy whipping cream

1 ½

tablespoon

granulated sugar

In

a mixer

, beat whip cream and sugar until stiff.
Chocolate Ganache
4

ounces

semisweet or bittersweet chocolate

, finely chopped

¼

cup

heavy cream

½

tablespoon

butter
Instructions
Perfect Chocolate Cake from Foodess.com
Preheat oven to 350 degrees.

Grease and flour two 9-inch baking pans (or line with parchment paper circles) and set aside.

In the large bowl of a standing mixer, stir together flour, sugar, cocoa, baking soda, and salt.

Add eggs, buttermilk, melted butter and vanilla extract and beat until smooth (about 3 minutes). Remove bowl from mixer and stir in hot coffee with a rubber spatula.

Batter will be very runny.

Pour batter evenly between the two pans and bake on middle rack of oven for about 35 minutes, until toothpick inserted in centre comes out clean with just a few moist crumbs attached.

Allow to cool 15 minutes in pans, then run a butter knife around the edges of each cake.

Place a wire cooling rack over top of each pan.

Wearing oven mitts, use both hands to hold the racks in place while flipping the cakes over onto the racks.

Set the racks down and gently thump on the bottom of the pans until the cakes release.

Cool completely before handling or frosting.
Cherries and Berries
Strain the cherries, reserving the syrup in a separate bowl.

Place the cherries and berries in a bowl and gently mix with 3 tablespoon Kirsch. Cover and refrigerate while making the cream filling.

Add the remaining Kirsch and sugar to the cherry syrup, mix until combined.
Chocolate Ganache
In a heavy bottomed saucepan, slowly heat chocolate, cream and butter on medium low.

Stir with wooden spoon until smooth.

Cool for about 10 minutes before placing on top of whipped cream.
Assembly:
Place a layer of chocolate cake on the cake plate.

Brush with ¼ cup of the Kirsch syrup mixture.

Apply half of the whipped cream and spread evenly over cake.

Spread half of the cherries and berries over whipped cream.

Place 2nd cake layer over the berries and whipped cream.

Brush with ¼ cup Kirsch syrup.

Spread remaining whipped cream evenly over top.

Refrigerate cake for 20 minutes.

Make ganache and cool.

Once the whipped cream has chilled, remove cake and spread ganache.

Place a mound of remaining fruit on top of cake and sprinkle with powdered sugar.
Thank you for reading!!!