Want to get a laugh, show up with this delicious Ugly Sweater Cake to your next Christmas party! Why stop at clothing when you can eat the sweater too!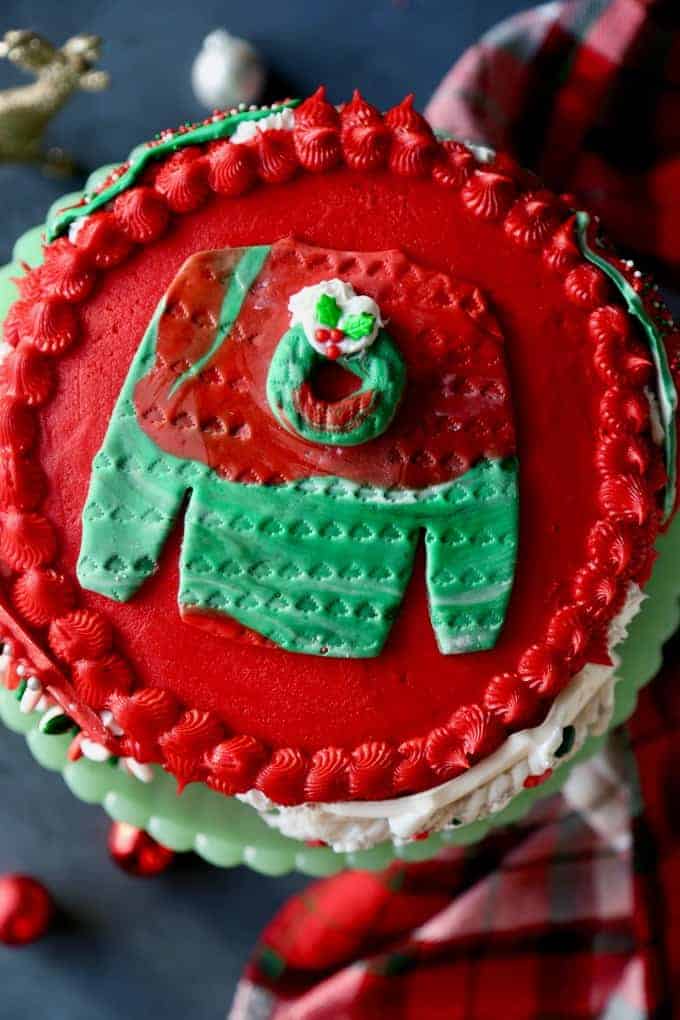 A few weeks ago, the friendly folks at Good Cook sent me over all the supplies to make Ugly Christmas Sweater Cookies. I was giddy about the project because I get a kick out of the ugly sweaters every year and always buy one or two for the kiddos.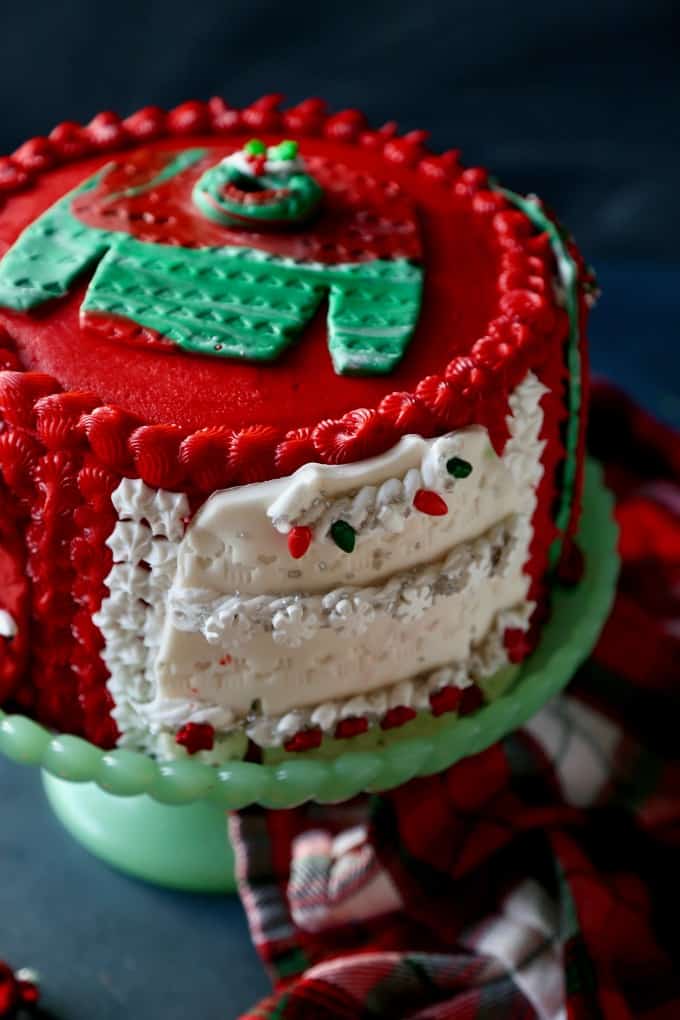 Coming from a family that gets all dolled up for every family party, I have always wanted to be rebellious and have the whole family show up in crazy sweaters. Haven't had the guts to yet, but it is my goal for Christmas 2018 (we're not home this Christmas). After all, I need to give them something to talk about right?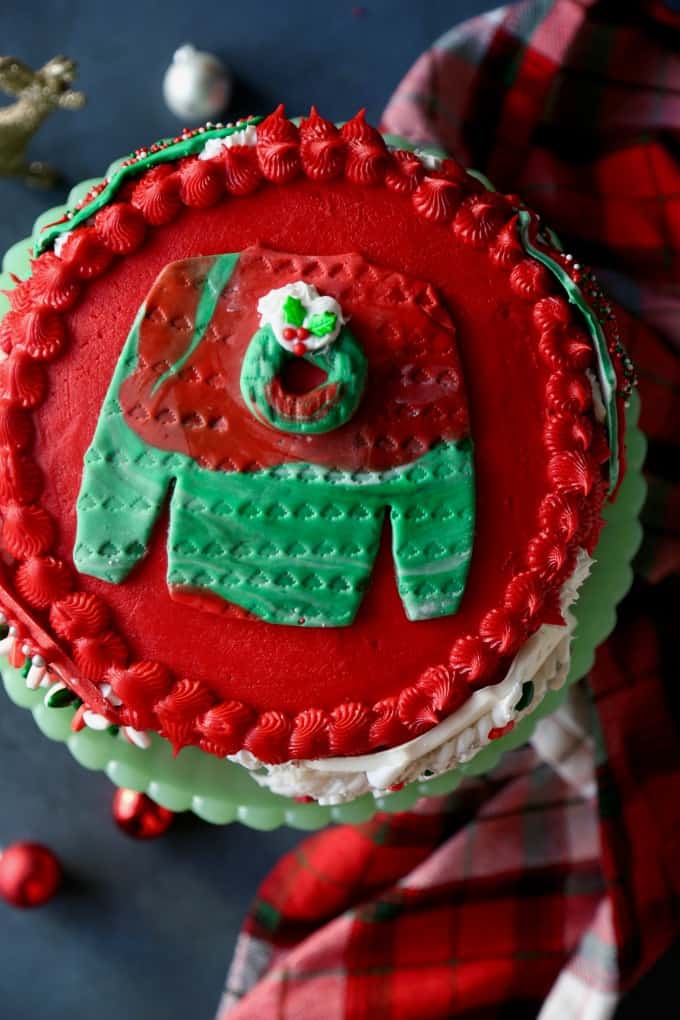 So until then, I'm gonna show up everywhere I can with this cake. I love it and it has certainly got quite a bit of laughs! I used my Perfect White Cake recipe and red and white colored meringue frosting. For the ugly sweaters I used simple store-bought fondant in red, white, and green.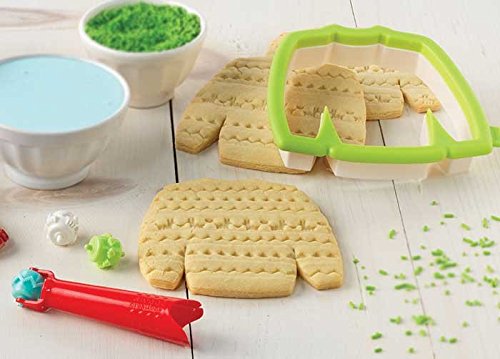 I absolutely love the Ugly Sweater Cookie Kit (affiliate link). It comes with a cookie cutter, and a stamp that has zig zags, Christmas trees, and my favorite- Lamas! They are so easy to use and are so cute!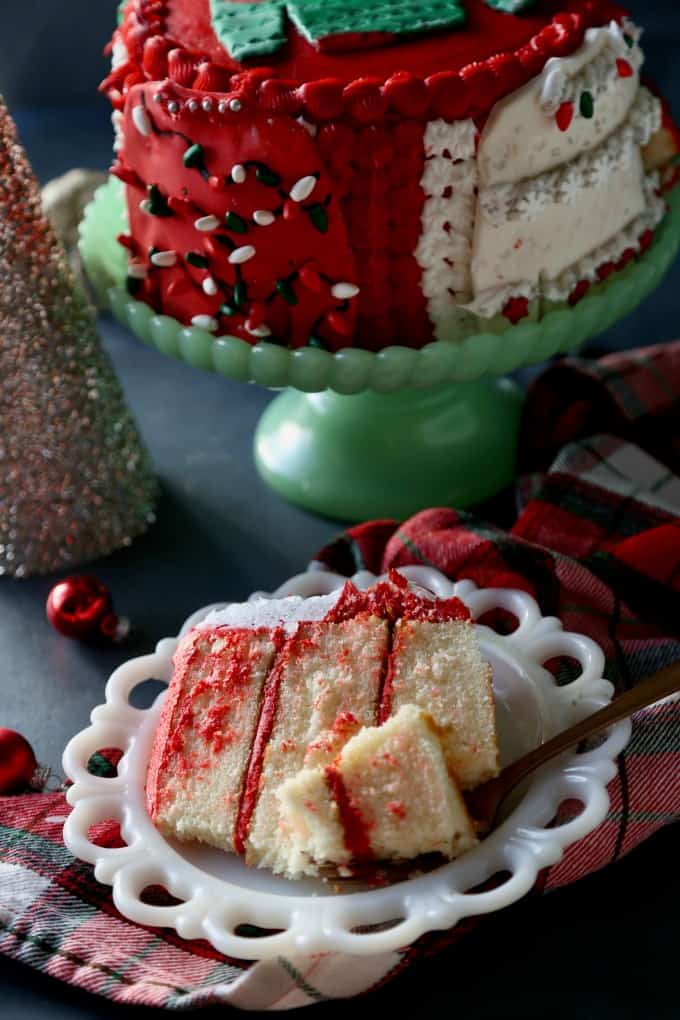 Whether you are making this cake or the cookies, you will love the results! Enjoy!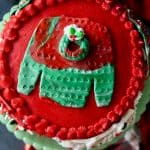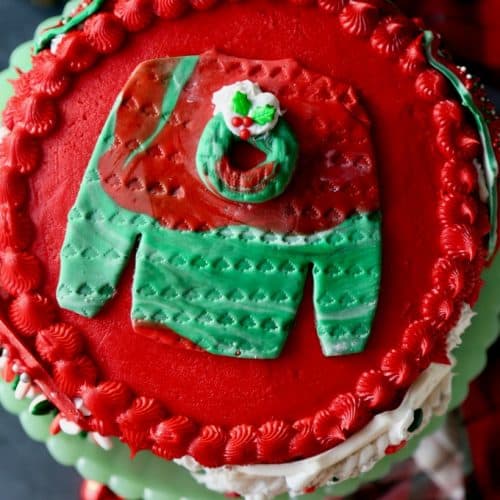 Perfect White Cake
Ingredients
1

cup

(2 sticks) butter, softened

½

cup

vegetable shortening

3

cups

granulated sugar

5

eggs

, room temperature

2

teaspoons

vanilla extract

3

cups

all-purpose flour

2

teaspoons

baking powder

¼

teaspoon

salt

1

cup

buttermilk

, room temperature
Italian Meringue Buttercream
1¼

cups

sugar

, divided into 1 cup and ¼ cup

⅓

cup

water

6

large egg whites

, room temperature

¾

teaspoon

cream of tartar

1

cup

salted butter

, very soft cut into pieces

1¼

cup

unsalted butter

, very soft, cut into pieces
Instructions
Preheat your oven to 350 degrees and grease 3 9 inch cake pans with non-stick cooking spray.

Cream butter, shortening, and sugar until light and fluffy.

Add eggs, one at a time, mixing throughly in between each addition.

Mix in vanilla.

In a separate bowl combine flour, baking powder and salt and mix to combine.

Add ⅓ of the flour to the butter/egg mixture, mixing on low.

Mixing just enough to combine, add ⅓ of the buttermilk.

Continue until all of the flour and buttermilk has been incorporated, again mixing until just combined (do not over mix!)

Evenly distribute cake batter into pans and bake for 25-30 minutes, or until a toothpick or cake tester inserted in the center comes out clean. Remove from oven and allow to cool slightly in cake pans for about 5 minutes, then cool completely on a wire rack.
Frosting
To make the Italian Meringue combine 1 cup of sugar and water in a small sauce pan.

Heat sugar and water on medium until boiling (you want large bubbles).

In the bowl of your electric mixer, beat egg whites and sugar until frothy.

Increase your mixer speed to high and beat egg whites until hard peaks form.

Reduce mixer speed to low and slowly and carefully pour into egg whites.

Slowly increase the mixer speed again and beat until the mixture is no longer hot or warm and is fluffy. (mixture needs to be as close to room temperature as possible before adding butter).

With the mixer set at medium speed, slowly add butter pieces. Mix until smooth.

Separate buttercream into 3 bowls, and color with your preferred frosting colors.

Fill each layer with buttercream and stack cake.

Frost assembled cake.