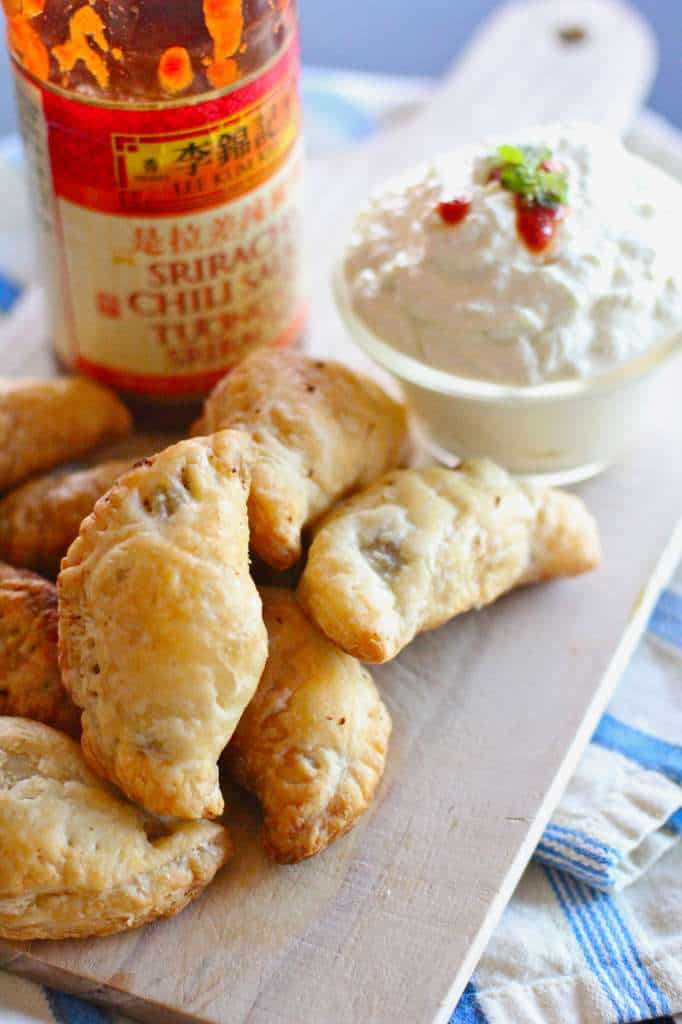 Have you ever eaten something really spicy and had your mouth burn for a good couple of minutes after. Well that happened to me a couple of months ago. I had some of my cousins over for a girl's night. We decided to order in from a new Thai restaurant in the area. Considering my cousin has eaten at many Thai restaurants, we left it up to her to do the ordering. She picked out some curries and pad thai and gave them a spice level of 5 to 7.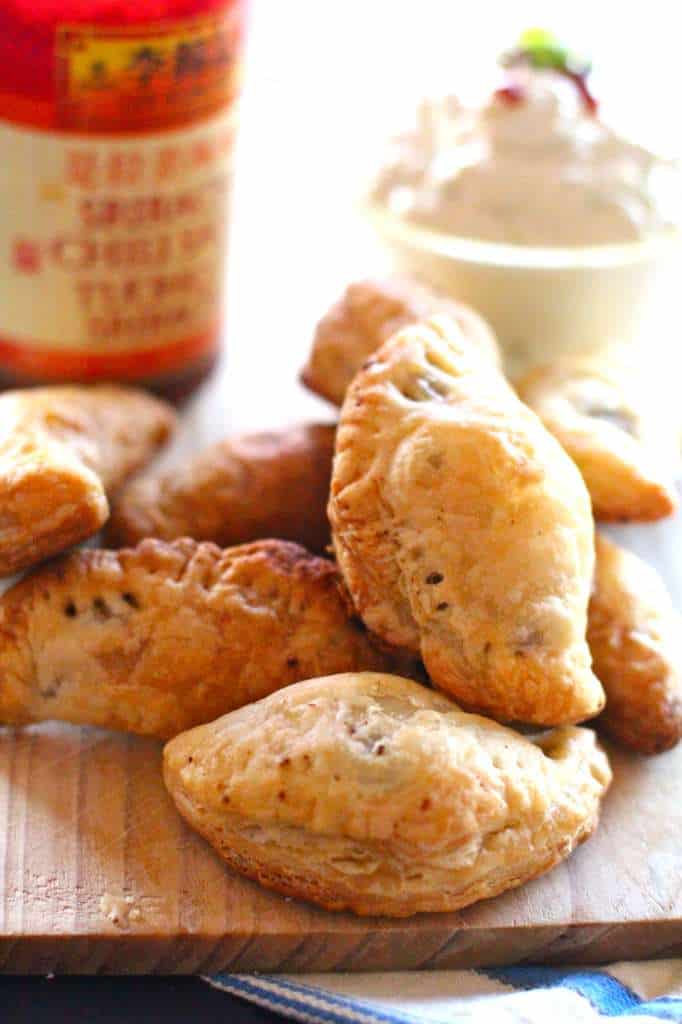 When the food came we immediately started gobbling it up. After about 5 bites it hit us like a ton of bricks. Or mouths were on FIRE, our eyes were tearing, and we felt like it was 150 degrees inside. It was bad. After trying water, milk, and everything else to ease the burn we finally resorted to putting ice cubes on our tongues.
A few weeks ago my husband and I had the ever so rare "date night". He was really hungry for Thai so we tried it again. We basically ordered the same thing (I obviously didn't learn the first time), but this time it was not spicy enough! We must have pissed off the waitress the first time they ordered and that's why they made it so gosh darn spicy!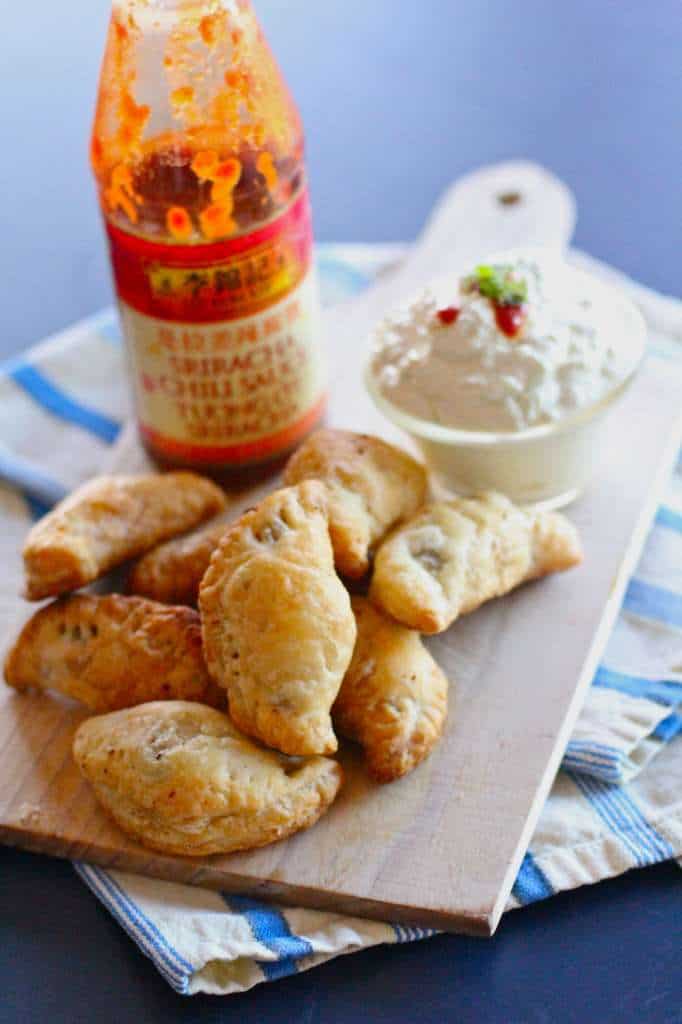 These Sriracha Empanadas have a good kick to them, but your mouth immediately cools off with the dipping sauce. I made these for a party and they were eaten up in about 10 minutes. Therefore, if you are planning on serving these to a crowd I would make a double batch as this recipe makes about 20 2-bite empanadas.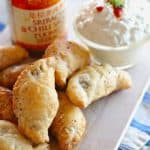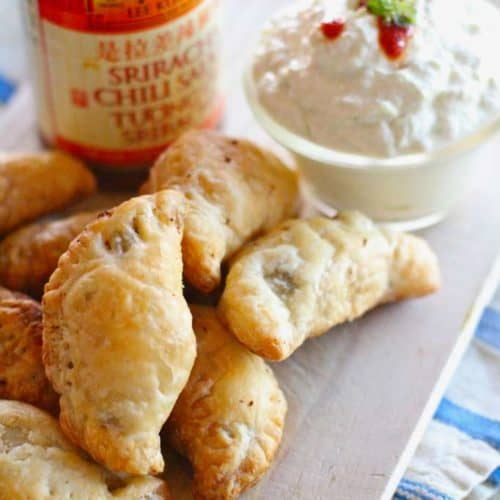 Spicy Sriracha Empanadas with Green Curry Cucumber Dipping Sauce
Ingredients
1

package

(2 sheets) Frozen Puff Pastry Dough-left in the refrigerator over night.

½

pound

ground beef

2

tsps

Sriracha

2

cloves

garlic

, minced

1

tablespoon

olive oil

Pinch of Salt

¼

teaspoon

pepper

1

egg

, slightly beaten with fork

1

cup

Stonyfield Greek Yogurt

2

tablespoon

green curry paste

½

cup

shredded cucumber
Instructions
Line a cookie sheet with parchment paper or foil.

Preheat your oven to 375 degrees.

In a skillet heat your oil over medium heat.

Add garlic and cook for 4 minutes, stirring occasionally so it won't burn.

Add ground beef, spices and Sriracha.

Cook thoroughly.

Cool cooked ground beef completely.

Unwrap dough, one at a time, leaving the other in the fridge.

Lay dough on a large flat cutting board dusted with flour.

Using a glass or cookie cutter (about 3in in diameter) and cut out 9 rounds.

Place about a tablespoon of meat in the center of each round.

Fold round over and pinch the sides.

Press the edge of a fork along the empanada to make it extra secure.

Place on lined cookie sheet, and brush with egg.

Repeat with other dough sheet.

With remaining dough, roll out and repeat assembly.

Bake empanadas for 10-15 minutes, or until golden brown.
Green Curry Yogurt Dip
Mix together green curry paste, shredded cucumber and greek yogurt.

This can be made up to a night in advance for a more robust flavor.

Serve the empanadas hot with dipping sauce.