This post is sponsored by California Ripe Olives.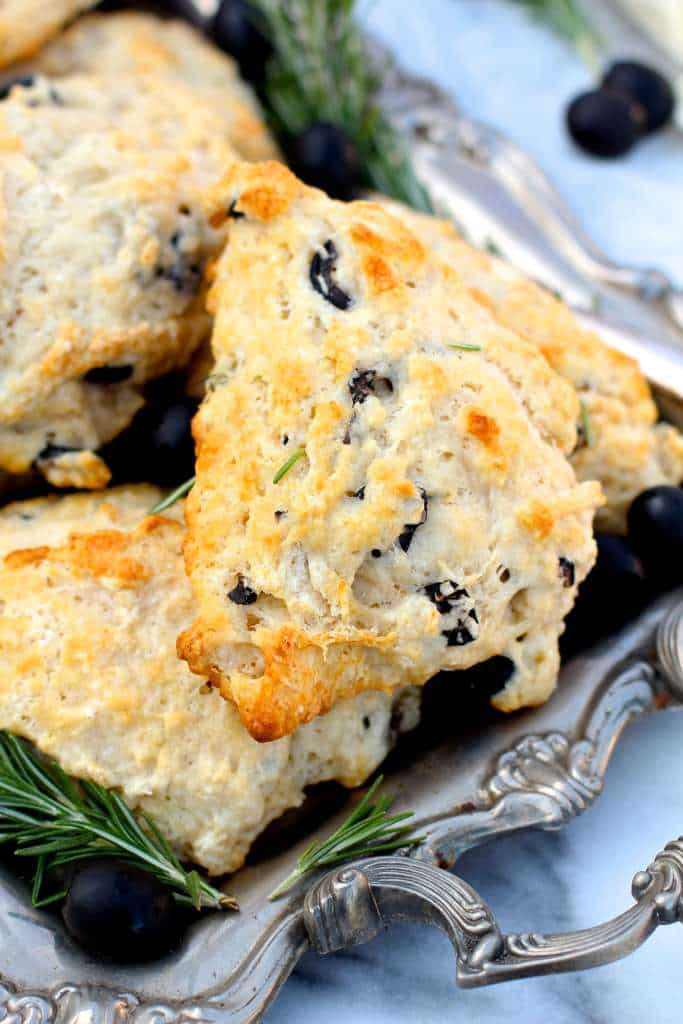 I love how versatile olives are. They are wonderful in salads, sandwiches, pizzas, pastas, tapenades, and on their own.  Speaking of on their own, do you remember when you were a kid and had olive fingers? I remember I used to eat almost a can of olives, leaving a small handful for my mom to use in her salad. Going with tradition, my kids got a kick out of my olive fingered monster rendition last night while I was making these scones.
This past summer, I had the opportunity to visit an olive orchard. It was so beautiful, and I love knowing that my state's agriculture has such a huge impact on the world's produce market. California produces 95% of ripe olives in the United States. They are grown by more than 1000 multigenerational family farms that crisscross the warm inland valleys of California and are processed by two family owned canneries. The two main varieties grown in California are called Manzanillo and Sevillano. The curing recipe used today was developed in the 1800's by a housewife named Freda Ehmann.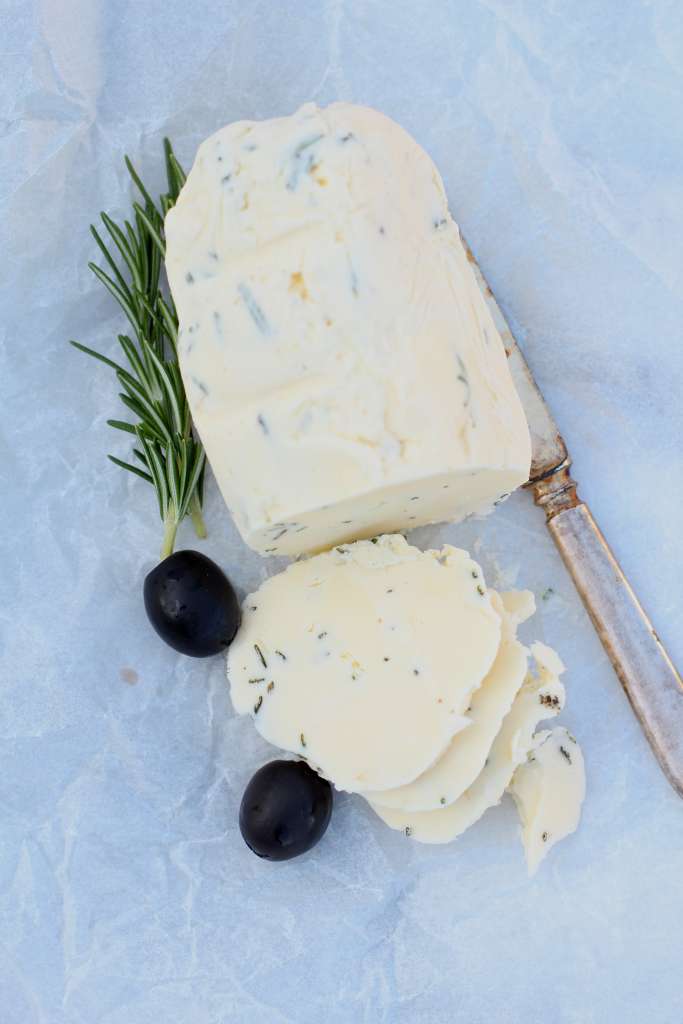 California Ripe Olives cure for seven days and once canned, they have a shelf live between 36 and 48 months making them the perfect pantry staple for those last minute recipes that you want to add a pop of color, texture and flavor.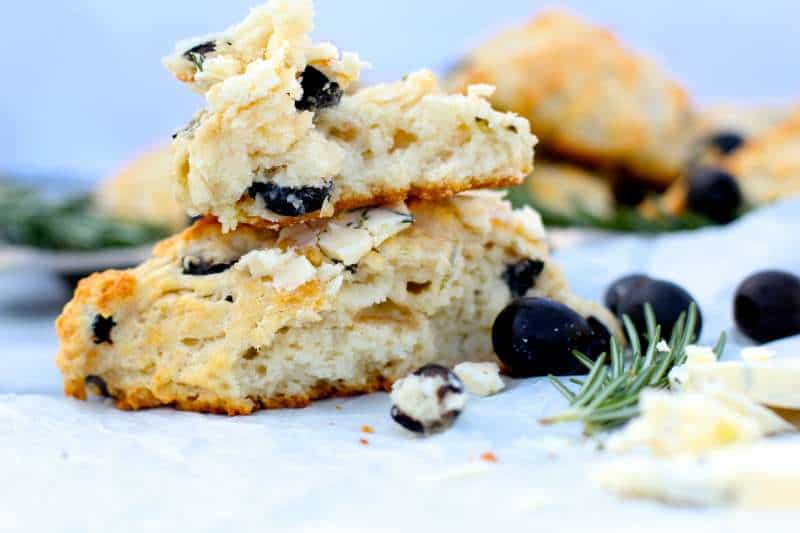 These scones came out better than I expected. They were full of flavor from the black olives and fresh rosemary. The combination of the butter flavor with the rich crunchy olives was a match made in heaven! My family loved the Rosemary Compound butter that I spread over the scones. These would be a wonderful gourmet substitute for rolls at your next dinner party!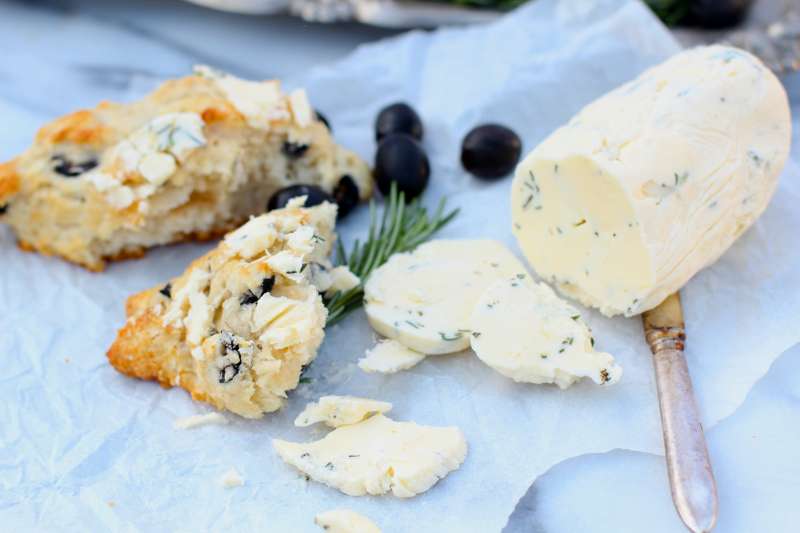 For more California Ripe Olives recipes, please visit their website, Facebook page or follow them on Twitter and Pinterest!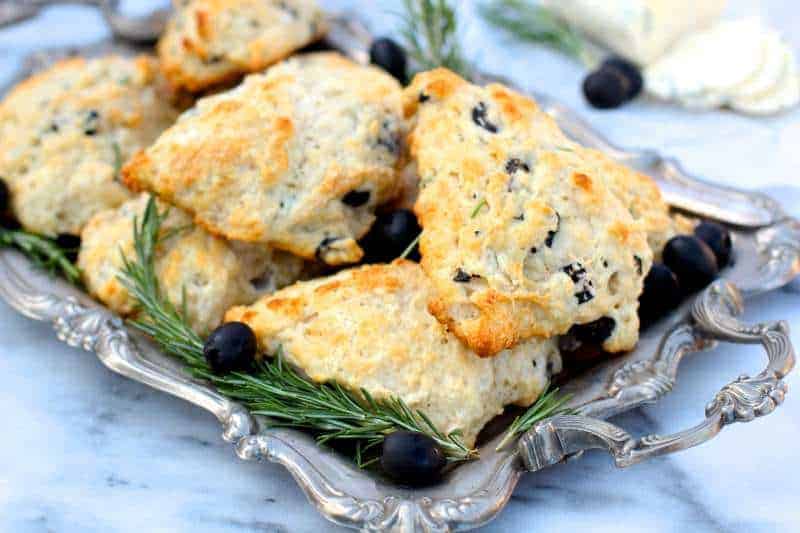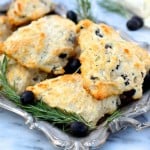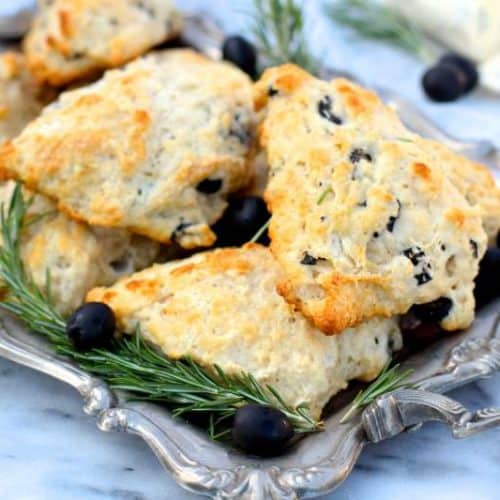 Savory Olive Rosemary Scones
Ingredients
Olive Rosemary Scones
3

cups

All-Purpose Flour

1

tablespoon

baking powder

½

teaspoon

baking soda

¾

teaspoon

salt

8

tablespoons

cold butter cut into slices

1

and ½ cup buttermilk

, plus more for brushing

1

cup

chopped or sliced California Ripe Olives

1

tablespoon

fresh or dried chopped rosemary
Rosemary Compound Butter
1

stick

(8 tablespoons) softened unsalted butter

1

teaspoon

fresh or dried rosemary

½

tablespoon

honey

¼

teaspoon

salt
Instructions
Preheat oven to 350 degrees. Line a baking sheet with parchment paper or foil.

In a large bowl, combine flour, baking powder and soda, and salt.

Add butter slices and cut in using a pastry cutter until butter is mixed with the flour and forms small pea-sized clumps.

Stir in chopped olives and rosemary.

Using a wooden spoon, stir in butter milk.

Dough will be somewhat dry and shaggy, but mix until dough forms a large ball.

Shape dough into a disk on cookie sheet and cut into 8 wedges separating them about 1 an inch apart from one another.

Lightly brush buttermilk over the tops of the scones.

Bake scones for 20 minutes or until the tops are golden brown.

To make the compound butter, add butter, rosemary, honey, and salt to a food processor.

Process until smooth, then place in the middle of a large piece of plastic wrap.

Roll and twist the side to form a log.

Refrigerate for at least 1 hour or freeze for 15 minutes.

Serve scones warm and spread with the compound butter.