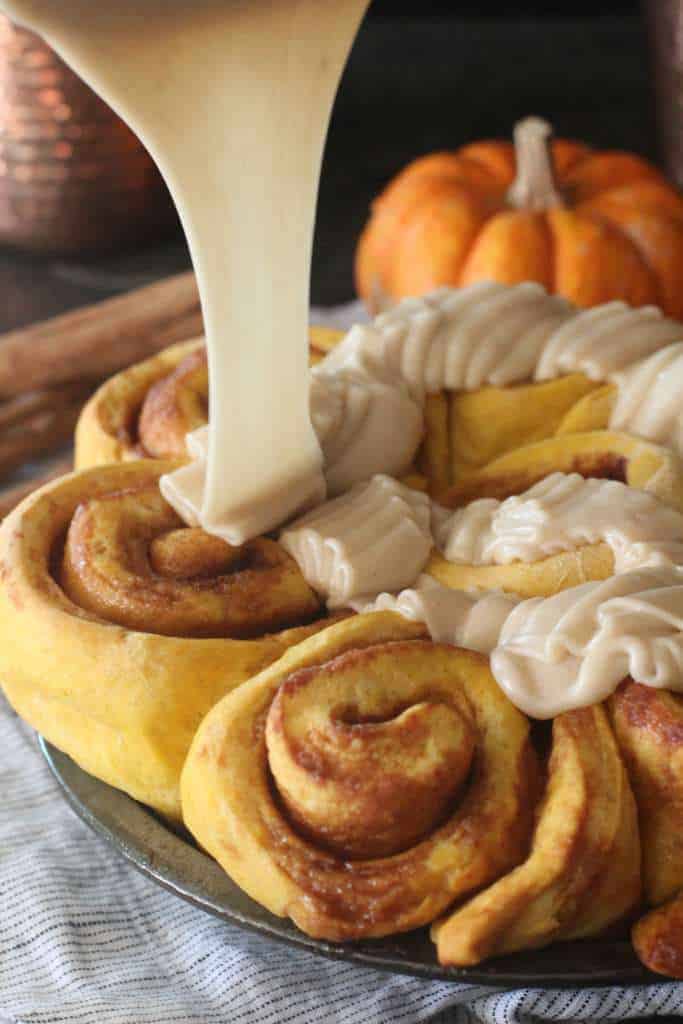 Life has been utterly crazy lately, and with the holidays and birthdays now in full swing, it is about to get even more crazy! Food seems to be the only thing that slows us down and makes us really appreciate life. It is during our meals that we can actually have a non-technology interrupted conversation. My husband and I really look forward to these times, as most of the time we are two ships passing in the night.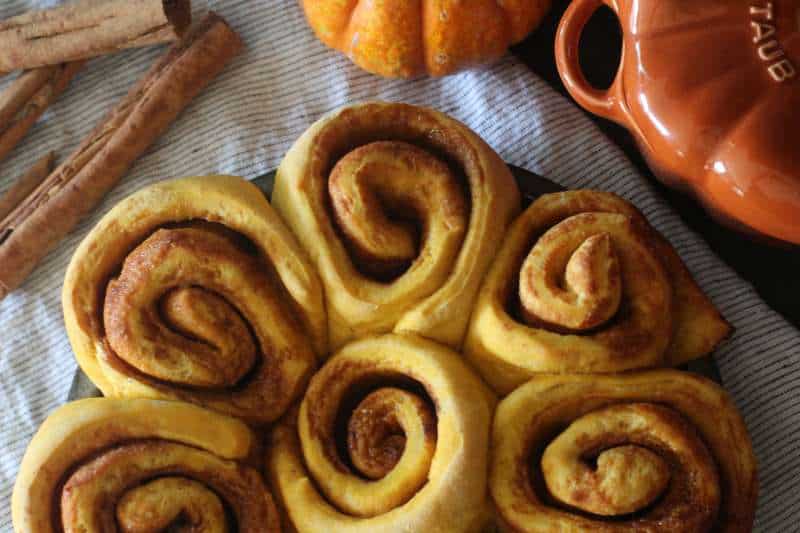 Making a gourmet meal that requires attention is next to impossible when you spend most of your day taking kids from point A to point B. That is where recipes  like this become essential...and so do handy dandy kitchen appliances. I tend to wake up at least an hour or two before the kids so that I can have a quite cup of coffee. While I am making the coffee, I will throw the ingredients for these pumpkin cinnamon rolls into my Kitchen Aid mixer, and let the dough hook do the work. About 5 minutes later I have a perfect dough ball that only needs about  15 minutes to rise. Time for that quite cup of coffee. Once I have finished my cup, I preheat the oven, and make the rolls and put them into the oven then sit down for my 2nd cup of coffee.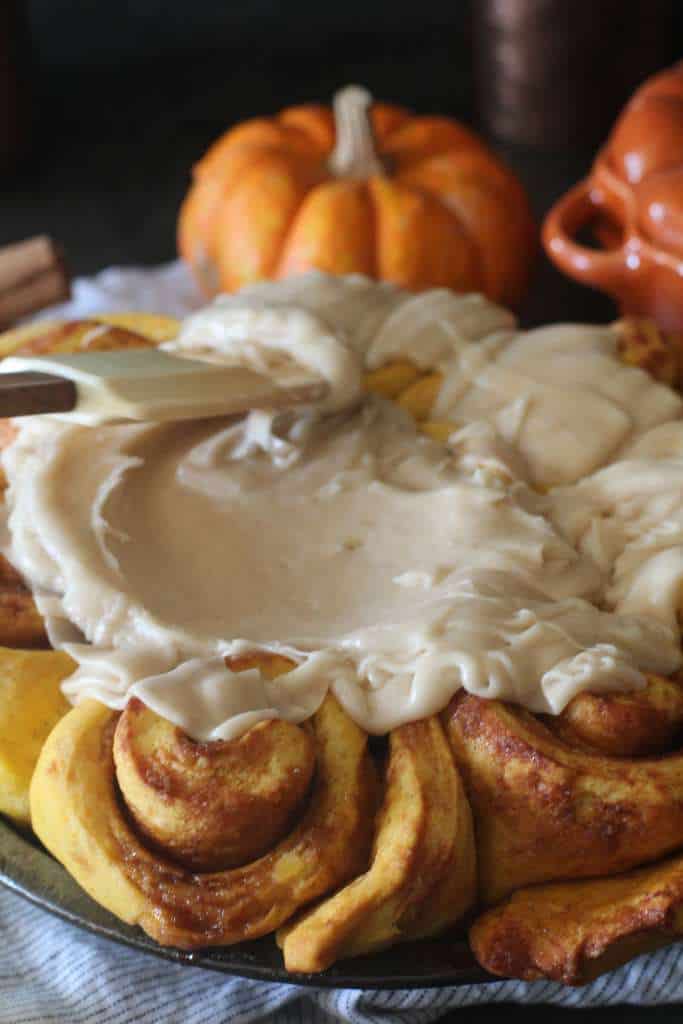 I don't know what it is about the sweet aromas, but they always seem to wake my family members, and in a good mood no less. When they are ready, we all sit down to a warm roll and a cup of juice. It may be only for 10-15 minutes, but it definitely starts everyone's day off better. I wish our morning could start off everyday like this, but let's be real. By the end of the week everyone is tired and cranky and the last thing they want to do is be bothered by conversation before the sun is up!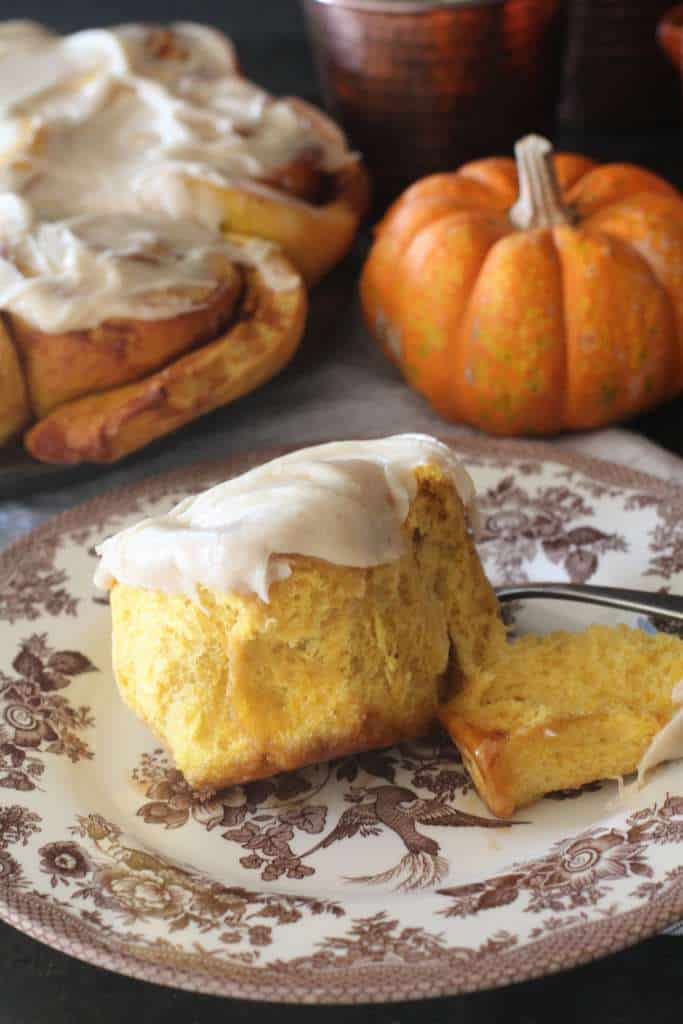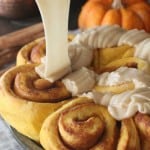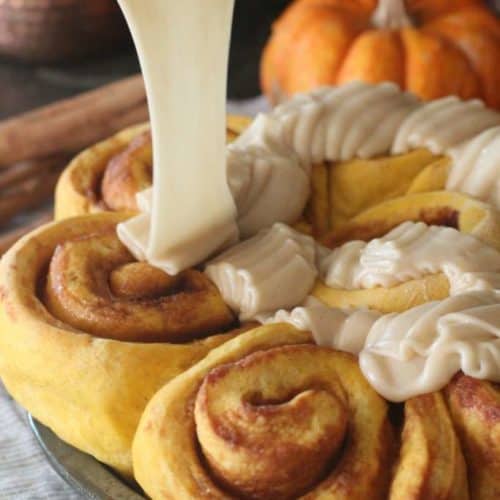 One Hour Pumpkin Cinnamon Rolls
Ingredients
For the dough:
½

cup

milk

, warm but not hot

¼

cup

butter

, melted

¼

cup

sugar

2

teaspoons

instant active dry yeast

½

cup

canned pumpkin

(not pumpkin pie filling)

1

egg

¼

teaspoon

salt

¼

teaspoon

baking soda

¼

teaspoon

baking powder

¼

teaspoon

pumpkin pie spice

3 ½

to 4 cups bread or all purpose flour

, plus more for rolling
For the filling:
⅓

cup

butter

, melted

½

cup

brown sugar

½

teaspoon

pumpkin pie spice

1 ½

teaspoons

cinnamon

For the frosting:

1

stick of butter

(8 tablespoons)

3

cups

powdered sugar

1

tablespoon

milk

½

teaspoon

vanilla
Instructions
In a large bowl (or the bowl of your electric mixer fitted with the kneading hook), combine warm milk, melted butter, sugar, and yeast. Let sit for about 5 minutes until it begins to flower (foam).

Once yeast is foamy, stir in pumpkin puree and egg.

In a separate bowl, combine the remaining dry ingredients.

Gradually stir in dry mixture to the yeast mixture.

Using your mixer's dough hook attachment or manually, knead dough until it forms a ball and no longer sticks to the sides of the bowl.

Remove dough from bowl and coat with a bit of oil. Place dough back into the bowl and cover with a clean dish towel. Allow dough to rise for 15 minutes.

Once the dough has risen slightly, roll out into a large rectangle on a lightly floured surface.

Brush dough with melted butter and sprinkle with brown sugar, pumpkin pie spice, and cinnamon.

Roll dough and pinch the seam shut. Slice into rolls.

Place sliced rolls in a greased 9x13 baking pan and let sit while oven is preheating.

Preheat oven to 375 degrees.

When oven is ready, place pan in the center of the oven and bake for 17-20 minutes.

To make the frosting, melt butter in a small pan. If you would like a more nutty flavor, carefully cook the butter until it begins to brown and smell nutty.

Remove pan from heat and whisk in milk, vanilla, and powdered sugar.

Remove rolls from oven and allow to rest for 5 minutes before glazing them with frosting.