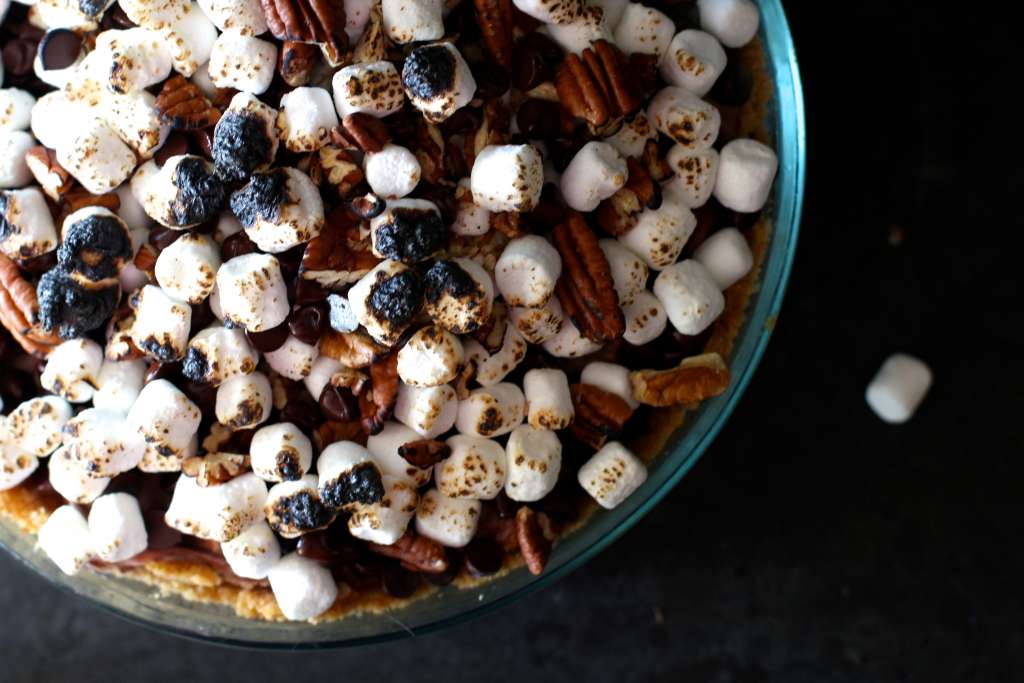 Today we are celebrating the virtual Birthday of Kimmie from BakeLoveGive.com! She and I met a few years back at a San Diego Blogging event. Soon after our meeting, she moved to San Francisco. She was always on my call list when I went up there and she always took us to her favorite San Fran spots. Sadly (for me, not her) California lost a wonderful food blogger and Kimmie has returned home to Texas. Now I just need to find an excuse to get out there.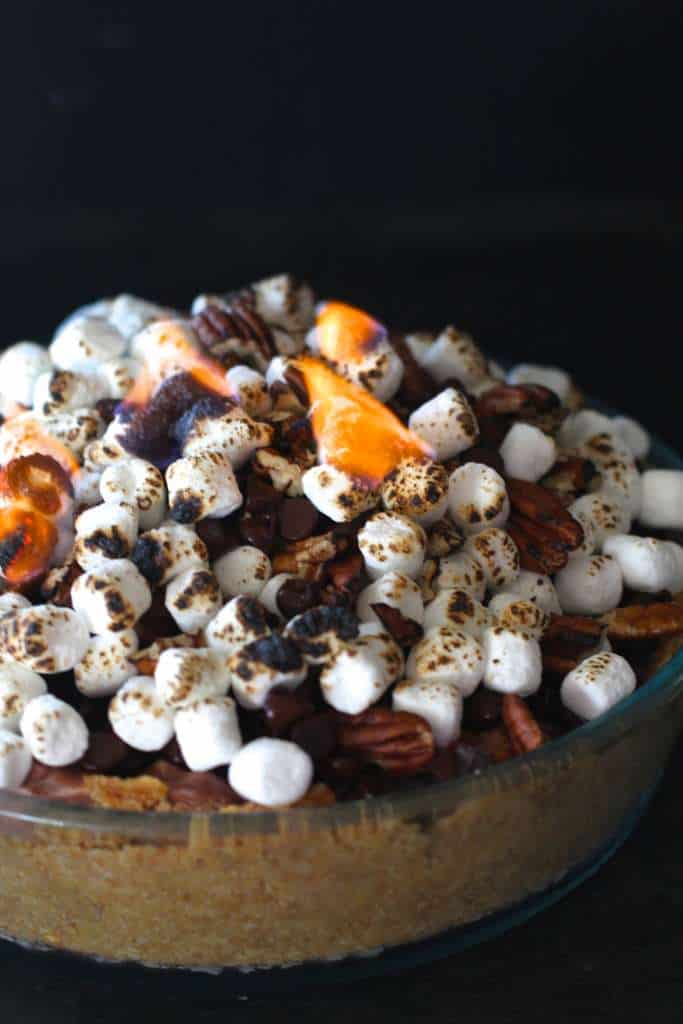 So because we can no longer celebrate in person, we celebrate virtually! For Kimmie's Birthday I thought it would be fun to make a S'more cheesecake. However, with this El Nino humidity, there was no way hell I was going to turn on the oven. Thus, this chocolate cheesecake turned into a rather fantastic No-Bake Chocolate S'more Cheesecake!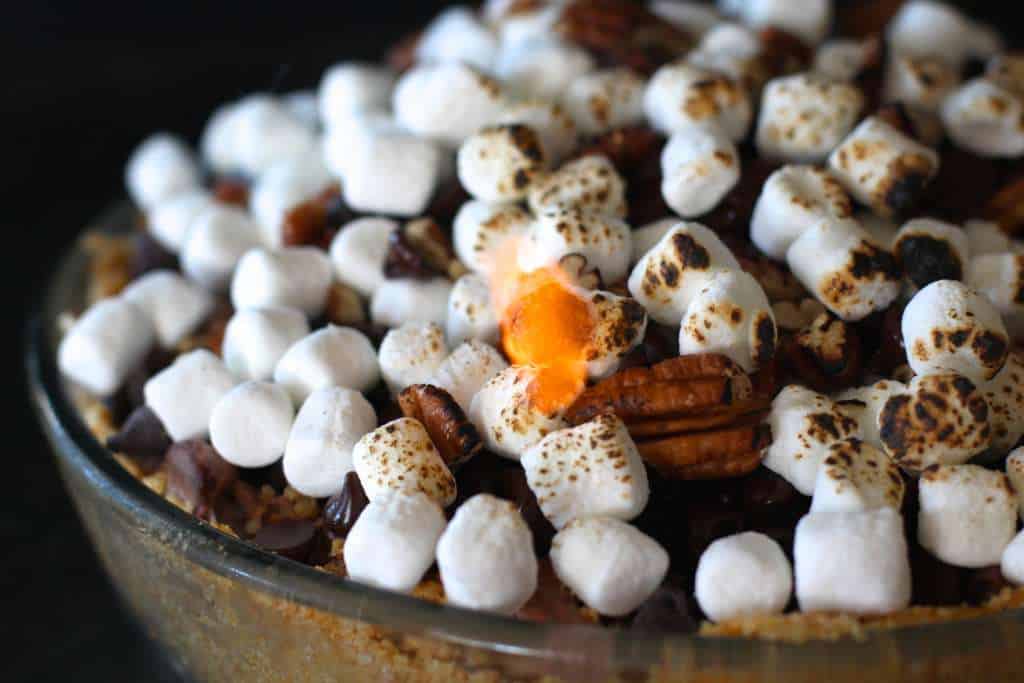 The cheesecake is extremely easy to put together and is just as creamy as a traditional cheese cake. When torching the marshmallows, I got a bit excited and almost set my kitchen on fire. After all, I had to get that picture of the flame right?!? I quickly realized that it would have been much simpler/safer to broil the marshmallow s'more cheesecake for about 2 minutes. Live and learn right!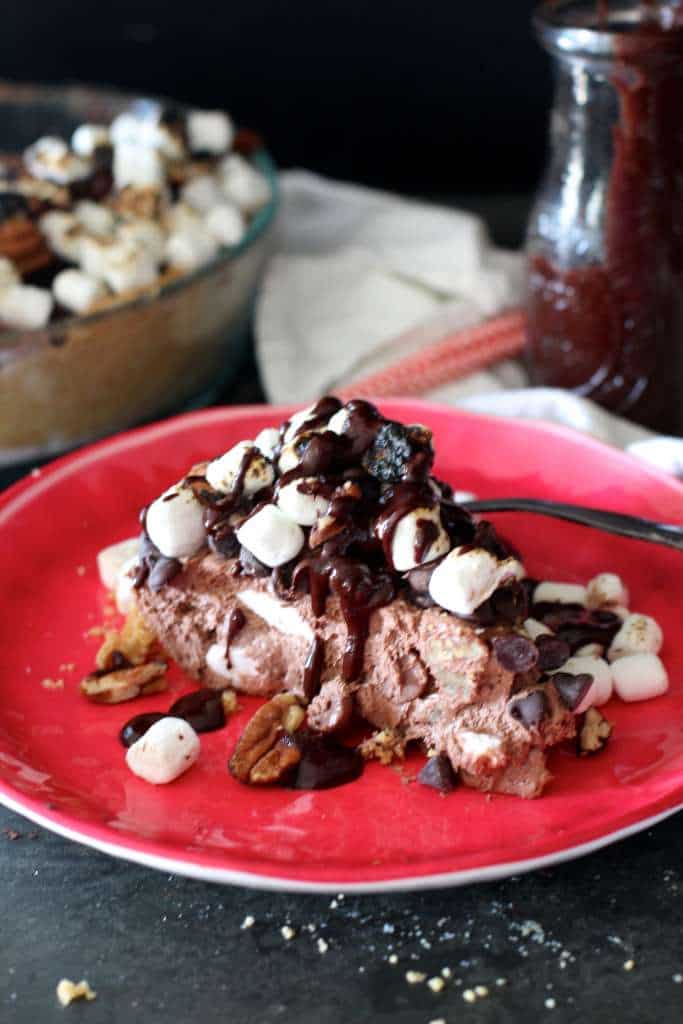 I served the slices with some extra ganache because who doesn't love extra chocolate. This cheesecake is the perfect summer recipe and the perfect way to say Happy Birthday to my friend Kimmie!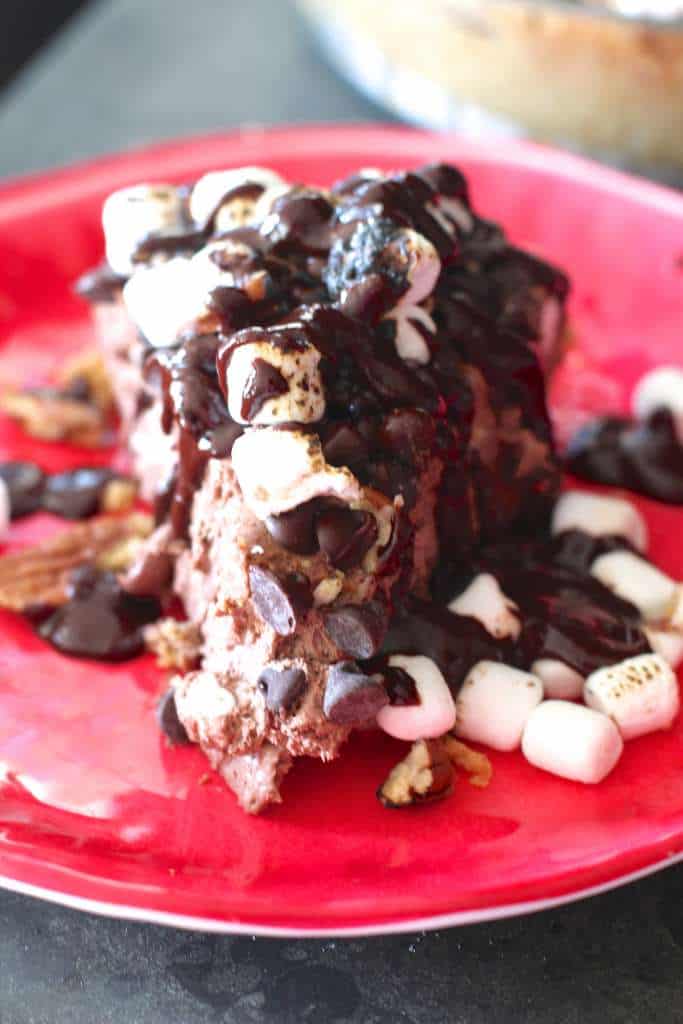 Check out the other bloggers who are celebrating in this virtual birthday party-Bake Love Give, Cupcake Rehab, JavaCupcake, Sarah's Bake Studio, Stetted, and  A Less Processed Life.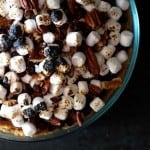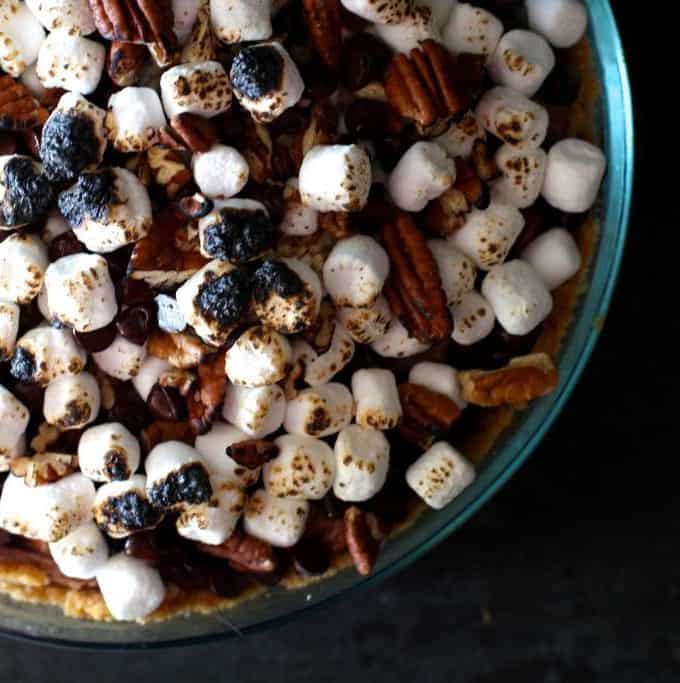 No Bake S'more Cheesecake
Ingredients
Chocolate Cheesecake
1 ½

cups

finely ground graham cracker crumbs

⅓

cup

white sugar

6

tablespoons

butter

, melted(I use Plugra)

1-½

cups

semi sweet chocolate chips

1

and ½ packages

(12 oz.) cream cheese

½

cup

sugar

¼

cup

(½ stick) butter (I use Plugra)

2

cups

whip cream

1

and ½ cups mini marshmallows

½

cup

pecans

½

cup

chocolate chips

½

chocolate sauce for serving
Instructions
To make the cheesecake generously spray a 9 inch pie pan with non stick cooking spray.

Mix graham cracker crumbs, sugar, and melted butter.

Press mixture into pie pan and chill for 1 hour.

Place chocolate chips in small microwave-safe bowl and microwave 1 minute; stir then set aside to cool.

Beat cream cheese, sugar and butter in large bowl on medium speed of mixer until creamy.

Gradually add melted chips, beating on low speed until blended.

Fold in whipped topping until blended; spoon into crust.

Refrigerate until firm.

Once firm, top with marshmallows, pecans, and chocolate chips.

Preheat broiler to high.

Once preheated, place the cheesecake under the broiler until the marshmallows have melted and started to puff and brown(about 2 minutes).

When done, refrigerate cheesecake until ready to serve.

Serve slices with a drizzle of chocolate sauce.