This post has been sponsored by Rojo's® Autentico . All thoughts and opinions are my own.
The next time you are at Albertsons, pick up a container of Rojo's® Restaurant Style and Homestyle style salsa to make these delicious Jalapeño Cheese Tamales! It's also one of my favorite salsa with chips! Don't forget to use Albertson's mobile app for extra coupons and savings.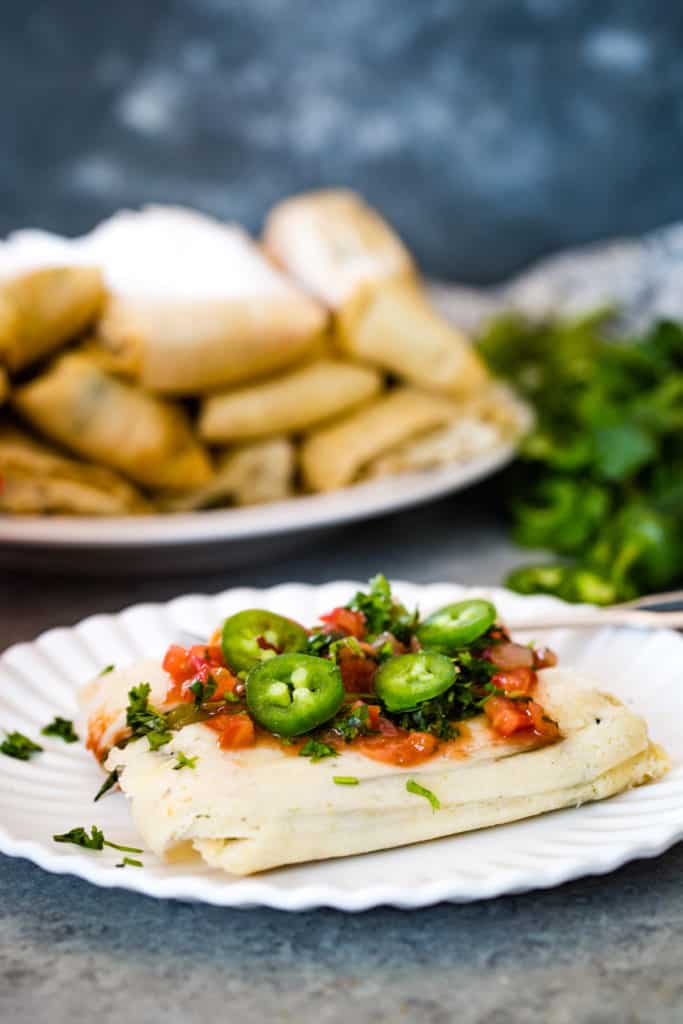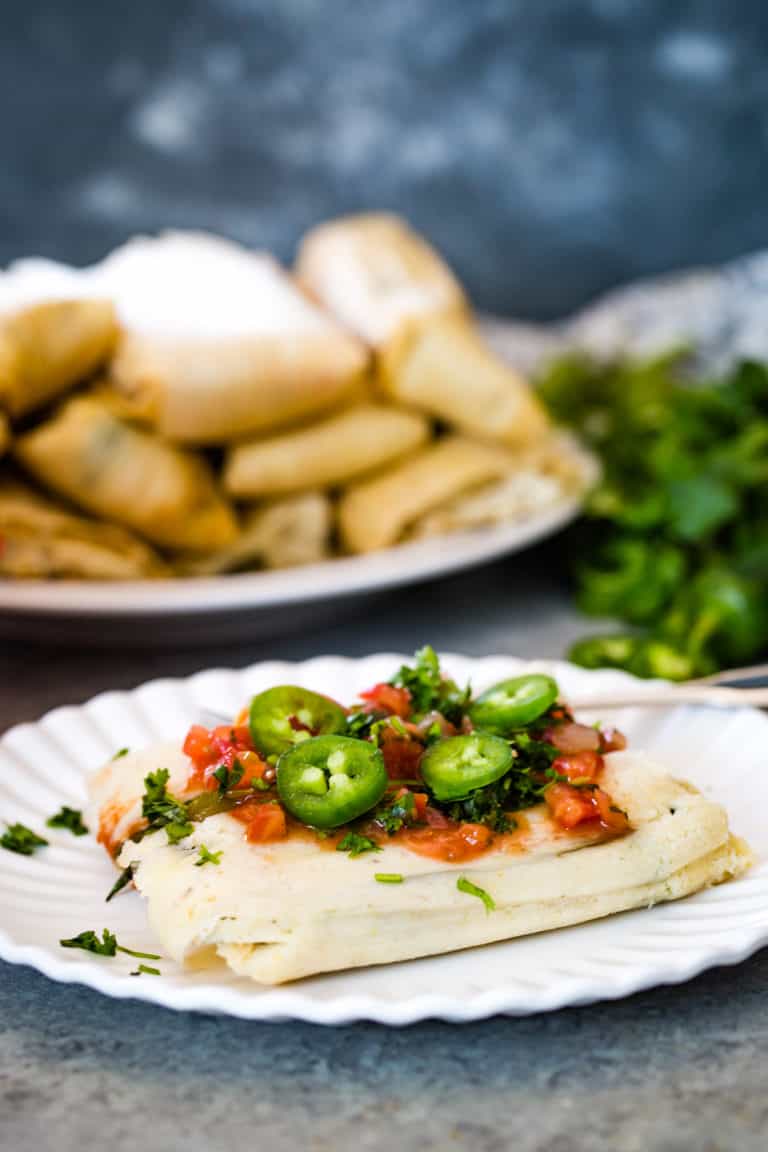 Rojo's® Restaurant Style and Homestyle style salsa isn't just for chips, it's the perfect companion to any meal. Think scrambled eggs, grilled chicken or fish, or even just over rice! It's made with diced Roma tomatoes, onions, chiles, fresh cilantro and spices make this delicious salsa and quality authentic flavor that you can taste. If you haven't tried it, you don't know what your taste buds are missing? So the next time you are at Albertsons, pick up a container of Rojo's® Restaurant Style and Homestyle style salsa to make these delicious Jalapeño Cheese Tamales or just enjoy it as a dip!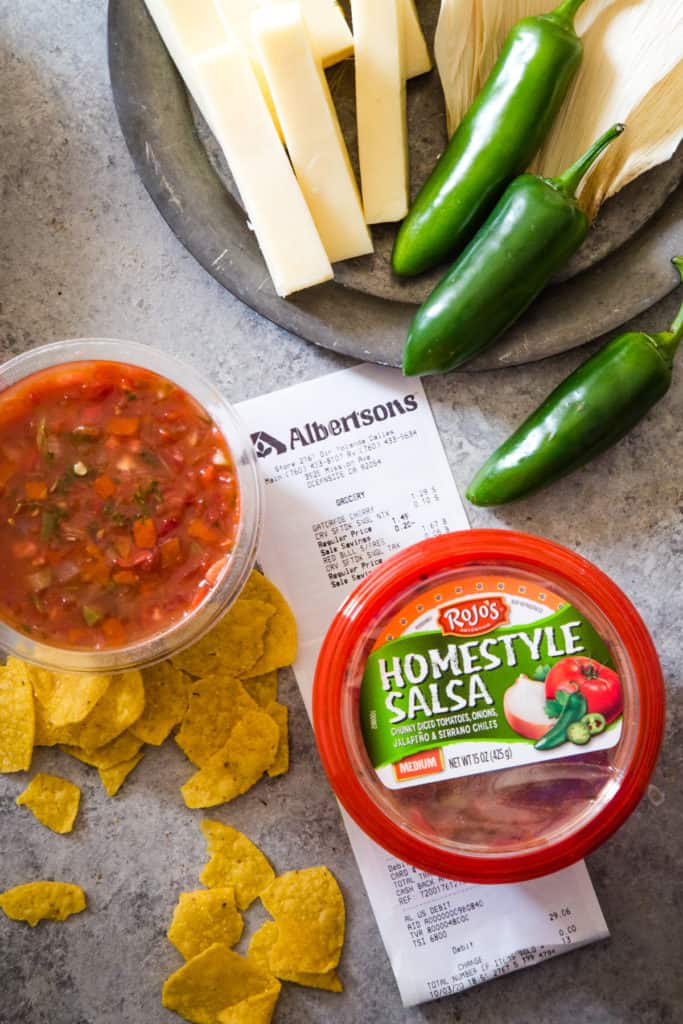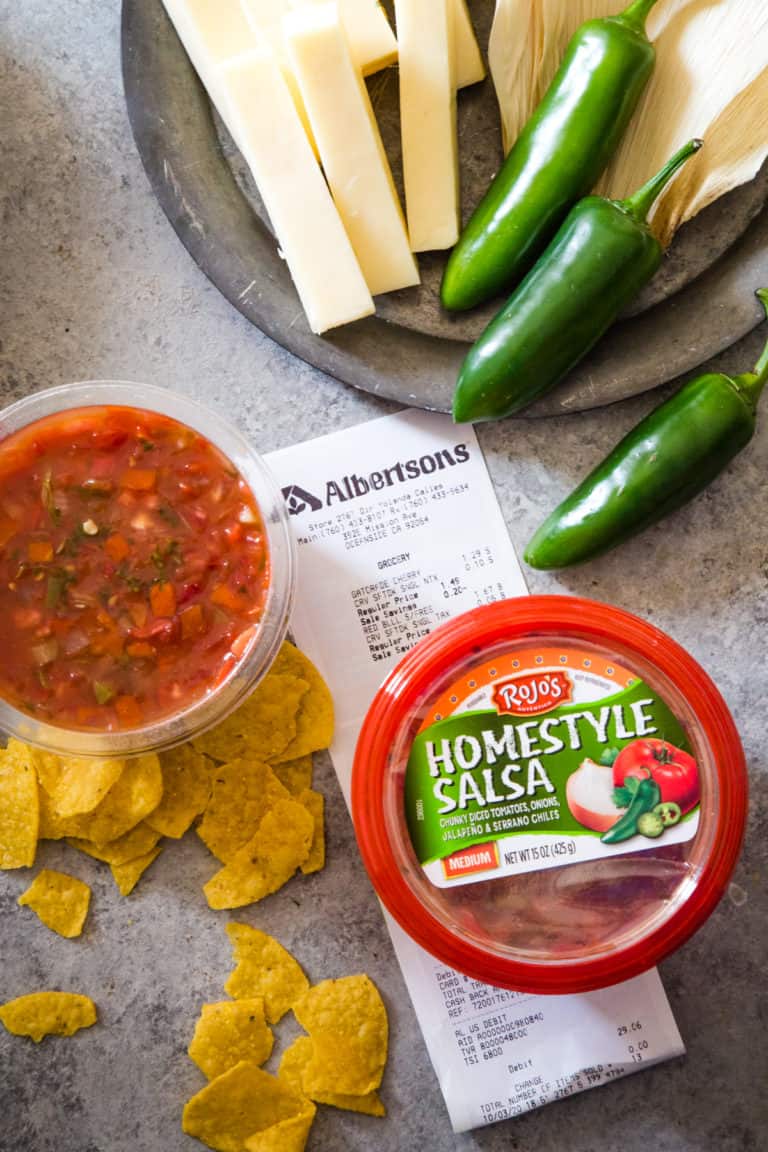 I love to use Rojo's Homestyle Salsa in my Jalapeño Cheese Tamales. The salsa pairs perfectly with the melty Monterey Jack cheese and sliced jalapeños. I always make a large batch of tamales to gift to family and to freeze for later. They make the perfect lunch or dinner.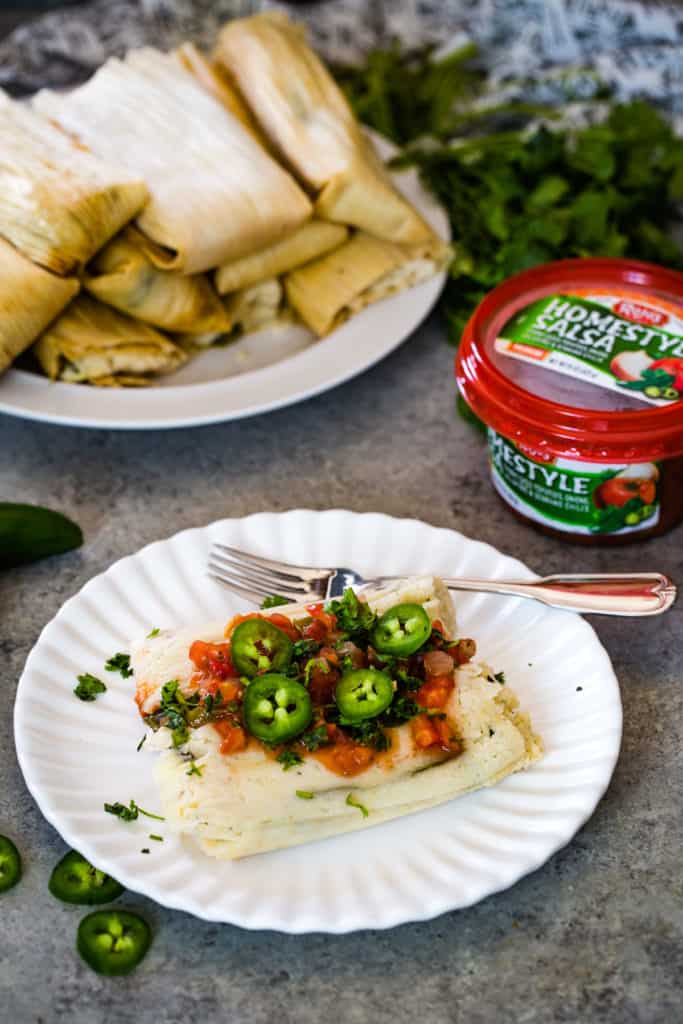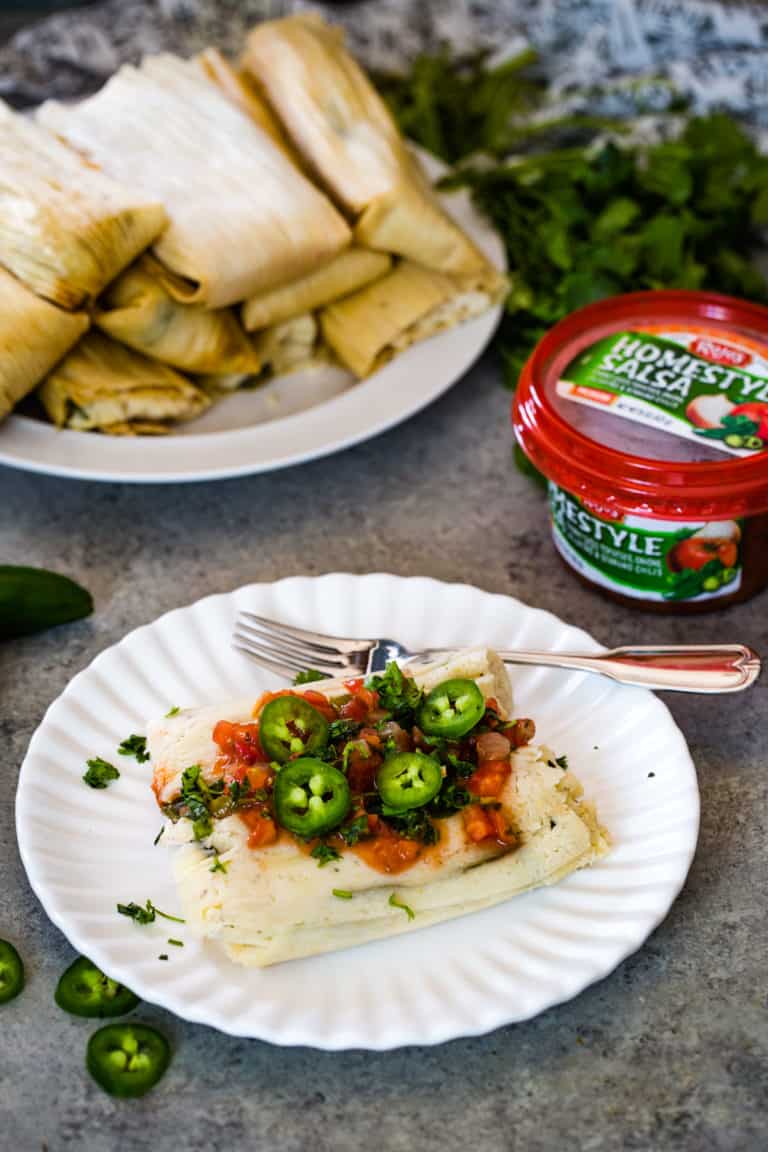 Now tamale making is absolutely a labor of love. Not only does it take time to assemble and cook, but it also makes quite a bit of dishes. I like to invite my friends over for an afternoon of cooking, music, and of course margaritas. We all end up with a hearty bunch of food for later, full bellies, and lots of memorable laughs. Pair an afternoon of cooking with friends with some Rojos Homestyle Salsa and chips, and you'll be the hostess with the mostess!
How To Make Jalapeño Cheese Tamales
To make these Jalapeño Cheese Tamales, I always start with freshly prepared Masa. Masa is a corn flour dough that typically includes broth, cumin, baking powder, salt, and lard. You can make it yourself, or buy it prepared at your local Mexican market. Since there are already so many steps to tamale making, I typically buy my masa.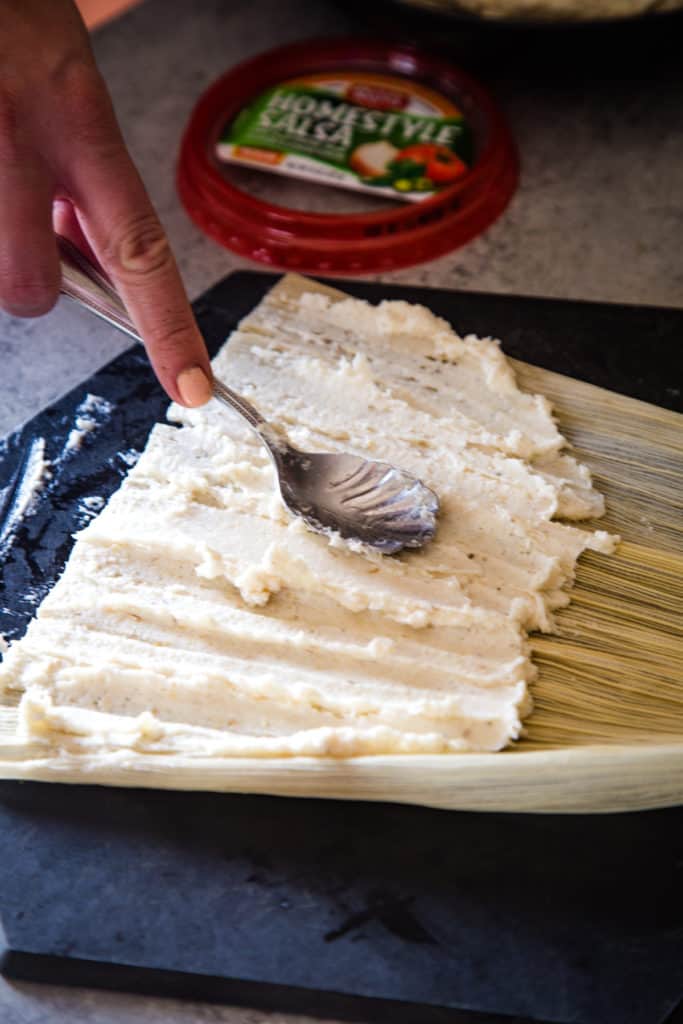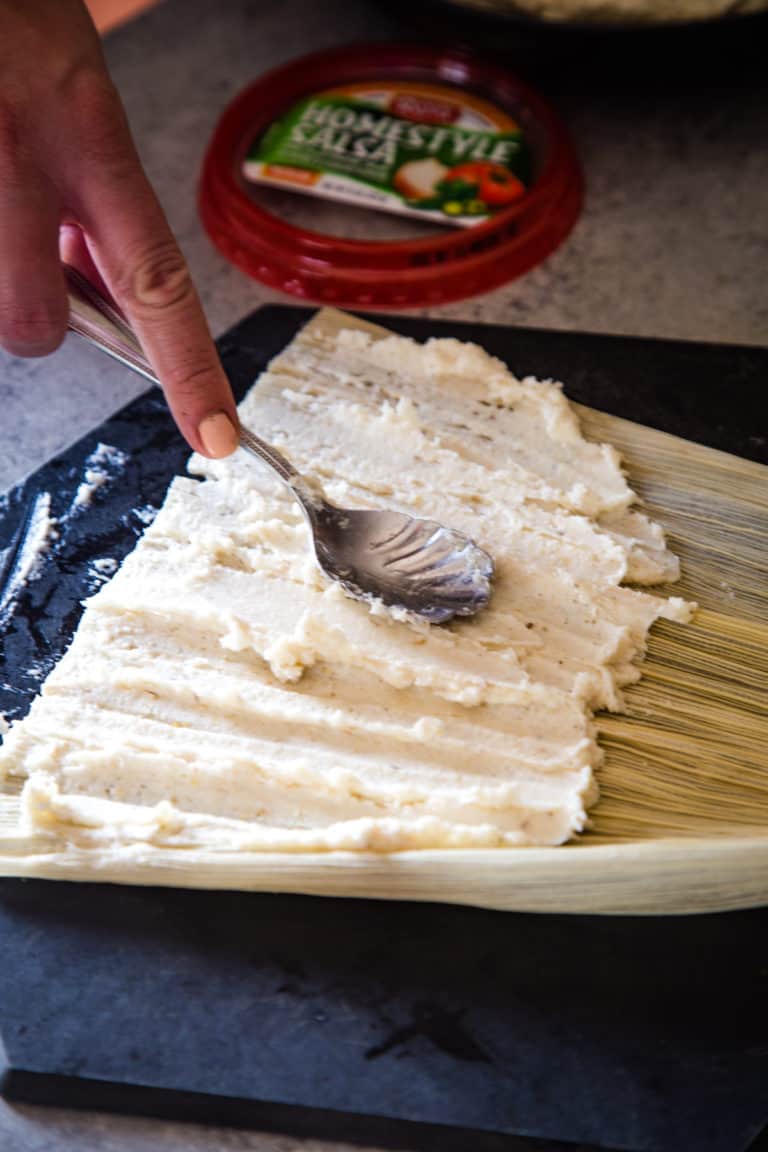 You'll want to soak the corn husks in hot water for at least 30 minutes, but up to overnight. Make sure to remove any molded or damaged husks before using.
Slice jalapeños in half and seed them. I strongly suggest using gloves for this step to avoid getting the oils elsewhere later. Broil the peppers just until the skins are charred and bubbly. Pay attention though because if the flesh becomes burned, the peppers will be bitter.
Slice the cheese into 1-inch bricks
Open the corn husk and spread with the masa. You are looking for about a ¼ inch thickness.
Fill with the cheese, jalapeño slices, and salsa
Fold the husk with one side overlapping the other, and pull the bottom up. Place standing up (open side up) in steamer or instant pot and continue!
Steam or pressure cook until done. I like to let them sit for a few minutes to firm up before enjoying.
To store, place cooled tamales in a large ziplock bag and refrigerate for 5-7 days. You can also freeze them for up to 3 months. To reheat, simply wrap in a damp paper towel and microwave for 1-2 minutes.
Trust me when I say, these are worth it! So the next time you are in need of socializing, invite your friends over for a tamale making party complete with the best Rojo's Homestyle Salsa!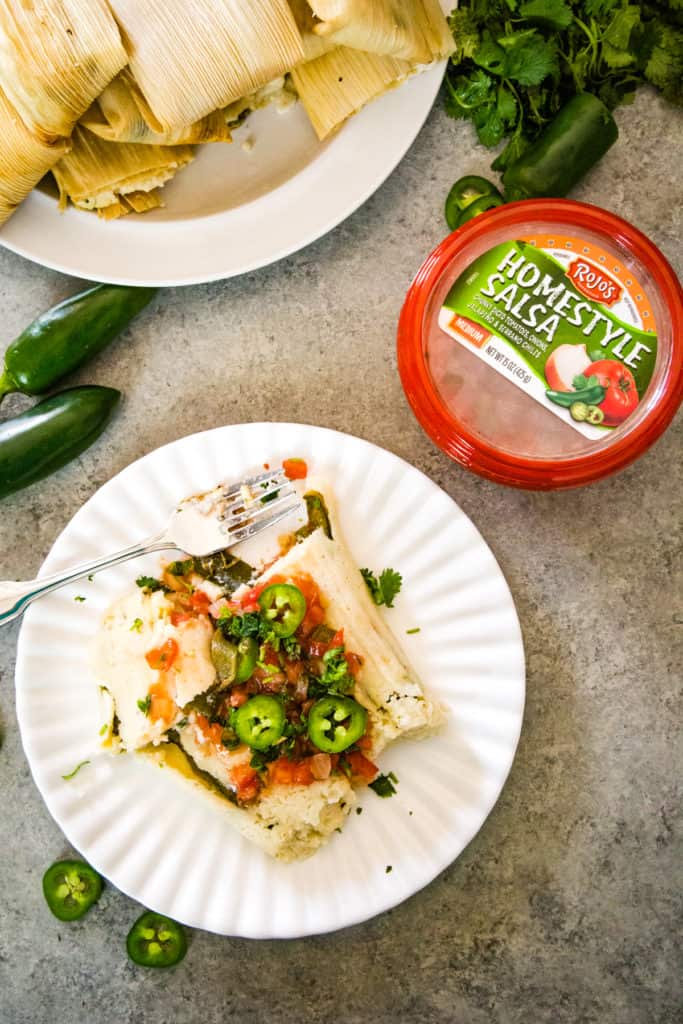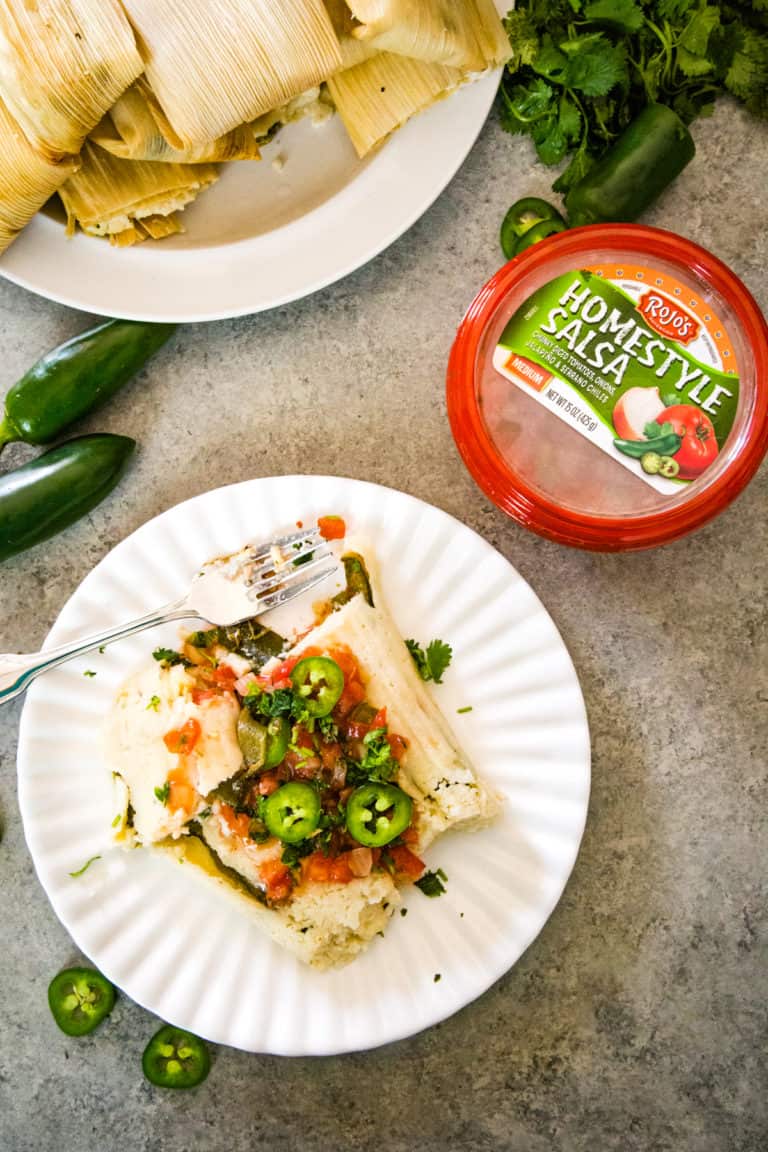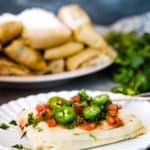 Jalapeño Cheese Tamales
Ingredients
1

package dried corn husks

10-12

large jalapeños

32

ounce

brick of Monterey Jack Cheese

2

containers Rojo Homestyle Salsa

7-8

pounds

prepared Masa
Instructions
Soak the corn husks in a large bowl of hot water for at least 30 minutes or until softened.

Prepare the filling: Preheat oven to broil. Using plastic gloves, slice and seed the jalapeños. Place on a cookie sheet, cut side down. Broil peppers for 3-5 minutes or until skins are charred and bubbly. Carefully remove from the cookie sheet and place peppers in a plastic ziplock bag. Close bag, and all peppers to "sweat" for 10 minutes. After 10 minutes, remove peppers from the bag, peel off the skin, and discard. Slice jalapeños into small ¼ inch slices.

Slice cheese into ½ inch thick bricks.

Assemble the tamales: Lay softened corn husk on a clean surface with the wide end at the top. Scoop about ¼ cup of masa onto the top center of the corn husk. With the back of a spoon, spread the dough into a thin layer, about a ¼ inch thickness, along the top half of the corn husk. Place 1 cheese brick, a couple of slices of jalapeños, and 1 tablespoon of salsa in the center of the masa. Wrap one side of the corn husk up and over the filling, then fold to overlap the other side. Fold the bottom part of the husk up. Place tamales standing upright in the steamer or instant pot, with their open end up. You want the pan to be relatively full of the uncooked tamales in order to keep them standing.

To cook the tamales- If using a tamale steamer, add about an inch of water to the pan underneath the rack. Snugly stand tamales in pan. Cover pot and steam for 45 minutes to 1 hour.

If using an Instant Pot, add ½ cup of water to the bottom of the pan. Cover the rack with foil and place over the water. Place tamales in pot and cover. Cook on Manual/High Pressure for 27 minutes, then allow Instant Pot to naturally release.

To check that tamales are done, remove one to test. If the husk pulls away from the masa cleanly and it does not look sticky, then they are done. If not, return to the pan and cook for an additional 5 minutes.