This year, Birds Eye has partnered with Melissa d'Arabian, celebrity chef, mom of four, and host of FoodNetwork.com's web series The Picky Eaters Project, to make a difference and help moms with the dinnertime dilemma.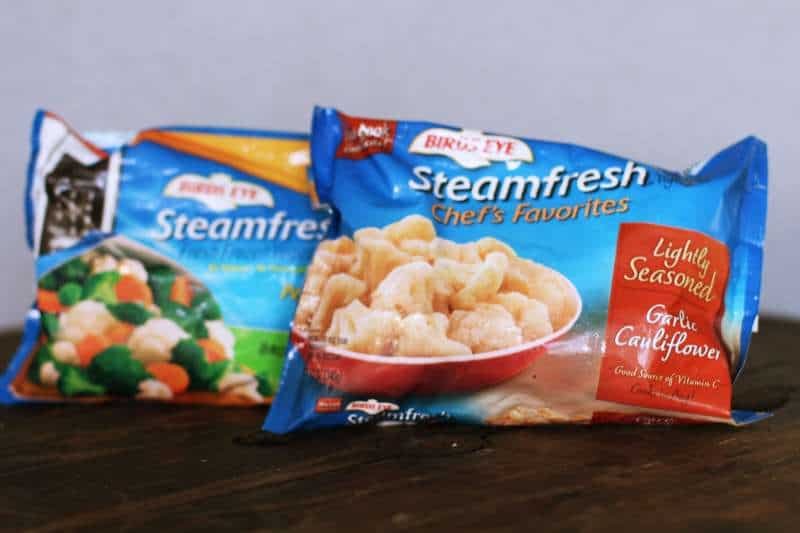 Everyone knows it can be tough to get a balanced meal on the table every day and we're here to help. Birds Eye frozen vegetables helps mom by providing nutritious, tasty veggies that kids will love. Together, Birds Eye and Melissa are combining their expertise in getting children to eat more veggies, one bite at a time.
With three kids, comes three completely different palates, and I am not one of those people that make a separate meal for each one. My kids know that they have to eat everything on there plate or at least try most of it. Vegetables are almost always left for last and come with comments such as "I'm too full" or "Look how much I already ate."
Because of this, I have become the master of disguise. Whenever I make a sauce I always add purred vegetables to the mix, and they almost never realize it. I do not want them think that they do not have to eat vegetables (even though they unknowingly are) so I always serve an extra portion of non pureed vegetable on the plate. That way, if I am not up for the vegetable eating battle, I know that they will have already had a decent portion in their food!
This Cauliflower Carbonara has become a staple in our house. The cauliflower sauce is low fat, healthy, and quick. The pureed cauliflower because the creamiest sauce ever!!!! The kids lick their plates with this meal and have no idea what it is made for. This is also a great meal for weeknights as it is on the table in less than 30 minutes!
Today, 9 out of 10 people in the United States do not get the proper amount of vegetables, according to The State Of The Plate report. Step Up To The Plate is Birds Eye's long-term commitment to reshaping kids' veggie perceptions and getting children to like veggies for life. Birds Eye continues to make eating more vegetables a reality by showing families how to fill half the plate with veggies in fun and simple ways moms and kids will both like. By providing moms with more than 40 unique vegetable blends year round at affordable prices, Birds Eye continues to be her ally in the dinnertime dilemma.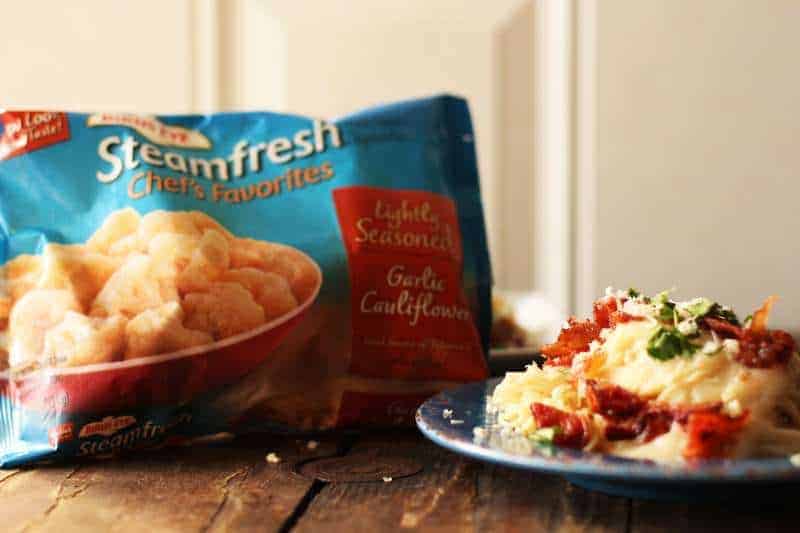 Check out Melissa d'Arabian You Tube videos for some wonderful recipes and tips. She suggests introducing new foods slowly, pairing them on the table with familiar favorites. Another great tip she offers is in order to get kids more excited about food, let them help with the preparation! This is so true. My kids get so excited and proud of the food they made, they generally clean their plates!
https://www.youtube.com/watch?v=gDduCTyWdCo&list=UUq99-afLqctDYofXZ6INPtQ
Try this recipe the next time you need a quick and healthy meal!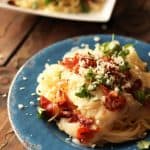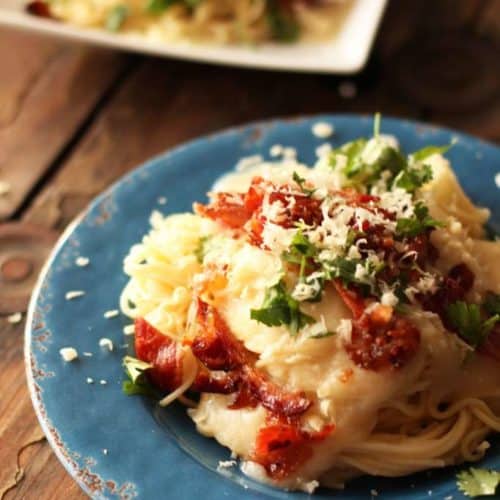 Healthy Cauliflower Spaghetti Carbonara
Ingredients
1

pound

of Spaghetti

2

bags of Bird's Eye Cauliflower or 1 large cauliflower

2

cups

vegetable or chicken stock

½

and onion chopped coarsely

1

clove

garlic chopped coarsely

½

teaspoon

salt

½

teaspoon

ground pepper

½

pound

cooked and chopped bacon

1

and ½ cups grated parmesan cheese
Instructions
Prepare your Spaghetti according to the package.

In a large pot, bring chicken or vegetable stock to a boil.

Add cauliflower, onion, garlic, and salt and pepper to the boiling stock. Cook until tender.

Once tender, blend cauliflower and its liquid in a blender or food processor. If it is too thick, add a tablespoon of olive oil. Blend until smooth

Once pasta is done, drain and toss with cauliflower sauce, chopped bacon, and parmesan cheese. Serve immediately.
I was selected for this opportunity as a member of Clever Girls Collective and the content and opinions expressed here are all my own.