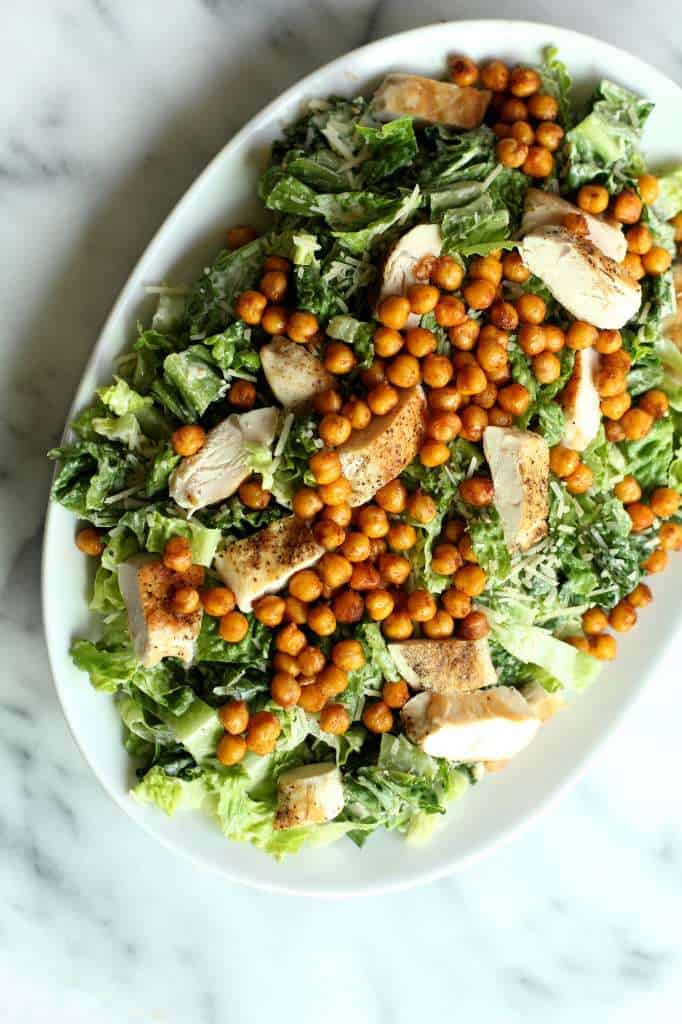 Now that the temperatures are rising I find myself wanting to be in the kitchen a lot less these days. When I am in the kitchen, I want something quick and simple. No froofy do sauces or elaborate baked goods. Luckily, I did all the baking recipes for The Seaside Baker last month when the heat was still bearable.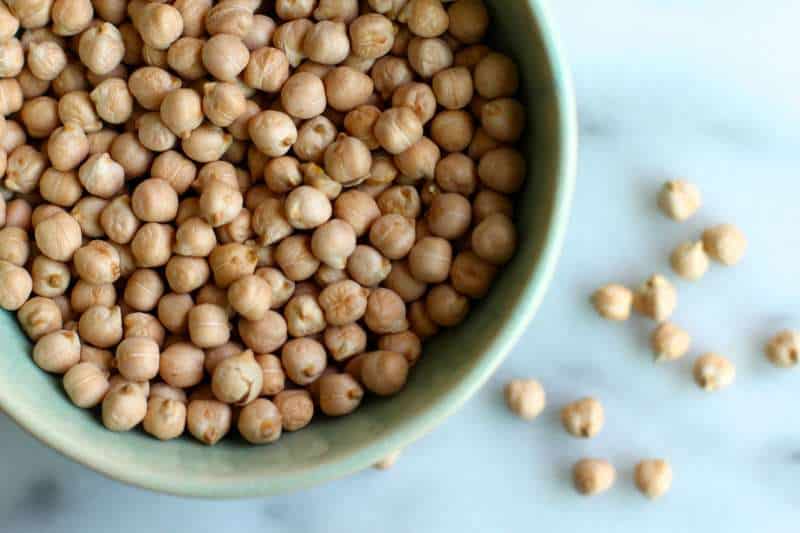 Now I just want melons, cold peaches, and salads. With the occational BBQ'd meal here and there. My husband however, is still expecting meals that include protein, carbs, and vegetable.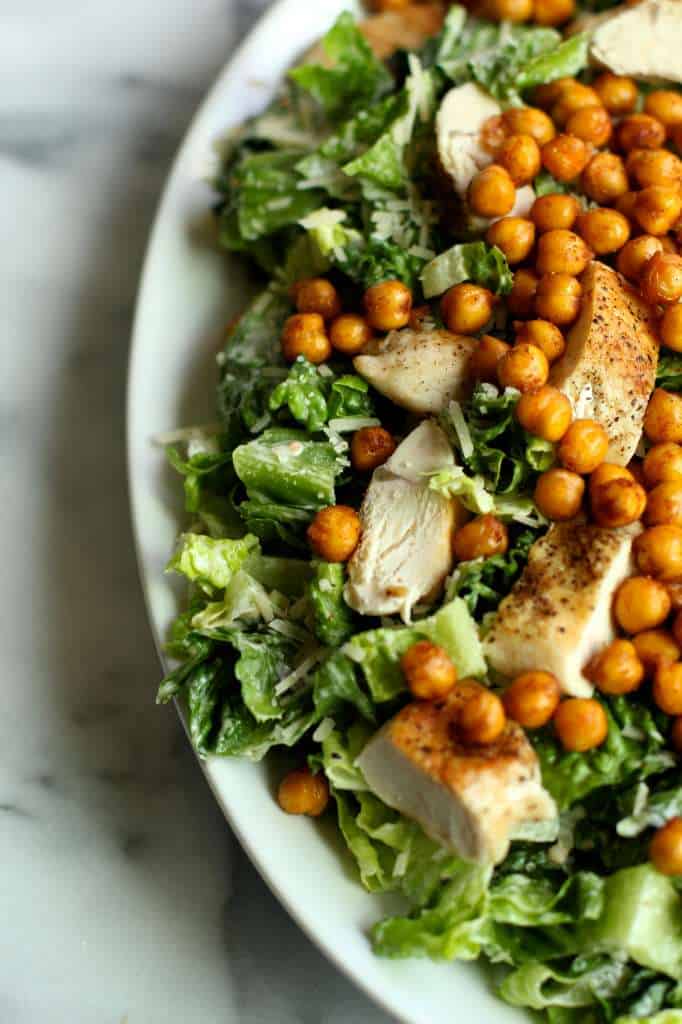 In order to make everyone happy, I had to get creative with my salads. Grilled chicken and chickpea croutons are the perfect amount of protein to keep him full over night and quick and light enough for me to make after a day of swimming.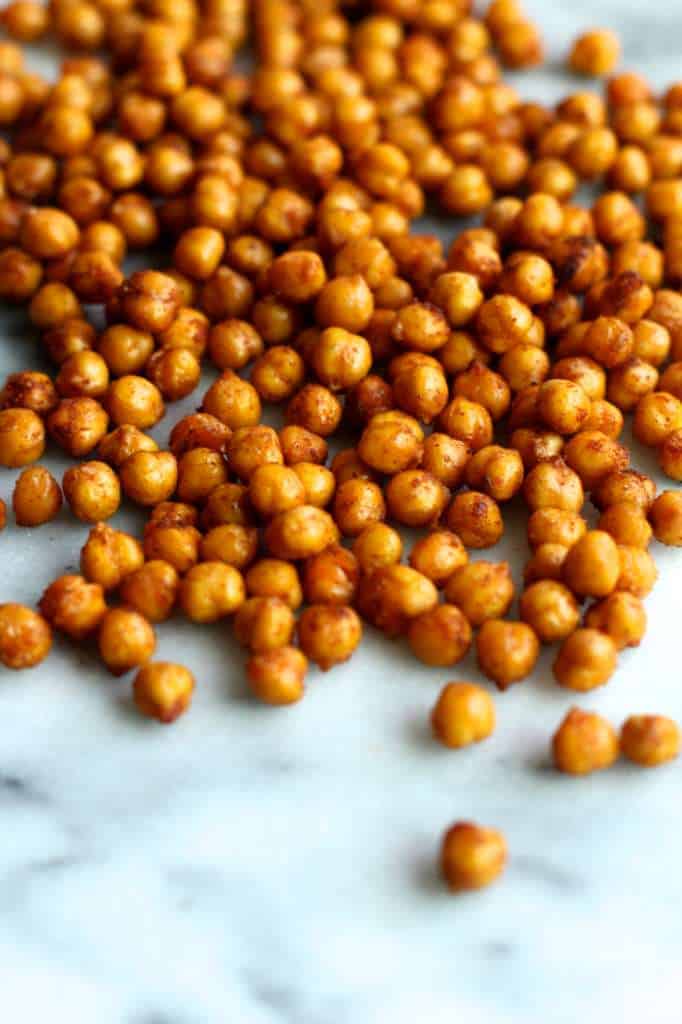 The chickpea croutons are also a great snack on their own. They are crunchy and filling. Ancho Chili pepper is one of my favorite spices to use. It does not make your food overly spice but does create a kind of earthy spice. A perfect compliment to creamy caesar dressing.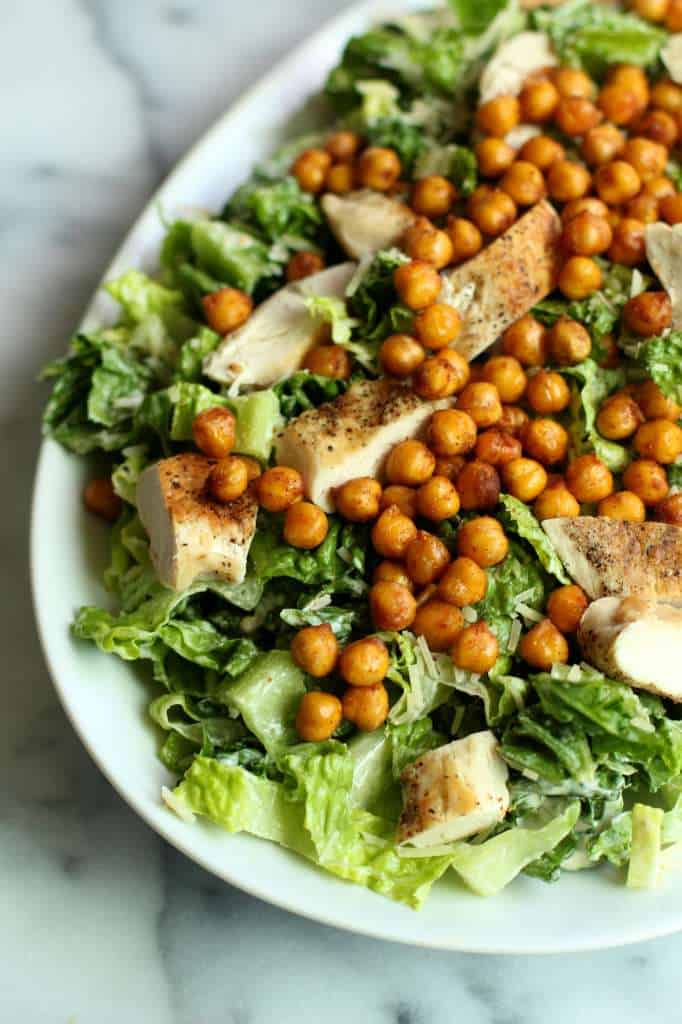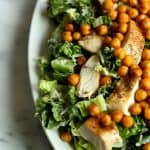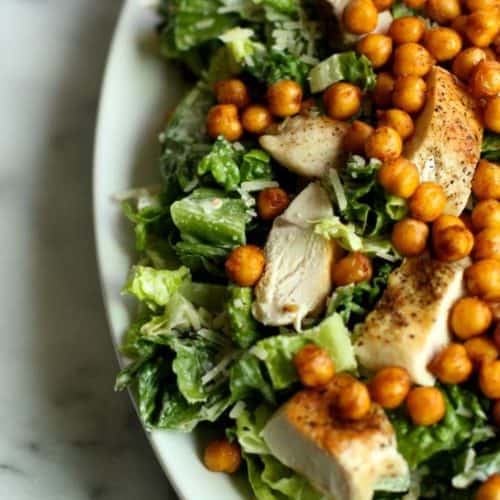 Chicken Caesar Salad with Chickpea Croutons
Ingredients
Chickpea Croutons
1

and ½ cup cooked

(or canned) and drained Chickpeas or Garbanzo Beans

2

tablespoons

Olive Oil

¼

teaspoon

salt

½

teaspoon

pepper

½

teaspoon

cumin

½

teaspoon

ancho chili pepper
Chicken Caesar Salad
½

pound

chicken

dash of salt and pepper

2

romaine hearts

, chopped

½

cup

shredded parmesan cheese

⅔

cup

Caesar Salad Dressing

Chickpea croutons
Instructions
Chickpeas
Preheat oven to 400 degrees. Line a baking sheet with foil.

In a bowl, combine chickpeas, oil, and spices. Gently mix to combine.

Place on lined cookie sheet and bake for 15 minutes.

Gently stir chickpeas and cook for another 15 minutes.

Remove from oven. Chickpeas will crisp while coming to room temperature.
Salad
Sprinkle chicken with salt and pepper and grill on high heat until no longer pink in the center.

In a bowl combine chopped romaine and salad dressing and mix to combine. Place on serving platter and top with parmesan cheese, chopped grilled chicken, and chickpea croutons.

Serve immediately.

If you have leftover chickpea croutons, store in an airtight container for up to a week.
Nutrition Facts
Chicken Caesar Salad with Chickpea Croutons
Amount Per Serving (2 g)
Calories 0
* Percent Daily Values are based on a 2000 calorie diet.