This post has been sponsored by Hamilton Beach, however all opinions are 100% my own.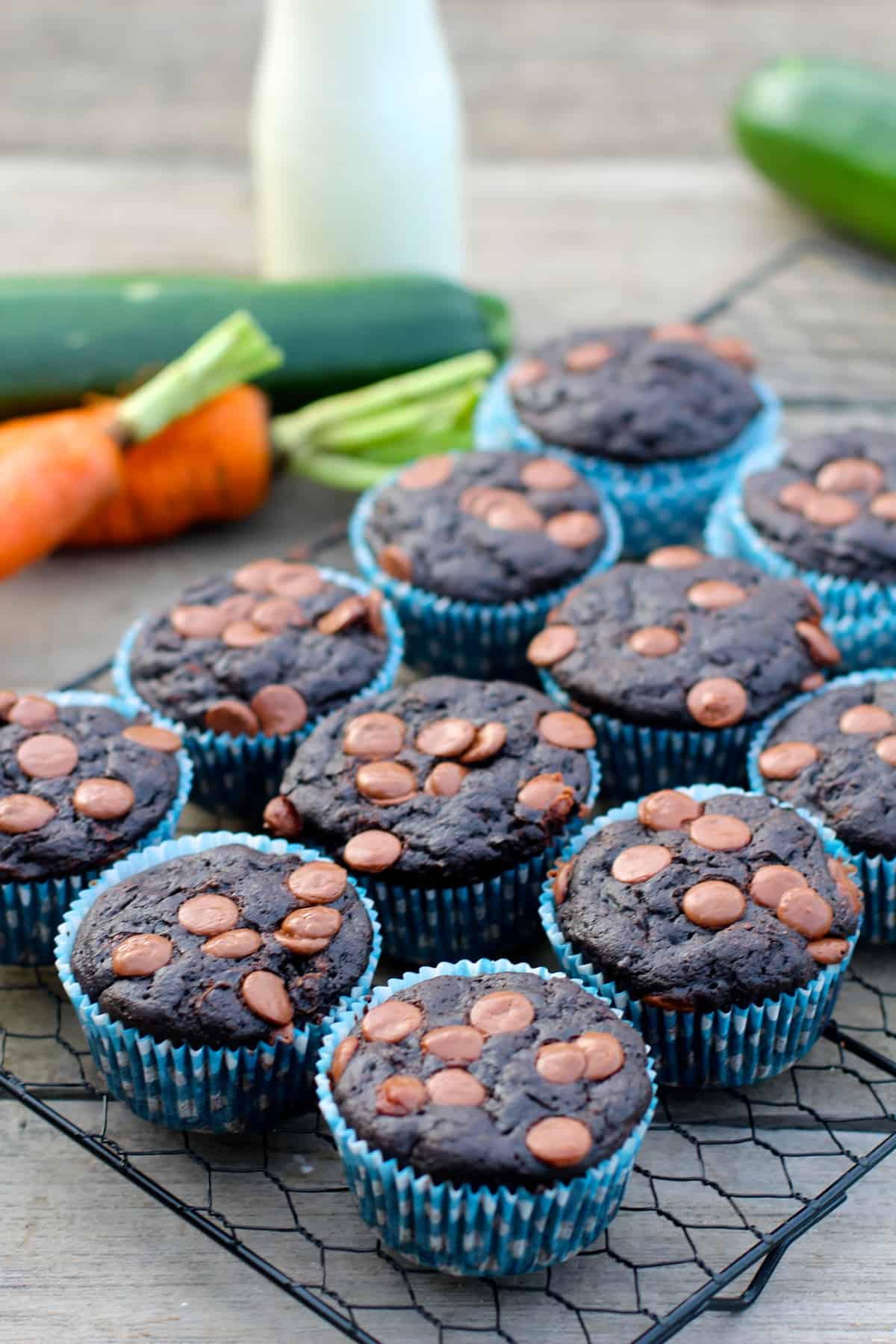 You can feel a lot less guilty about eating one of these decadent chocolate muffins knowing that they are chock full of carrots and zucchini! Not only that, they are made with whole wheat flour and flax seed meal making them a secretively healthy snack for you and your kids.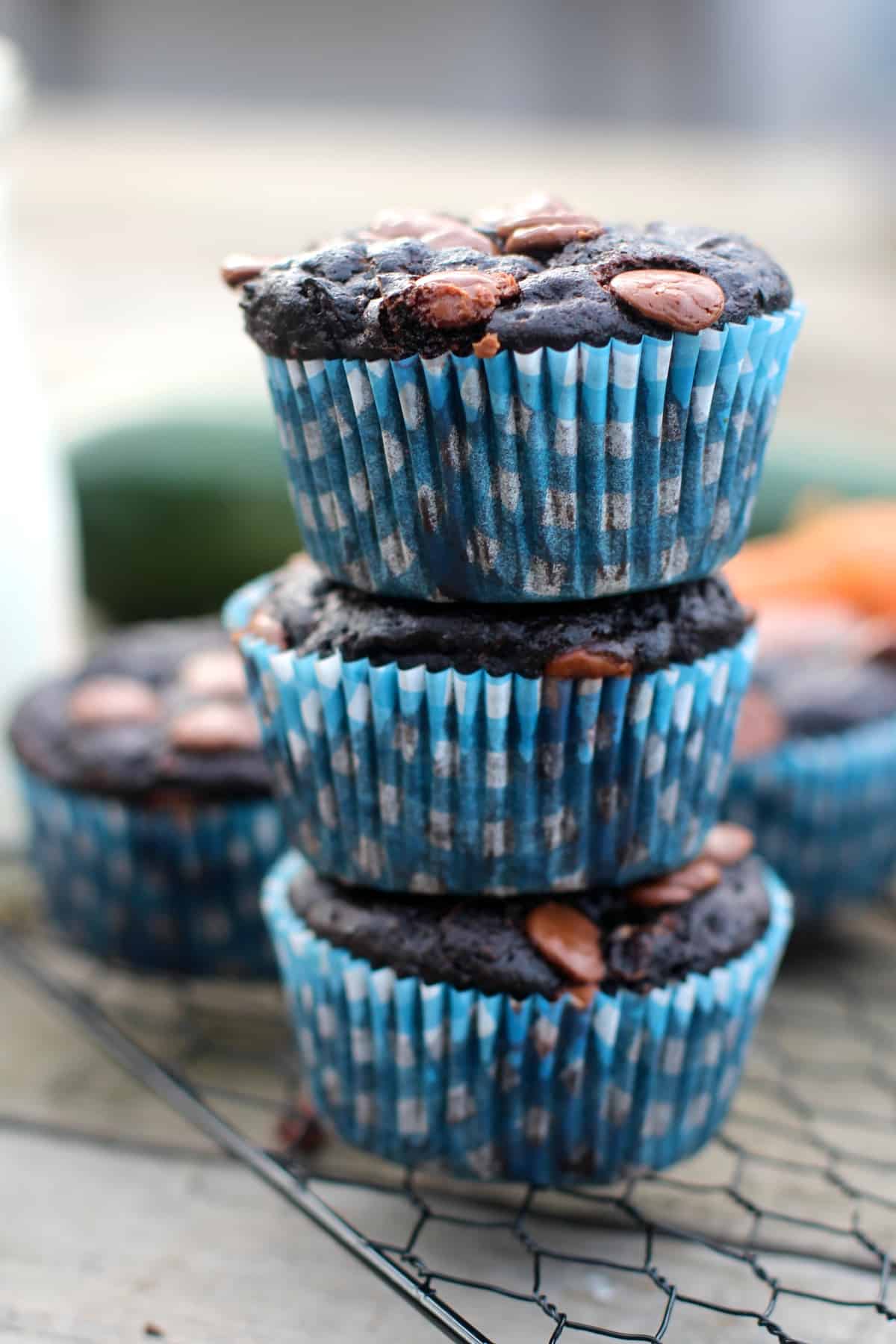 About 10 years ago I scored on a food processor at a garage sale. It was used but still worked great. I was beginning to see that it was nearing the end of its days, and began researching new ones. The universe must have sensed it because I received an email from Hamilton Beach about their new 14-cup Dicing Food Processor, and jumped to the occasion.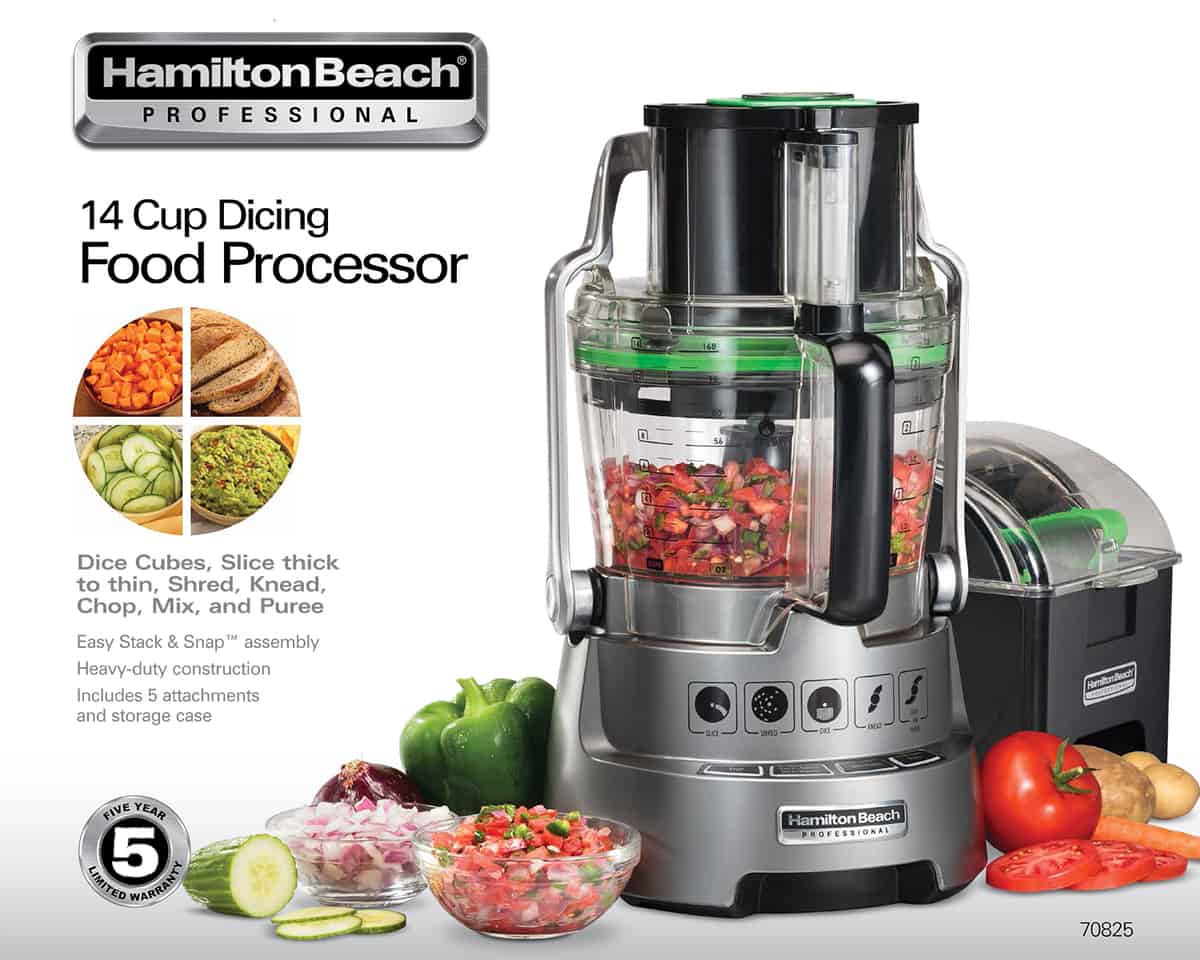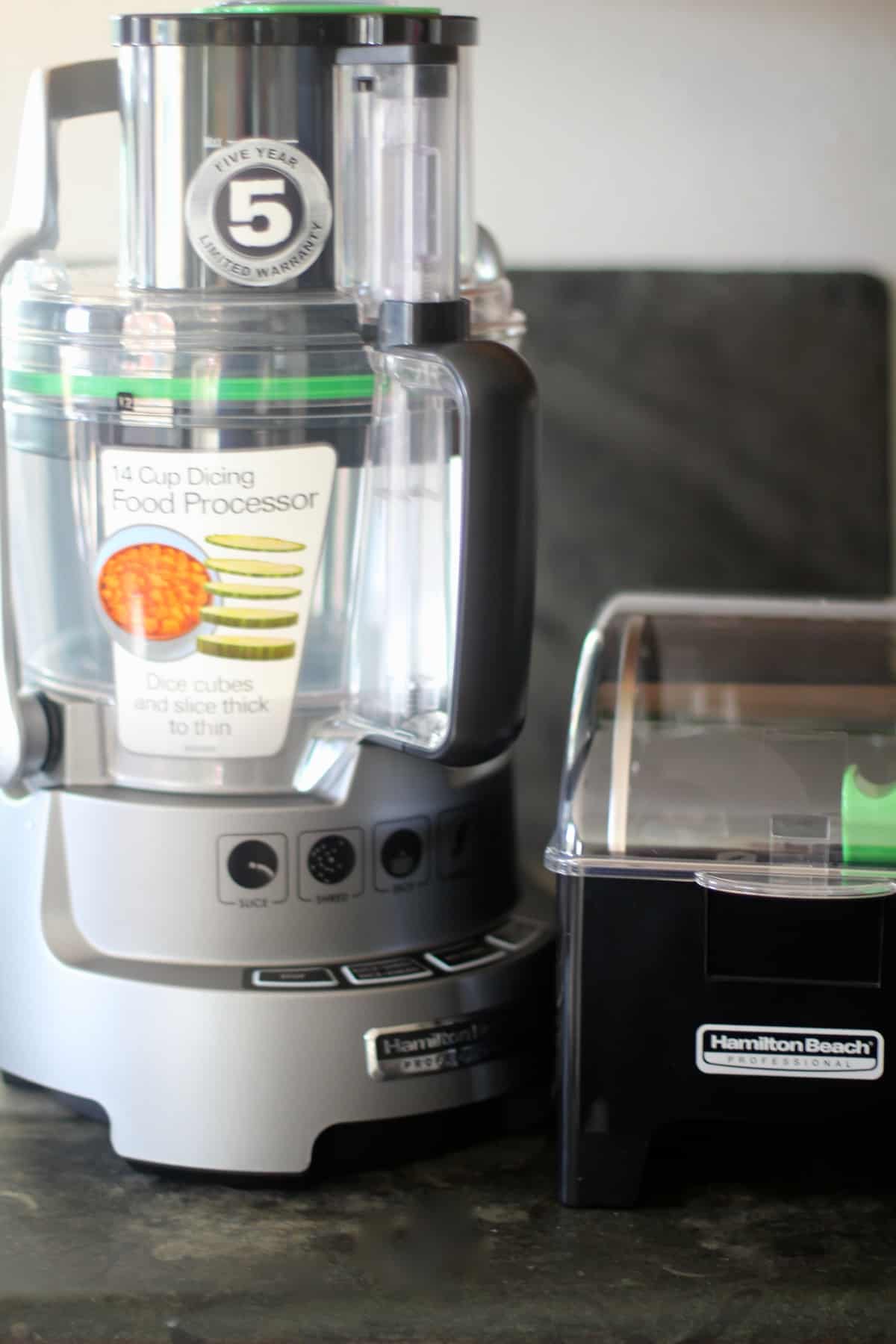 This particular version had been high on my want list for many reasons. It dices cubes, slices thick to thin, shreds, kneads, chops, mixes and purees. It comes with an adjustable slicing blade with 14 thickness settings that can provide custom results from the thinnest potato slices to the thickest slices of pepperoni. It also comes with an innovative dicing blade that creates uniform pieces for salsas, mirepoix, soups, and salads. You can also make breads using the kneading blade and shred all of the cheese and veggies until your heart is content.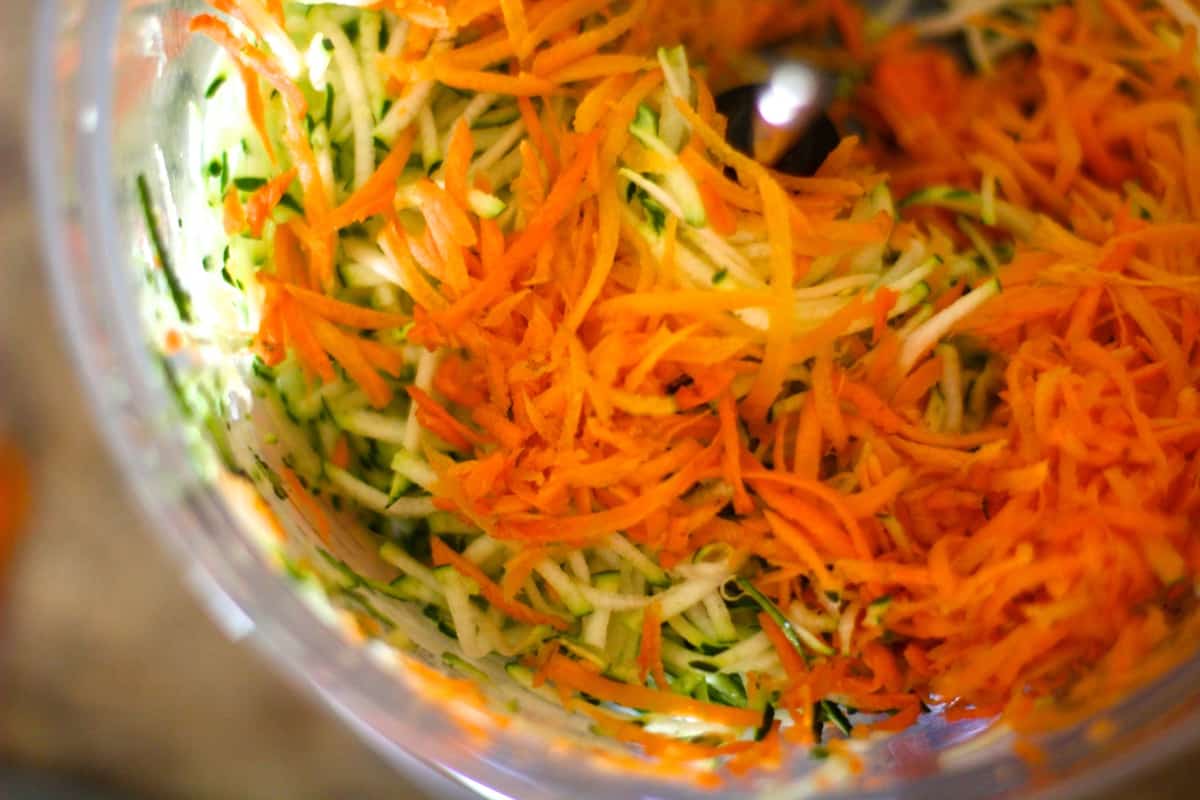 One of my favorite feature has to be the 3-in-1 Big Mouth™ feed tube – one of the largest on the market.  You no longer need to add the extra set of cutting the veggies before feeding it into the food processor and it even has smaller tubes to keep thinner foods upright for the perfectly uniform slice!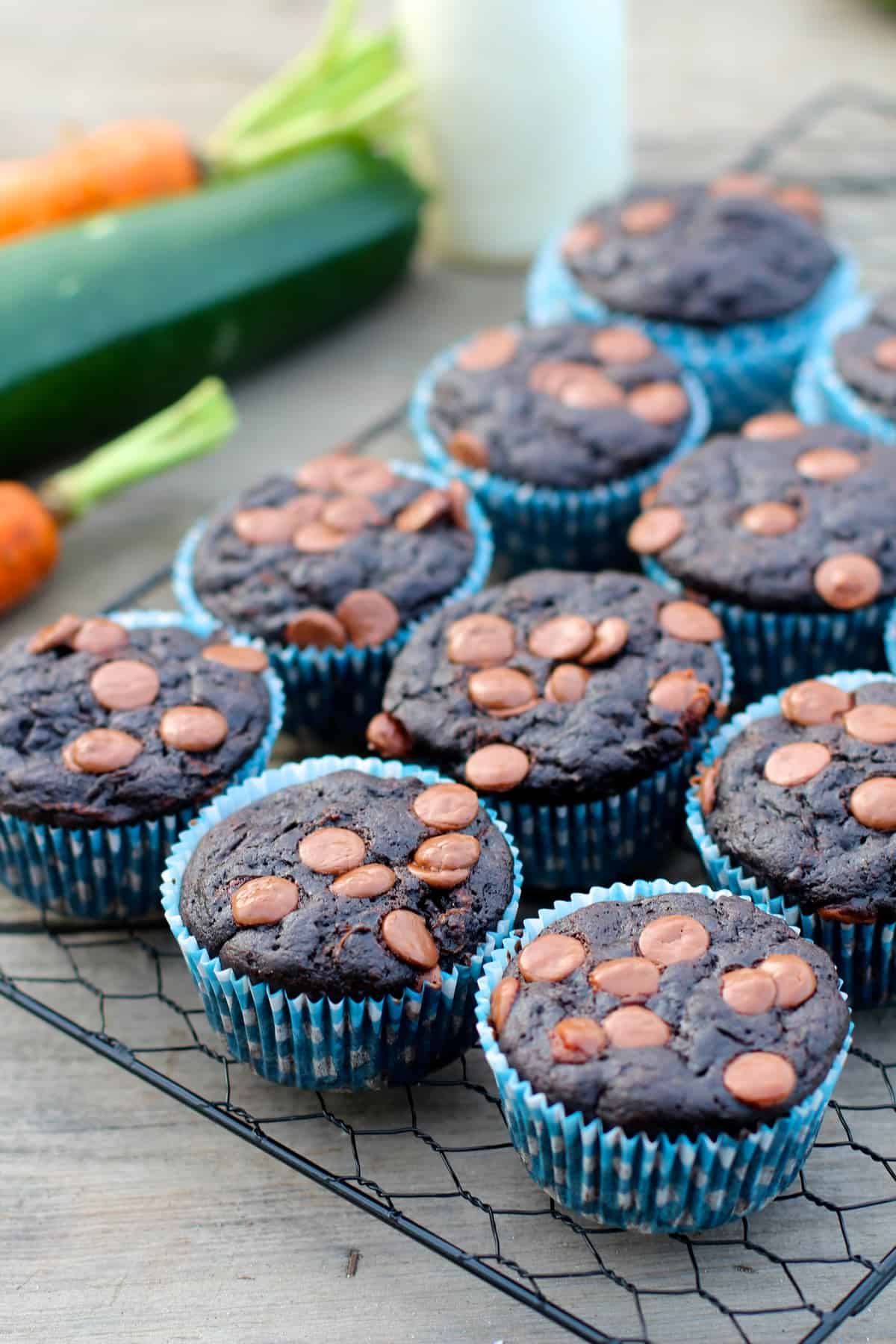 Hamilton Beach provides a 5 year limited warranty which is huge for me considering how much I use my kitchen appliances! All in all, it is a great investment as it provides many functions. Luckily for you, Hamilton Beach has offered to give one away to our great readers! Follow the instructions below to enter.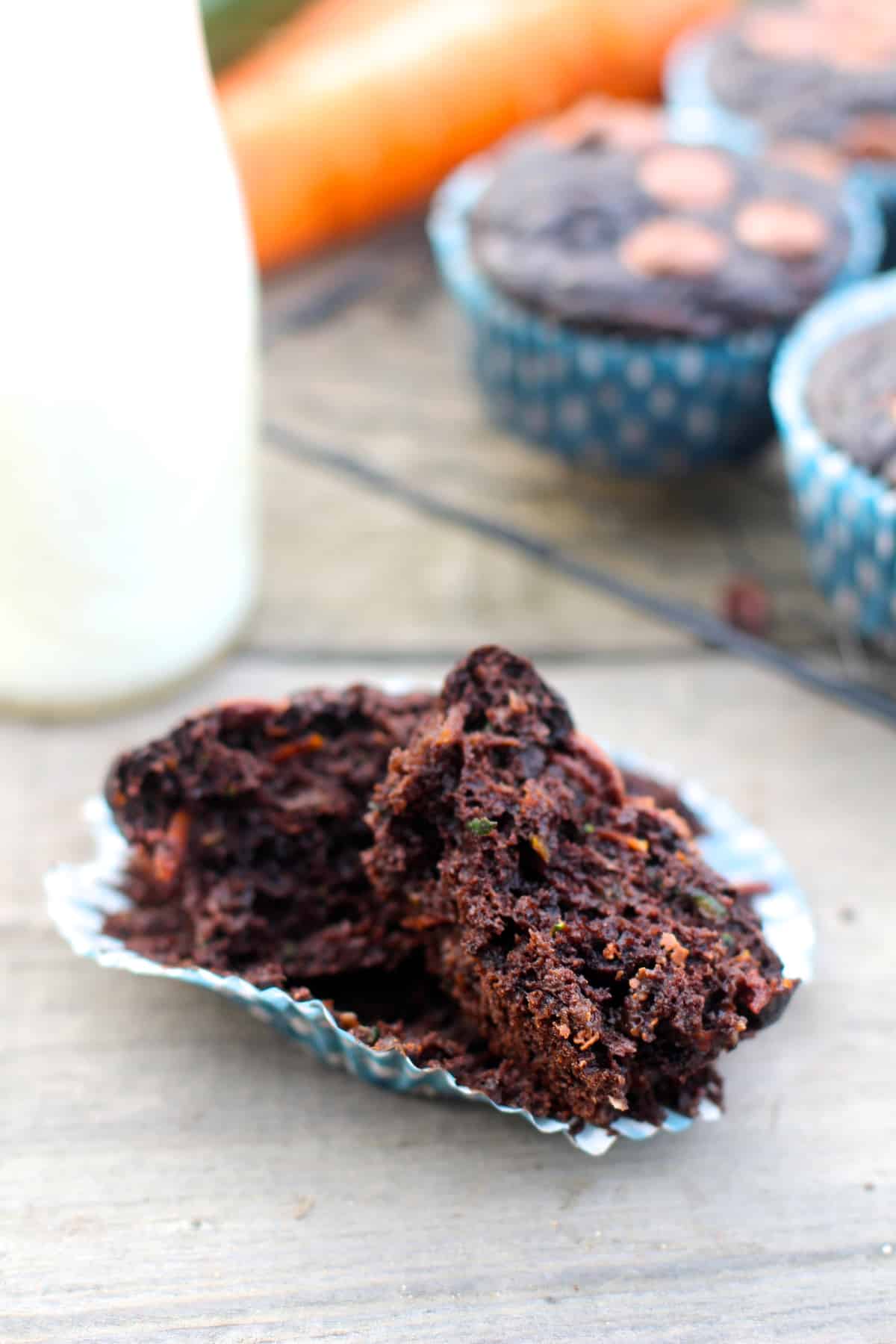 And when you win, the first recipe you make will have to be these muffins! They are delicious, healthy, and quite filling. Not to mention, they definitely fulfill that chocolate craving. Enjoy!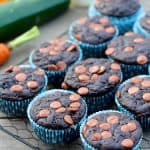 Carrot Zucchini Chocolate Muffins
Decadent chocolate muffins that are made with whole wheat flour, flaxseed, and chock full of carrots and zucchini!
Ingredients
2

cups

whole wheat flour

½

cup

flax seed meal

⅔

cup

sugar

⅔

cup

cocoa powder

2

teaspoons

baking soda

½

teaspoon

salt

¼

cup

melted coconut oil

(cooled) or vegetable oil

4

eggs

1

teaspoon

vanilla

1

and ½ cups buttermilk or plain yogurt

1

cup

shredded carrots

1

cup

shredded zucchini

1

cup

chocolate chips
Instructions
Preheat oven to 350 degrees and line 2 muffin tins with cupcake liners or spray with nonstick cooking spray.

In a large bowl, combine dry ingredients, set aside.

Whisk together oil, eggs, and buttermilk.

Create a well in the dry ingredients and pour wet ingredients in the center and stir until combined.

Stir in shredded carrots, zucchini, and ¾ cup of chocolate chips.

Pour into muffin cups ⅔ of the way full.

Top with a few remaining chocolate chips.

Bake 22-25 minutes or until toothpick inserted into middle comes out clean.

Allow to cool for 10 minutes before removing from pan.

Enjoy immediately or store (or freeze) in an airtight container.

Makes 2 dozen muffins.