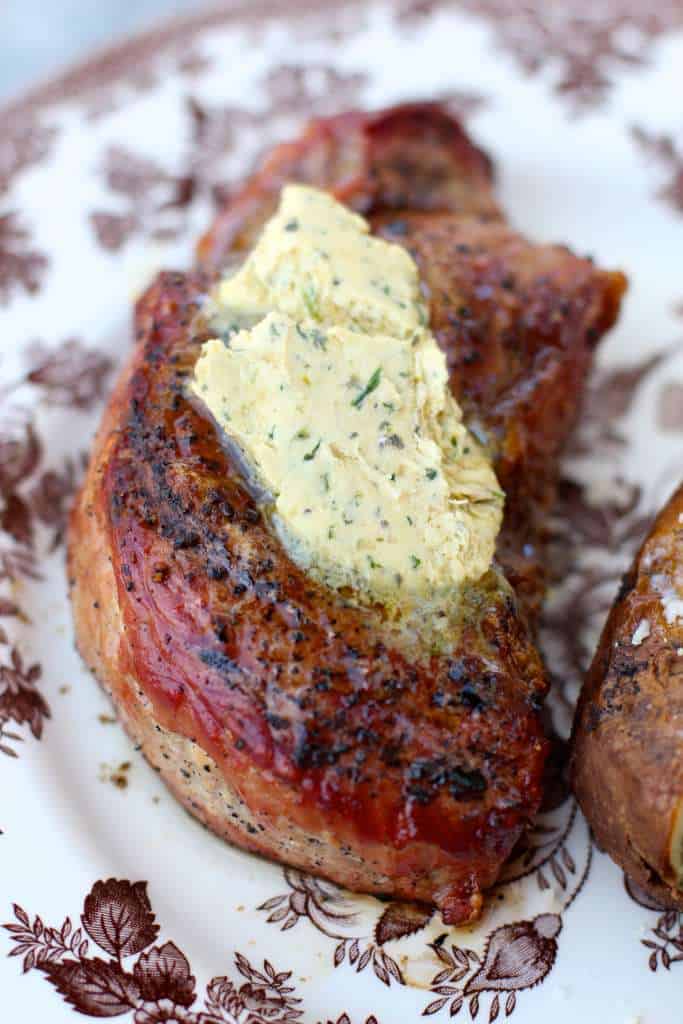 It has been 8 years since we moved back from Switzerland. My husband rarely asks for "Swiss Style" meals, but when he does, I am happy to oblige. When trying to come up with a Plugrá Butter themed dinner party my husband suggested Cafe de Paris. It was the perfect topping for the steaks we planned on making.
Here's a little back story on Cafe de Paris. In 1930, Mr. Boubier, owner of the 'Restaurant du Coq d'Or' in Geneva , invented an original butter- based sauce with the help of his daughter. The sauce included a mix of spices, herbs and other ingredients, which he served with Entrecôte steak to the delight of his customers.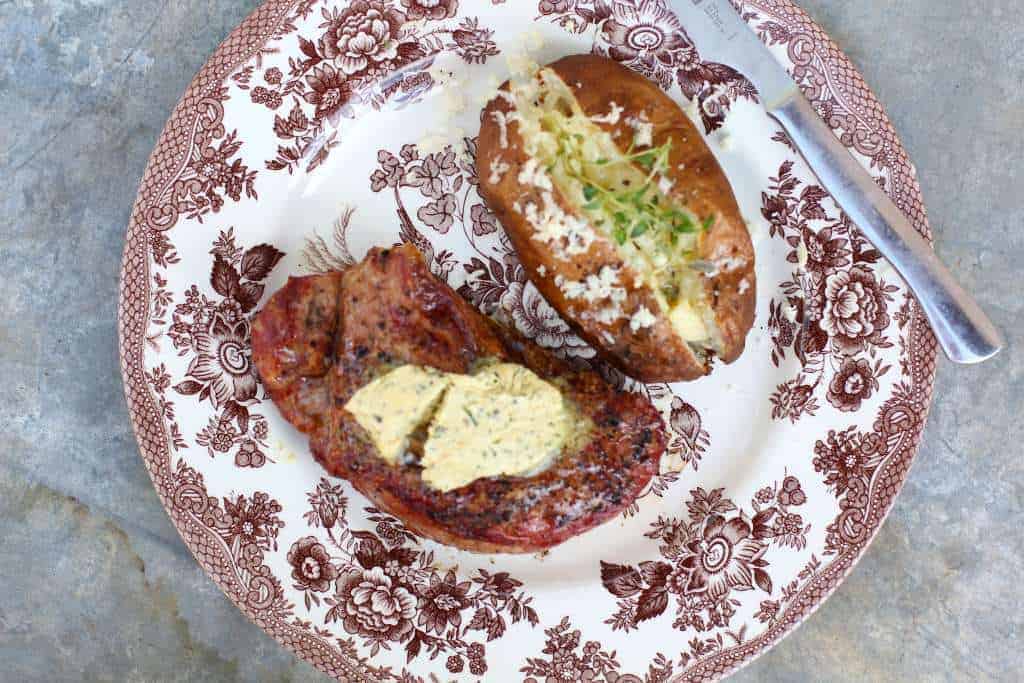 Although there have been many imitations of the concept, no one has been able to re-create the sauce exactly that Mr Boubier invented in Geneva in 1930. Since then, the recipe for this sauce has been a closely guarded secret. It was handed down from generation to generation and the owner of Entrecôte Café de Paris in Geneva, Mr. Vouillamoz, has been the current guardian of the recipe since 1989.  
Traditionally this butter "sauce" is served on beef or pork. However, many Swiss use it as a regular condiment for everyday items including potatoes. We always had a little jar in the fridge. Since we can't find it here, this was the perfect opportunity to make it at home. Although delicious, I didn't want to just fry the steaks in butter. I wanted something that would showcase the creaminess of Plugrá European butter. This Cafe de Paris did just that. When placed on top of steamy hot steaks it melted, creating a glorious sauce with complex flavors.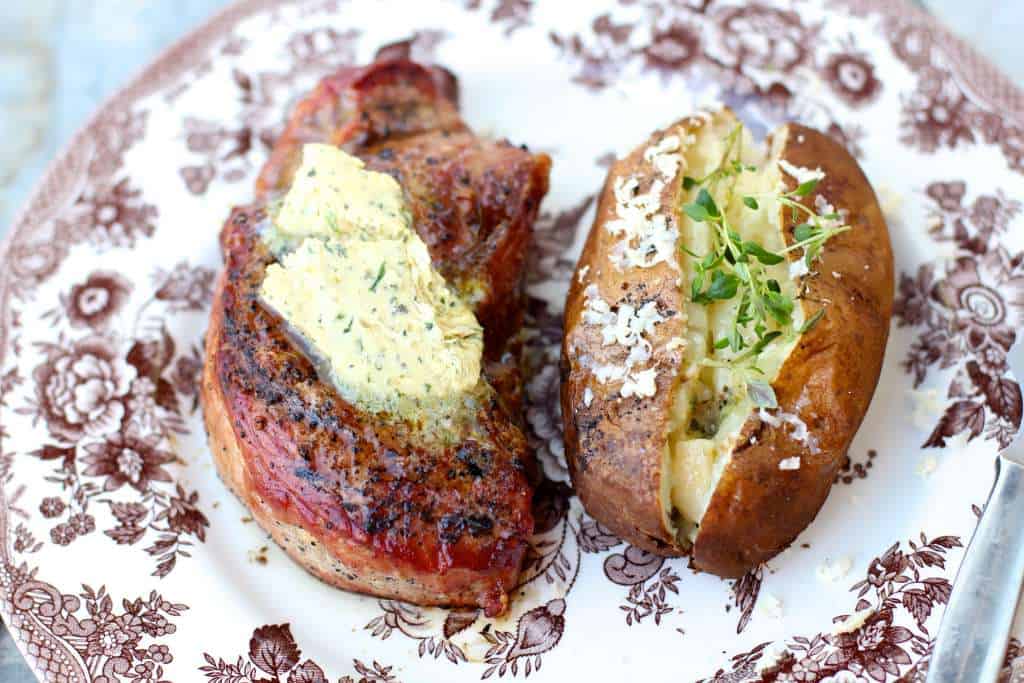 The next time you plan on cooking some steaks or pork, make this compound butter beforehand. You will love it!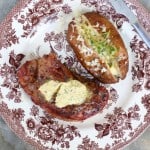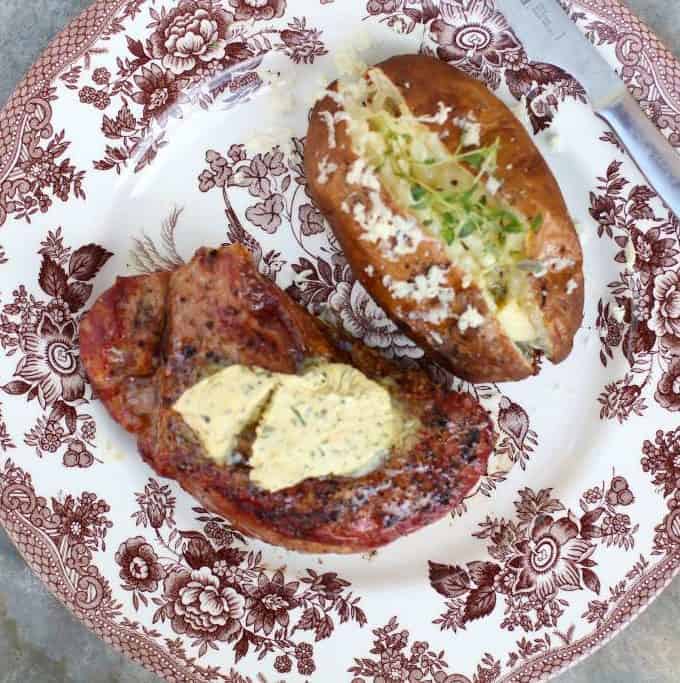 Cafe de Paris Butter
Ingredients
1

tablespoon

olive oil

1

shallot

, chopped finely

2

teaspoons

Indian style curry powder

¾

cups

unsalted Plugrá butter

, softened

1

clove

garlic

, crushed

Juice of ½ lemon

2

teaspoon

Worcestershire sauce

3

anchovy fillets

½

teaspoon

baby capers

, rinsed

½

teaspoon

sea salt

1

teaspoon

ground pepper

¼

cup

parsley leaves

2

tablespoons

finely chopped chives

1

tablespoon

thyme sprigs

, leaves only

½

teaspoon

ground ginger

1

egg yolk
Instructions
In a small frying pan, heat oil on medium high heat.

Add shallot and garlic, and cook until shallots are translucent, about 3 minutes.Remove from heat and cool for 5 minutes.

Using a food processor, add all the ingredients and spices including the cooked shallots and garlic.

Pulse until everything has been incorporated.

Roll a log of compound butter by placing the mixture on a sheet of plastic wrap and rolling it.

Refrigerate for at least 1 hour before slicing.

Can be made up to a week ahead of time.

When a slice of this compound butter is placed on a sizzling steak, it melts to create a glorious sauce!