Get your friends together this year for a delicious glass of wine and a Butternut Squash Ravioli making party! It's so fun and everyone leaves with some!
This post has been sponsored by Sonoma-Cutrer and Honest Cooking however all opinions are 100% my own.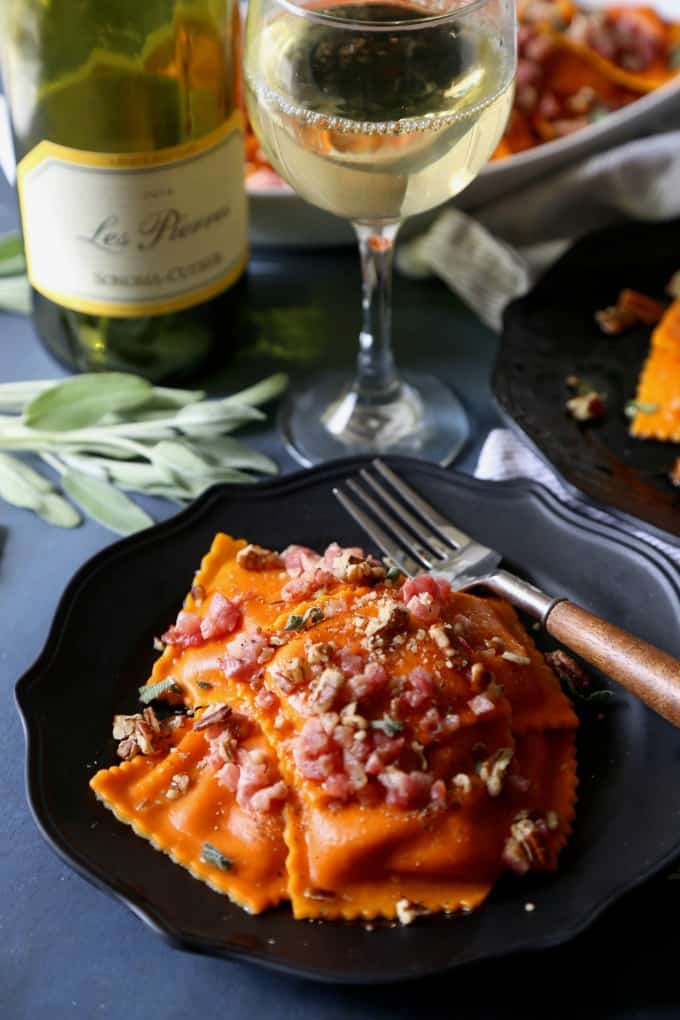 Every year I host a food making party of some sort. Usually we are making Tamales or Cannoli shells, but this year I had a craving for some delicious Butternut Squash Ravioli. Since Ravioli is pretty labor intensive and best done with friends and wine, it was a no brainer to have my besties over for a day of cooking!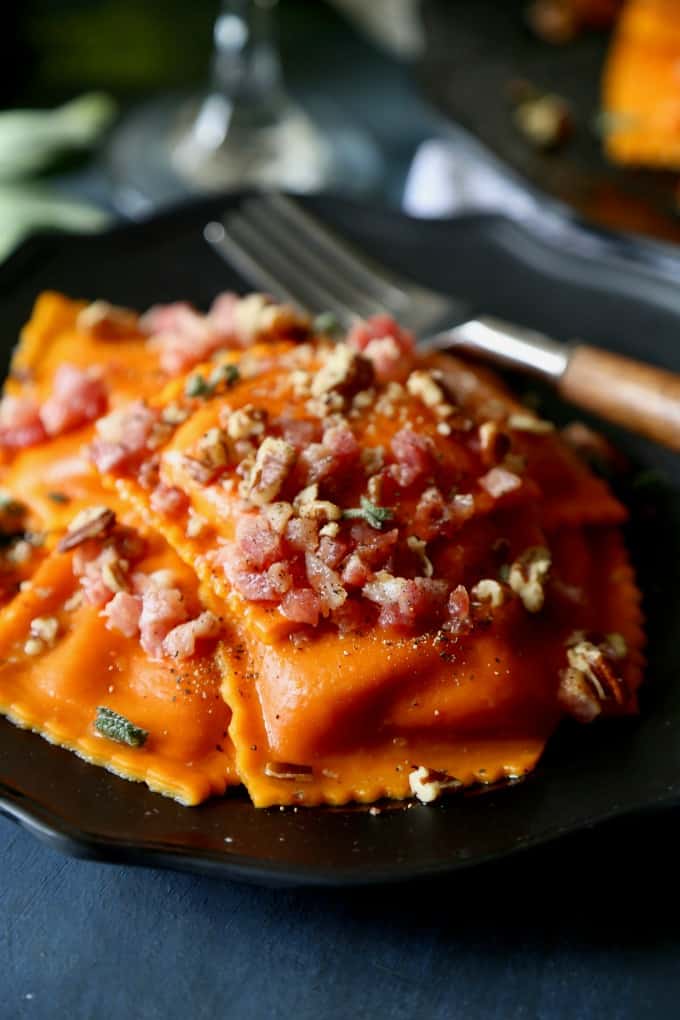 To me, the best days are had over a good meal and a good class of wine. That's why when I was planing my little labor party, I wanted to make sure to have the best wine. After all, I was inviting friends over to work! Now, I love a good red, and this Russian River Valley Pinot Noir by Sonoma-Cutrer is my top choice. This vintage Pinot is round, silky, and elegant with a long finish of flavors of black cherry, tobacco and sweet barrel spice that shine throughout. This Pinot Noir is one of the most versatile red wines and pairs beautifully with lamb, beef, mushrooms, and root vegetables.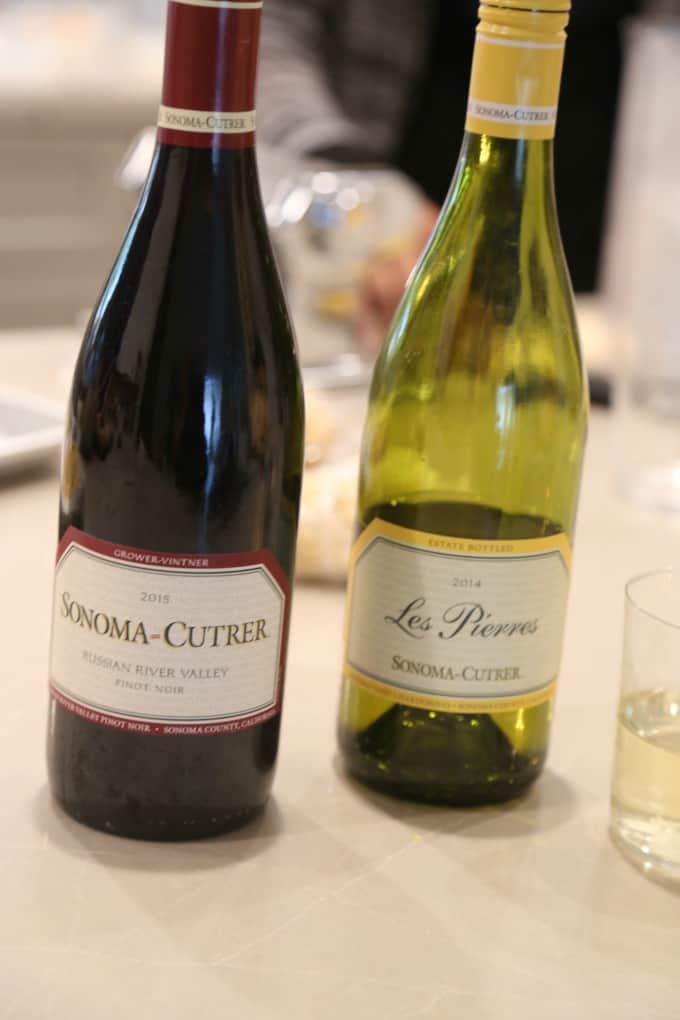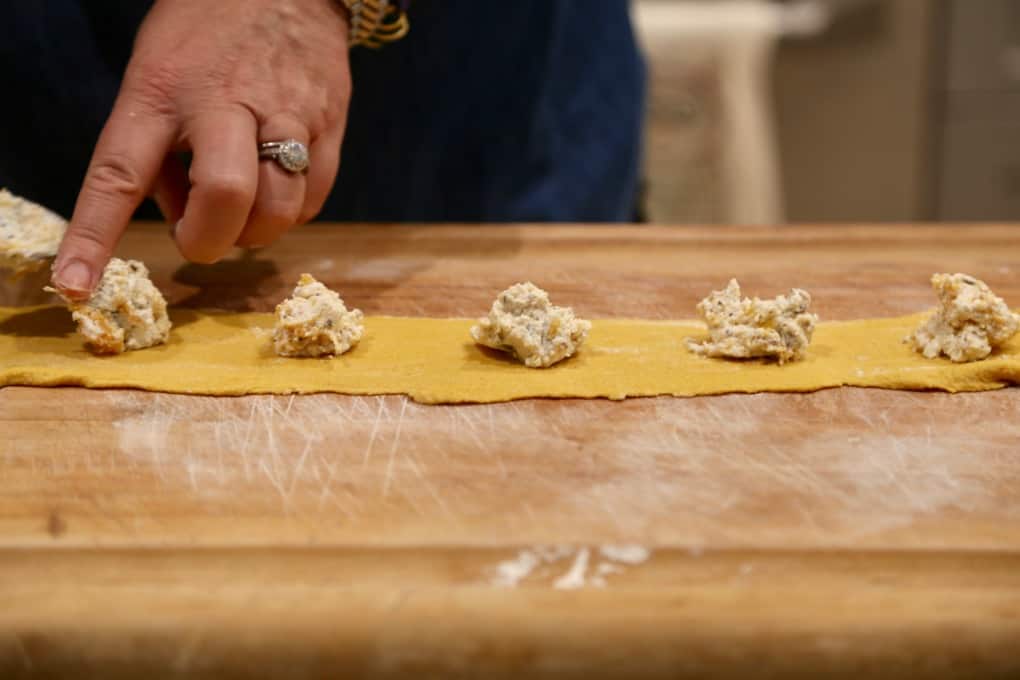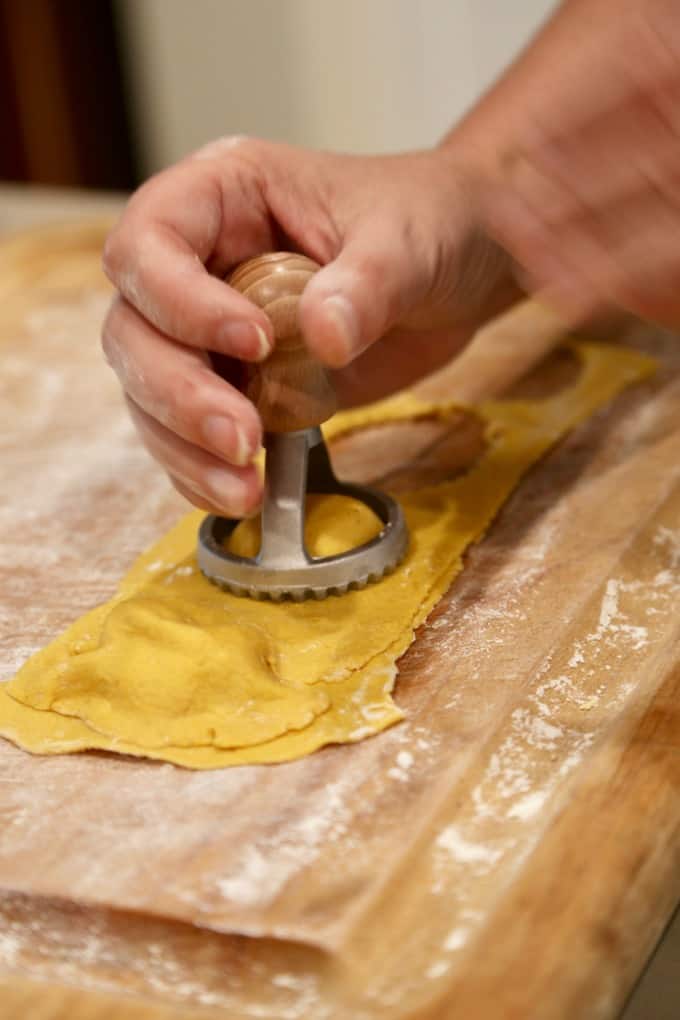 Sonoma-Cutrer also makes wonderful Chardonnay. Our personal favorite, and one that I buy for my grandmother every holiday is the Les Pierres Chardonnay. The wine has a tightly focused mouthfeel with Sonoma-Cutrer's signature bright and lively citrus-laced acidity delivering a long, juicy lingering barrel spice finish. It pairs wonderfully with salmon, lamb, curry, vegetables, and terrine dishes. It also paired perfectly with these Butternut Squash Ravioli.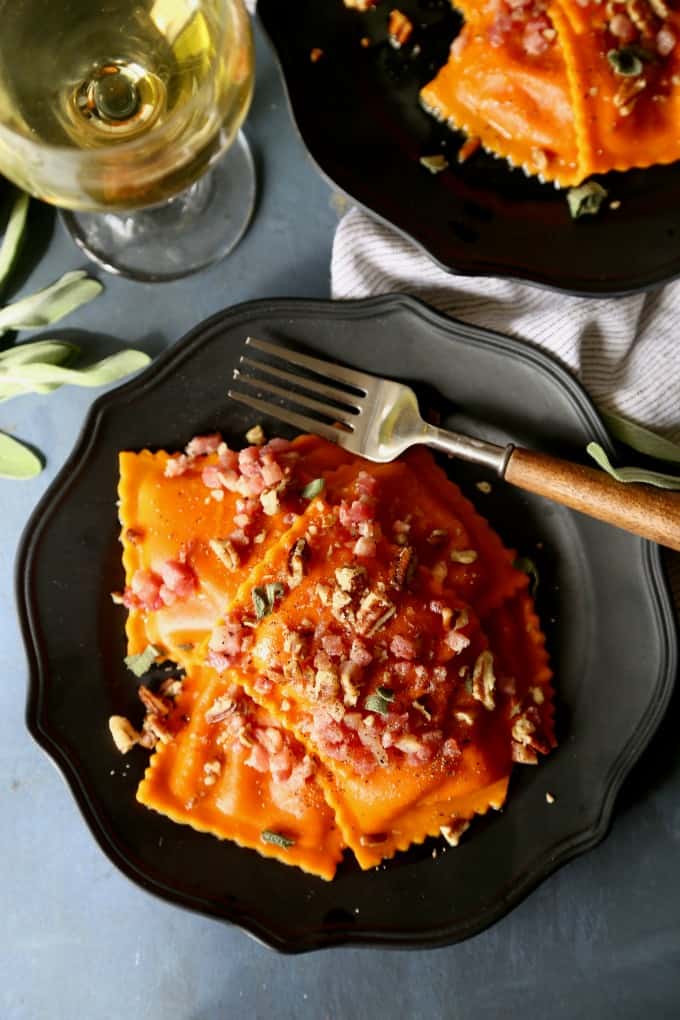 What makes Sonoma-Cutrer wine outshine other brands is their unique approach to making the wines. First,  harvests take place at night or in the early morning hours, when the cool temperatures take over the heat of the sun. The grapes are hand picked before entering a modern cooling tunnel, an innovative tunnel that keeps grapes at their ideal temperature throughout the whole process. The wines are stored in French barrels that are built only select trees, making each barrel is the work of a master-craftsman. If you are ever in the Sonoma, CA area, take a trip to their secret Pinot Noir Winery- The Pinot Barn.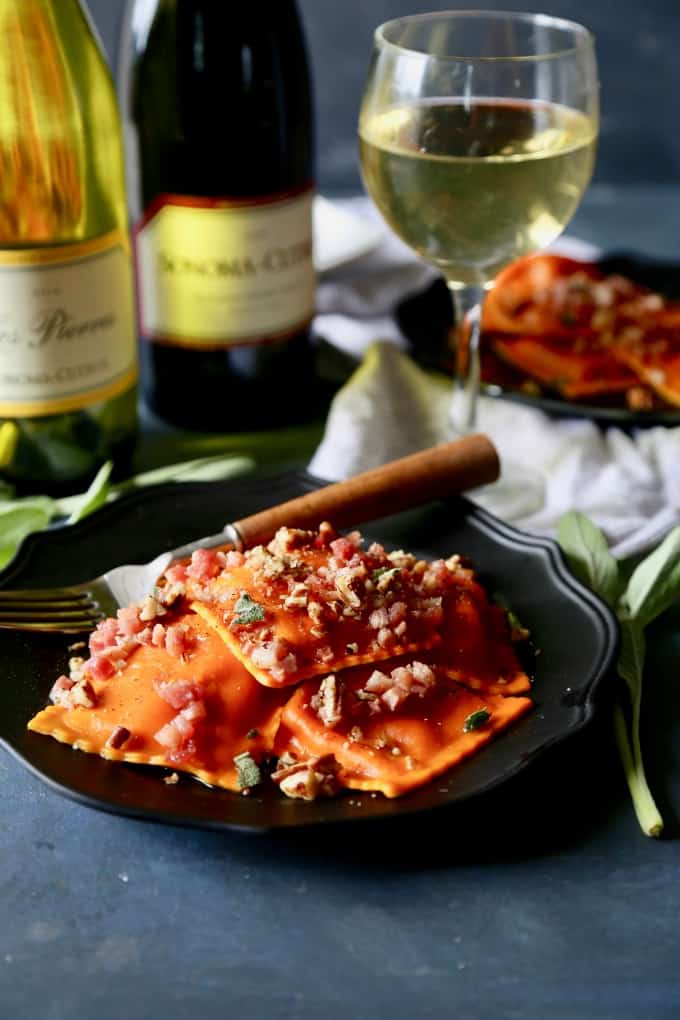 Because we knew that we had enough wine to last us the day, we set out to make enough ravioli to stock the freezer and prepare for the holidays. We made a pumpkin version and a butternut squash version. The photos above were actually of the pumpkin ravioli. My hands were covered in too much flour when it came time to photograph the butternut squash version!
While both were delicious, our favorite was this Butternut Squash Ravioli. Paired with roasted butternut squash in the actual pasta and in the filling, along with ricotta, browned butter, sage, and pancetta, it was a motherwateringly delicious meal! One that we will all be making many more times over the next months to use up our stock!
So if you are looking for a fun and productive day with friends, order a bottle or two of Sonoma-Cutrer and get cooking! If you are looking for a great gift, Sonoma-Cutrer offers a wonderful wine club that delivers right to your door! Enjoy!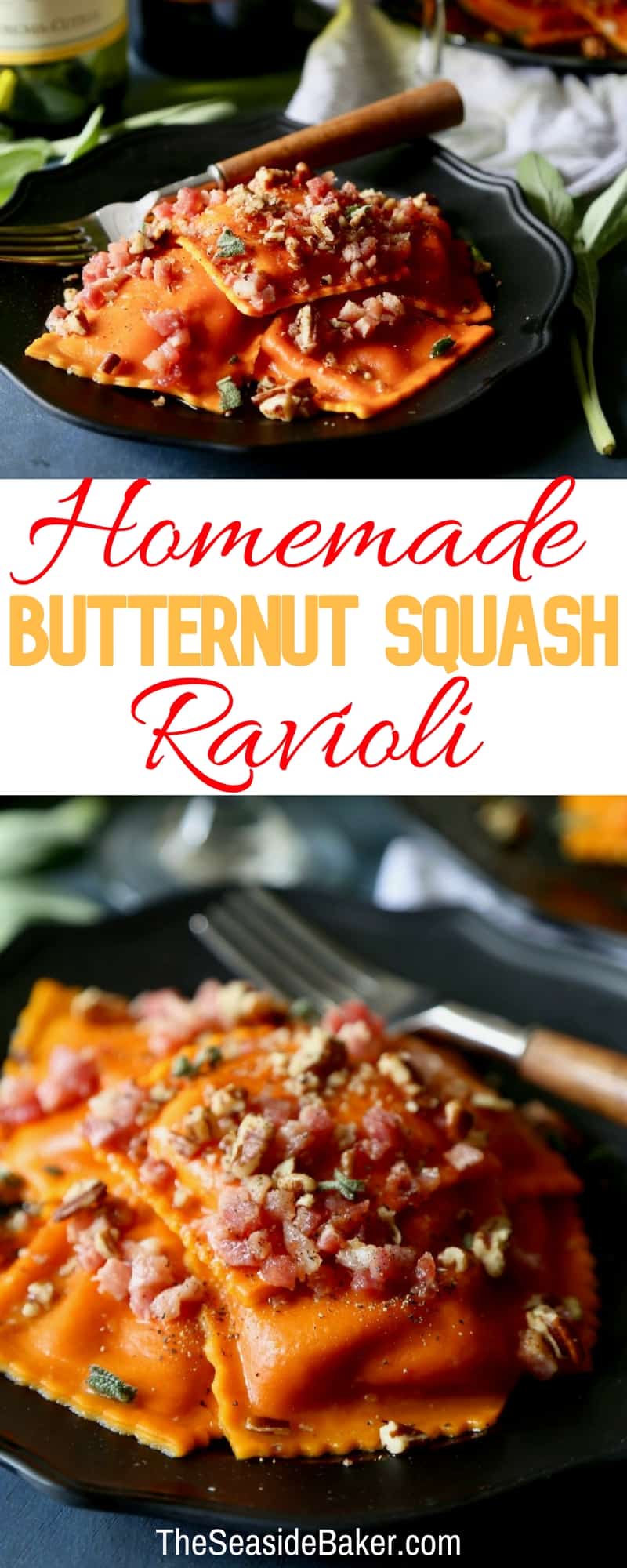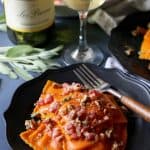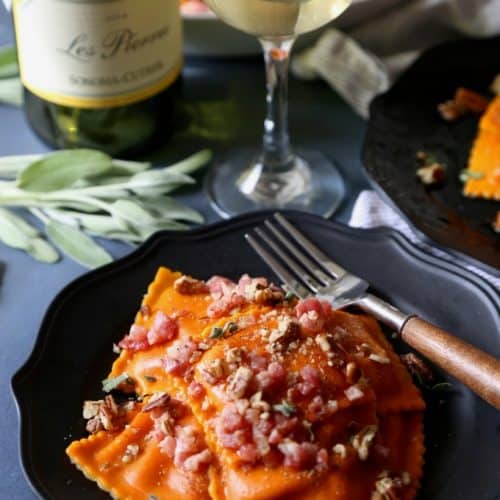 Homemade Butternut Squash Ravioli
Ingredients
Pasta Dough
1

cup

unbleached all-purpose flour

1

cup

semolina flour

¼

teaspoon

salt

1

egg + 2 egg yolks

4

tablespoons

butternut squash puree

Orange food dye

optional

water
Filling
1

medium butternut squash

halved, seeds removed

1

tablespoon

olive oil

½

cup

low-fat ricotta cheese

½

teaspoon

salt

¼

teaspoon

pepper

¼

teaspoon

dried sage
Brown Butter Sage Sauce
1

stick butter

6

sage leaves

1

cup

pancetta

lightly fried

¼

cup

walnuts

chopped
Instructions
Pasta Dough
In the bowl of your food processor, combine flours, salt, eggs and yolks, and butternut squash puree. Add a couple of drops of orange food dye if desired.

Pulse until well combined.

Drizzle in a teaspoon of water at a time until a dough ball forms and no longer sticks to the sides of the bowl.

Transfer to a very lightly floured surface, sprinkle top with a little flour, and cover with plastic wrap. Set aside for 30 minutes to an hour to rest.
Filling
Preheat oven to 400 degrees. Line a baking sheet with foil.

Place butternut squash halves on baking sheet (cut side up) and drizzle with olive oil.

Bake until tender, about 50-60 minutes.

Once cooked, allow to cool completely then scoop out the squash into a large bowl.

Combine squash with ricotta, salt, pepper, and dried sage leaves. Cover and place in the refrigerator until ready to use.
To make the ravioli-
If eating right away, boil a large pot of salted water.

On a lightly floured surface (all-purpose flour) shape ¼ portion of the pasta dough into a flat disk, covering the remaining dough tightly in plastic wrap.

Run pasta through machine, beginning on setting one. Continue running the dough through the machine working your way up until setting 7.

Carefully lay paper thin dough on floured counter top.

Drop filling mixture by small spoonfuls onto pasta just below the midline, leaving a 2 inch space between each scoop of filling.

Fold pasta over and press firmly in between spoonfuls of filling.

Cut into ravioli shapes using a ravioli cutter or knife and place each ravioli onto cookie sheet lined with wax paper in a single layer, separating each layer with more wax paper.

If freezing for later, freeze each layer individually until frozen then transfer to a large plastic freezer bag.

If eating immediately, gently place a few raviolis at a time in boiling water and cook for 3 minutes.

Gently strain in colander, but do not rinse.

Place raviolis in large bowl.
Brown Butter Sage Sauce
In a small pan, melt together butter and fresh sage leaves.

Continue cooking butter, stirring occasionally but watching carefully, until butter is a caramel color and begins to smell nutty.

Remove from heat and pour over ravioli.

Toss gently and top with crispy pancetta, chopped walnuts, and parmesan cheese.