Whether you are cooking for Monday night football or just need a quick healthy meal, these Broccoli and Cheddar Twice Baked Potatoes are great.  Serve as an appetizer or with a side salad for a wonderful vegetarian meal. Also perfect for "Meatless Mondays!"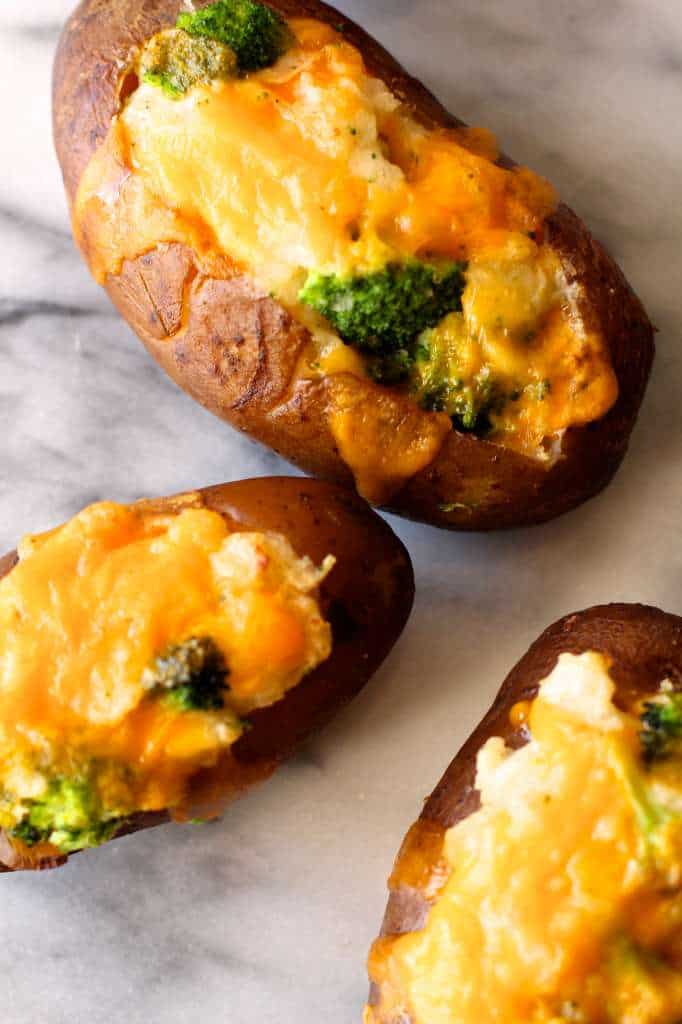 What I love about twice baked potatoes is that most of the prep time is spent in the oven. Wash, oil and salt these babies, then throw them in the oven for 30 minutes. Let them cool for a few minutes, dig out the center, mash, mix the put it back in, top and bake again. Then voila....perfect twice baked potatoes!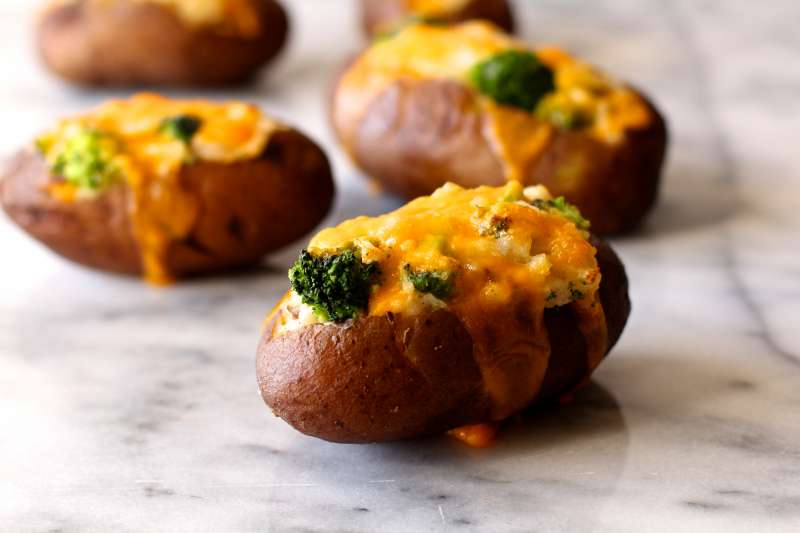 Quiche and Twice Baked Potatoes are always my go to meals when I don't have much left in the fridge (and I am trying to avoid the store) or I have a ton of veggies, cheese, and milk that needs to be used up. They are always a hit. Use this recipe for a delicious cheesy tater, or change it up by adding other ingredients. Seriously, you can't go wrong with a Twice Baked Potato!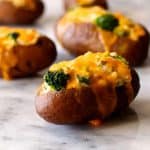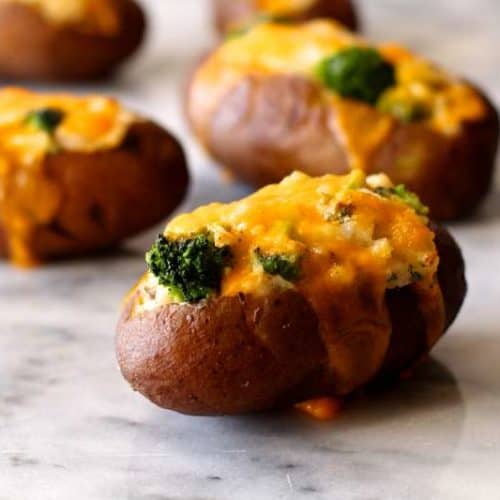 Broccoli and Cheddar Twice Baked Potatoes
Ingredients
4

large potatoes

, scrubbed

4

teaspoons

olive oil

1

teaspoon

salt

1 ½

cup

frozen broccoli

, thawed

¼

cup

warm milk

1

teaspoon

melted butter

½

teaspoon

salt

½

teaspoon

pepper

¼

teaspoon

garlic powder

¾

shredded cheddar cheese
Instructions
Preheat your oven to 400 degrees.

Scrub potatoes and rub olive oil around them.

Pierce each potato with a fork in a few spots.

Sprinkle potatoes with salt and place on a foil lined baking sheet.

Bake until tender, about 30 minutes.

Remove from oven and all to cool for 5 minutes.

Reduce oven temperature to 350 degrees.

Hold the potato with an oven-mit or towel, and cut the center tops off of the potatoes.

Carefully scoop out most of the potato into a bowl. Make sure to leave enough potato in the skin so the shells stay together.

Mash the potato with a fork and add melted butter and seasoning. Mix to combine.

Slowly add milk while mixing until potato mixture becomes smooth.

Stir in ½ shredded cheese and broccoli. Mix to combine.

Carefully as not to break the skin, spoon filling into the skins.

Top with remaining shredded cheese and bake until melted, about 15 minutes.