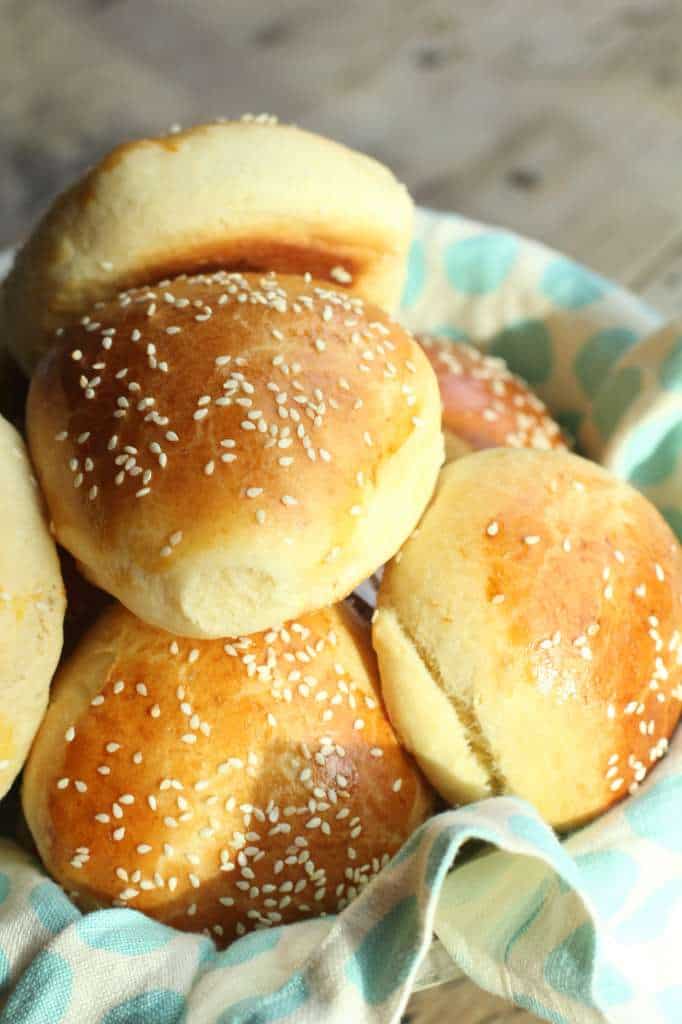 Have you ever heard of the saying, "Good things come to those who wait" or "It's a blessing in disguise"? Well we experienced both of those this past month...twice. Once after making these Brioche Buns and again a couple of days before our family vacation (one that I had been planning for a year now). Right before we left, we found out that our rent was going to be raised an astronomical amount. Considering our place was already too small for our family of five, we decided that we would be moving. We had 60 days to find a place before our rent was increased. Well, the day before we left I found something on Craigslist. I didn't have time to go and see it, so I sent my husband. He liked it and put in an application (along with 75 other people because rentals are in high demand right now). Well, out of the 75 we were picked!!!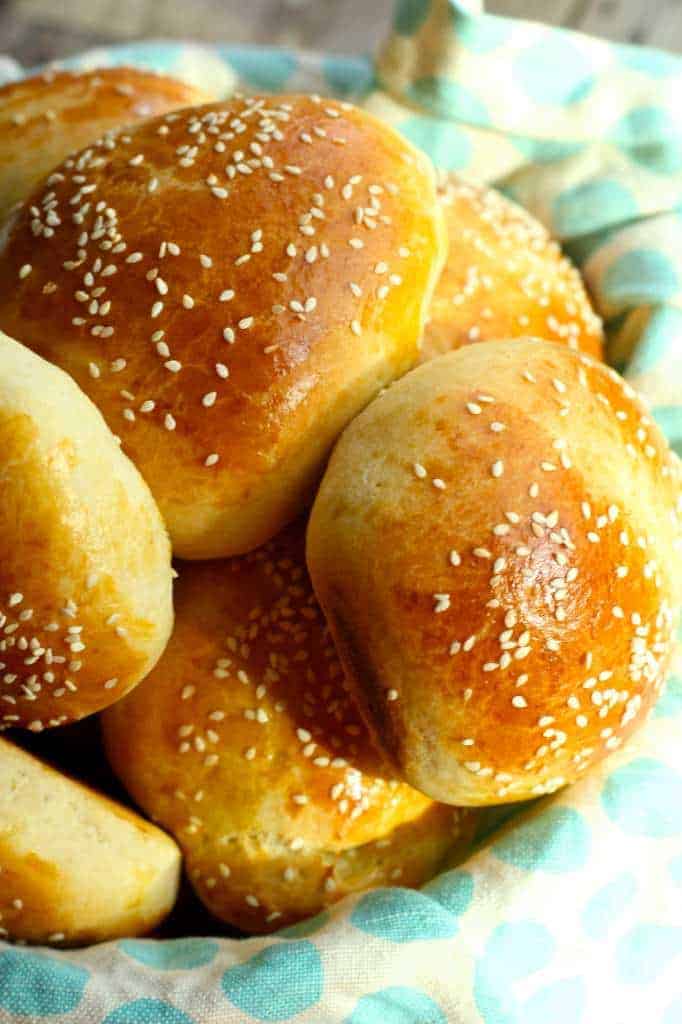 What this meant was that we would have to cut off part of our trip in order to get home and move. With a little help from friends, we were able to pack everything up and complete the move in 3 days. Oh yah, and I was moving into a place that I had never seen! Luckily, after almost 13 years of marriage my husband knows me well and I love the place!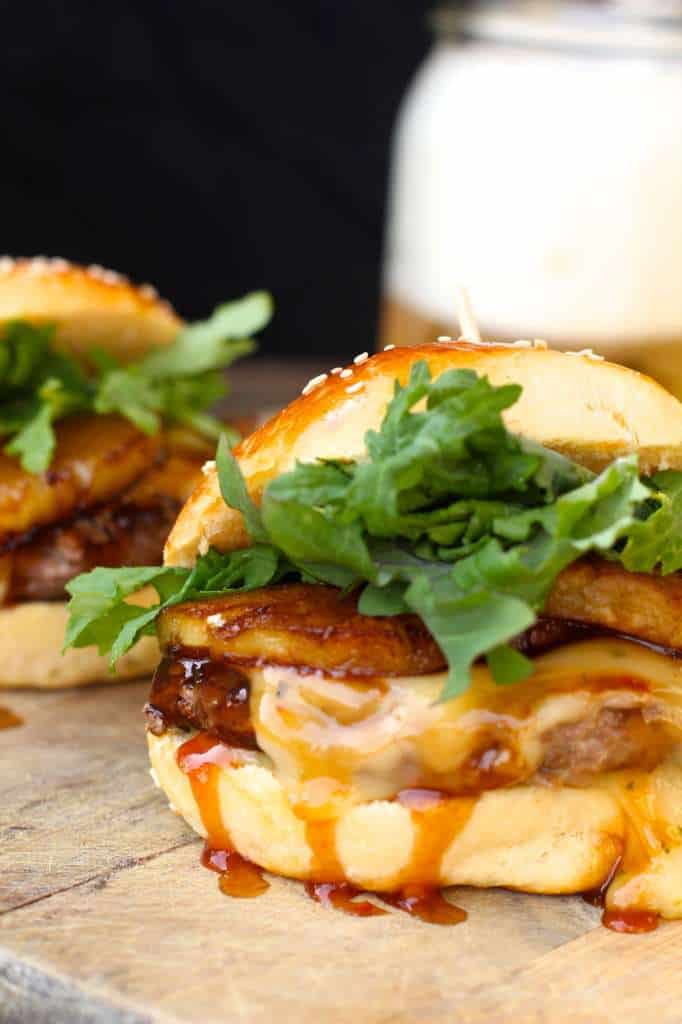 So about the two sayings above, this move was both a blessing in disguise because we know have a much larger home and a huge huge huge yard. Although we are a bit on edge about the impending water bill, we have waited a long time for this and are over the moon!
You kind of have to think this was about this recipe. This may take a bit of time between the rises, but it is soooo worth the wait. Homemade Brioche Buns make one killer burger. If you are hosting or attending a party this weekend, make these the day before. The will for sure be the hit of the party!
Try them out with some scrumptious teriyaki burgers.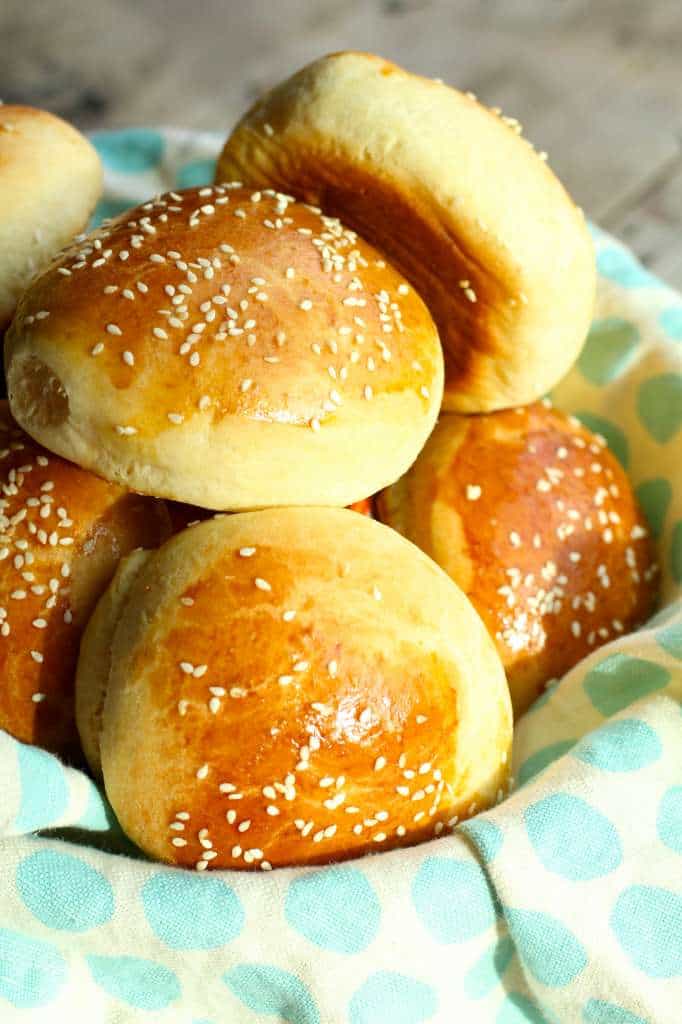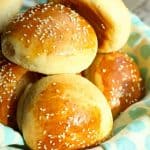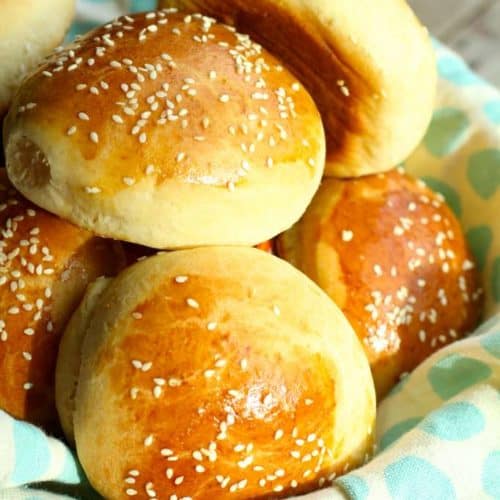 Brioche Buns
Ingredients
⅓

cup

warm whole milk

(100- 110 degrees F)

2 ¼

teaspoons

active dry yeast

1

large egg

2

cups

unbleached all-purpose flour

, separated

⅓

cup

sugar

1

teaspoon

kosher salt

4

large eggs

, lightly beaten, room temp

1 ½

cups

unbleached all-purpose flour

1

and ½ sticks of butter 12 tablespoons)unsalted butter

, room temperature

1

egg slightly beaten for basting

Sesame seeds
Instructions
In the bowl of your electric mixer, or a large bowl, combine warm milk and yeast and let sit for 5 minutes.

Add egg, sugar, salt and ONE cup of flour to the yeast mixture and stir with a wooden spoon until combined.

Sprinkle the remaining one cup of flour over the yeast mixture. Cove with a cloth and allow to rest in a dark corner of your kitchen for 40 minutes.

When done, flour on the dough will looked crackled.

Return your bowl to the mixer and fix with the dough hook (unless kneading by hand).

Begin by kneading in one egg at a time, until you have added all four.

Add the 1 and ½ cups of flour and knead on medium high speed until dough no longer sticks to the sides (this could be up to 15 minutes).

Add butter and knead on medium high speed for another 5-10 minutes on or until smooth again.

Place in a well greased bowl, cover and place in a dark spot in your kitchen for 1 hour or until it has doubled in size.

Once doubled, punch down, and refrigerate covered, for 6 hours-overnight.

Once chilled, begin to form the rolls.

Cut dough into 15-20 equal pieces.

Roll into balls and place on a lightly greased or lined cookie sheet spaced about 4 inches apart.

Cover with a damp cloth and allow to double in size.

Once doubled, preheat your oven to 375 degrees.

Gently baste each bun with the beaten egg and sprinkle with sesame seeds.

Bake at 375 degrees for 12-15 minutes or until golden.