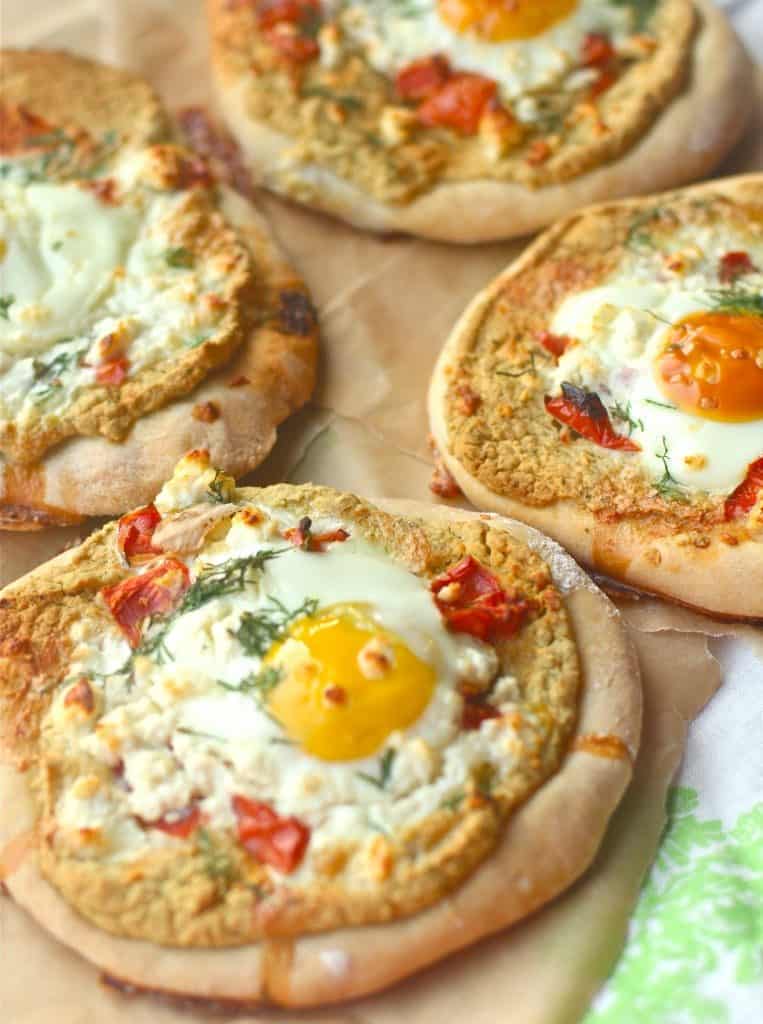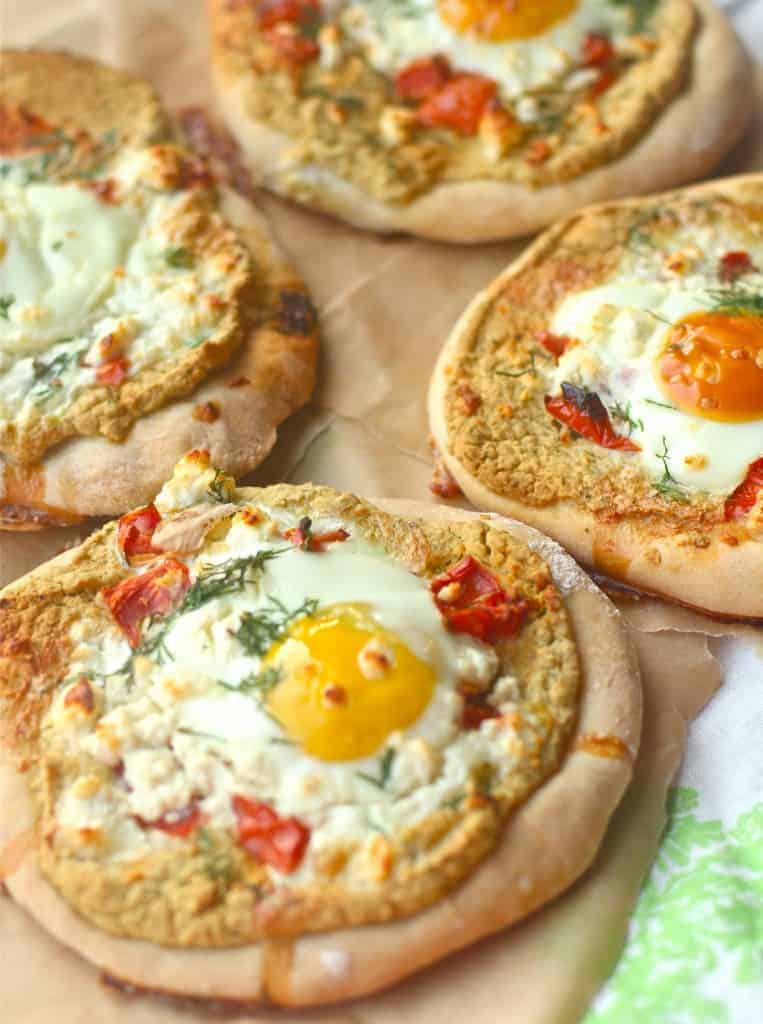 Happy Mother's Day to all you leading ladies out there. I hope that you are pleasantly enjoying a hot cup of coffee (normally by the time I actually get to my first sip it is cold...but not today) in bed, quietly reading your favorite blogs, all while your husband and children are working hard in the kitchen making a special breakfast.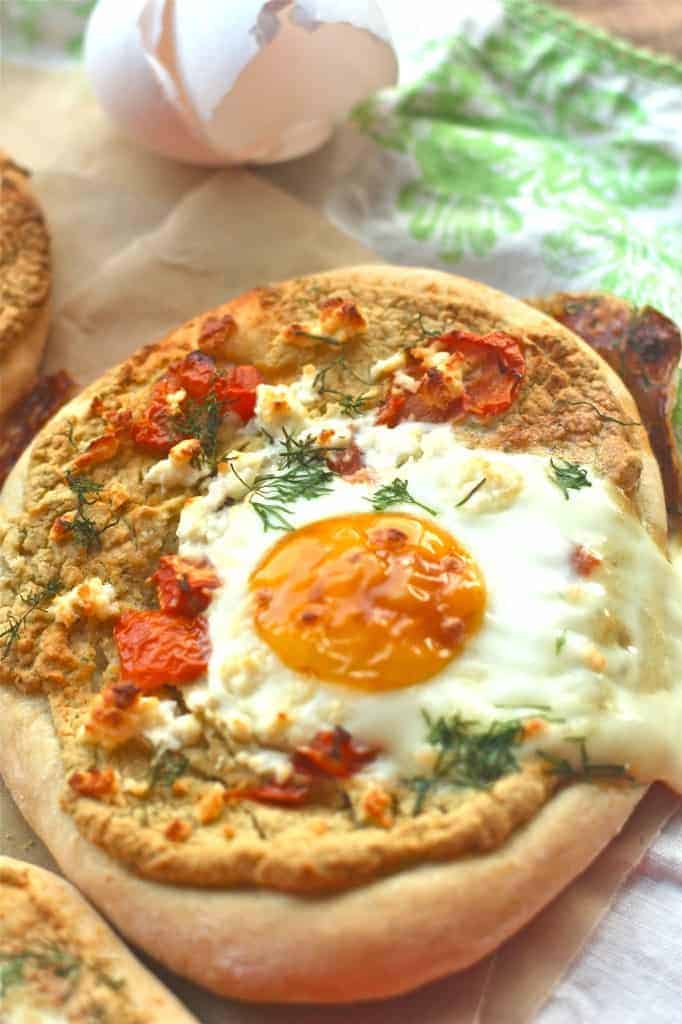 A few weeks ago I attended The Big Traveling Potluck. BTP is a food blogging conference/ retreat. It was an extremely moving and inspirational weekend. I met  my blogging idols, which despite their fame, are incredibly humble and sweet. All of the meals served were fantastic. These breakfast pizzas being one of them.
I have never thought of serving pizza for breakfast let alone a humus pizza, but the first bite was mesmerizing. Of course, I dissected and mentally saved every layer, in order to recreate later at home.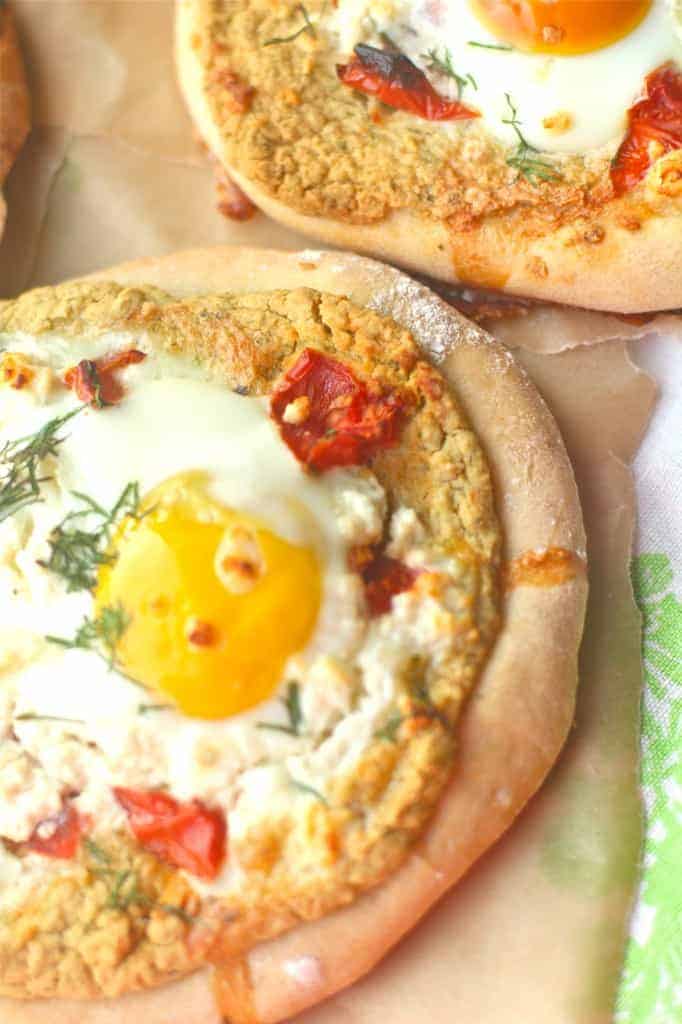 The pizza dough and humus are homemade, however this process can easily be cut in half with pre-made pizza dough and humus. If you decided to purchase the humus, I highly recommend Sabra humus. It is deliciously creamy.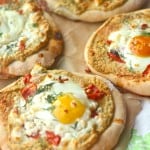 Breakfast Pizza
Ingredients
Pizza Dough:
6

cups

flour

2

cups

warm water

5

teaspoon

yeast

6

tablespoon

olive oil

4

teaspoon

salt
Garlic Cilantro hummus
2

cans garbanzo beans also called chickpeas

, drained but reserve ¼ cup liquid

the juice of 1 lemon

2

cloves

of garlic

, finely diced

1

teaspoon

kosher salt

½

cumin

¼

cup

chopped cilantro

¼

cup

tahini

2

tablespoon

olive oil
Breakfast Pizzas
1

batch of pizza dough divided up into eight mini rounds

1

batch of humus or 1 large container

8

eggs

4

tomatoes

, diced

¾

cup

feta

¼

chopped fresh dill
Instructions
Pizza Dough:
In small bowl, add yeast to warm water.

Allow to sit for about 5 minutes.

In a large bowl add 3 cups of flour and salt.

Mix together and make a whole in the middle of the flour mountain (think volcano lol).

Add yeast to the well (or mountain hole or lava to the volcano).

Mix everything together.

Add olive oil and flour, one cup at a time, to the dough.

Once everything has been mixed in knead the dough until no longer sticky, about 5 minutes.

Put dough into a well oil bowl, cover with a damp cloth, and put it in a warm corner in your kitchen.

Allow dough to double in size, approximately 45 to 60 minutes.

Divide dough into 8 individual pizza dough rounds.
Garlic Cilantro humus
Using a food processor, add your garlic gloves and pulse until finely chopped.

Add garbanzo beans, ¼ cup garbanzo bean liquid, salt, cumin and tahini and pulse until smooth. Add cilantro and add olive oil and process until combined.

Makes about 3 cups

Store in an airtight container for up to 1 week.
Breakfast Pizzas
Preheat your oven to 400 degrees.

Place 8 pizza rounds on 2 parchment lined cookie sheets.

Bake for 10 minutes.

Remove from oven and spread 1-2 tablespoons humus on the tops of pizzas.

Crack an egg on each pizza.

Sprinkle diced tomatoes, feta and dill around the egg.

Bake for 15 minutes or until egg has set and cooked to your desired yolk consistency. Enjoy!!