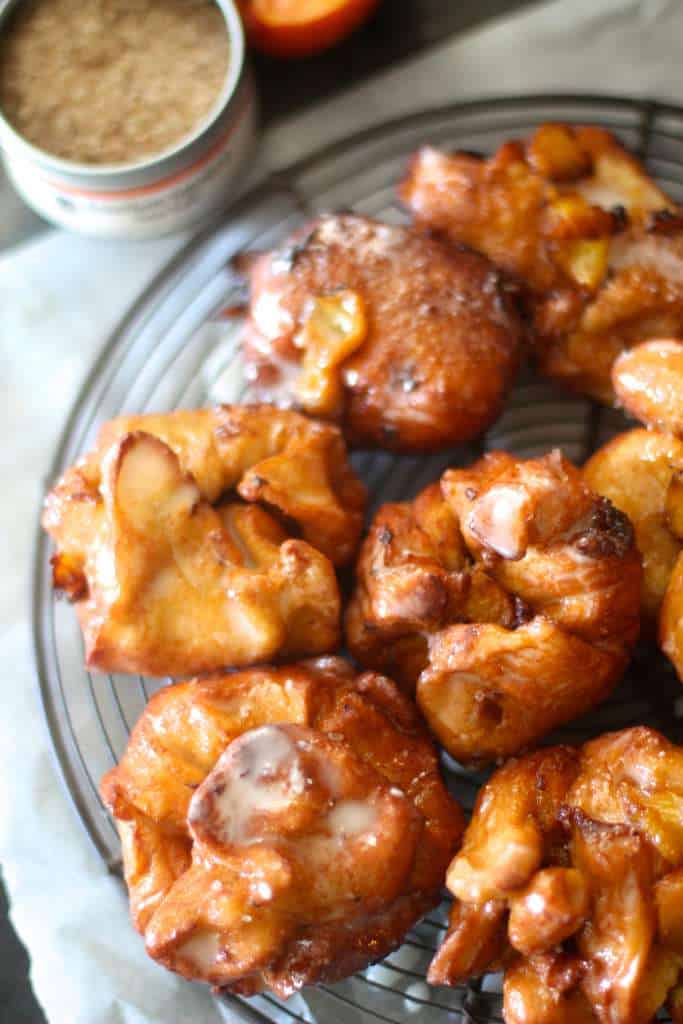 At the beginning of summer I worked overtime to create fun and delicious recipes to post while I was on vacation. Clearly, I ran out of steam and never actually ended up posting them! So before summer is officially over and we dive into pumpkin spice galore, I wanted to share one of our favorite recipes.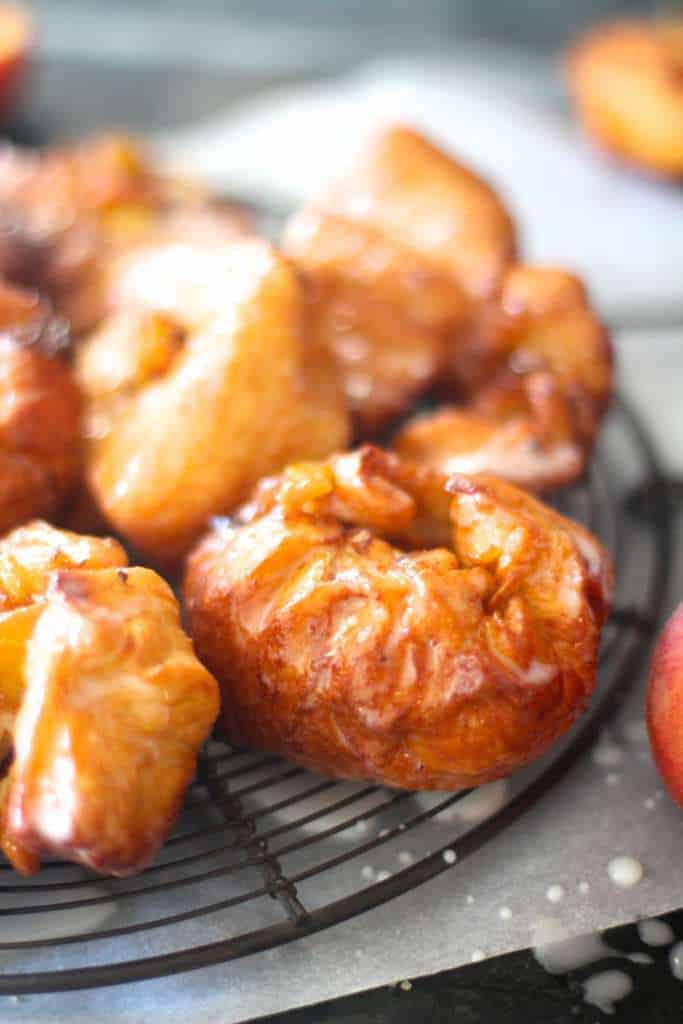 These Bourbon Glazed Peach Fritters are the best kind of dessert, breakfast, or hide in your closet late night snack. The sweet fried dough that is studded with freshly grated nutmeg and cinnamon is the perfect pillow for brown sugar fried peaches. The bourbon glaze adds another depth of flavor that meddles consummately with the other flavors.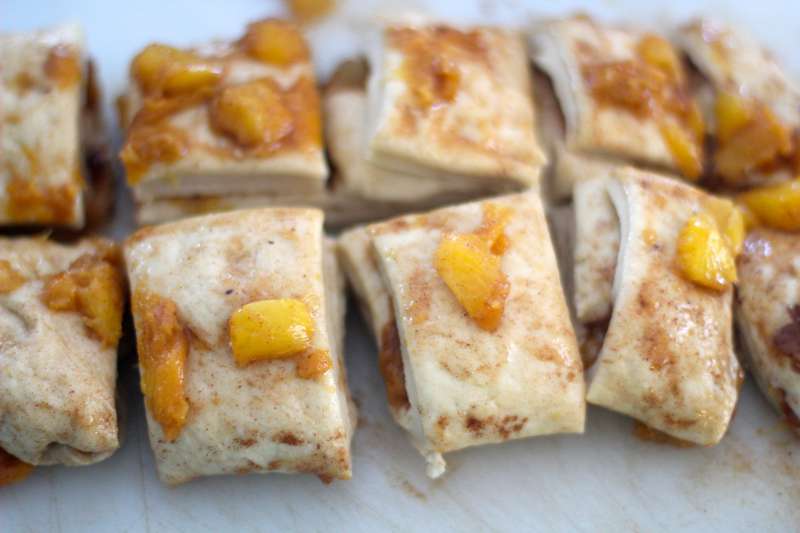 While there are other recipes that require less time and just making a soft dough that does not require yeast, this is my personal preference. Making the sweet donut dough may require some resting time to raise, but your results are similar to that Apple Fritter that you used to get when you were younger at the corner donut store!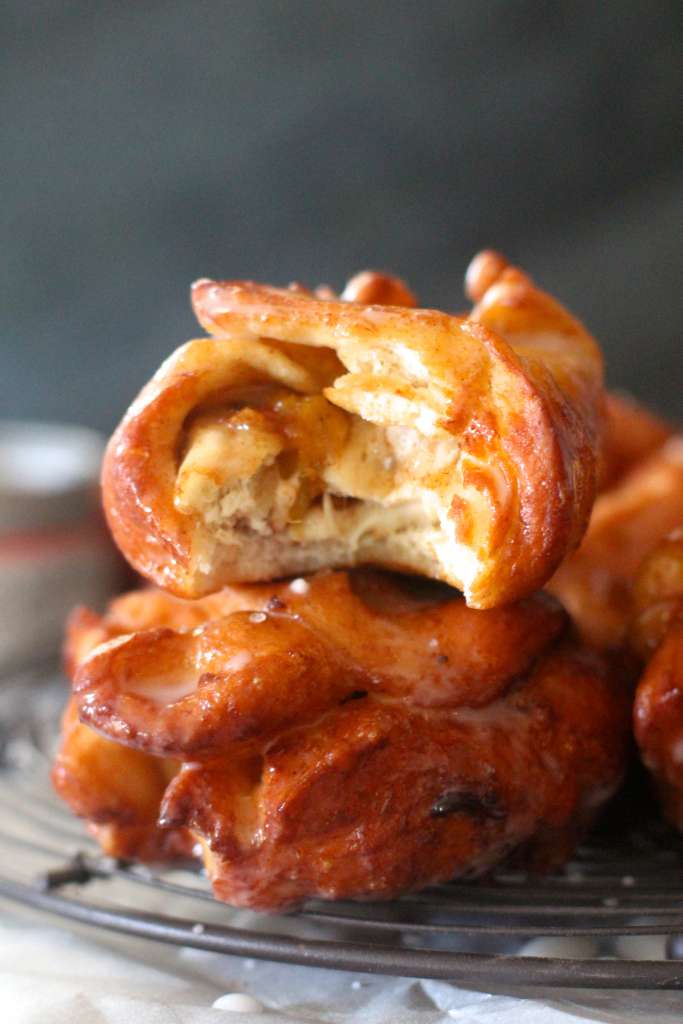 The fresh peaches are chopped coarsely then fried in a dollop of butter and a bit of brown sugar and cinnamon. Once cooled, they are gently folded into the dough and dropped into the fryer to puff and golden. It is pure bliss! Or, maybe I am just really amused by the simple things!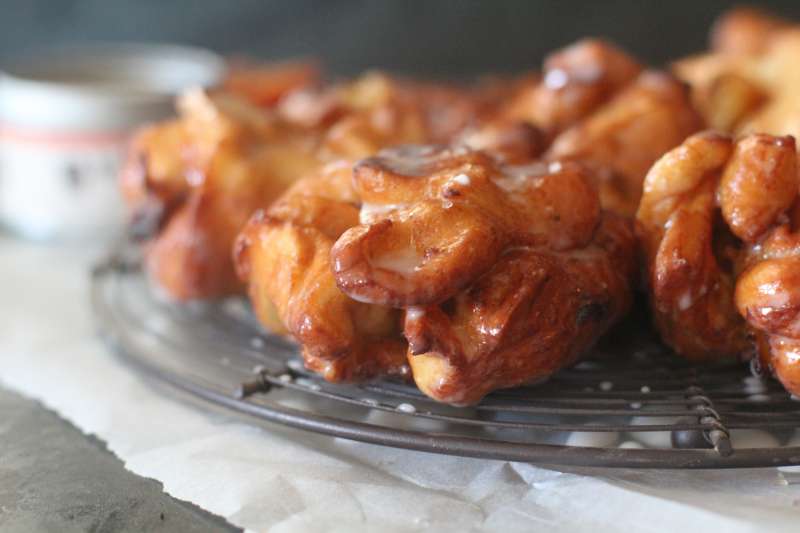 I finished my fritters off with the bourbon glaze and a sprinkle of Bourbon Sea Salt (totally not sponsored). Not necessary, but if you like flavored salts I would highly recommend this salt. I can't wait to use it on caramels.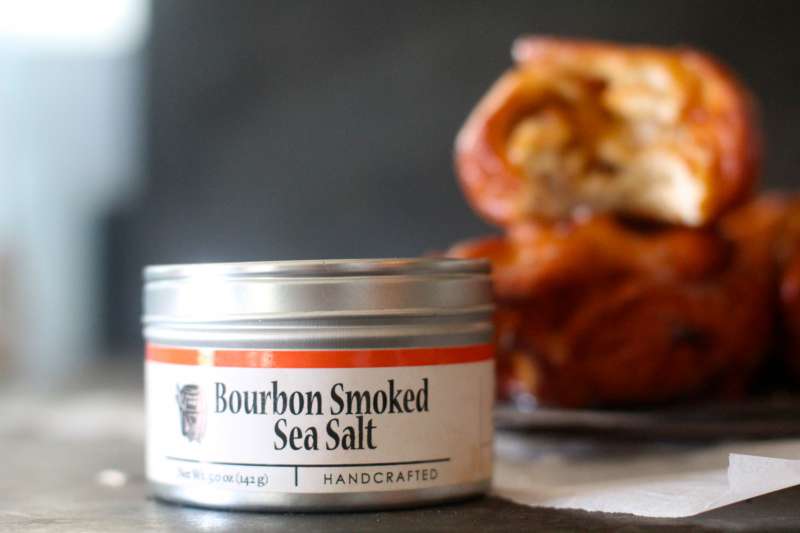 Serve the fritters warm or at room temperature with a hot espresso, sweet tea, or bourbon on the rocks! Enjoy!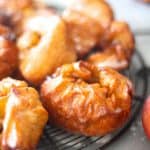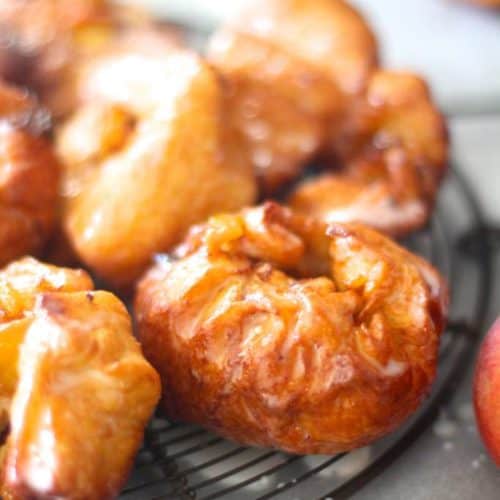 Bourbon Glazed Peach Fritters
Ingredients
Basic Donut Dough
½

cup

warm water

4

and ½ teaspoons active dry yeast

1

tablespoon

granulated sugar

⅓

cup

vegetable shortening

¾

cup

buttermilk

, room temperature

¼

cup

granulated sugar

1

teaspoon

salt

½

teaspoon

nutmeg

(freshly grated if possible)

1

teaspoon

cinnamon

4

cups

all-purpose flour

2

eggs

Vegetable Oil for Frying
Peach Filling
3

tablespoons

butter

5

fresh peaches

, chopped

2

tablespoons

brown sugar

2

teaspoons

cinnamon

1

tablespoon

vanilla

Bourbon Glaze:

2

tablespoons

sugar

, granulated white

¼

cup

water

2

cups

powdered sugar

½

tablespoon

corn syrup

, light

½

teaspoon

vanilla extract

¼

teaspoon

salt

1

tablespoon

Bourbon
Instructions
Make the fritter dough:
In a small bowl, combine warm water, yeast, and sugar. Allow to sit until yeast begins to "bloom".

While yeast is blooming, melt shortening and milk in a small saucepan over low heat until bubbles appear on the surface.

Remove from heat and transfer into a large bowl.

Add salt, sugar, nutmeg, and cinnamon and mix until sugar has dissolved.

Add 1 cup of flour and eggs to the milk mixture and beat until combined.

Beat in yeast mixture and remaining 3 cups of flour until combined.

Replace your whisk attachment with the kneading hook, or place dough on a well-floured surface, and knead until smooth and no longer sticking to bowl or hands.

Once dough is smooth, place in a large greased bowl, cover and let rest until dough has doubled in size.

To make the filling melt the butter on medium high heat in a frying pan.

Add peaches, brown sugar, and cinnamon and cook until peaches are soft, about 4 minutes.

Turn off heat and stir in vanilla. Allow to cool until peaches are room temperature.

Once dough has risen, place on a well floured surface and roll a flat rectangle, about ¼ thick.

Spread about ¾ of the peaches over half of the dough. Fold one half of the dough over the peaches and press the edges together to seal lightly.

Press remaining peaches onto the top of dough and gently fold dough over again. Lightly roll dough out with a rolling pin until the rectangle is about 1 inch thick.

Cut dough into 12-15 squares. Gently bring the corners of the squares up to the center and press together sealing the ball. Some peaches may fall to but that's okay.

Place on a parchment lined baking sheet and loosely cover with plastic wrap. Allow dough to rise again for 15-20 minutes.

Meanwhile, heat oil in a large pot to 350 degrees.

Once fritters have rested, carefully place 1-2 in the hot oil.

Fry on one side for 30 to 60 seconds or until golden brown, then flip the fritter and fry the other side for 30 to 60 seconds or until golden brown.

Remove fritter with slotted spoon and place on a paper towel lined wire rack to drain excess oil.

To prepare the glaze, heat water and sugar in a small saucepan until sugar has dissolved.

Remove from heat and add remaining glaze ingredients to the pan and stir until smooth. Allow to cool for 5 minutes.

Dunk cooked fritters into glaze and place on wire rack to dry.