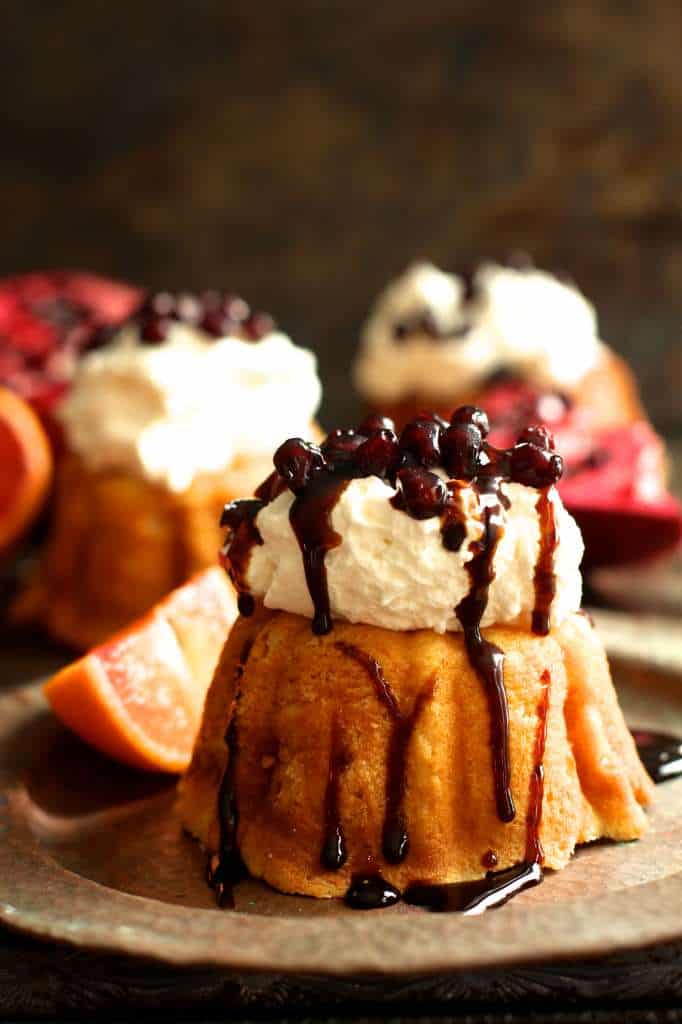 So this whole gluten free thing has been going really well. I haven't figured out if it is all in my head or is actually related to the new diet, but I have had so much more energy lately. Not only that, my daughter who is consistently complaining of a headache and stomach ache has not complained once over the past week. Surprisingly everyone, including my 10 year old, is on board with the change.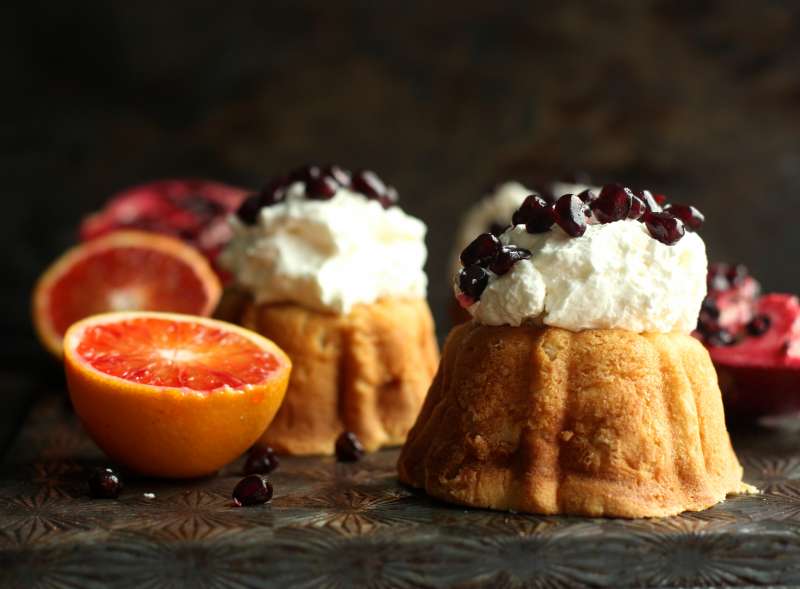 I think that the real reason my kids are on board is because I have been a baking machine lately, and compared to the past few months, fresh baked goods that they can actually consume and are not being given away are rare.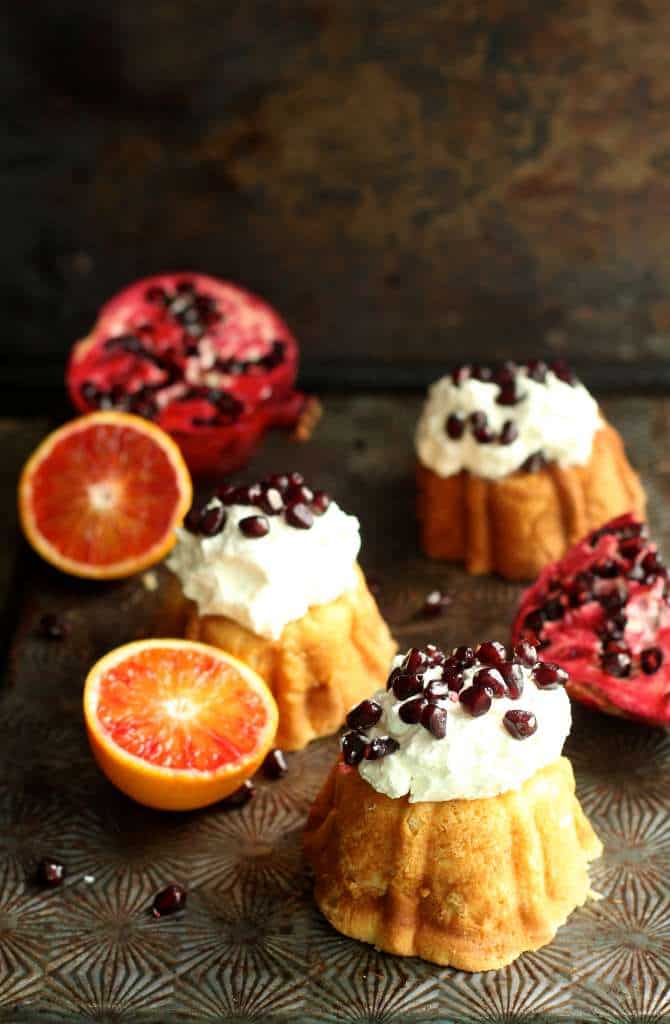 We my husband and I started talking about the change, I was leery because of my love for baking and the blog. I have dabbled with gf baking before but wasn't a huge fan because of the consistency. Then my neighbor received a 25 pound bag of Cup 4 Cup Gluten Free Flour 
and invited me over to play. I was so impressed with the flour that I came home and ordered my own bag. This flour is awesome and can literally be used cup for cup to regular all purpose flour.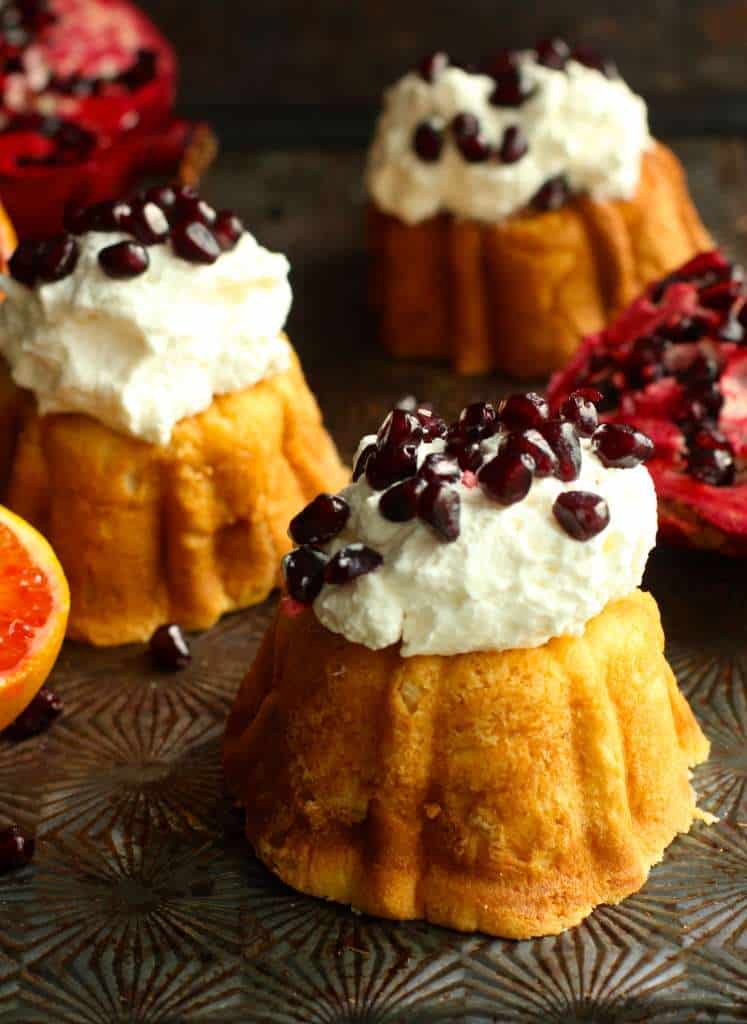 Since getting my own bag we have made crepes, pancakes, cookies (every kind possible), pound cake, the best chocolate cake ever and pizza. Every recipe had fantastic results. Needless to say, if you are planning on going gluten free, invest in Cup 4 Cup Gluten Free Flour
! And no, this is not a sponsored post, just my honest opinion!
Pomegranates and blood oranges are probably my 2 favorite winter fruits. Not only are they uniquely flavored, but they are so vibrant and add so much color to dishes. The blood orange adds a zesty flavor to these sweet little cakes and is complimented well with the bittersweet pomegranate syrup and whipped cream.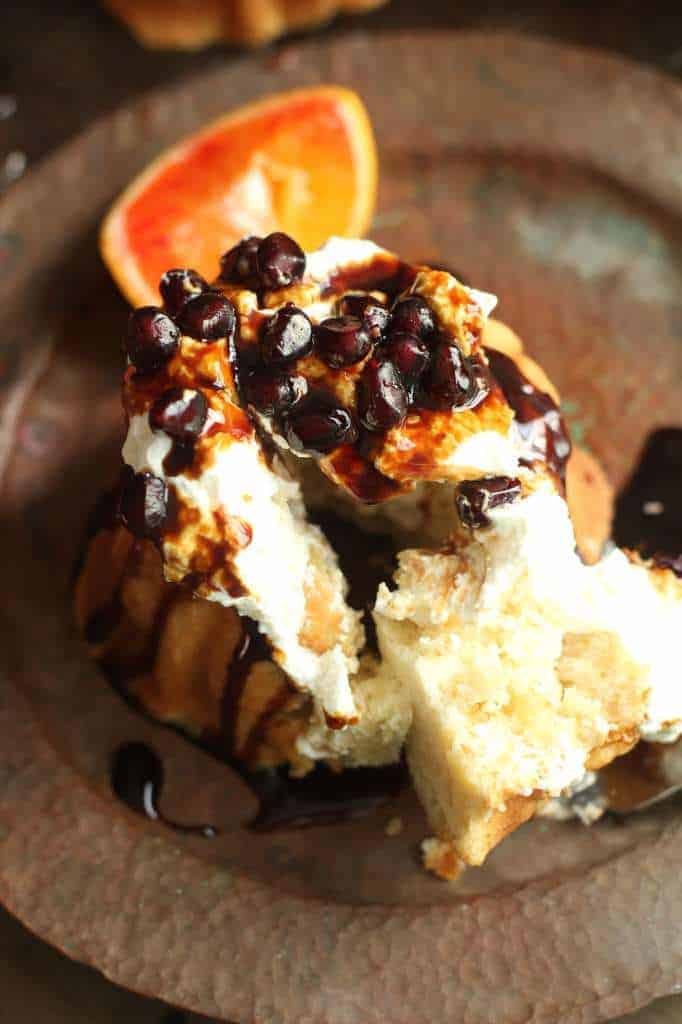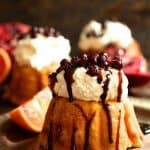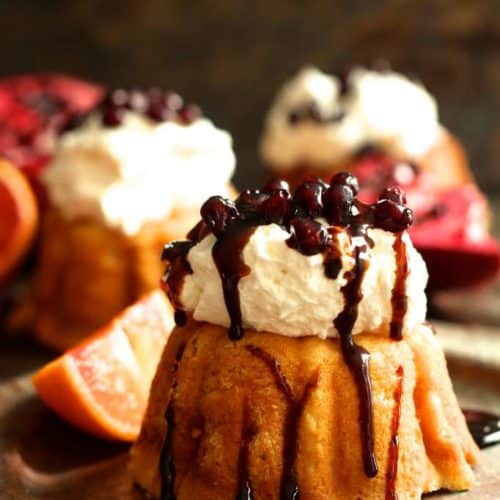 Blood Orange and Pomegranate Pound Cake
Ingredients
For the Pomegranate Syrup
2

cups

pomegranate juice

⅔

cup

sugar

1

tablespoon

lemon juice
For the Pound Cake
2

cups

sugar

1

cup

butter

4

eggs

3

teaspoon

vanilla

3

cups

gluten free flour or regular AP flour

¼

teaspoon

salt

3

teaspoon

baking powder

¾

cup

milk

¼

cup

blood orange juice

1

tablespoon

grated orange peel

2

cups

whipped cream
Instructions
For the Syrup
In a medium sauce pan, combine pomegranate juice, sugar and lemon juice.

Cook on medium heat, stirring occasionally until it has reduced by half, approximately 25-30 minuets.

Remove from heat and allow to cool completely.
For the Cakes
Preheat oven to 350 degrees and generously grease mini bundt pans, 1 large bundt pan, or 2 loaf pans.

In a large bowl, combine butter and sugar and beat until light and fluffy.

Add eggs, one at a time, beating after each addition.

Add vanilla and combine.

In a separate bowl, combine flour, baking powder, and salt.

In a small cup or bowl combine milk and orange juice. Note it will thicken like buttermilk.

Beginning with the flour, incorporate 1 cup flour mixture immediately followed by ⅓ cup of milk mixture.

Repeat process until the entire flour mixture and 1 cup of milk are gone.

Baking times-
Mini loaf pan (makes 8) - 13-15 minutes
Once completely cooled, top with whipped cream, pomegranate syrup and pomegranate seeds. Serve immediately.
This post contains Amazon affiliate links.