This Black Lentil Rice and Quinoa Salad is rich in antioxidants and flavor. It is a great healthy lunch or snack and a perfect alternative to potato salad.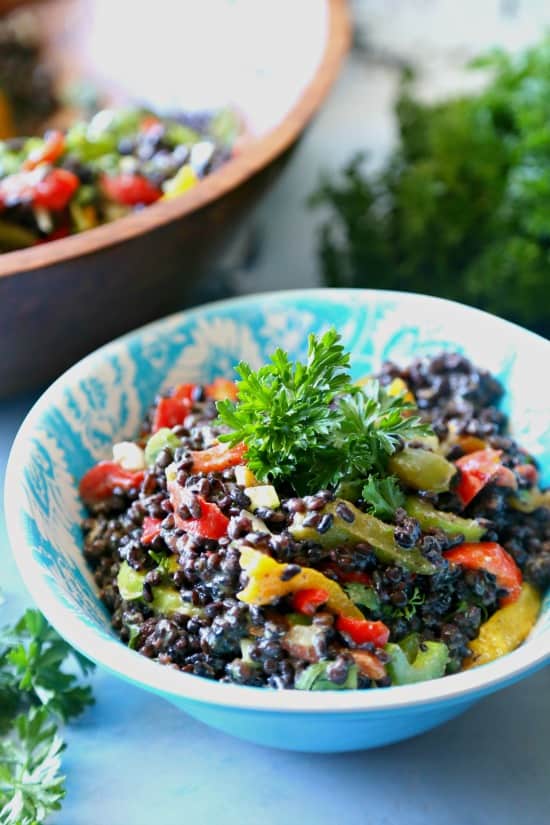 Having just returned home from vacation, my family and I came to a harsh realization that we cannot handle multiple nights of restaurant food. Despite the mass amounts of butter and sugar shown here on the blog, we tend to eat pretty healthy otherwise.
After 4 days of eating out, our stomachs were a mess. When we got home I knew that it was time for a mini cleanse and get back to our normal eating habits.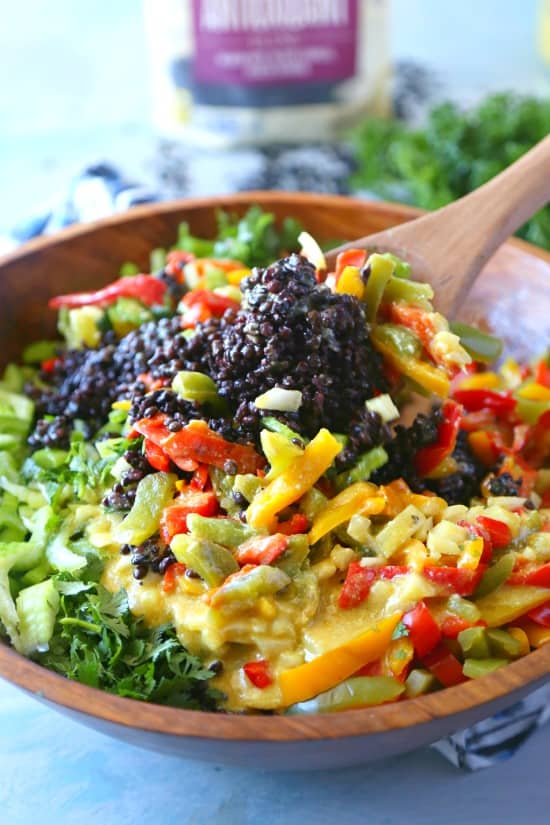 As soon as I walked through the door, I made a massive batch of green juice and this Black Lentil, Rice, and Quinoa Salad. This salad is pretty much a staple in my fridge. I love this after an intense workout, especially on a hot day. It is also a great salad to take to BBQ, as it makes for a healthier, lighter alternative to potato salad.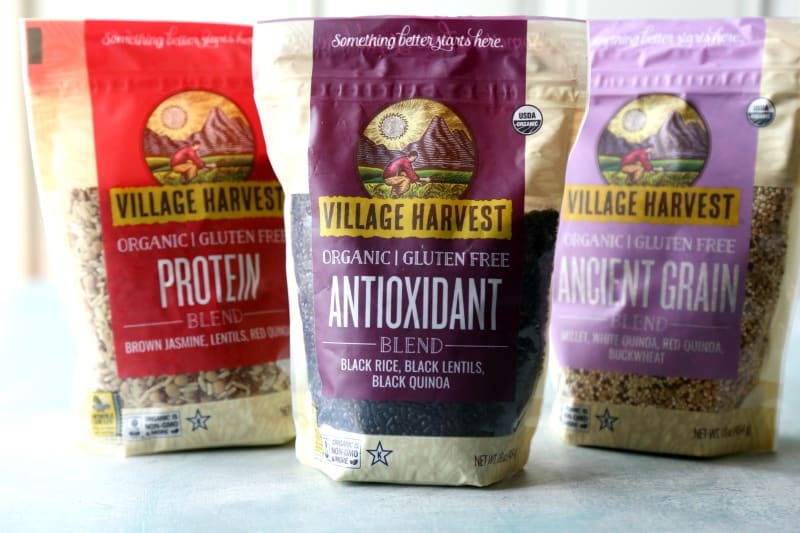 For the base of this salad I used Village Harvest Organic Antioxidant Blend. The blend is made up of black rice, black quinoa, and black lentils making it rich in nutrients and high in health-promoting anthocyanin antioxidants. Each time I make it, I add different veggies, but always use the same vinegar/mustard dressing. The blend soaks up the dressing and retains all of its delicious flavors. The combination of the organic blend and crunchy fresh veggies is perfect.
Village Harvest has some other wonderful blends that make delicious meals as well. Their Organic Protein Blend is packed with protein, complex carbohydrates and enough dietary fiber to keep you feeling satisfied and energized all day long! This is another one of my favorite post workout snacks! The Organic Ancient Grain Blend contains millet, red and white quinoa and buckwheat, and makes a delicious dinner side dish. You can find all of these blends in their online shop.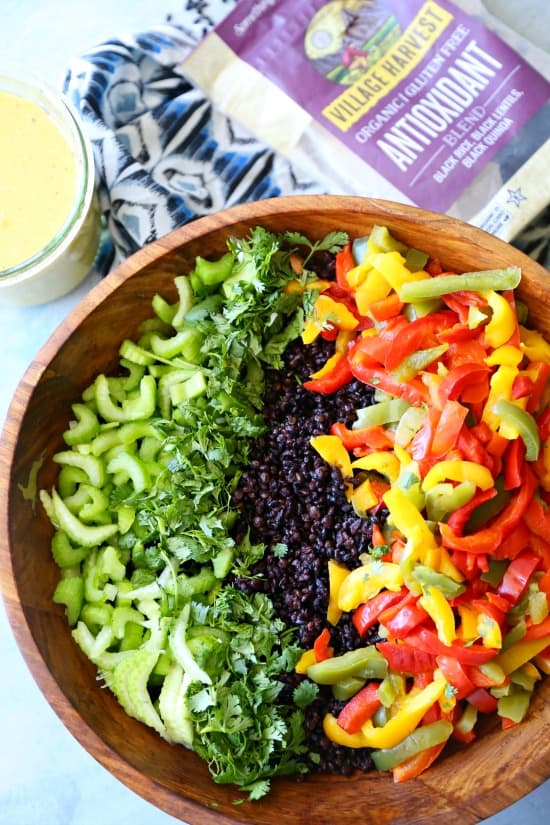 Village Harvest products are more than just rice, they are about discovering new possibilities at home in the kitchen, or thousands of miles away in the fields. This company has defined social sustainability to not only mean caring for our planet, but also the workers that help to bring whole, healthy grains to your door by donating 1% of their profits to run programs that give back to the farmers and local communities from which they source their products as well as donating 1% of their employees' time to charitable causes and sustainability efforts.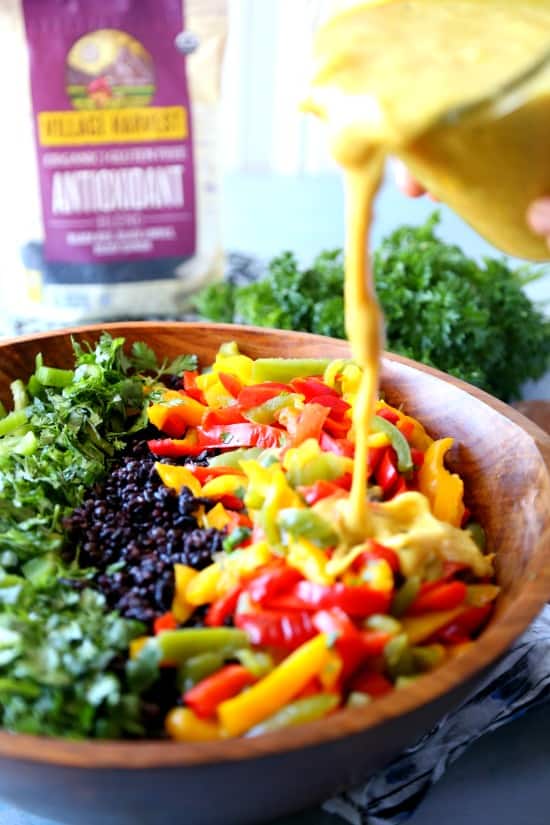 Not only does this product taste delicious, but you can feel good about eating it too. So, whether your making this salad for a post workout, a quick and easy summer dinner, or a delicious side, you are sure to love it! Like Village Harvest says, "Something Better Starts Here!" Enjoy!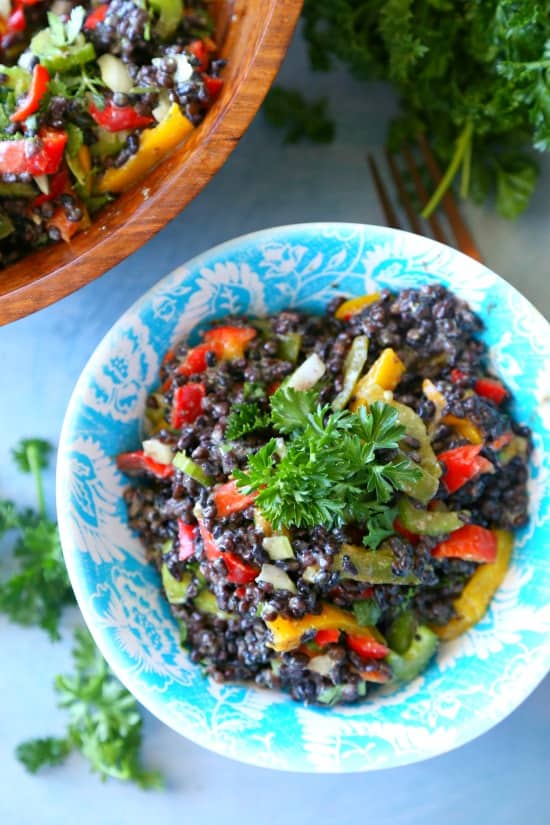 P.S. If your store does not carry this product, request them to here!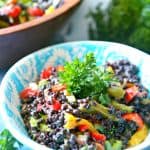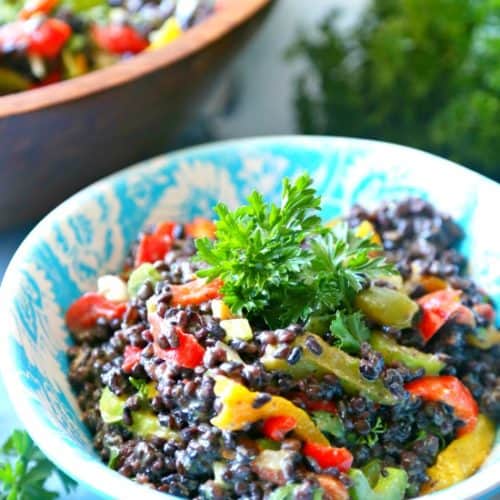 Black Lentil Rice Quinoa Salad
Ingredients
3

cups

cooked Village Harvest Antioxidant Blend

cooled

1

red, yellow, and green bell pepper

seeded and sliced

1

cup

celery

chopped

½

cup

parsley

diced
Mustard Vinegar Dressing
1

small onion

diced

½

tablespoon

crushed garlic

⅓

cup

vegetable or grape seed oil

¼

cup

apple cider vinegar

2

tablespoons

mustard

2

tablespoons

water

3

tablespoons

honey

1

teaspoon

salt

¼

teaspoon

ground black pepper

2

tablespoons

chopped fresh parsley

1

tablespoon

finely chopped chives
Instructions
To Make the Mustard Vinegar Dressing
In a medium sized jar, combine mustard, water, vinegar, and sugar.

Cover and shake until sugar has dissolved.

Once dissolved, add salt, black pepper, onion and garlic, and finely chopped herbs.

Mix to combine.
To Make the Salad
Combine cooked and cooled Village Harvest Organic Antioxidant Blend with sliced peppers, chopped celery and chopped parsley.

Drizzle on dressing and toss to coat.

Make up to a day ahead of time for ultimate flavor.

Store in airtight container in fridge for up to 3 days.
I was selected for this opportunity as a member of CLEVER and the content and opinions expressed here are all my own.