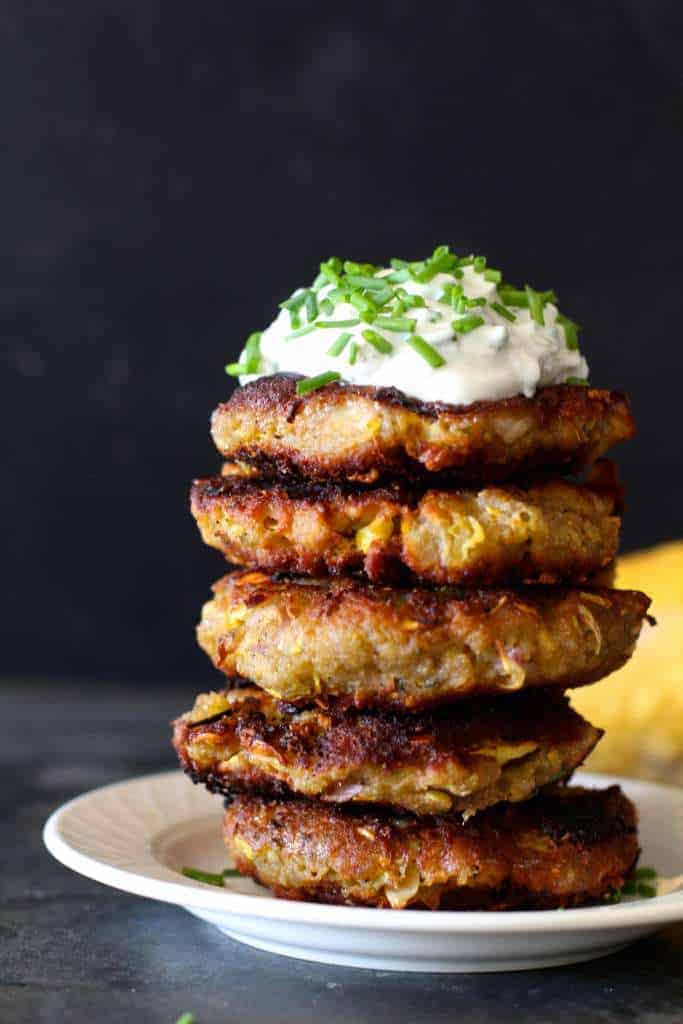 Well my handy summer garden is coming to a close soon. It is kind of bittersweet. While I love have fresh yellow squash, we are kind of tired of it. We still have pounds and pounds left of tomatoes, eggplant and peppers but I am eager to plant my pumpkins and move forward with my fall cooking. Crazy huh!?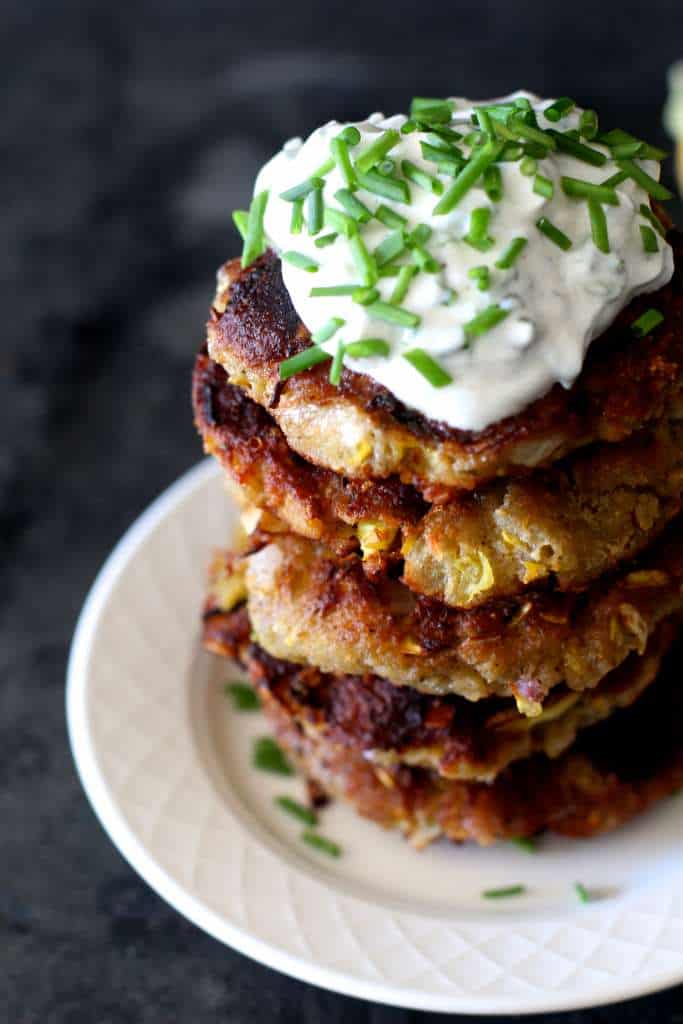 I really don't get it. I am so excited to start summer and everything that comes with it, but come the middle of July I am ready for Halloween and everything that follows it. My husband thinks that I am crazy (and probably so do you!), but I just love the holidays and so do my children.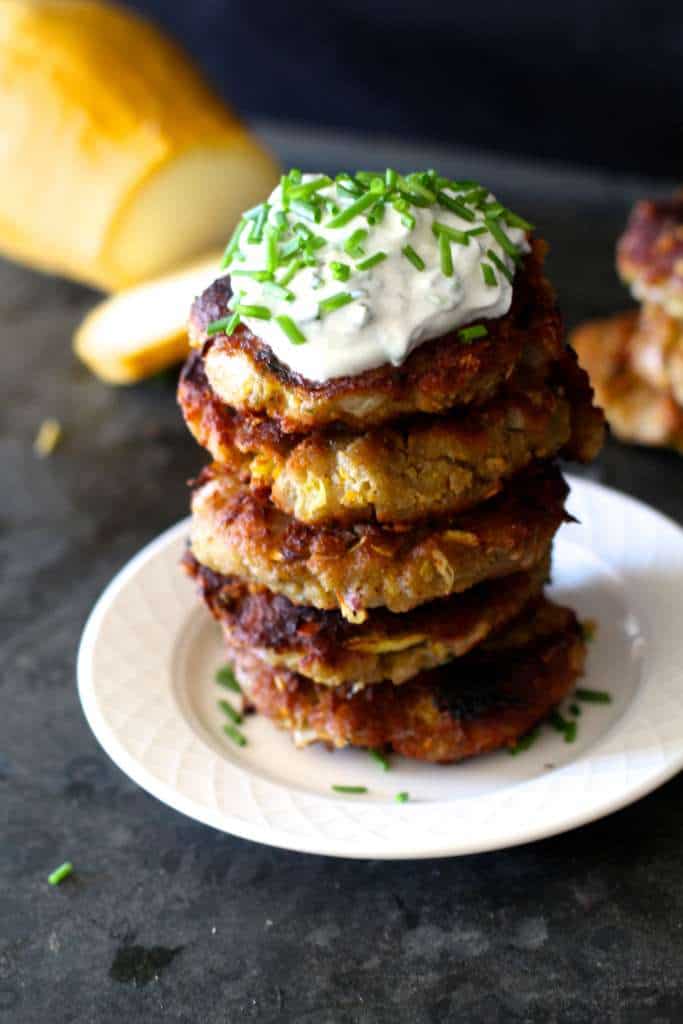 Anyway, in an effort to preserve summer through the winter months, I made a huge batch of these yellow squash cakes to freeze. I can just picture serving them with a bowl of soup. I did make some to enjoy for dinner  last night and served them with a delicious cherry tomato and red onion salad. Actually, come to think of it, this would make the perfect Meatless Monday meal! Enjoy!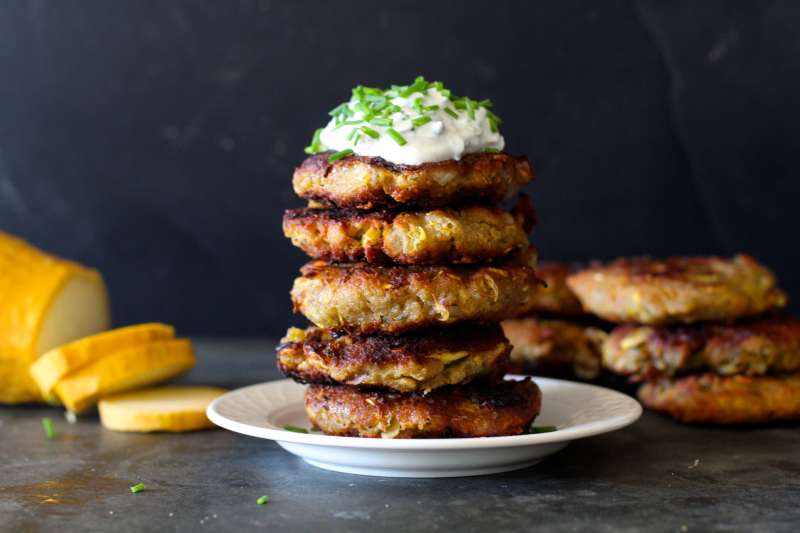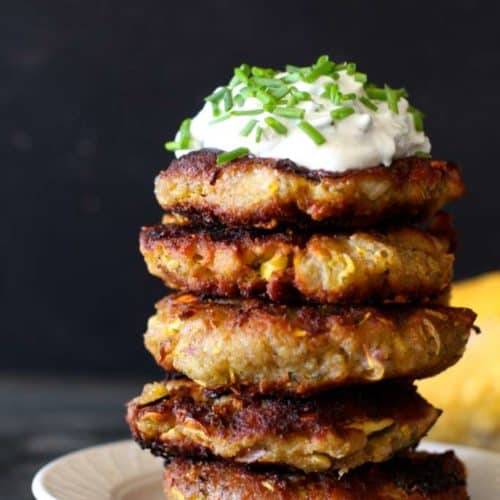 Yellow Squash Cakes with an Herb Studded Sour Cream
Ingredients
3

cups

shredded yellow squash or zucchini

2

cups

italian breadcrumbs

½

cup

grated Parmesan cheese

½

cup

finely diced shallots

1

tablespoon

minced garlic

2

teaspoons

kosher salt

½

teaspoon

freshly ground black pepper

4

large eggs

½

cup

buttermilk

½

cup

olive oil
Sour Cream
2

cups

sour cream

1

tablespoon

chopped chives

1

tablespoon

chopped dill
Instructions
In a large bowl combine all ingredients except the oil and mix until fully incorporated.

Roll 2 inch sized balls, then flatten to about an inch thick.

If you are planning to freeze, lay patties in a flat plastic bag. Separate layers with a piece of wax paper.

Freeze up to 3 months.

When ready to cook, heat oil in a large skillet.

Carefully place patties in hot oil and cook until brown, about 3-4 minutes on each side.

Place cooked patties and a paper towel lined plate to remove excess oil.

To make the herb studded sour cream, mix diced herbs and sour cream.

Serve patties hot with a dollop of sour cream.