Halloween is officially in full swing at our house. Decorations are up (inside and outside), costumes are being put together, and my kitchen looks like a mad scientist's lab. It truly is my favorite time of the year!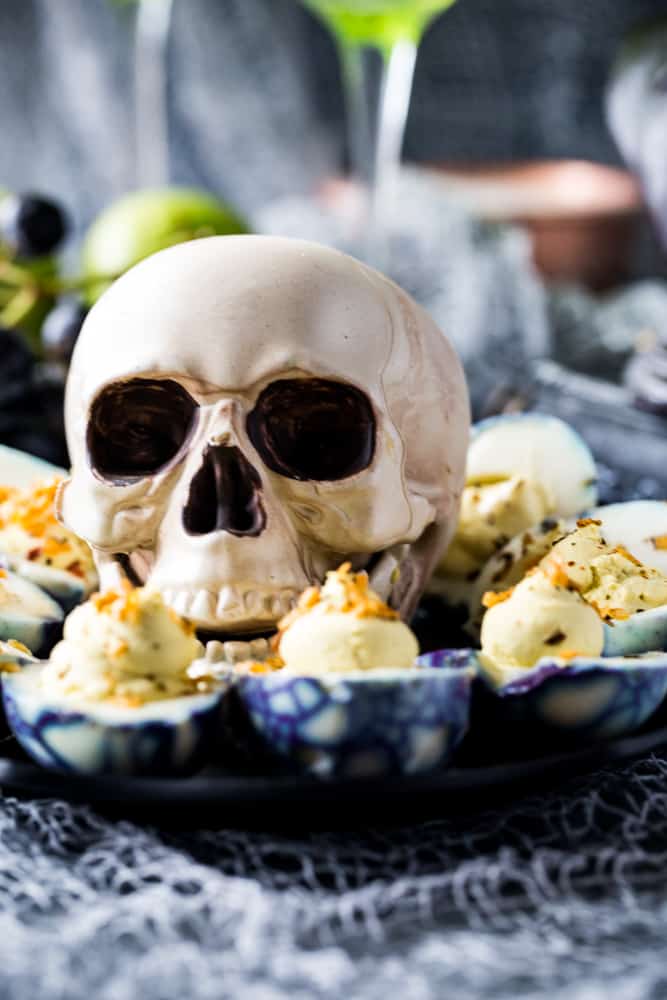 One of things I look forward to most is coming up with new ideas for frightfully fun Halloween treats. And since there is no shortage of delicious and spooky sweets, I like to challenge myself to come up with festive ways to prepare and serve savory snacks.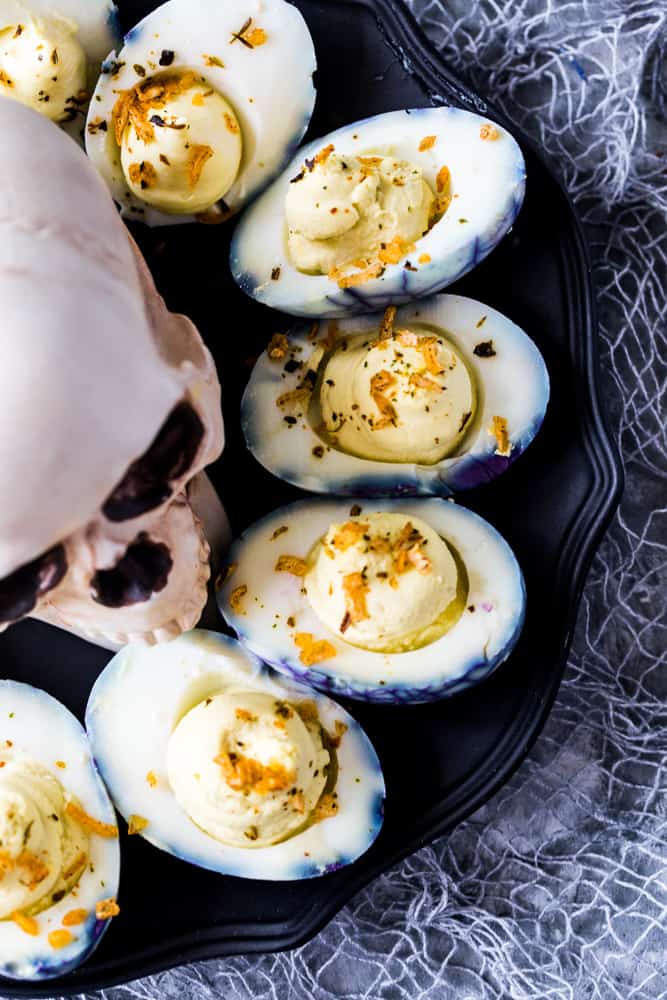 These Halloween Deviled Eggs are a tasty treat that your little ghouls and goblins will be sure to love. They make a perfect appetizer for your big Halloween party, and are also a great protein-packed snack for the kids to have before heading out to trick-or-treat on Halloween night.

Why Are They Called Deviled Eggs?
The origins of Deviled eggs go back to ancient Rome, when boiled eggs were served spicy sauces. Later, the word 'deviling' was adopted as a way to describe the process of making foods spicy. The term deviled eggs then became the common name for the dish as we know it today.

What makes these Halloween Deviled Eggs?
While the name alone is tailor-made for Halloween, these Deviled eggs have a creepy black "spider legs" crackle effect. And, making them is so easy. Here's how to do it:
Gently crack the shells of your hardboiled eggs without removing them.
Add the eggs to a large bowl or plastic bag filled with water, vinegar and black food coloring.
Let then steep in the fridge overnight, then remove the shells.
Now you have perfectly spooky spider eggs!
More Eye-Catching Halloween Recipes
If you love this recipe for Halloween Deviled Eggs, you'll want to check out my Halloween Root Beer Floats and No-Bake Halloween Treats.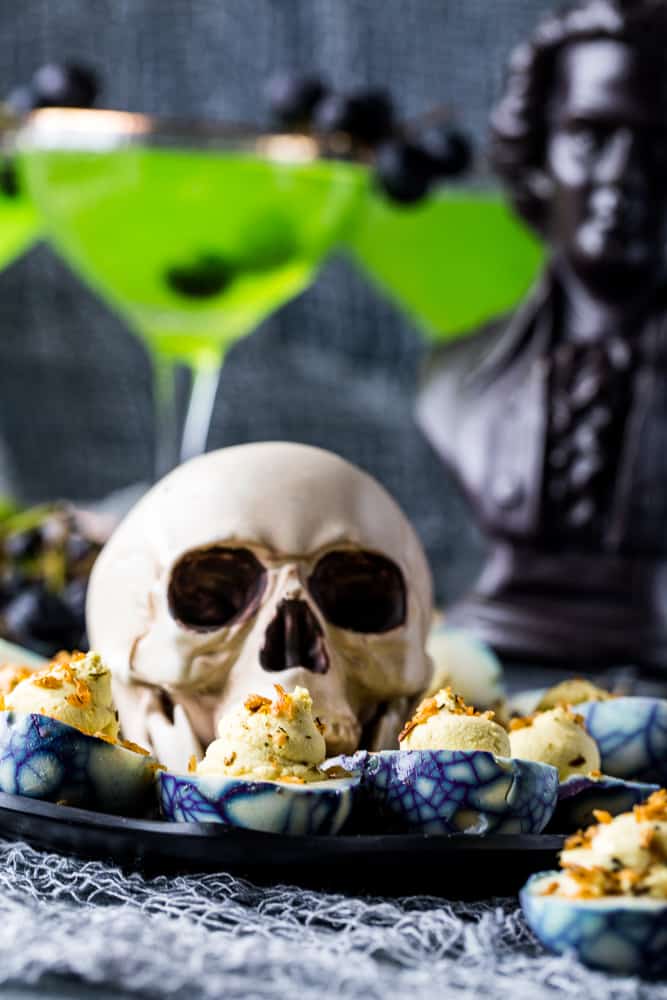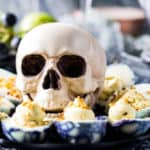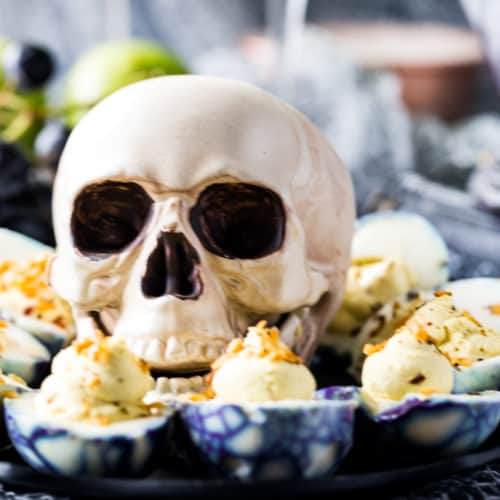 Halloween Deviled Eggs
These spooky spider eggs are the perfect Halloween appetizer.
Keyword:
halloween appetizer recipe, halloween food
Ingredients
6

large eggs

2

cups

water

black food coloring

2

teaspoons

white vinegar

1

teaspoon

Dijon mustard

2

dashes Tabasco sauce

¼

teaspoon

salt

¼

teaspoon

freshly ground black pepper

1

tablespoon

snipped fresh chives

3

tablespoons

mayonnaise

fresh chives or green onions

for garnish
Instructions
Cover eggs with cold water in a medium sized saucepan.

Place the pan over medium-high heat and bring to a boil.

Once boiling, turn off heat, cover and let sit for 10-12 minutes. Drain then rinse under cold water.

Gently crack the eggs all around, but do not remove shell.

Place 2 cups water, 5-6 drops black food coloring, and vinegar in a large ziplock bag or bowl.

Place the cooked/cracked eggs in the liquid and let steep overnight in the refrigerator.

Once the eggs have steeped, gently remove and discard the shell.

Halve eggs lengthwise, and carefully scoop out yolks.

Place yolks in a separate bowl, and mash with a fork. Add mayonnaise, mustard, Tabasco, salt, pepper and snipped chives. Stir to combine.

Pipe each egg white with about 1 ½ teaspoons of the egg-yolk mixture.

Arrange on a platter and sprinkle with chives or green onions.

Cover and refrigerate until ready to serve, up to 6 hours.