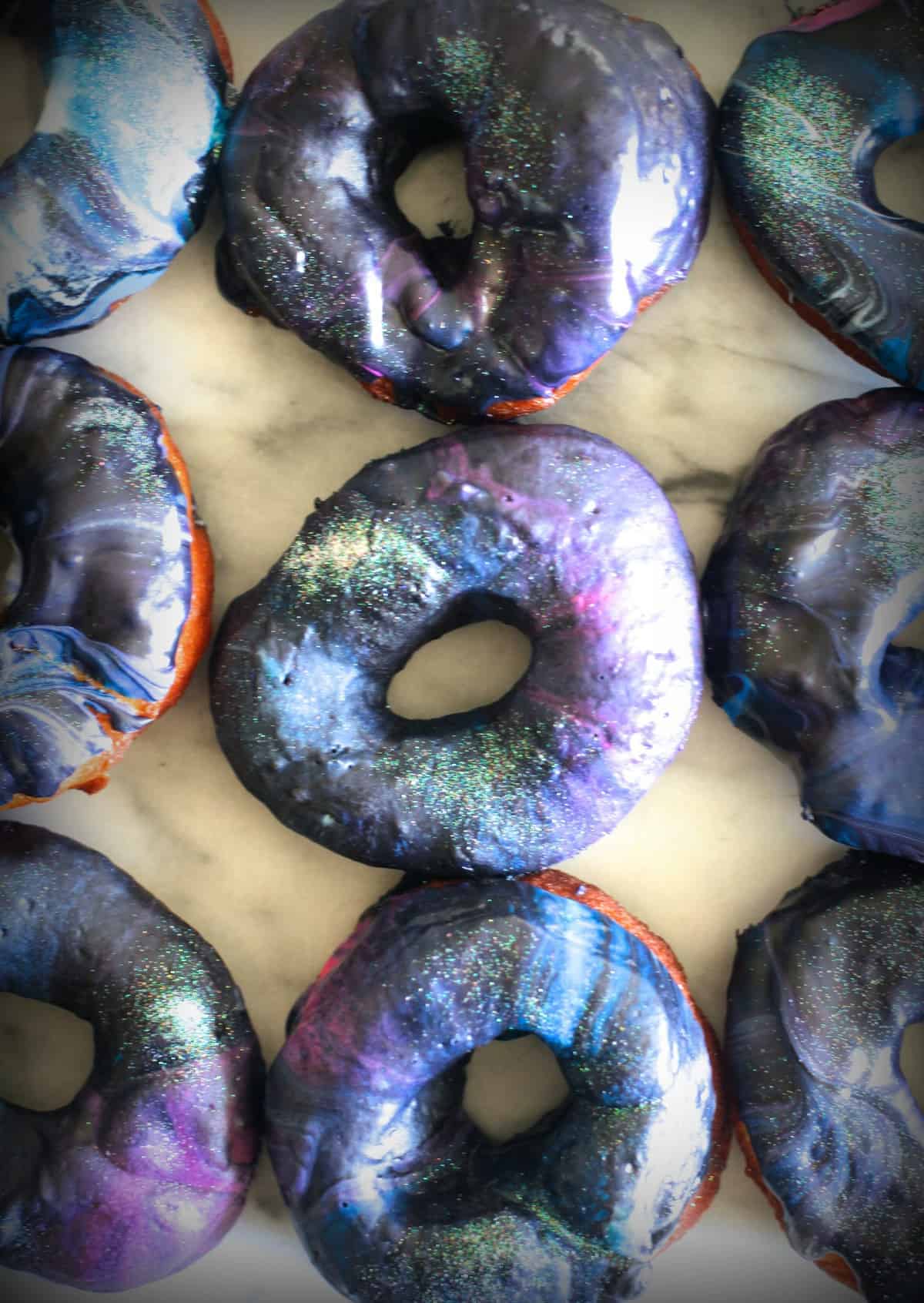 Being a food blogger, I follow quite a few food trends. There are a lot that I just question and many that I get really excited for. Galaxy Donuts get me giddy. Not quite sure why, because I am not a spacey/Star Wars/science type of gal. There is just something about creating something edible that looks like the relatively unknown that gets me!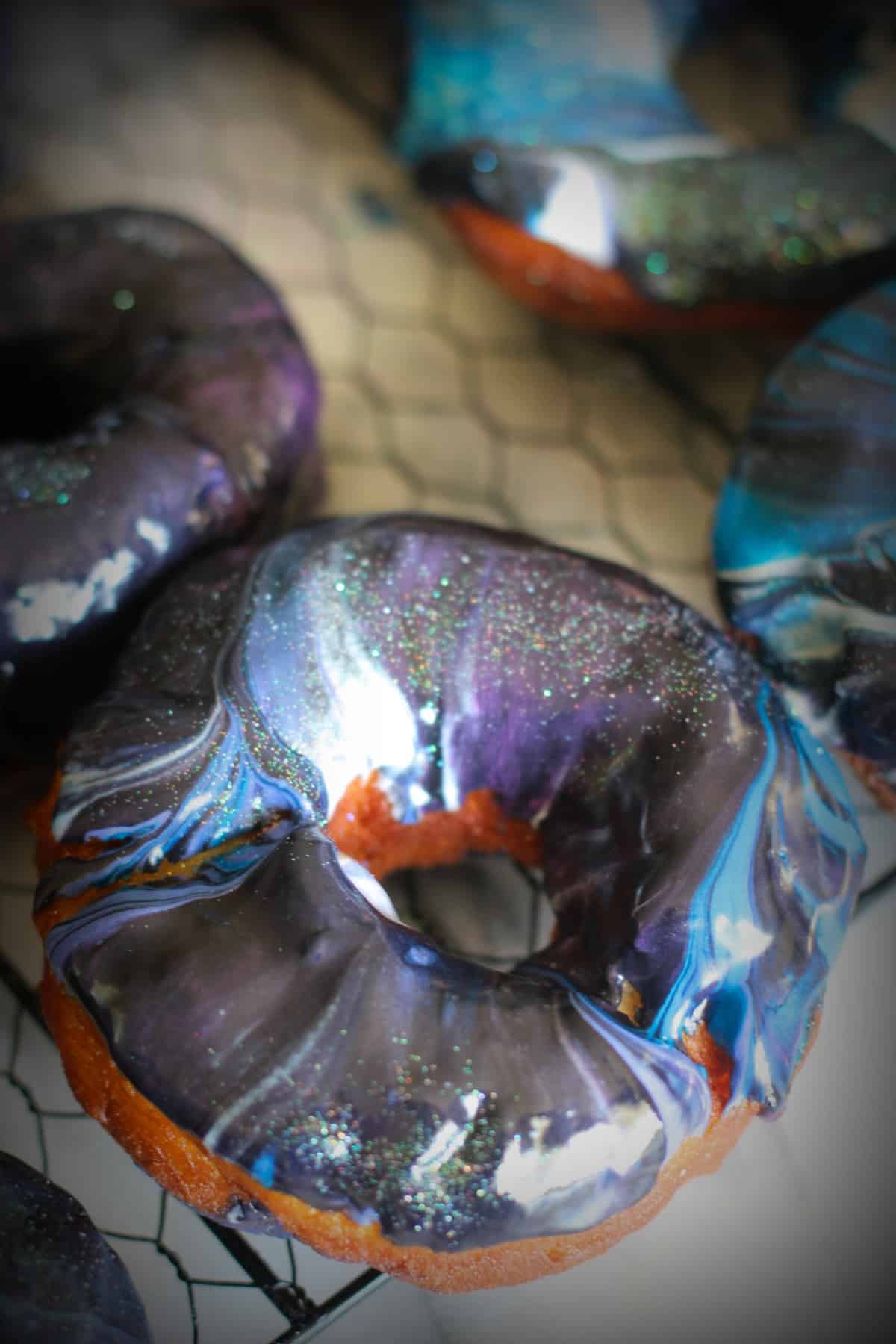 I surprised my kids with these donuts this weekend, and clearly brought out the sci-fi side of my 5 year old. He could not get enough of them! He literally sat there and stared at them for a good 5 minutes before eating them. Five minute in little kid time is like a good 20 minutes of staring into the unknown in adult time. Like me before coffee every morning.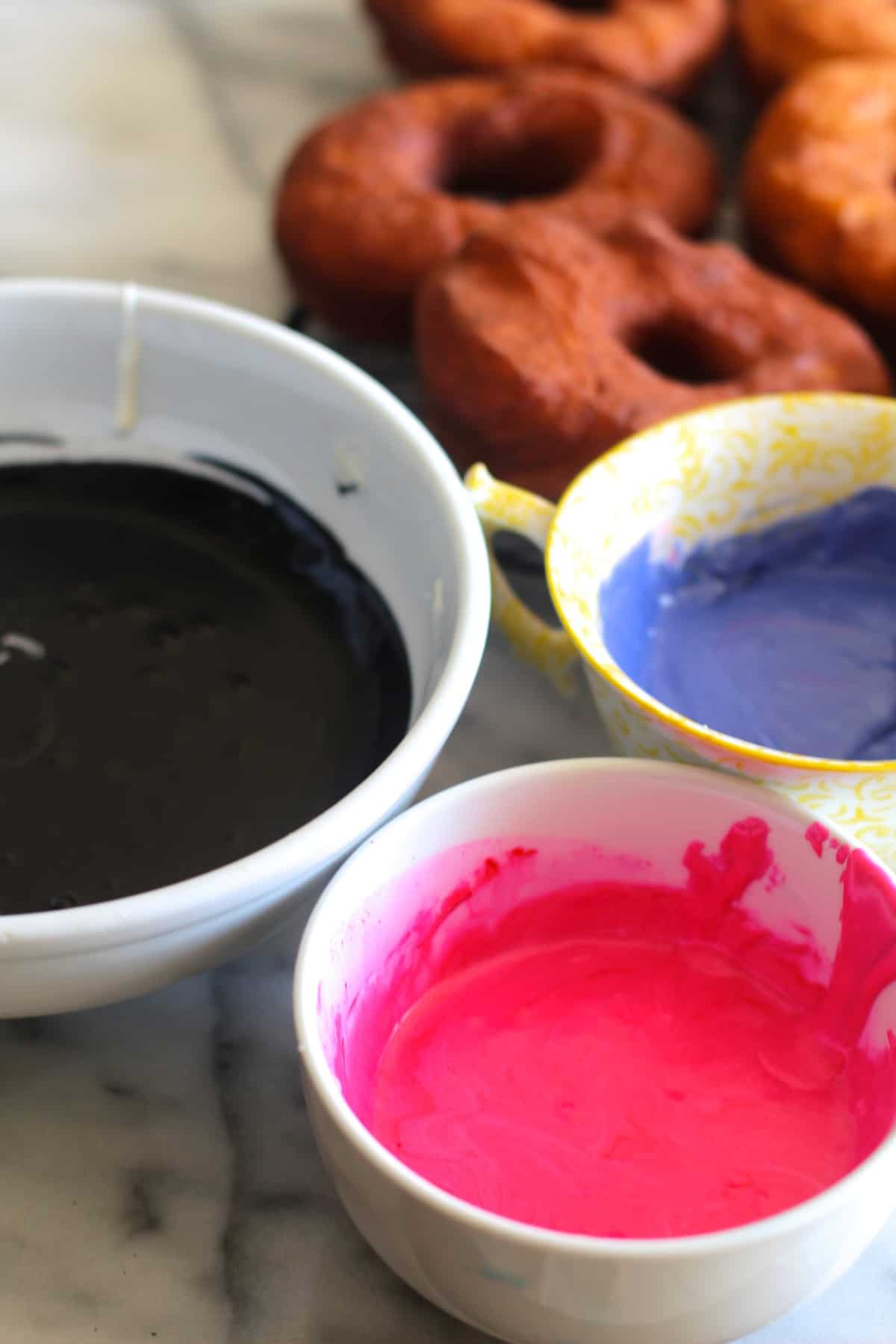 These Galaxy Donuts are out of this world! With their swirled colorful glaze and dusting of edible glitter
, they are fun for kids and adults alike.
For these donuts, I made a homemade yeast donuts. Now before you stop reading, I want you to know that yeast donuts are not hard to make. Like any bread recipe, the bulk of the prep time goes to the dough resting and rising. They dough really only takes a few minutes to put together, especially if you have a mixer or food processor with a dough attachment. Frying the dough is not really that time consuming either. It only took me about 15 minutes to fry up 2 dozen of these beauties!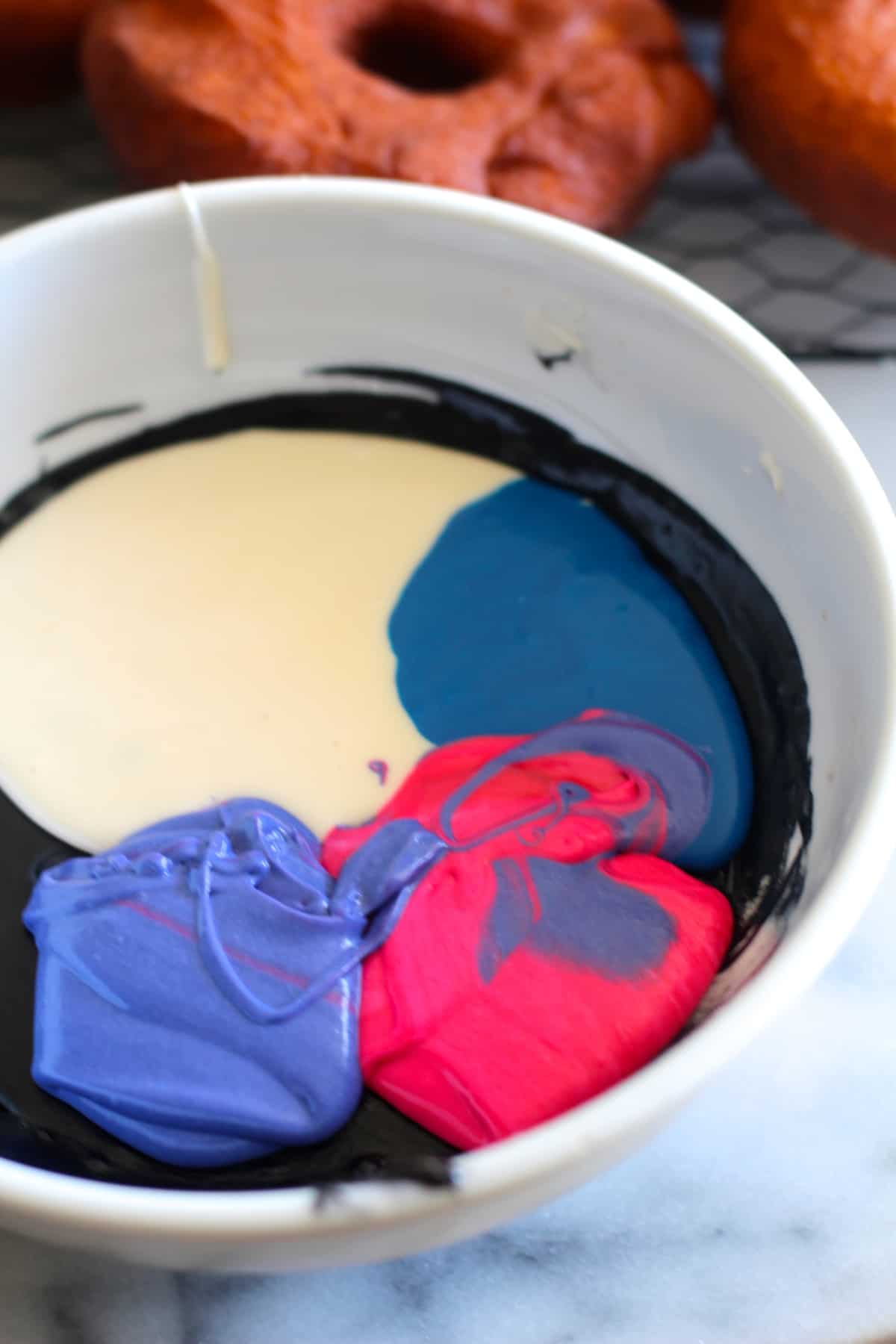 To make the glaze, I simply made a large batch and colored them separately. Then added a dollop of white, pink, blue, and purple to the black glaze.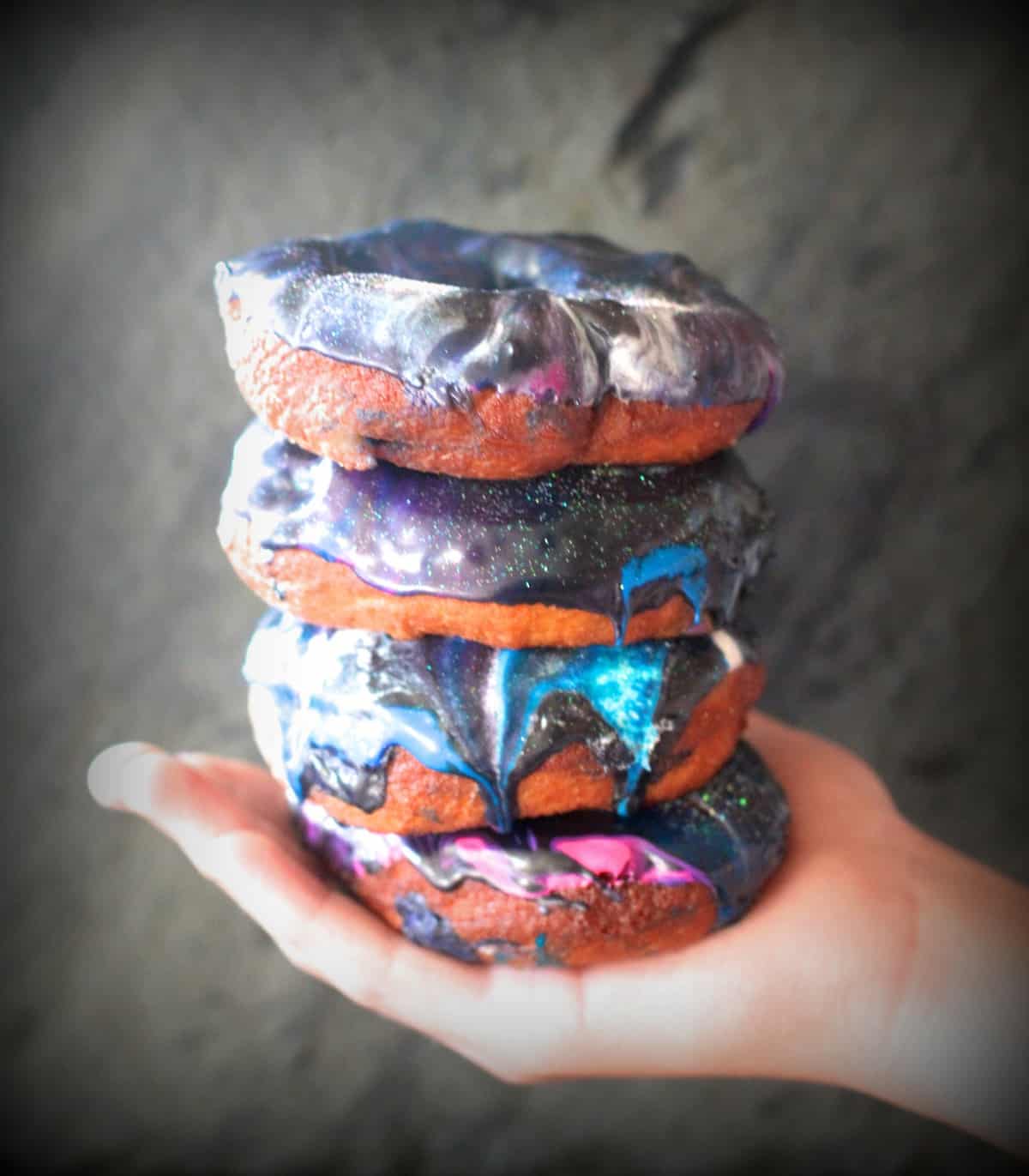 I then carefully swirled them together a bit with a knife and dipped the donuts in. After the glaze had set for a bit, I sprinkled them with the edible glitter dust. They are fun AND delicious. Nothing quite beats the taste of a warm fresh donut! So if you have a bit of extra time this week, I challenge you to make them! Enjoy!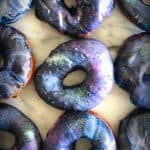 Galaxy Donuts
Want to eat something out of this world? Try these galaxy donuts, and your stars may just align.
Ingredients
½

cup

warm water

4

and ½ teaspoons active dry yeast

1

tablespoon

granulated sugar

⅓

cup

vegetable shortening

¾

cup

milk

¼

cup

granulated sugar

1

teaspoon

salt

4

cups

all-purpose flour

2

eggs

Vegetable Oil for Frying

Glaze-

2

cups

powdered sugar

¼

cup

milk

Food Coloring

Edible Glitter
Instructions
In a small bowl, combine warm water, yeast, and sugar. Allow to sit until yeast begins to "bloom".

While yeast is blooming, melt shortening and milk in a small saucepan over low heat until bubbles appear on the surface.

Remove from heat and transfer into a large bowl.

Add salt and sugar and mix until sugar has dissolved.

Add 1 cup of flour and eggs to the milk mixture and beat until combined.

Beat in yeast mixture and remaining 3 cups of flour until combined.

Replace your whisk attachment with the kneading hook, or place dough on a well-floured surface, and knead until smooth and no longer sticking to bowl or hands.

Once dough is smooth, place in a large greased bowl, cover and let rest until dough has doubled in size.

Once dough has risen, punch down and place on a well floured surface and roll a flat disk, about ½ thick.

Cut out donuts with a donut cutter or one large round cutter and a small round cutter for the center.

Reserve the centers to make donut holes.

Place on a wax paper lined cookie sheet and cover lightly. Allow to rest until donuts have once again doubled in size.

In a heavy bottomed skillet or pot (or a deep fryer) pour oil to a depth of 2 inches deep.

Heat oil to 375 degrees.

Working in batches of 2-3 at a time, carefully drop donuts into hot oil and fry until golden brown, about 1 minute on each side.

Remove with a slotted spoon and place on a paper towel lined plate to drain.

To prepare the glaze, combine powdered sugar and milk; stir until smooth.

Separate the glaze into small bowls and add coloring. I did black, pink, purple, blue and white.

Add a dollop of the colors to the black glaze bowl.

Swirl gently with knife or toothpick.

Once donuts have cooled slightly dip top of donuts into glaze, shaking off excess icing. Place on cooling rack to dry for 20 to 30 minutes.

Once dry, sprinkle with edible glitter.

Makes 2 dozen donuts.
This post contains an amazon affiliate link.