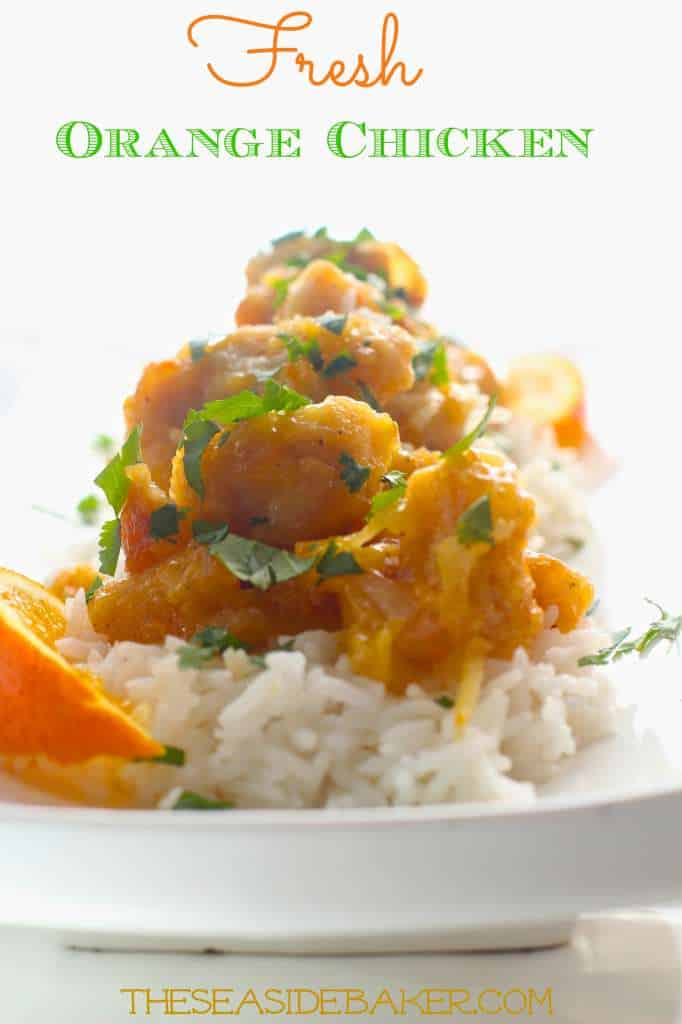 Orange chicken is one of my son's favorite meals. I used to always buy it at Trader Joe's (and absolutely love TJ's) but one time I bit into a very questionable piece. I did not investigate it further, but simply remove it from my mouth and never purchased the bag again.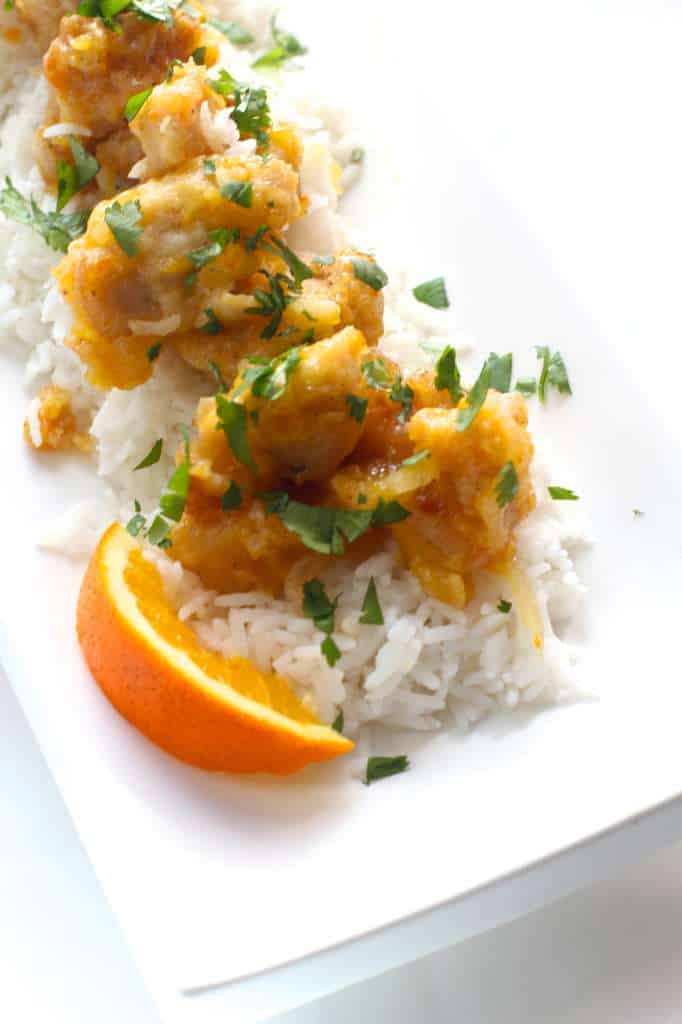 Now, this quite possibly could have been my imagination because I am really really weird with chicken, but I had to find a homemade version. Although, my kids of course prefer the store-bought version. Gotta love kids.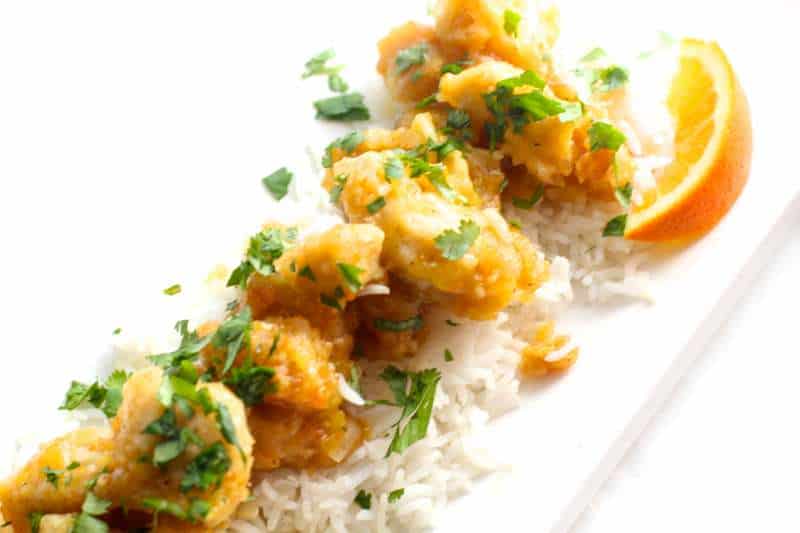 I love this chicken because although it is fried, it is so fresh. The sauce is bursting with orange flavor, slightly bitter and slightly sweet. I served it over a bed of coconut rice (rice made with ⅔ part coconut milk and ⅓ part milk) and it was fantastic. Not only is it delicious, it is quick! It only took about 30 minutes to get this on the table!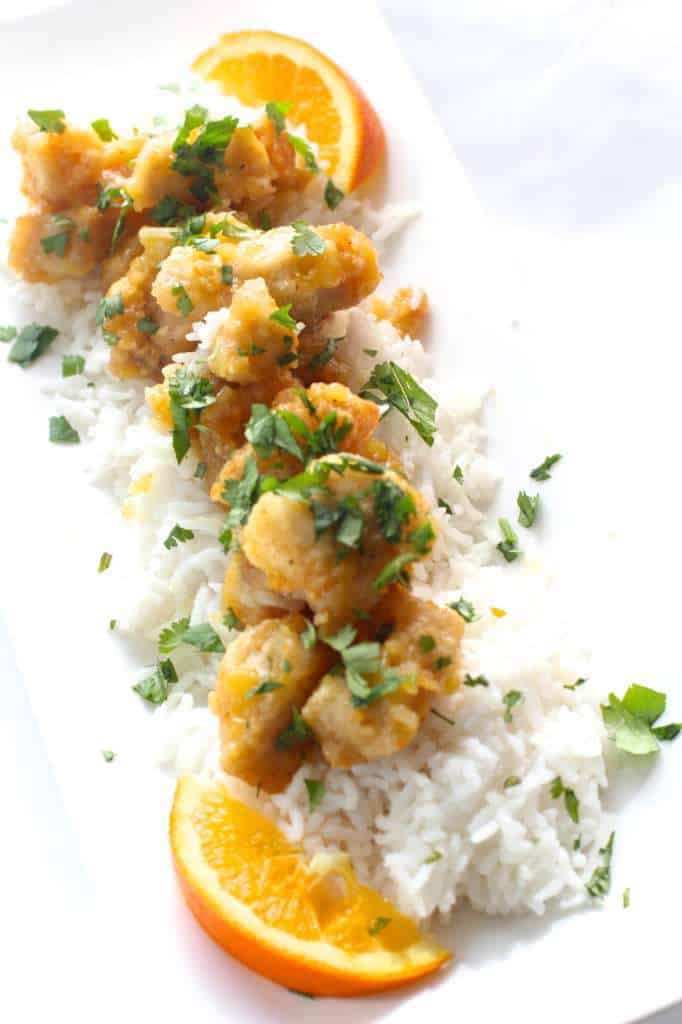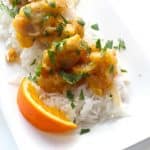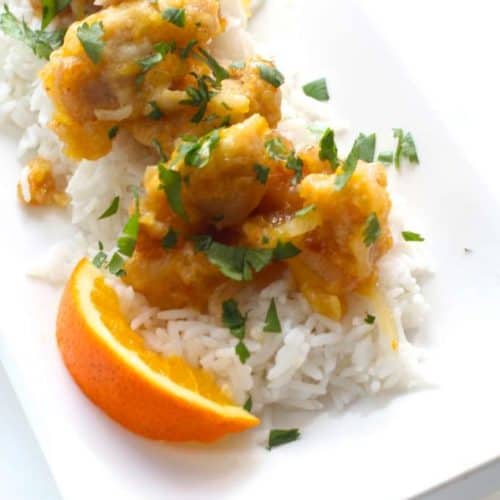 Fresh Orange Chicken
Ingredients
1.5

pounds

boneless

, skinless chicken breasts cut into 2x2 in pieces

½

cup

corn starch

¼

cup

all purpose flour

¼

teaspoon

salt

¼

teaspoon

pepper

¼

cup

vegetable oil
Orange Sauce
2

tablespoons

vegetable oil

½

cup

thinly sliced onion or shallot

2

teaspoons

fresh minced garlic

1

teaspoon

fresh minced ginger

¼

cup

orange jam

2

tablespoons

orange zest

1

cup

orange juice

¼

cup

soy sauce

2

tablespoons

rice vinegar

1

tablespoon

sugar

(add more in teaspoon increments based on how sweet you would like it)

1

tablespoon

corn starch

1

cup

water

Cilantro or green onion for garnish
Instructions
Heat ¼ cup vegetable oil in a large pan on medium high heat.

In a large bowl combine flour, salt and corn starch.

Dredge chicken pieces in corn starch mixture and carefully place in hot oil about 8 pieces at a time.

Cook until golden on all side. Remove from oil and place on a paper towel to soak up excess oil.

Continue until all chicken is cooked.
Orange Sauce
In a small bowl, combine orange zest, orange juice, soy sauce, rice vinegar and sugar in a bowl and mix together until sugar is dissolved.

Now you can either pour out the oil or use a new pan to make the sauce.

Heat vegetable oil in pan on medium heat.

Once hot, add onion or shallot and garlic. Cook for about 4 minutes.

Add ginger and cook for another 2 minutes.

Add orange jam, stirring constantly, until melted.

Once melted, add orange juice mixture. Bring to a simmer.

Combine water and corn starch and mix until smooth, then add to orange sauce, stirring constantly.

Once sauce has thickened, add chicken and stir to coat.

Serve on top of a bed of rice and garnish with sliced green onion or chopped cilantro.
Nutrition Facts
Fresh Orange Chicken
Amount Per Serving (4 g)
Calories 0
* Percent Daily Values are based on a 2000 calorie diet.