This is a sponsored campaign on behalf of GROHE and Millennial Blogs, however all opinions are 100% my own.
This Chocolate Pear Tart has a tender buttery chocolate hazelnut crust that is filled with poached pears and a decadent chocolate ganache.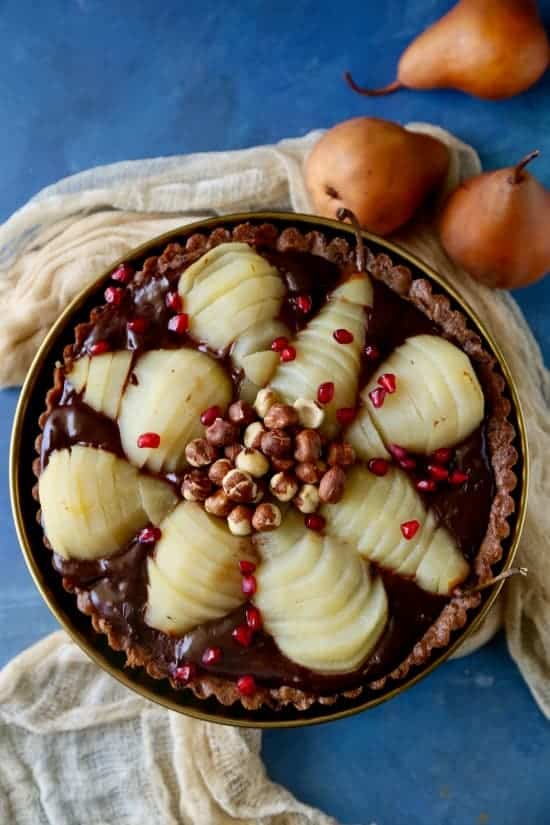 Being a work at home mom, I have many responsibilities. I have to make an income and run a household with three children, one husband, and way too many animals. I love my jobs, but life can get quite chaotic. I'm definitely not materialistic, but I do like things that make my life easier.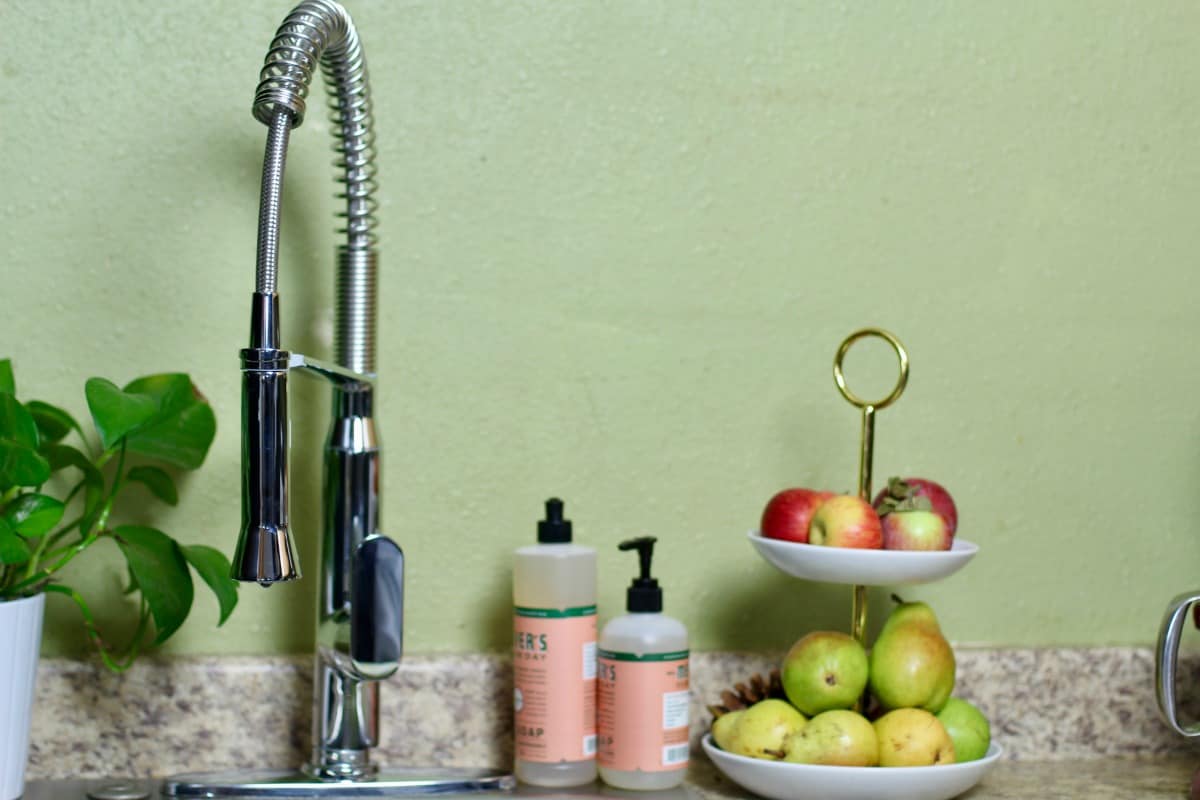 Since I spend 80% of my life in the kitchen, a beautiful new faucet not only makes me happy, but it is quite functional. You have no idea how dirty my hands get when I am working with dough- this chocolate hazelnut dough for example, or am cleaning up after working in the garden. Our new new GROHE K7 Foot Control Faucet has Foot Control Technology, which means that I  switch the water flow on and off with a tap of the foot on an activation plate installed discreetly in the toe space of my kitchen cabinet!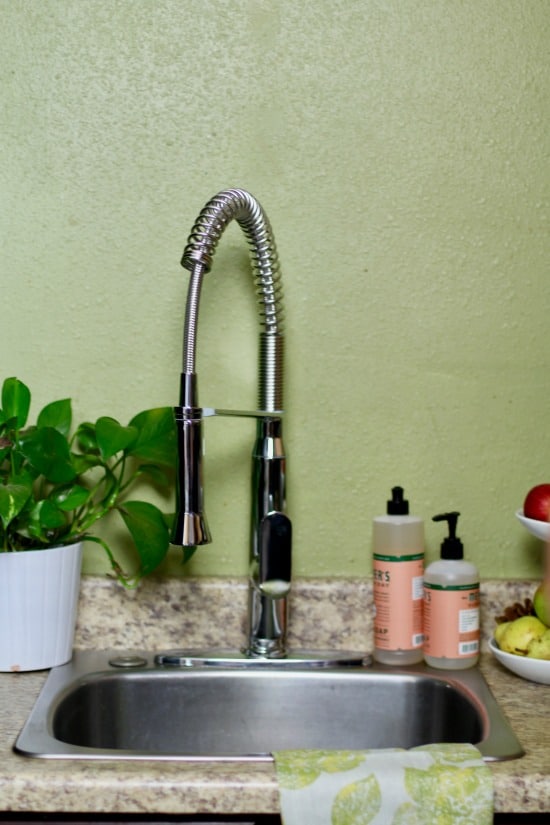 This means my hands are free to operate and potentially inhibit the spread of germs and dirt. This is especially important to me when I am working with meats and poultry.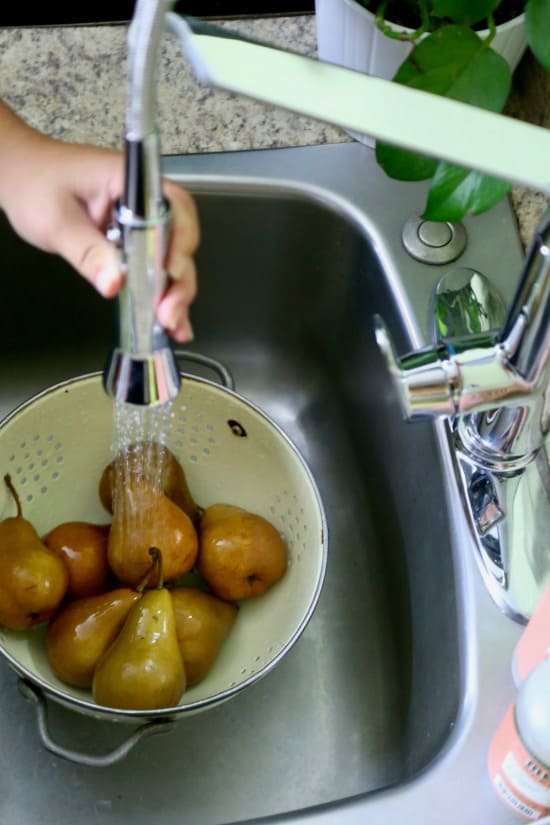 The brand is rooted in the heritage of GROHE with a German-based approach to design -- product design innovation and excellence in engineering. GROHE products change people's lives; the brand makes life easier, healthier and more beautiful. Despite being in a tiny kitchen that will soon become my dream kitchen, this beautiful faucet makes doing the dishes so much more enjoyable!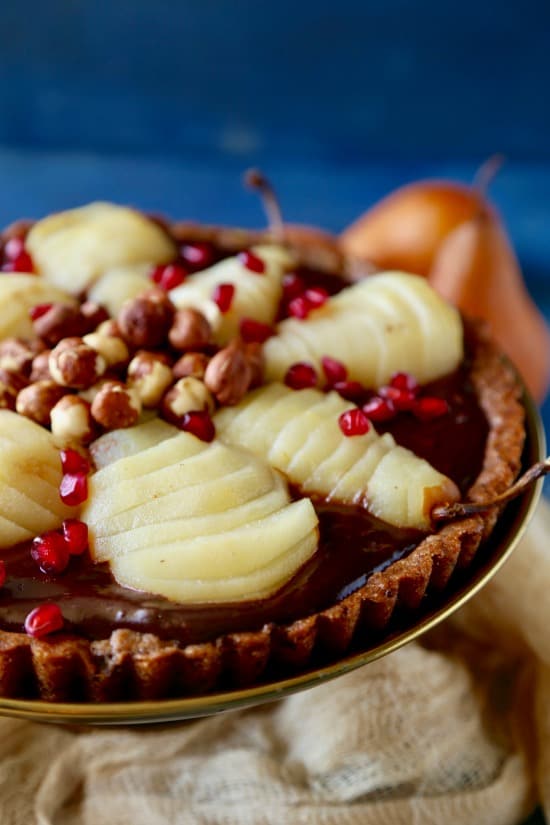 After a day of picking apples and pears, we came home washed the produce and were ready to bake! First on the list was per my husband's request- Chocolate Pear Tart. Being Swiss/French, all desserts should be in be in tart form according to him.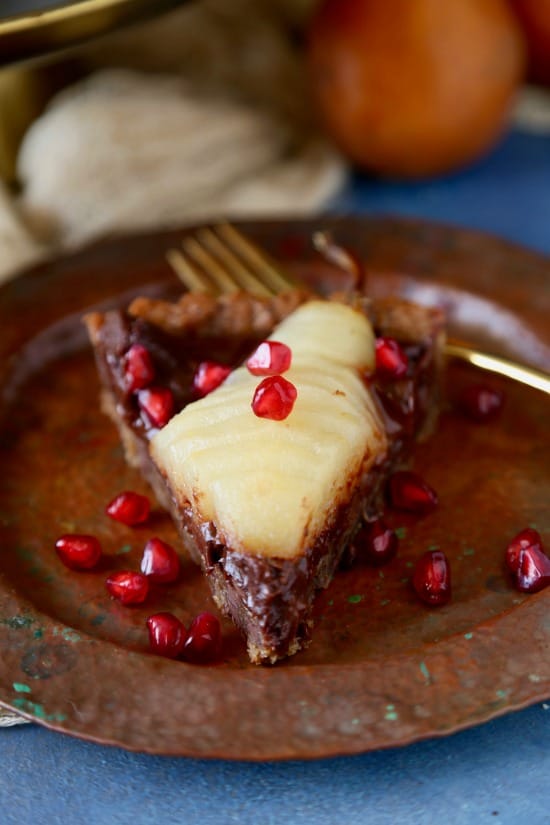 Like usual my husband was spot on when he requested what be in his tart. The rich buttery hazelnut crust combined with the decadent dark chocolate and poached pears made for one of the most delicious tarts we have ever had. Hate to admit it, but once again he was right. But please don't tell him I said that! Enjoy my friends!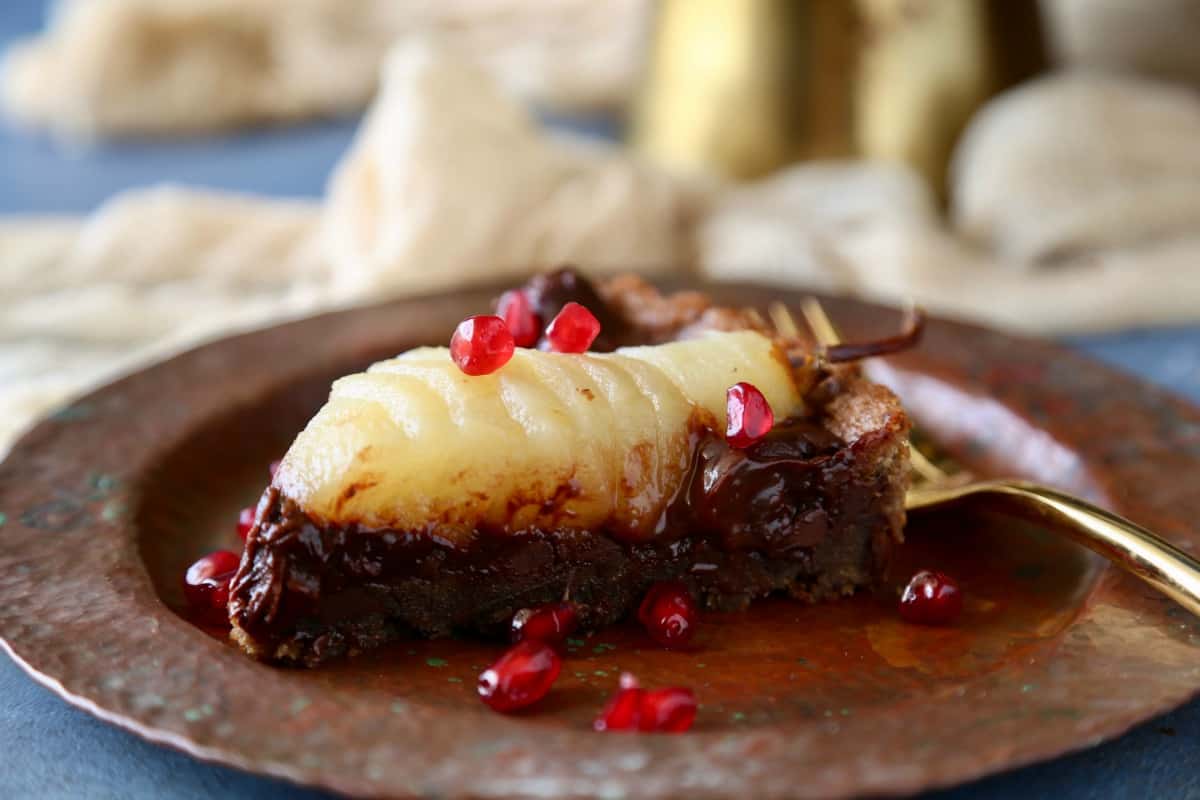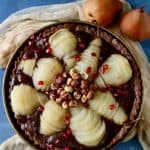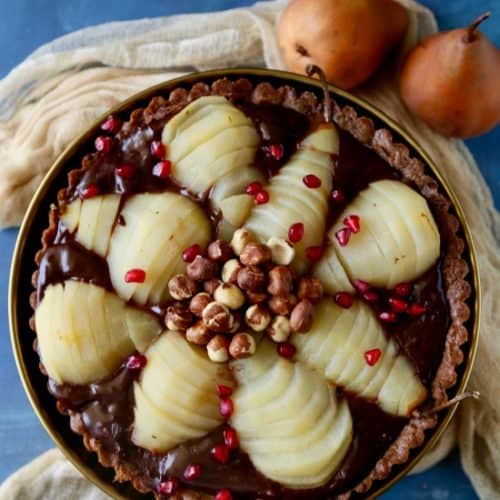 Chocolate Pear Tart
A beautiful combination of buttery hazelnuts, fresh Bosc pears, and decadent dark chocolate.
Ingredients
Crust-
¾

cup

whole or chopped unsalted hazelnuts

¾

cup

all-purpose flour

¼

cup

cocoa powder

2

Tablespoons

granulated sugar

½

teaspoon

salt

½

cup

unsalted butter

cold and cubed

3

Tablespoons

ice water
Poached Pears-
4

cups

water

1 ¼

cups

sugar

1 ½

tablespoons

fresh lemon juice

3

medium-size firm but ripe Bosc pears

peeled
Ganache Filling-
12

ounces

bittersweet chocolate coarsely chopped

1 ¼

cups

heavy cream
Instructions
Set oven to broil on high . Spread hazelnuts out onto a lined baking sheet.

Toast until slightly darkened, 2 minutes, but watch carefully.

Remove from oven and allow to cool.

To make the crust, pulse hazelnuts in food processor until the are the consistency of almond meal (fine crumb).

Add flour, cocoa powder, sugar, and salt and pulse to combine.

Add cubes of unsalted butter and pulse until dough forms pea sized clumps.

Add ice water and pulse mixture dough comes together and has formed a ball.

Remove from bowl and press into lightly greased 9 inch fluted tart pan with removable bottom.

Cover lightly with plastic wrap or foil and freeze for 15 minutes.

Preheat oven to 350 degrees.

Line the crust with aluminum foil or parchment paper and add pie weights (uncooked beans or rice would work).

Bake crust for 18-20 minutes.

Once done, remove from oven and allow to cool.

While tart is cooling make the pears.

In a large pot, combine water, sugar, and lemon juice over medium high heat.

Stir until sugar has dissolved.

Add pears and reduce heat to medium and simmer until pears are very tender, turning occasionally, about 20 minutes.

Cool pears in syrup. (Can be made 2 days ahead. Cover and refrigerate.)

Make the chocolate ganache.

Heat cream in a large bowl in the microwave for 1 minute, or until hot.

Add chocolate and let sit for about 2 minutes, then stir until smooth.

Pour chocolate into crust and spread evenly.

Stem pears and cut each in half lengthwise; scoop out cores.

Cut each half crosswise into thin slices.

Gently press each pear half to fan slices but keep slices tightly overlapped. Slide spatula under pears and arrange atop filling.

Refrigerate tart for at least 30 minutes or until chocolate has set.

Garnish with whole hazelnuts and pomegranate seeds if desired.

Tart can be made 1 day in advance.