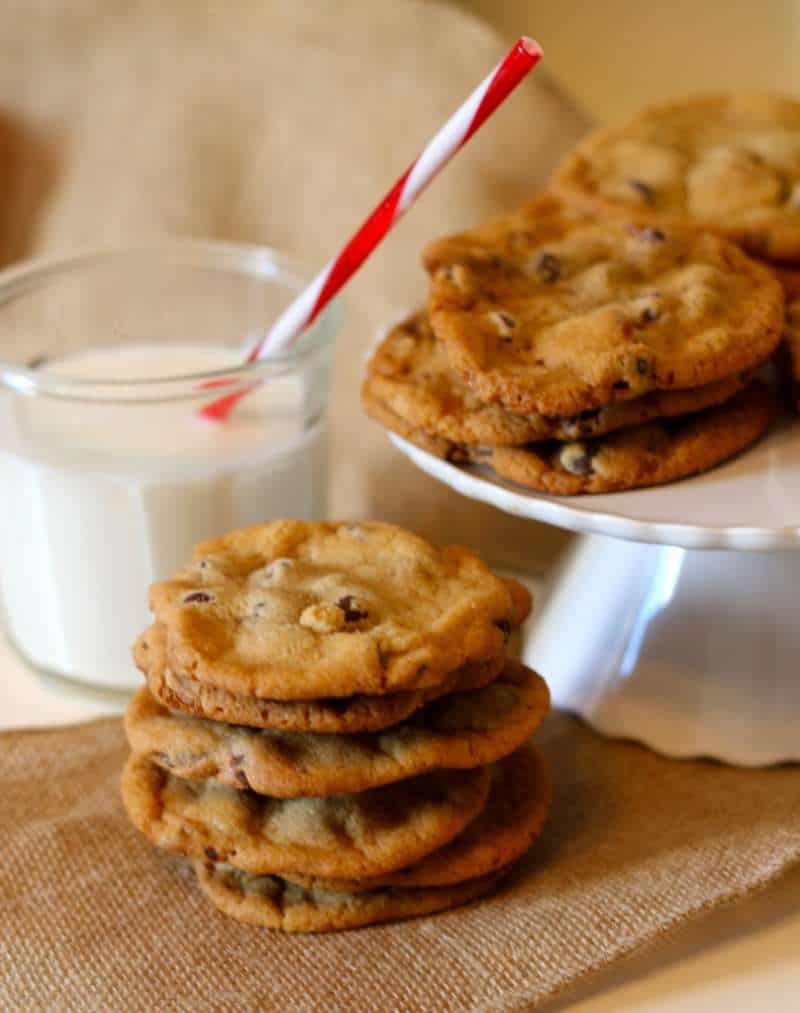 The chocolate chip cookie was an accidental invention by Ruth Wakefield in 1930, and ever since this cookie has been aromatizing American households. The recipe has been duplicated, revamped, changed, and added to by many people and companies. Everyone claims that they make the perfect chocolate chip cookies, but unless they use the recipe by Jacques Torres, they have been mislead.
When I used to live in Switzerland, I would often get requests to make "cookies" (which is how they refer to chocolate chip cookies). I became quite popular at parties when I would show up with a plate of a famous American dessert.
Now, if you were to purchase a package of "cookies" in Europe, you would be instantly disappointed with the stale tasteless you were eating. It is no wonder why this French chocolatier felt the need to master the recipe...and indeed he did. In fact, so much so that I would consider this to be the ULTIMATE best chocolate chip cookie recipe known to man. Sorry Tollhouse and Nestle, your recipe just doesn't even compare.
This is not a recipe that you make to indulge in an immediate craving. It requires at least 24 hours for the dough to meddle in order to obtain perfection. The reason for this is to throughly allow the wet ingredients to soak into the dry ingredients. Trust me, the refrigeration time is imperative, otherwise you will be eating just another mediocre cookie. Also, the recipe requires cake flour and bread flour. I am not quite sure what it does exactly, but it works...so just use them! I am often times out of cake flour so I just make my own....sift together ¾ cup of flour and ¼ cup cornstarch for every 1 cup required in recipe. My final recommendation is to make 2 batches (keep in mind this is A LOT of dough and fills my 6 qt mixing bowl to the brim) it is so good (and time consuming) you are going to want to share with everyone!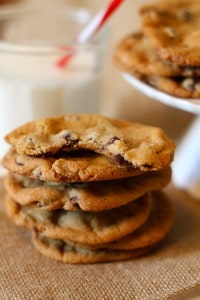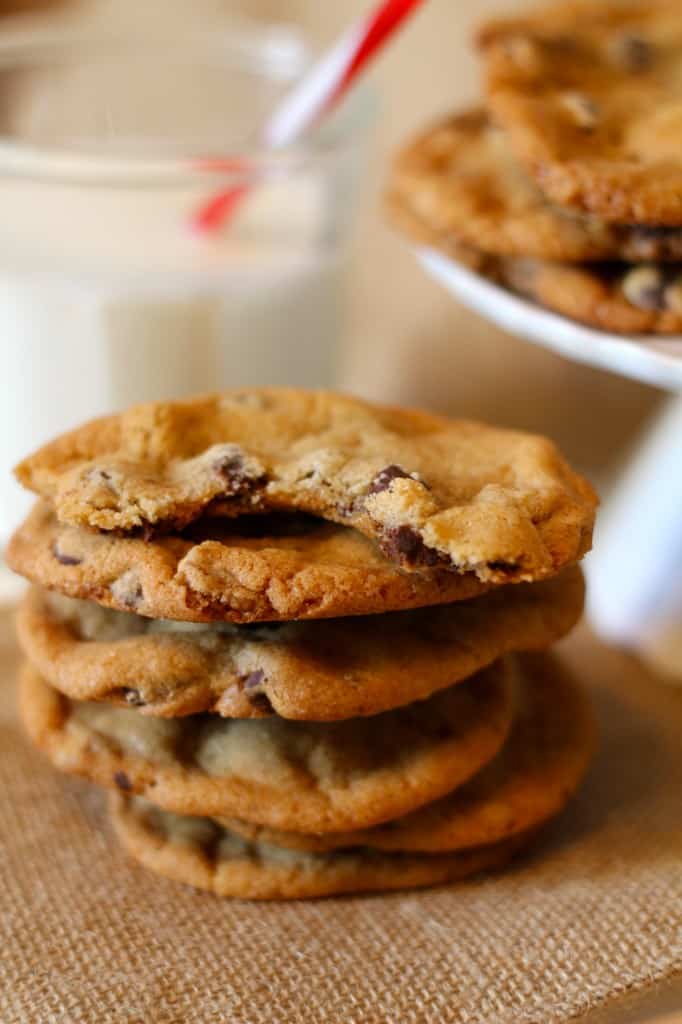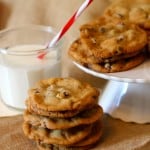 Bow Down To Mr. Chocolate
Ingredients
2

cups

minus 2 tablespoons

(8 ½ ounces) cake flour

1 ⅔

cups

(8 ½ ounces) bread flour

1 ¼

teaspoons

baking soda

1 ½

teaspoons

baking powder

1 ½

teaspoons

coarse salt

2 ½

sticks

(1 ¼ cups) unsalted butter

1 ¼

cups

(10 ounces) light brown sugar

1

cup

plus 2 tablespoons

(8 ounces) granulated sugar

2

large eggs

2

teaspoons

natural vanilla extract

1 ¼

pounds

bittersweet chocolate disks or fèves

, at least 60 percent cacao content (I just used a bag and a half of chocolate chips)

Sea salt
Instructions
Sift flours, baking soda, baking powder and salt into a bowl. Set aside.

Using a mixer fitted with paddle attachment, cream butter and sugars together until very light, about 5 minutes. I found that this step is very important. The better the sugars are blended, the eggs will blend easier.

Add the vanilla. Then add the eggs one at a time, ensuring that they are well mixed after each addition.

Reduce speed to low, add dry ingredients and mix until just combined, 5 to 10 seconds.

Stir in the chocolate chips or pieces.

Press plastic wrap against dough and refrigerate for 24 to 36 hours. Dough may be used in batches, and can be refrigerated for up to 72 hours.

Once the dough has been refrigerated, preheat the oven to 350 degrees and line a baking sheet with parchment paper or a nonstick baking mat.

I like these cookies large so I use a large cookie scoop which results in golf ball size rounds. Sprinkle lightly with sea salt and bake until golden brown but still soft, about 18 to 20 minutes. Let cool or enjoy warm...either way they are delicious!!!!!

Merci Jacques...I bow down to you and your perfect cookies!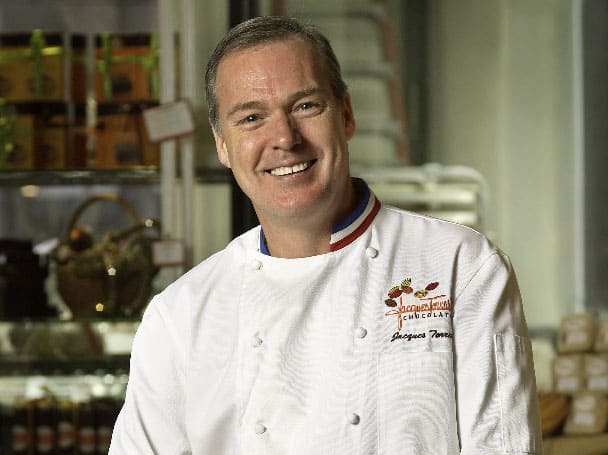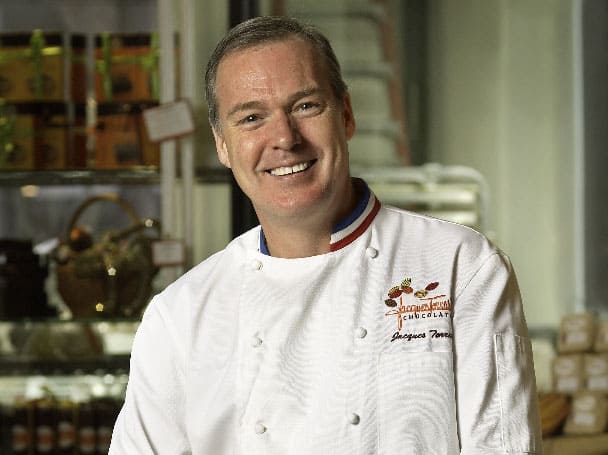 Photo courtesy of The Chefs Connection