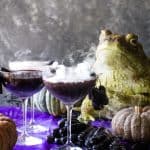 The perfect witches brew to put a spell on all your guests
Combine vodka, cherry juice, lime juice and sweet and sour in a shaker with ice; shake to combine.

Strain into 8-ounce glasses top with sparkling ice or club soda.

Using the proper tools, break off a small piece of dry ice and place it into the filled glass.

Garnish with grapes and serve.