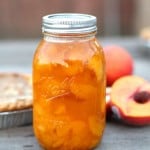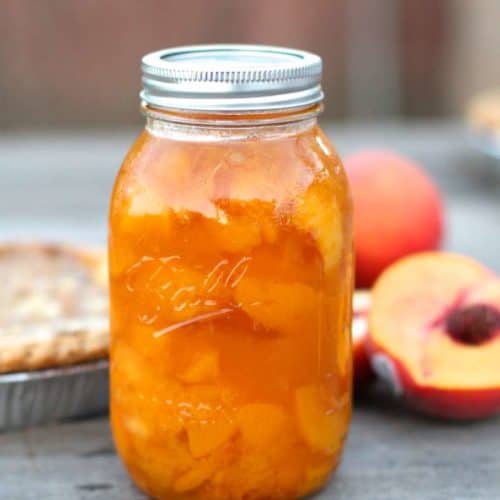 Preserve your summer peaches for the cold winter nights! This recipe makes 7 quarts of fresh peach pie filling! Make sure you save a jar or two for Thanksgiving!
6

qts of sliced peaches

, about 10 pounds

7

cups

sugar

2

cups

ClearJel liquid pectin

5 1/4

cups

cold water or peach juice

2

teaspoons

cinnamon

1 3/4

cup

lemon juice

7

qt

mason canning jars/lids rings

Plus an additional 1/4 cup lemon juice
To remove the skins, place peaches (a couple at a time)into boiling water for 30-60 seconds

Remove from water and place into ice cold water, then remove the skins.

Cut up the peaches into thick slices.

To keep fresh cut peaches from turning brown mix in 1/4 cup lemon juice.

Combine the water, sugar, ClearJel and cinnamon in large pot.

Stir and cook over medium high heat until the mixture thickens and begins to bubble.

Add the lemon juice and boil the sauce for 1 minute more, stirring constantly.

Drain the peach slices, add to boiling liquid, and cook for 3 minutes.

Carefully fill the jars within ¾"-1" from the top.

Put the filled jars in the canner and keep them covered with at least 1" of water.

Cover and boil for 30 minutes.

Remove from water and bring to room temperature.