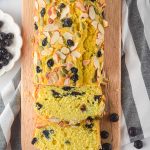 Combine two favorites when you make this scrumptious Pumpkin Blueberry Bread. A classic, soft, and moist pumpkin bread with the addition of plump and juicy blueberries. Topped with pepitas and sliced almonds for the perfect finishing touch.
Keyword:
blueberry bread recipe, pumpkin bread recipe
Preheat the oven to 350 degrees. Grease a loaf pan with butter or line with parchment paper; set aside.

In a medium bowl whisk together butter, eggs and sugar until light and fluffy. Stir in pumpkin puree and vanilla extract, mix until well combined.

Stir in all-purpose flour, cinnamon, pumpkin spice mix, salt and baking powder. Mix until combined and smooth.

Add in the blueberries and stir to combine.

Pour the mixture into the prepared loaf pan. Sprinkle top of the loaf with pumpkin seeds, almond slices and blueberries.

Bake for 40 minutes or until a toothpick inserted in the center comes out clean.

Let the loaf cool down for 20 minutes slicing.

Serve and enjoy.
You can store the PUMPKIN BLUEBERRY BREAD in an airtight container for 5 days in the refrigerator or around 3 months in the freezer