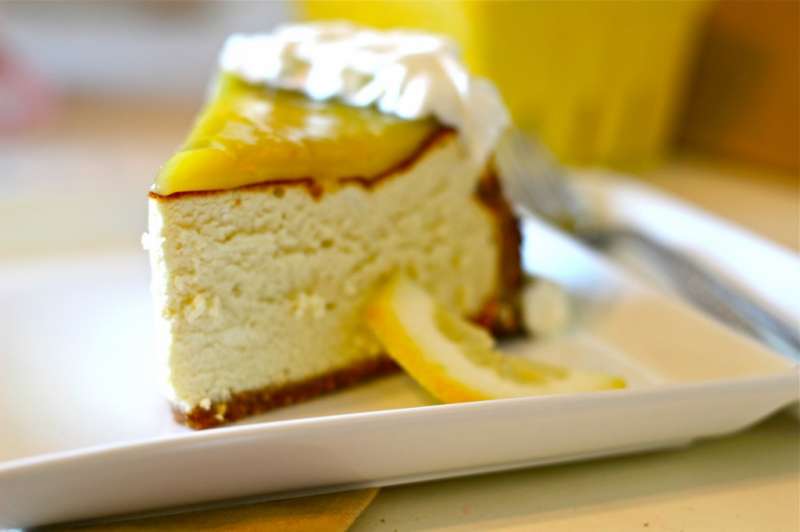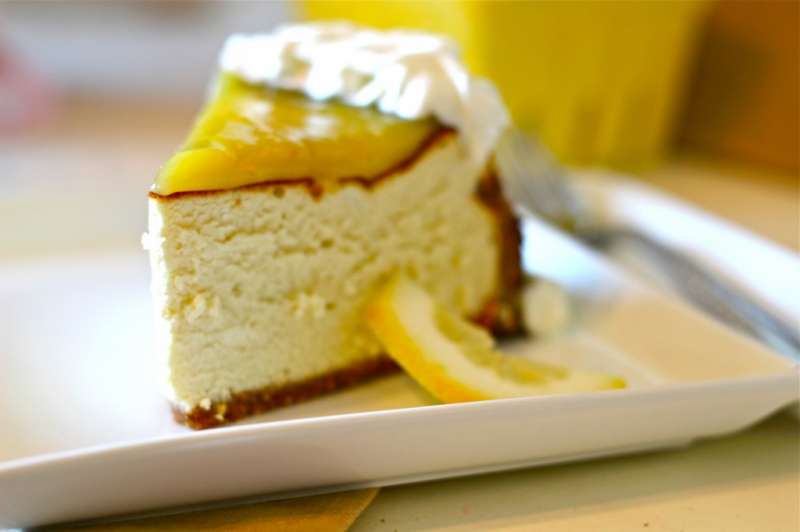 I love to shop. When I go out-of-town, I always go to the grocery store and find new ingredients to come home with, especially when we are abroad. At home, a trip to Whole Foods is like a trip to an amusement park, and my bill usually adds up to about the same that it would cost for a day at disneyland.
In order to balance my (what my dear husband would refer to as) impulsive and indulging spending, I shop at numerous stores and use coupons. One of my favorite stores (no coupons required) is the 99cent store. Often times they will have organic produce, healthy snacks, and cheap seeds for my garden.
This past week, the 99cent store had some awesome findings! I found everything I needed to make a lemon curd cheesecake! Do you know how much a cheesecake normally costs to make??!??! Well lets just put it this way, normally 1 brick of cream cheese costs around $3.49…so I definitely saved by shopping at the 99cent store! I was also able to score graham crakers, lemons, heavy cream (not pictured),    eggs (an entire dozen medium eggs for 99cents!), cream cheese, and a few others items for some nifty meals.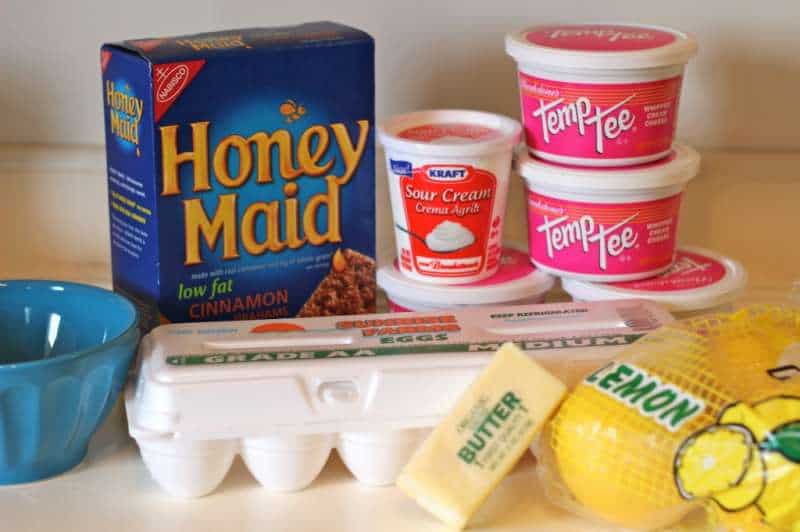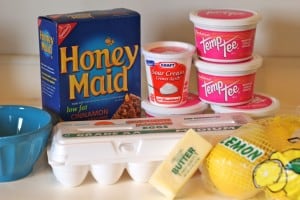 Immediately upon coming home, I got to work. This cheesecake was calling spring, and boy do I need that right now! It would make a delicious compliment to any Easter brunch or dinner.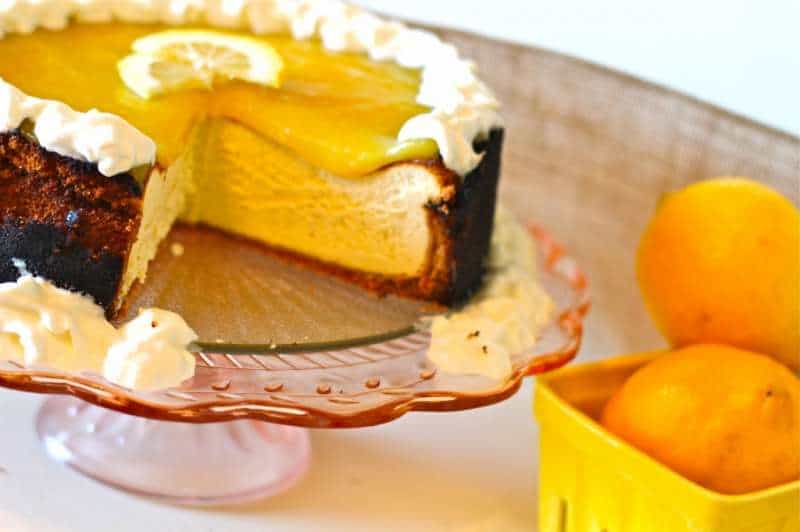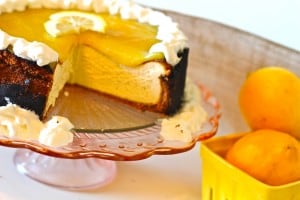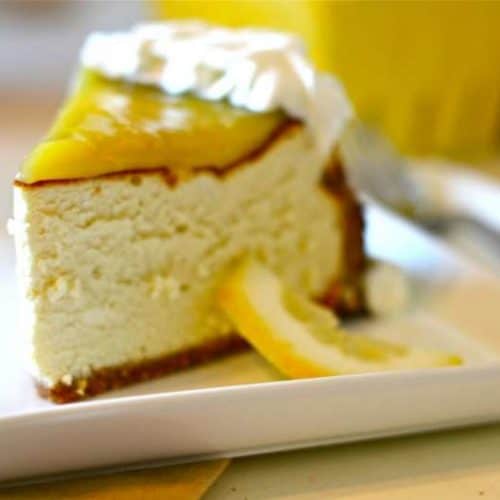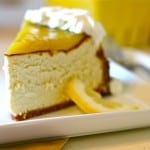 When Life Gives You Lemons- You Make Lemon Curd!
Ingredients
New York Style Cheesecake
Recipe adapted from Smitten Kitchen
Crumb Crust:
8

ounces

or 15 finely ground graham crackers

8

tablespoons

(1 stick) unsalted butter, melted

1/2

cup

sugar

1/4

teaspoon

salt
Cheesecake Filling:
5

(8-ounce) packages cream cheese, softened

1 3/4

cups

sugar

3

tablespoons

all-purpose flour

2

teaspoons

finely grated lemon zest

5

large eggs

(if you are using the medium eggs from the 99cent store use 6 eggs)

2

large egg yolks

(use three if using medium eggs)

1/2

teaspoon

vanilla
Barefoot Contessa's Lemon Curd:
3

lemons

1 1/2

cups

sugar

1/4

pound

unsalted butter

, room temperature

4

extra-large eggs

1/2

cup

lemon juice

(3 to 4 lemons)

1/8

teaspoon

kosher salt
Instructions
New York Style Cheesecake
Recipe adapted from Smitten Kitchen
Crumb Crust
Preheat oven to 350 degrees F.

Spray a 9in round spring form pan with nonstick spray.

Finely pulse graham crackers in a food processor, add sugar, salt and melted butter and mix well. Press crumb mix into pan on the bottom and on sides.

Put in freezer while you make the filling.
Cheesecake Filling
Prepare the filling: beat the cream cheese on high for 2 minutes. Add sugar and flour and beat on medium for another 2 minutes.

Add vanilla and eggs, one at a time, scraping the bowl after each addition to avoid unmixed strips of cream cheese. Pour filling into pan.

Cover bottom and sides of cheesecake pan with foil (to prevent water from seeping in) and set in larger roasting pan.

Pour boiling water in roasting pan so that it reaches approx. halfway up cheesecake pan.

Bake at 350 degrees for 1 hour.

When cheesecake is done, turn off oven and leave the cheesecake for another 2 hours. Then remove and allow to thoroughly cool and place in the refrigerator to chill for at least 6 hours.

While your cheesecake is cooking, start your lemon curd. I have been using this recipe from Barefoot Contessa for quite some time and it is incredible. It makes 3 cups so you will have some left over in which you can use in lemon bar cookies (will be posting this tomorrow).
Barefoot Contessa's Lemon Curd:
Using a carrot peeler, remove the zest of 3 lemons, being careful to avoid the white pith.

Put the zest in a food processor fitted with the steel blade.

Add the sugar and pulse until the zest is very finely minced into the sugar.

Cream the butter and beat in the sugar and lemon mixture. Add the eggs, 1 at a time, and then add the lemon juice and salt. Mix until combined.

Pour the mixture into a 2 quart saucepan and cook over low heat until thickened (about 10 minutes), stirring constantly.

The lemon curd will thicken at about 170 degrees F, or just below simmer.

Remove from the heat and cool or refrigerate.

Once your cheesecake has cooled (but before chilling) cover the top with a generous amount of cooled curd.

I finished mine off with some whipped cream topping (a request from my taste-tester) by simply beating on high 1 cup of heavy whipping cream and 3tbsp sugar until stiff peaks form. I then piped it on to make an attractive finish. You can also just use canned whip cream too.