This weekend we had a whirlwind of weather. We had thunderstorms and what felt like hurricane worthy wind on Friday, rain and freezing cold temperatures (57 degrees, yes, this is cold for us San Diegans) on Saturday, and a beach worthy Sunday. As much as I love rainy days in November and December, I am so over it now. There is nothing better than a hot pool day, where by 2 pm the kids are completely depleted of energy.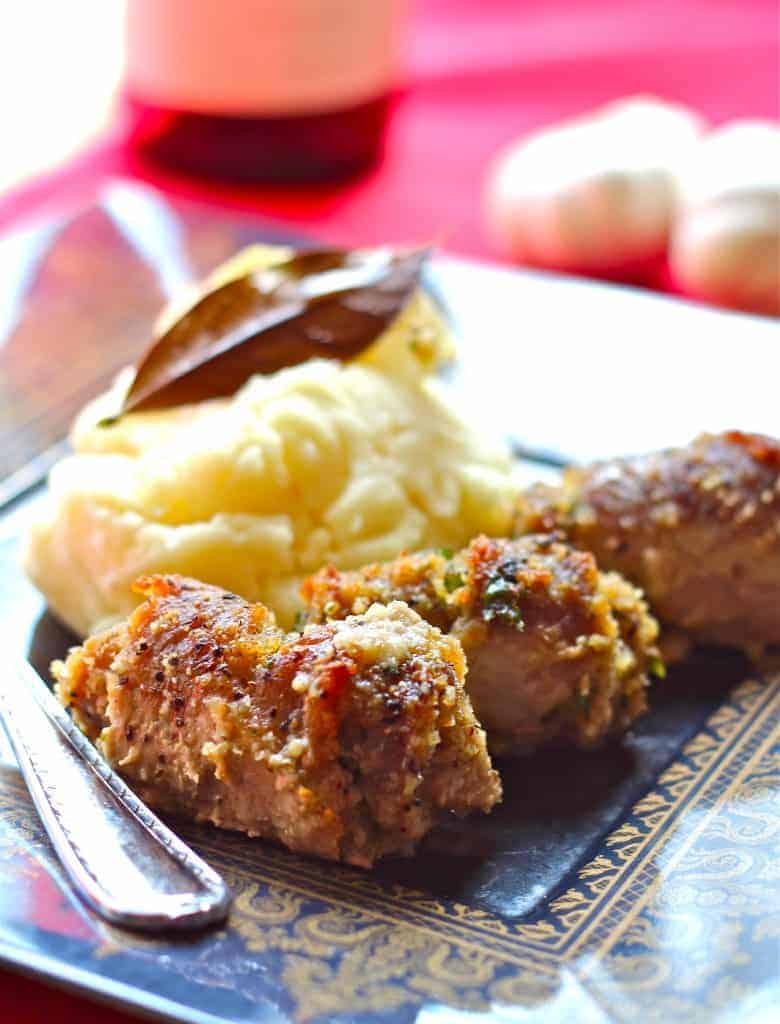 Anyway, when the cold and wind set in this weekend, I wanted nothing more than to snuggle up with some good food and a nice glass of wine. I quickly ran to the store before the rain, and immediately saw some beautiful veal cuts, which took me back to my Italian roots. Every party, my uncle would make a huge platter of veal spiedinis. I have no how much they spent on the food at their parties, because I paid a whopping $15 per pound, but it was well worth it. However, you can also use beef or chicken as well, as long as it is very thin.
Most people grill their Spiedinis, but my family always baked/broiled them. The quick baking process leads to incredibly moist rolls, while the broiling gives the tops a little crunch.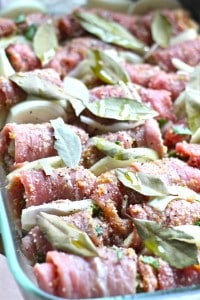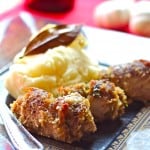 Italian Comfort Food
Ingredients
Veal Spiedinis
2 ½

lbs

leg cut veal cutlets thinly sliced and pounded each about 12 inches

( 30cm) in length (11 cutlets)

6

tablespoon

olive oil

, plus more for brushing

½

cup

plain Italian bread crumbs

¼

cup

chopped onion

3

cloves

minced garlic

½

cup

fresh parsley leaves

½

cup

grated Pecorino Romano

¼

cup

grated Parmesan

10

bay leaves

2

large onions

, peeled and cut into wedges, leaves separated
Instructions
Veal Spiedinis
Combine bread crumbs, onion, garlic, cheeses, and parsley in a bowl.

Mix and add olive oil (add more if needed). You want the crumbs to be moist but not soaking wet. You should be able compact a spoonful in your hands, and it retain its shape.

Brush each cutlet lightly with olive oil. Place a heaping tablespoon of the mixture on each slice and roll up.

You can secure them with a tooth pick, but I just placed them seam-side down in the baking dish. Continue with the rest of the cutlets.

Between each speidini, place an onion wedge.

Sprinkle with the rest of the bread crumb mixture (if any), and place the bay leave on top of the speidinis. Sprinkle with more olive oil.

Bake at 350 degrees for 20 minutes, then switch your oven to broil, and broil them for about 10 minutes on high, but keep an eye on them because all ovens are different, and you don't want them to burn.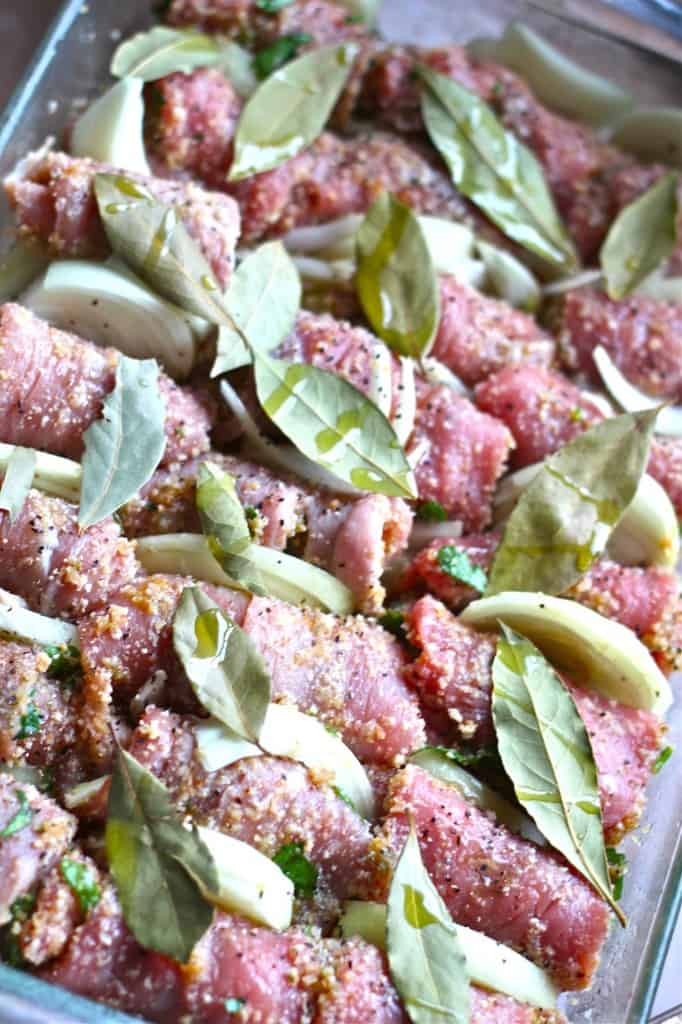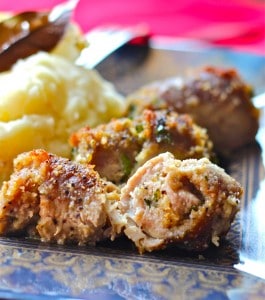 I served the speidinis with some roasted garlic mashed potatoes and roasted vegetables, which complemented the speidinis perfectly.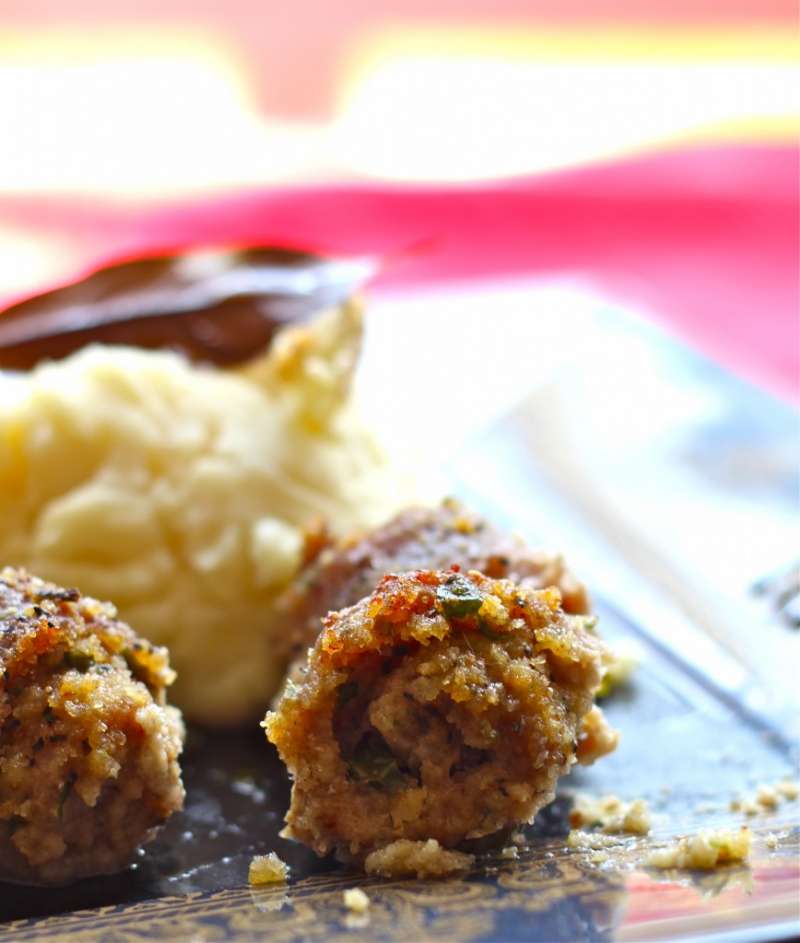 Buon Appetito!
P.S. When the sun came out on Sunday, we ran to the beach to take some pictures with the kids.