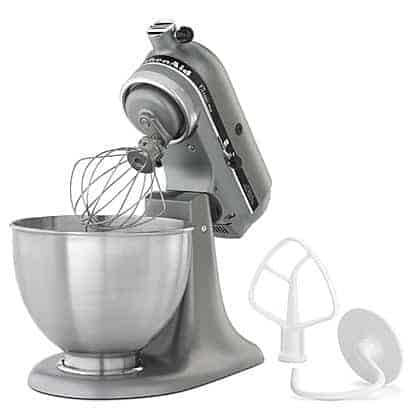 Alright guys here is the grand finale giveaway! I know I promised 12, but the last 2 will have to wait for next month. I have too many other fun recipes to share!
So here it is, my favorite kitchen appliance EVER. Before I upgraded to my larger mixer, I was using my late grandfather's Kitchenaid. I didn't have the heart to give it away so I put it away in the garage. However, as we were putting it away, my 4 year old (at the time) daughter asked me to keep that mixer for her until she grows up. It literally brought a tear to my eye! She is such a mini me!!!
Every kitchen needs a mixer, it makes life so much easier!!! Make sure to enter for your chance to win this 4.5 qt silver mixer!!! Giveaway will run from now until 1/16/2013. Winner will be emailed once giveaway is over, and will have 48 hours to respond with name and address. If winner does not respond within 48 hours and new winner will be picked. Good luck everyone and thanks to all of those that entered all the other giveaways!!!!