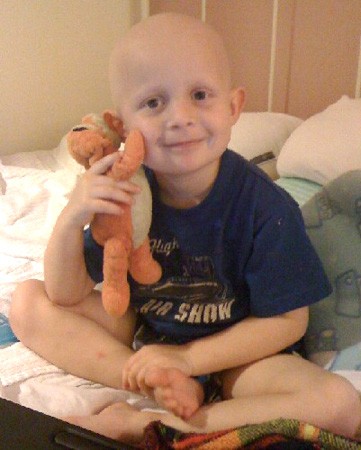 Today is the day where 70+ food bloggers and cookbook authors have joined to together to help a fellow blogger. Stephanie Weaver's  (from reciperenovator.com) nephew has been diagnosed for the second time with neuroblastoma. Unfortunately, this time it has come back in full force and is not looking good for Cody.
Being a mother of 3, I cannot even begin to fathom what this family is going, nor what they face. Life is so unfair sometimes. Please, if you can, visit the auction's facebook page and take a look.
Cookies for Cody
Cody is 4. He has been fighting neuroblastoma. You can help his family by bidding on three-dozen baked goods and over 50 signed cookbooks in our auction, which starts today. Or you can DONATE HERE at codybrasich.com to the family directly at any time. [Please add "Cookies for Cody" and your message to the family when donating, so we can track our total donations.]
Cody has been fighting neuroblastoma, a rare childhood cancer since last July. Now that his cancer has returned, aggressively, there are no more treatment options. Their family truly appreciates your love, prayers and support. The family has incurred approximately $15,000 in medical expenses to date.
You bid by leaving comments on the photos using a Facebook account. (If you don't have a Facebook account, ask a friend to bid for you.) Click here to start bidding on Facebook.
Traditional baked goods:
Italian almond biscotti, Italian pizzelles with rosewater glaze, lemon-macadamia biscotti, cupcakes in a jar, pistachio fennel biscotti, Jacques Torres chocolate chip cookies, Amaretti cookies, banana bread mini-loaves, Persian saffron-and-raisin cookies, dark chocolate and toasted pecan cookies, classic rum-pecan bundt cake, snowballs, chocolate wafers, classic sugar cookies, red velvet white chocolate cookies, rose sugar cookies, world peace cookies, bourbon-caramel brownies, perfect peanut butter cookies, fairy tale sugar cookies, coconut pecan granola, chocolate-hazelnut brownie bites, blueberry coconut-almond crumb cake


Gluten-free AND vegan baked goods:
Flourless chocolate walnut cookies, triple-ginger gingersnaps, chocolate chunk cookies, quinoa-banana chocolate chip cookies, flourless bittersweet chocolate brownies, home-made Samoas, Cody's toffee-pecan chewies, butterscotch brownies (GF, NOT vegan)
Personally signed cookbooks and other cool kitchen items:
Attune Foods gift basket
Wholesome Sweeteners gift basket
set of flour-sack kitchen towels
framed print of California olives
150 Best Gluten-Free Muffin Recipes

150 Best Vegan Muffin Recipes

350 Best Vegan Recipes

A Passion for Baking: Bake to celebrate, Bake to nourish, Bake for fun

Ancient Grains for Modern Meals: Mediterranean Whole Grain Recipes for Barley, Farro, Kamut, Polenta, Wheat Berries & More

Bake!: Essential Techniques for Perfect Baking

Baker's Field Guide to Christmas Cookies

Best Ribs Ever: A Barbecue Bible Cookbook: 100 Killer Recipes (Barbecue! Bible Cookbooks)

Black Beans & Corn

Christmas Cookies: 50 Recipes to Treasure for the Holiday Season

Cookie Swap: Creative Treats to Share Throughout the Year

Cooking for Geeks: Real Science, Great Hacks, and Good Food

Desserts 4 Today: Flavorful Desserts with Just Four Ingredients

Desserts in Jars: 50 Sweet Treats that Shine

Feastivals Cooks at Home

Gluten-Free Baking For Dummies

Grace's Sweet Life: Homemade Italian Desserts from Cannoli, Tiramisu, and Panna Cotta to Torte, Pizzelle, and Struffoli

Great Chefs Cook Vegan

Hazan Family Favorites: Beloved Italian Recipes

Herbivoracious: A Flavor Revolution with 150 Vibrant and Original Vegetarian Recipes

High Flavor, Low Labor: Reinventing Weeknight Cooking

Ice Cream: A Global History

Marshmallow Madness!: Dozens of Puffalicious Recipes

Mini Treats & Hand-Held Sweets: 100 Delicious Desserts to Pick Up and Eat

Mix 'n Match Meals in Minutes for People with Diabetes

Morning Glory Farm, and the Family that Feeds an Island

Paleo Comfort Foods: Homestyle Cooking for a Gluten-Free Kitchen

Passion for Coffee

The Plant-Powered Diet: The Lifelong Eating Plan for Achieving Optimal Health, Beginning Today

Quick-Fix Southern: Homemade Hospitality in 30 Minutes or Less

Recipes Every Man Should Know

Ripe: A Fresh, Colorful Approach to Fruits and Vegetables

Rover's: Recipes from Seattle's Chef in the Hat

Southern Farmers Market Cookbook

Tart Love: Sassy, Savory, and Sweet

Tasty: Get Great Food on the Table Every Day

The Bonne Femme Cookbook: Simple, Splendid Food That French Women Cook Every Day

The Encyclopedia of Sandwiches: Recipes, History, and Trivia for Everything Between Sliced Bread

I Love Trader Joe's College Cookbook: 150 Cheap and Easy Gourmet Recipes

The New Southern-Latino Kitchen
The Unofficial Mad Men Cookbook: Inside the Kitchens, Bars, and Restaurants of Mad Men

The Ultimate Rice Cooker Cookbook: 250 No-Fail Recipes for Pilafs, Risottos, Polenta, Chilis, Soups, Porridges, Puddings, and More, fro

The Vegan Slow Cooker: Simply Set It and Go with 150 Recipes for Intensely Flavorful, Fuss-Free Fare Everyone (Vegan or Not!) Will Devour

The Vegetarian Kitchen Cookbook
The Whole Foods Kosher Kitchen

The World in a Skillet: A Food Lover's Tour of the New American South

Julia M Usher's Ultimate Cookies

Venturesome Vegan Cooking: Bold Flavors for Plant-Based Meals

Wild About Greens: 125 Delectable Vegan Recipes for Kale, Collards, Arugula, Bok Choy, and other Leafy Veggies Everyone Loves
Here's how to bid:
There are three Facebook albums of sale items. Choose the "album" you want to look at. Click through the photos to see what's for sale. Make a bid by leaving a comment on that item. Bidding begins at $10 for each item, and we're asking you to bid in $5 increments from there. Whoever has the highest bid at 5 pm Pacific time on Sunday, August 5th wins that item.
You will be contacted through Facebook and asked to make your donation to the family's website codybrasich.com using PayPal (you can use a credit card through PayPal; add "Cookies for Cody" in the message line). Once you've made your donation, your items will be freshly made and shipped to you. Cookbooks will be autographed with the wording you request (unless otherwise noted).
Please note that DONATIONS ARE NOT TAX-DEDUCTIBLE.
A huge thanks to all the bakers, bloggers, and authors who are donating their time, items, and shipping to help our family!
Abby Dodge
Alyssa Brantley: Everyday Maven
Amber Stott: Awake At The Whisk
Andrea Lynn
Anniina Jokinen: The Cookie Pixie
Attune Foods
Beth Hensperger: Not Your Mother's Cookbooks
Cheryl Sternman Rule: 5 Second Rule
Christine Friesenhahn: Texanas Kitchen
Dawn Johnson: DJ's Sugar Shack
Dédé Wilson: Bakepedia
Faye & Yvonne: Live Bake Love
Guiliano Hazan
Grace Massa Langlois: Grace's Sweet Life
Holly Herrick
Jackie Bruchez: The Seaside Baker
Jean Denham: A Chef's Journey
Jean Layton: Gluten-Free Doctor Recipes
Jeanette Chen: Jeanette's Healthy Living
Jeff Potter: Cooking for Geeks
Jennifer Brody: Domestic Divas Blog
Jennifer Kalinowski: Eating Clean Recipes
Jenny Johnson: Vintage Sugarcube
Jenny Williams: Jenny Wenny Cakes
Linda Long
Jill Mant: Saucy Cooks
J.M. Hirsch: Lunch Box Blues
Judy Gelman & Peter Zheutlin: The Unofficial Mad Men Cookbook
Julia Usher
Julie Sullivan Mayfield: Paleo Comfort Foods
June Jacobs: Feastivals
Kathy Hester: Healthy Slow Cooking
Kristin Hoffman: Baker Bettie
Kristina Sloggett: Spabettie
Laura Bashar: Family Spice
Laura Weiss: Food and Things
Lévana Kirschenbaum: Lévana Cooks
Linda Gassenheimer: Dinner in Minutes
Lisa Cook: One Cook, Two Kitchens
Lisa Orgler: The Lunchbox Project (Lisa created our bake sale artwork)
Lisa Zwirn
Marcy Goldman: Better Baking
Maria Speck
Marie: Meandering Eats
Marnely Rodriguez: Cooking With Books
Michael Natkin: Herbivoracious
Michele Anna Jordan
Milisa Armstrong: Miss in the Kitchen
Nancy Rose Eisman: Adventures with Nancy Rose
Nava Atlas: Veg Kitchen
Nick Malgieri
Paul & Angela Knipple: World In A Skillet
Pachi McCausland: Creative Culinary
Rachel Connors: Bakerita
Rebecca Lang: Rebecca Lang Cooks
Roy Finamore: Tasty Central
Sally Ekus: Lisa Ekus Group
Sandra Gutierrez: Sandra's Kitchen
Shaina Olmanson: Food for My Family
Sharon Palmer, R.D.
Shauna Sever
Steven Raichlen
Susan Loren Taylor: Swoon My Spoon
Susan Russo: Food Blogga
Susanne Babb: Sweet Sueshine
Tricia Kinnaon
Wini Moranville
Wholesome Sweeteners