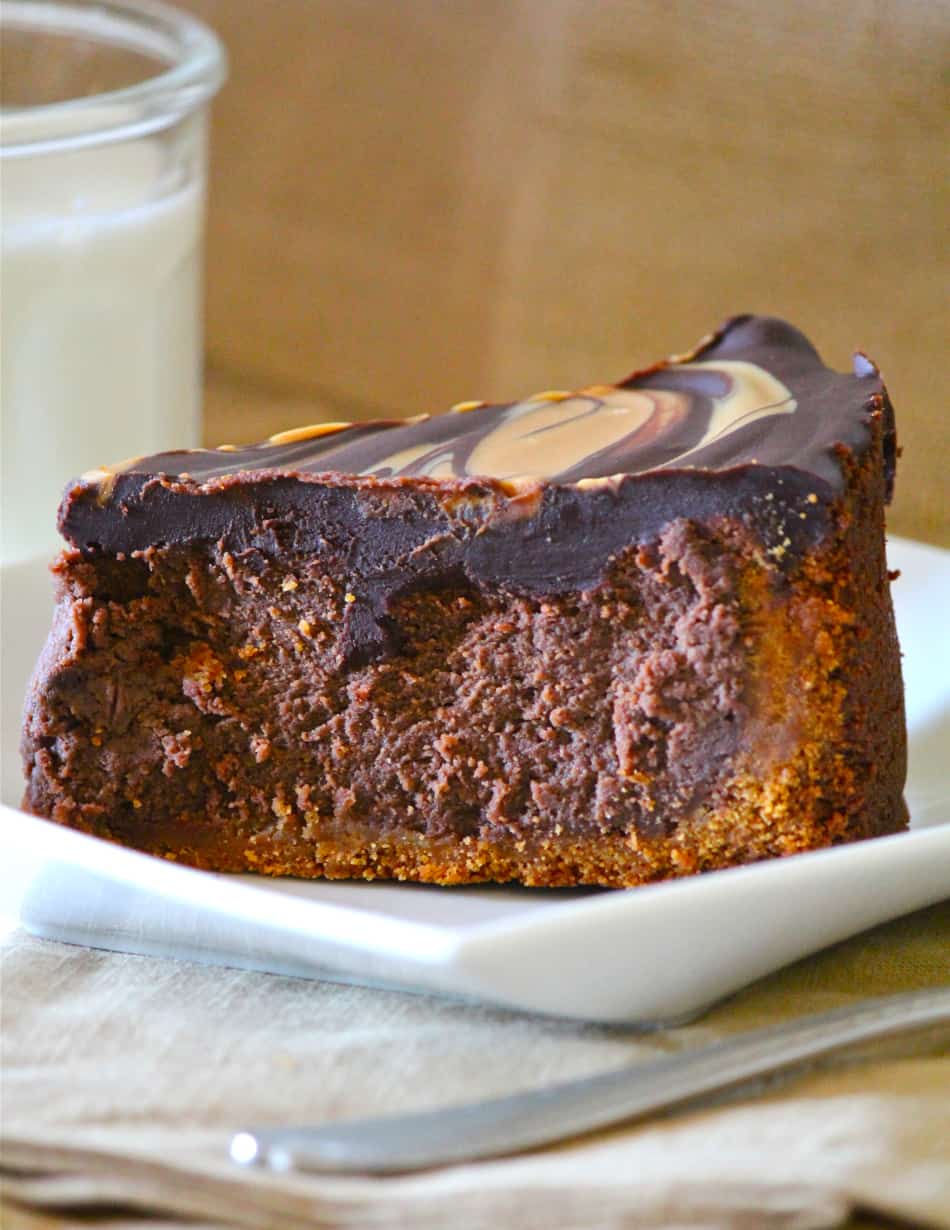 I have been on a total cheesecake kick lately probably due to the chirping birds and flower buds screaming spring. Ever Easter my grandmother makes two of the most amazing cheesecakes ever!
Roaming through the 99cent Only Store this week I came across a nifty bag of Nutter Butter pieces and my brain went crazy with ideas! I immediately thought it would make an awesome crust, and indeed it did. Nothing goes better with peanut butter than chocolate, so without question the filling was going to be chocolate. I came across Kraft's new chocolate cream cheese spread at the grocery store and decided I would experiment with it too.
Overall, the cheesecake was delicious. The chocolate cream cheese added a creamy  texture and the nutter butter pieces added a crunch in the crust. I finished the cheesecake of with a luscious chocolate ganache and swirled in some melted peanut butter.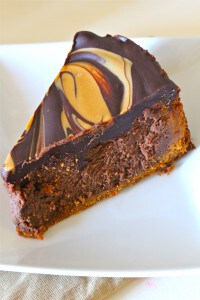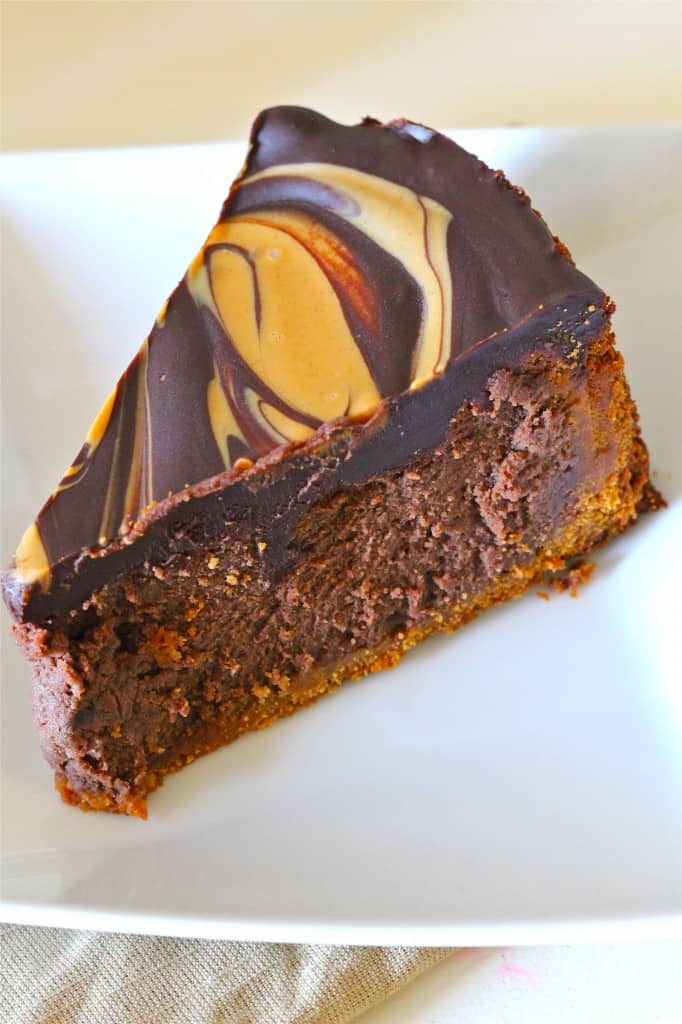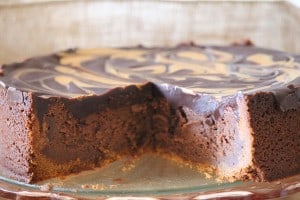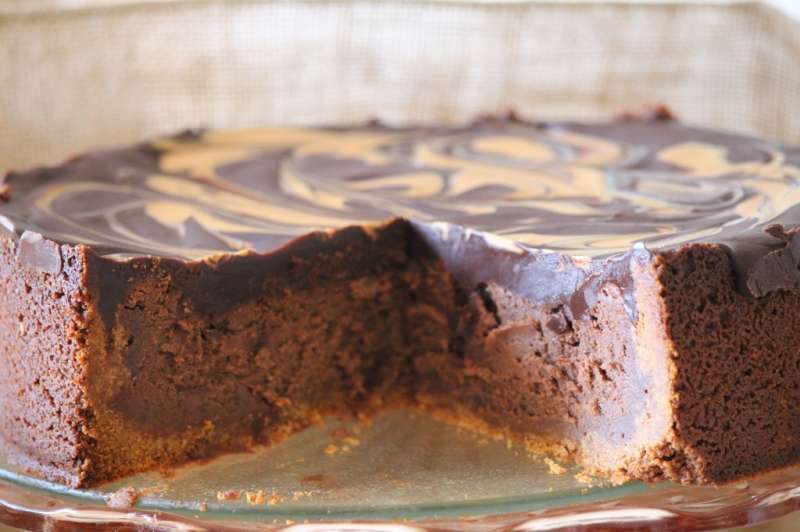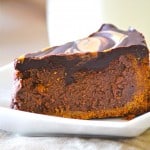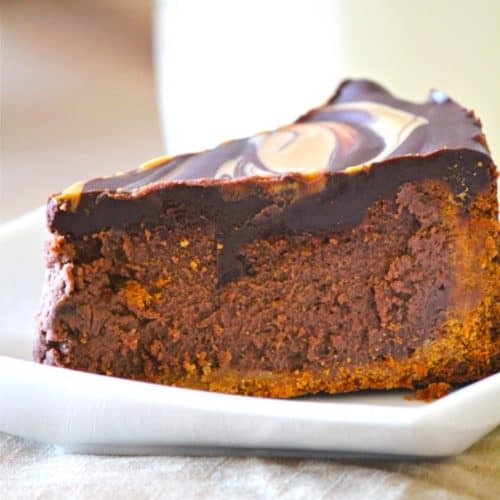 Cookie Inspiration
Ingredients
Crumb Crust:
16

ounces

nutter butter pieces or 1 package nutter butters

16

tablespoons

(2 sticks) unsalted butter, melted (if using nutter butters with filling, use 1 stick of butter

½

cup

sugar

¼

teaspoon

salt
Chocolate Cheesecake Filling:
4

(8-ounce) packages chocolate cream cheese, softened (if you cannot find the chocolate cream cheese scroll down for adjustments)

¾

cups

sugar

3

tablespoons

all-purpose flour

¼

cup

cocoa powder

3

large eggs

2

large egg yolks

½

teaspoon

vanilla
Ganache:
12

ounces

chocolate chips

6

tablespoons

butter

¼

c

heavy cream
Instructions
Crumb Crust:
Preheat oven to 350 degrees F.

Spray a 9in round spring form pan with nonstick spray.

Finely pulse cookies in a food processor, add sugar, salt and melted butter and mix well. Press crumb mix into pan on the bottom and on sides.

Put in freezer while you make the filling.
Chocolate Cheesecake Filling:
Prepare the filling: beat the cream cheese on high for 2 minutes.

Add sugar, cocoa, powder and flour and beat on medium for another 2 minutes.

Add vanilla and eggs, one at a time, scraping the bowl after each addition to avoid unmixed strips of cream cheese.

Pour filling into pan. Cover bottom and sides of cheesecake pan with foil (to prevent water from seeping in) and set in larger roasting pan.

Pour boiling water in roasting pan so that it reaches approx. halfway up cheesecake pan. Bake at 350 degrees for 1 hour.

When cheesecake is done, turn off oven and leave the cheesecake for another 2 hours. Then remove and allow to throughly cool.

* If you are not using the chocolate cream cheese spread, substitute 4 packages regular cream cheese and ½ of melted chocolate.
Ganache:
On low heat, add all ingredients and mix until melted and smooth.

Pour over cheesecake and lick the spoon. Melt 2 tablespoons of peanut butter in the microwave for 30 seconds.

Spoon dollops onto ganache and swirl with a knife.

Refrigerate overnight, and then enjoy with a large glass of milk!

This cheesecake is very large, and tall. It will serve at least 12 people.