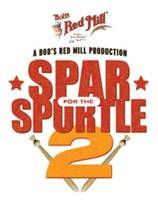 Bob's Red Mill just kicked off their Spar for the Spurtle 2 Oatmeal Recipe Contest, which invites home cooks and professional chefs alike to submit videos demonstrating a unique recipe that makes use of Bob's Red Mill's Steel Cut Oats – the World's Best Oatmeal. From the entries, three finalists will be flown to Portland, Ore. to compete in a live cook-off. The winner of the cook-off will receive an all-expenses-paid trip for two to Scotland, including $2,500 in cash, to help represent team Bob's Red Mill in the 19th Annual Golden Spurtle World Porridge Making Championship!
The deadline to submit entries in the Spar for the Spurtle contest is July 20, 2012. Full details and images are available in the press release here. Additional information and real time Spar for the Spurtle updates now through October 6, 2012 also can be found on the contest website, and Bob's Red Mill's Twitter and Facebook pages.
If you enter, not only do you have a chance to win, but the first 5 people to submit a recipe and let me know in the comment box, will receive a Red Mill Product. So get thinking and good luck!!!
Disclaimer:
All giveaway prizes will be the responsibility of the sponsor or company to ship to the prize(s) winner.If the sponsor does not follow through on shipment of your prize, The Seaside Baker is not responsible. The Seaside Baker cannot be responsible if the sponsor or company sends a different item in place of the item stated in the giveaway. The fulfilment of the giveaway lies with the sponsor or company giving the prize away.