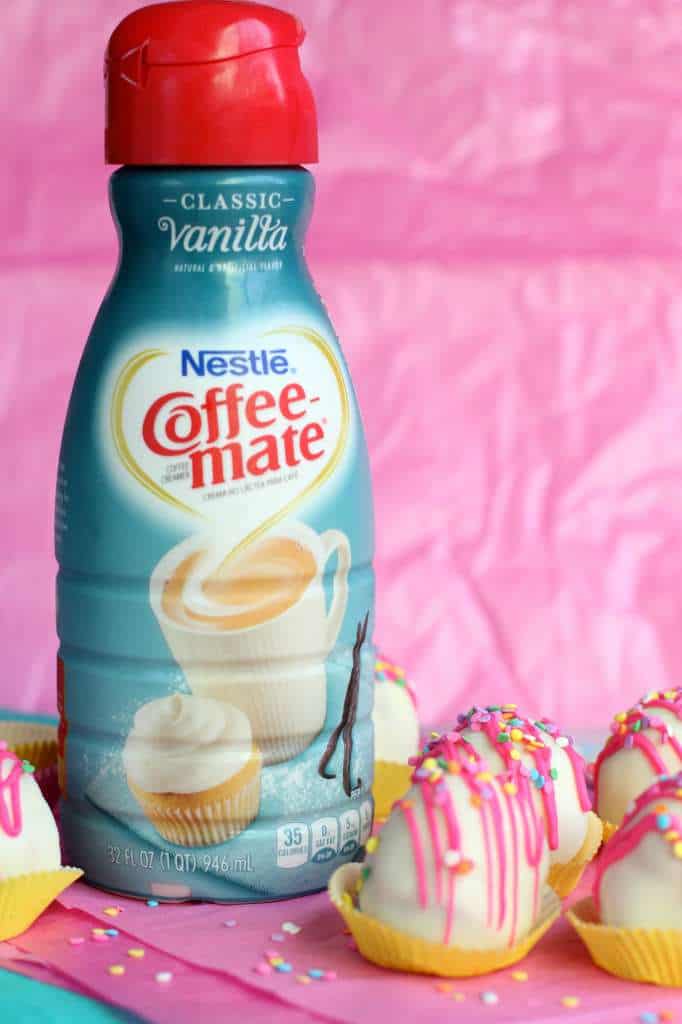 Yesterday was my birthday, and since my favorite flavor is vanilla and I LOVE sprinkles, these birthday Vanilla Cake Truffles were the perfect "cake"!  I love cake truffles or cake pops but often find them too sweet because of the added frosting. Swapping out the frosting for the Coffee-mate Classic Vanilla was the perfect exchange. The pops were just the right sweetness, had a strong vanilla flavor, and had the perfect amount of moisture to roll into balls.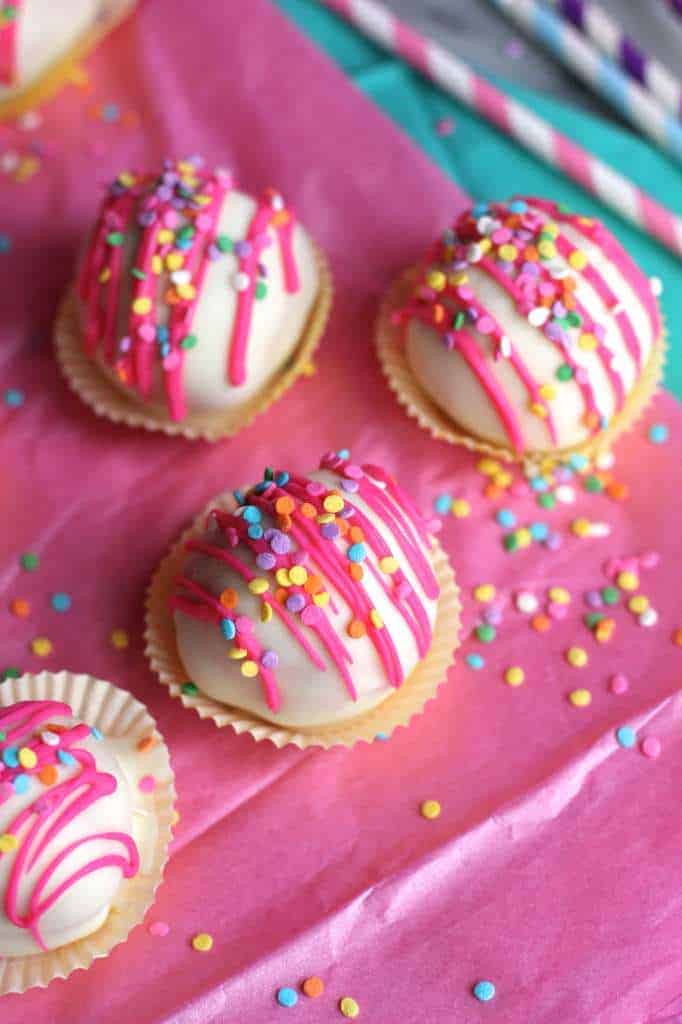 Vanilla is one of my absolute favorite flavors and a flavor that is a must have in my coffee!Vanilla provides a sensorial experience. Its subtle flavor and aroma are the perfect complement to the boldness of coffee.Vanilla has over 170 notes, making it actually a very complex flavor. It is familiar and calming but it's also upbeat and exciting! If you're using Vanilla as a synonym for boring, you're using it wrong. Vanilla is anything but boring- think 50 Shades of Grey 🙂 It is time to #TakebackVanilla! There's vanilla in everyone. The next time someone calls you vanilla, take it as a compliment!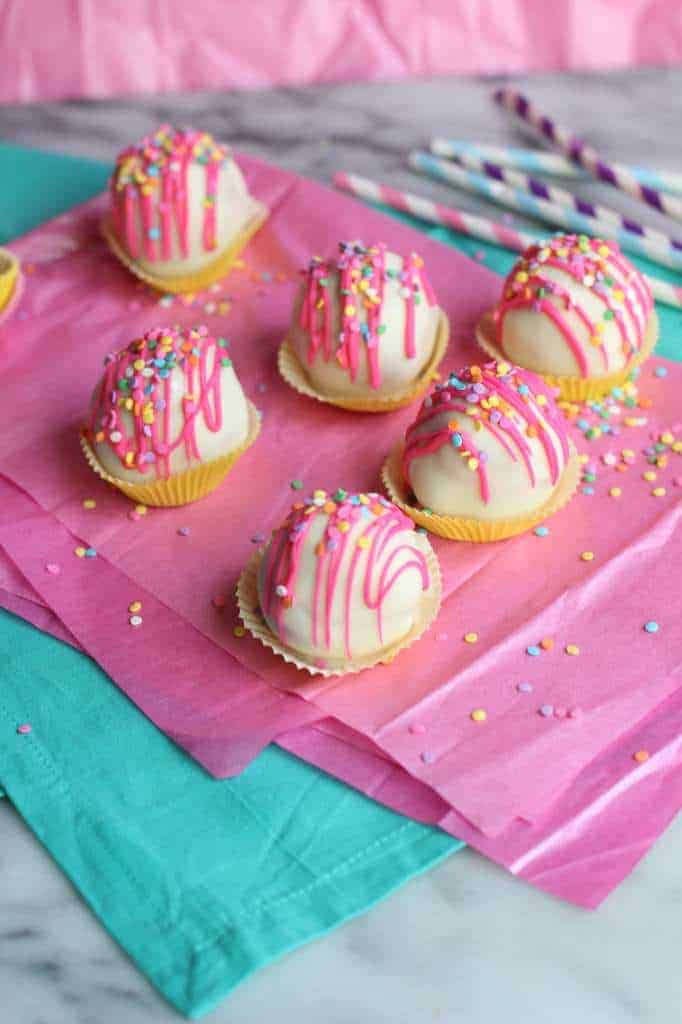 Coffee-mate (coffee's perfect mate since 1961) doesn't believe in "plain vanilla" for your coffee, which is why we've used our flavor expertise to develop two distinctive and exceptional vanilla experiences (and one is a new classic). Here is some more information about my favorite Coffee-mate flavors: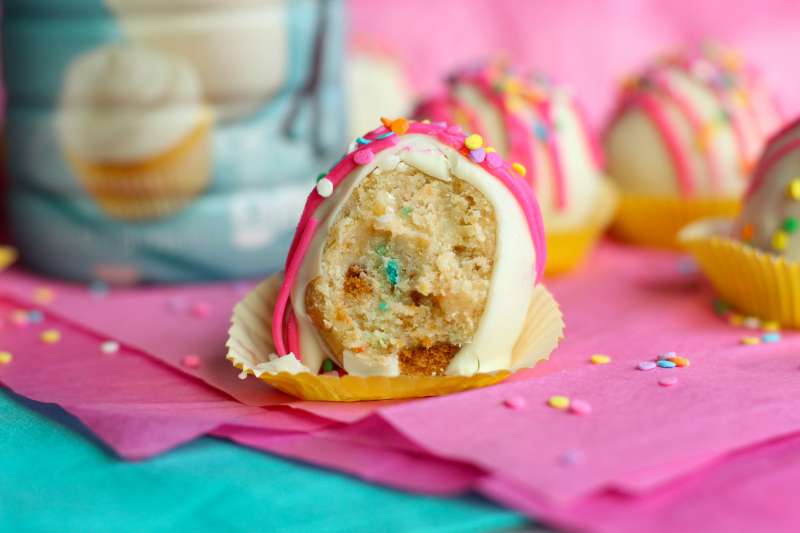 Classic Vanilla: The comforting flavor you remember in all your childhood treats. This one was born in the classic American kitchen.
Flavor is driven by beany, woody and vanillin notes with very little marshmallow and icing character. It is balanced and aromatic.
French Vanilla: Deliciously creamy, this flavor is perfect anytime. Its rich, smooth flavor makes it ideal to share or enjoy all to yourself.
Flavor is driven by sweet marshmallow and vanillin notes with very little buttercream character. Very aromatic with an emphasis on vanillin.
Want to try Classic Vanilla? Click here to locate a store near you! Visit Coffee-mate for more delicious recipes!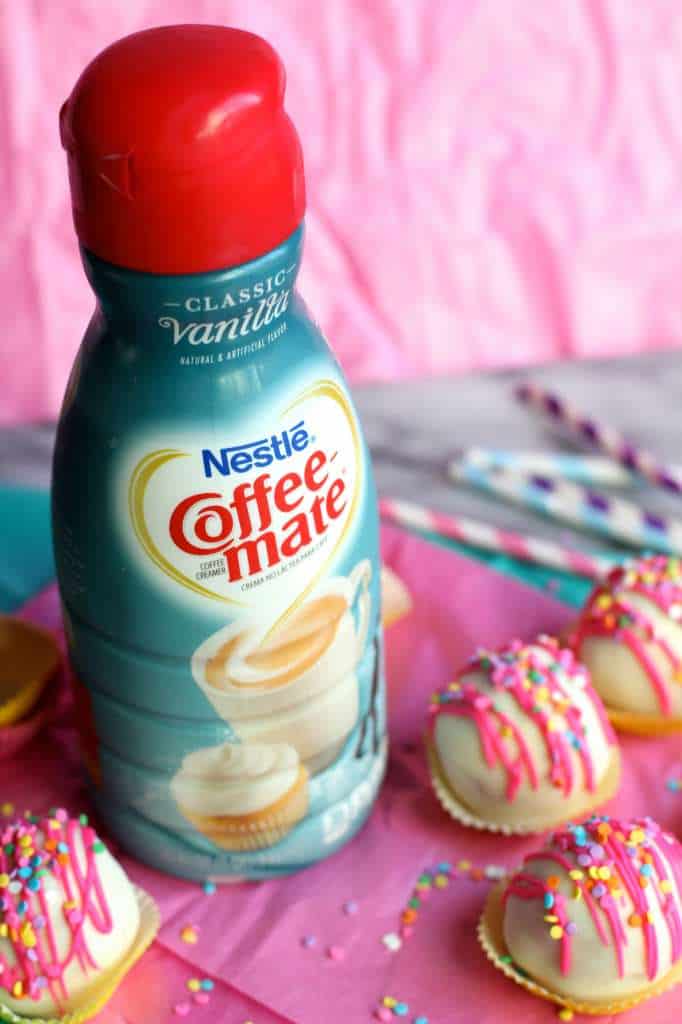 Vanilla Birthday Cake Truffles
Ingredients
2 sticks butter (softened)
1 1/2 sugar
2 tsp vanilla bean paste or regular vanilla
2 whole eggs
3 egg yolks
2 1/2 cups flour
1/2 tsp baking powder
1/2 tsp baking soda
1 tsp salt
1 cup buttermilk (or 1 cup milk with a splash of white vinegar)
1/2 cup confetti sprinkles, plus more for garnish
1/2 cup Coffee-mate Vanilla creamer
6 white melting chocolate squares
2 tablespoons vegetable crisco or coconut oil
Pink gel food coloring
Instructions
Preheat oven to 350 degrees. Spray a 9x13in baking dish with non stick cooking spray.
In a separate bowl, combine flour, salt, baking powder and soda and mix.
In your mixer fitted with the paddle attachment, blend butter, sugar and vanilla at medium speed until pale and fluffy.
Add eggs, one at a time, scraping the bowl after each addition.
Reduce speed to low and add a cup of flour followed by 1/3 of the buttermilk.
Repeat this 3 times, until you have incorporated all the flour and buttermilk.
Stir in sprinkles.
Pour batter into baking pan and bake for 30-40 minutes or until a knife is inserted and comes out clean.
Allow to completely cool.
Once cooled, crumble cake into fine crumbs or use a food processor to crumble.
Add coffee creamer and mix until completely combined.
Roll into 2 inch balls and freeze for at least 30 minutes.
In a microwave safe bowl, heat melting chocolate and crisco or coconut oil for 1 minute.
Carefully remove from microwave and stir. If not completely melted, reheat for 15 second intervals, stirring in between each time, until smooth.
Dip cake balls into chocolate and tap to remove excess chocolate.
Place cake balls on a foil or parchment lined cookie sheet to harden.
Once all cake balls have been covered in chocolate, tint remaining chocolate with pink food coloring.
Carefully place chocolate in a zip lock bag and snip of the corner.
Drizzle pink chocolate onto white balls and sprinkle with sprinkles.
Serve immediately or store in an airtight container for up to a week.
http://theseasidebaker.com/recipe-items/birthday-vanilla-cake-truffles/
I was selected for this opportunity as a member of Clever Girls Collective and the content and opinions expressed here are all my own.