A sweet coconut cake base combined with a smooth tart mango curd will have you dreaming about the tropics and trying to do the hula!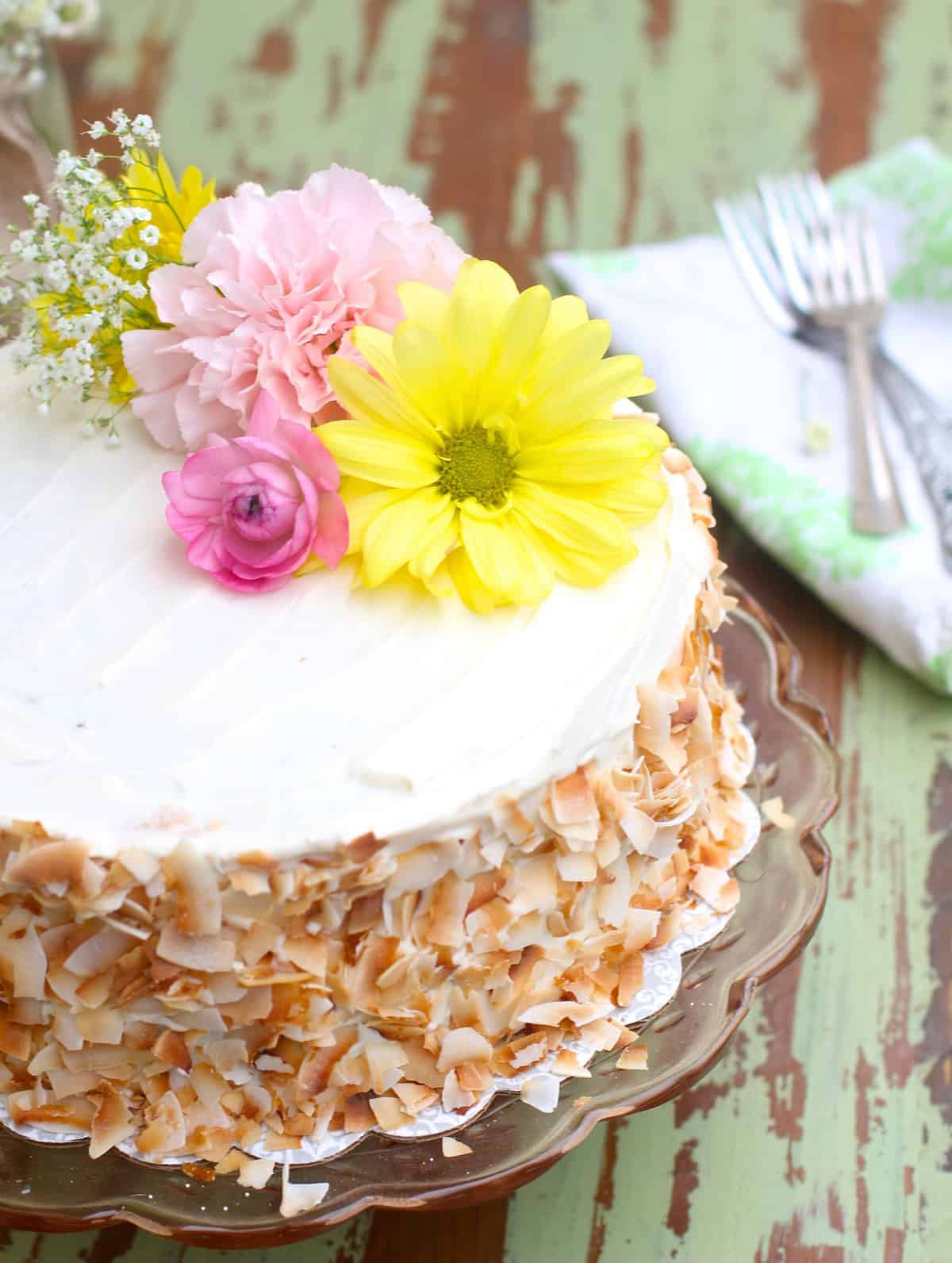 Spending part of my childhood and teen years in Hawaii, I really grew to love the tropical flavors such as mango and passion fruit. They are so exotic, fresh, and delicious. The slightly tart flavors pair beautiful with buttery sweet baked goods just as well as they do with savory dishes such as chicken or pork.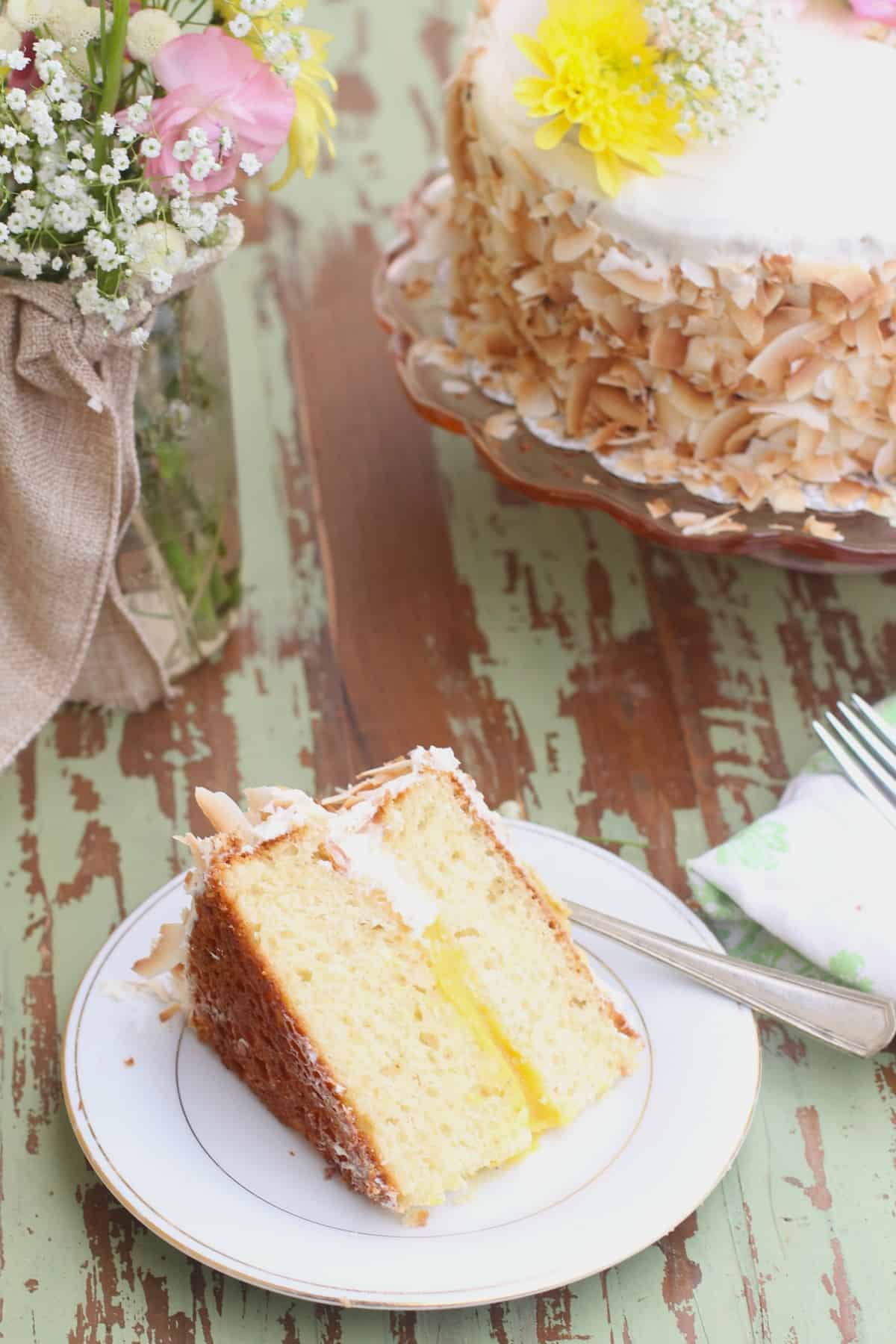 My husband always jokes with me that I have a slight obsession with fruit curd. Whenever there is a sale on fruit, I always buy extra to make a curd with it. I've made Meyer Lemon, Pineapple, Blackberry, and even Guava curd!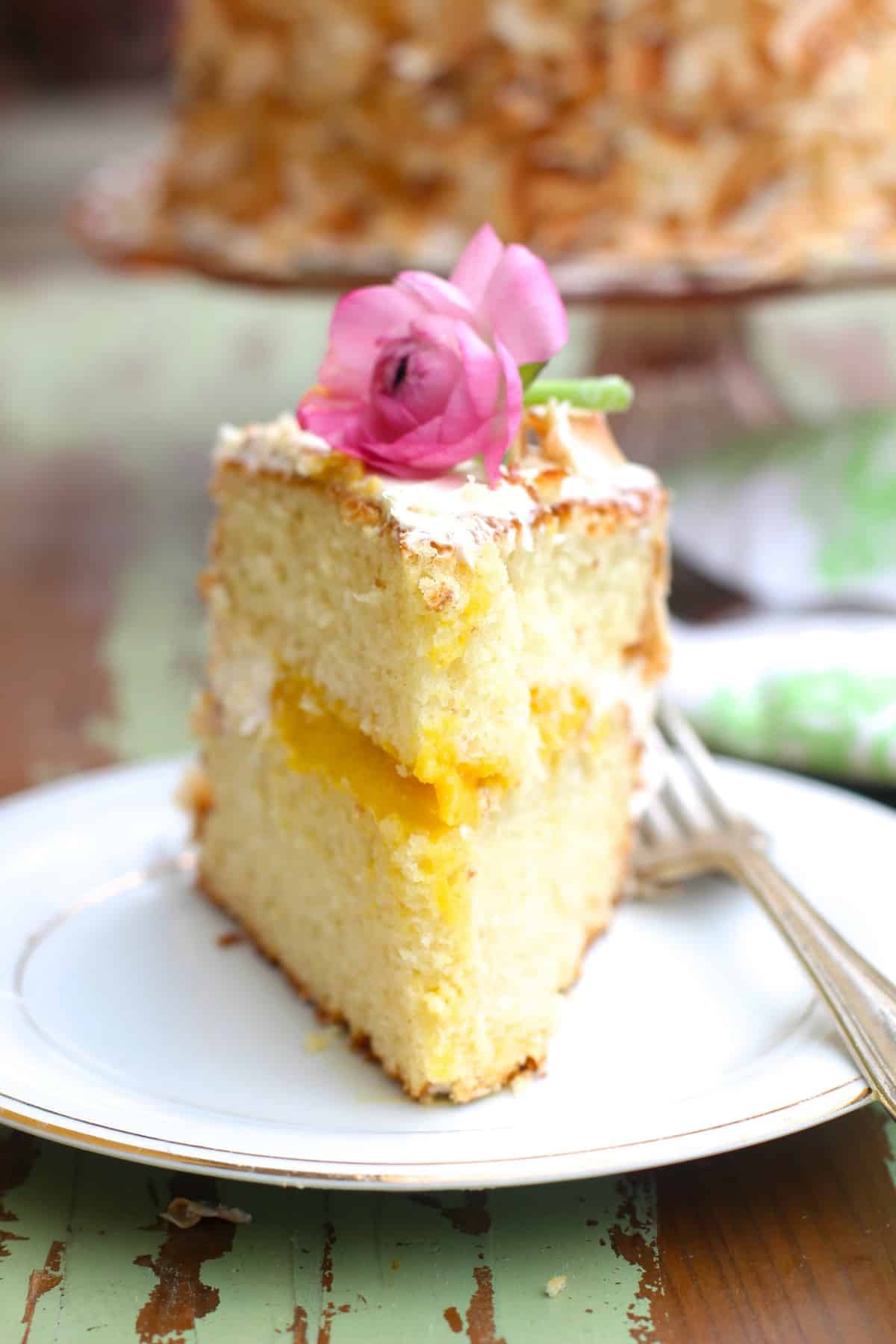 When my friend asked me to make a cake, this combination was a no brainer. She absolutely loves mango and will buy multiple cases at a time when they are on sale, and coconut cake just goes well with everything!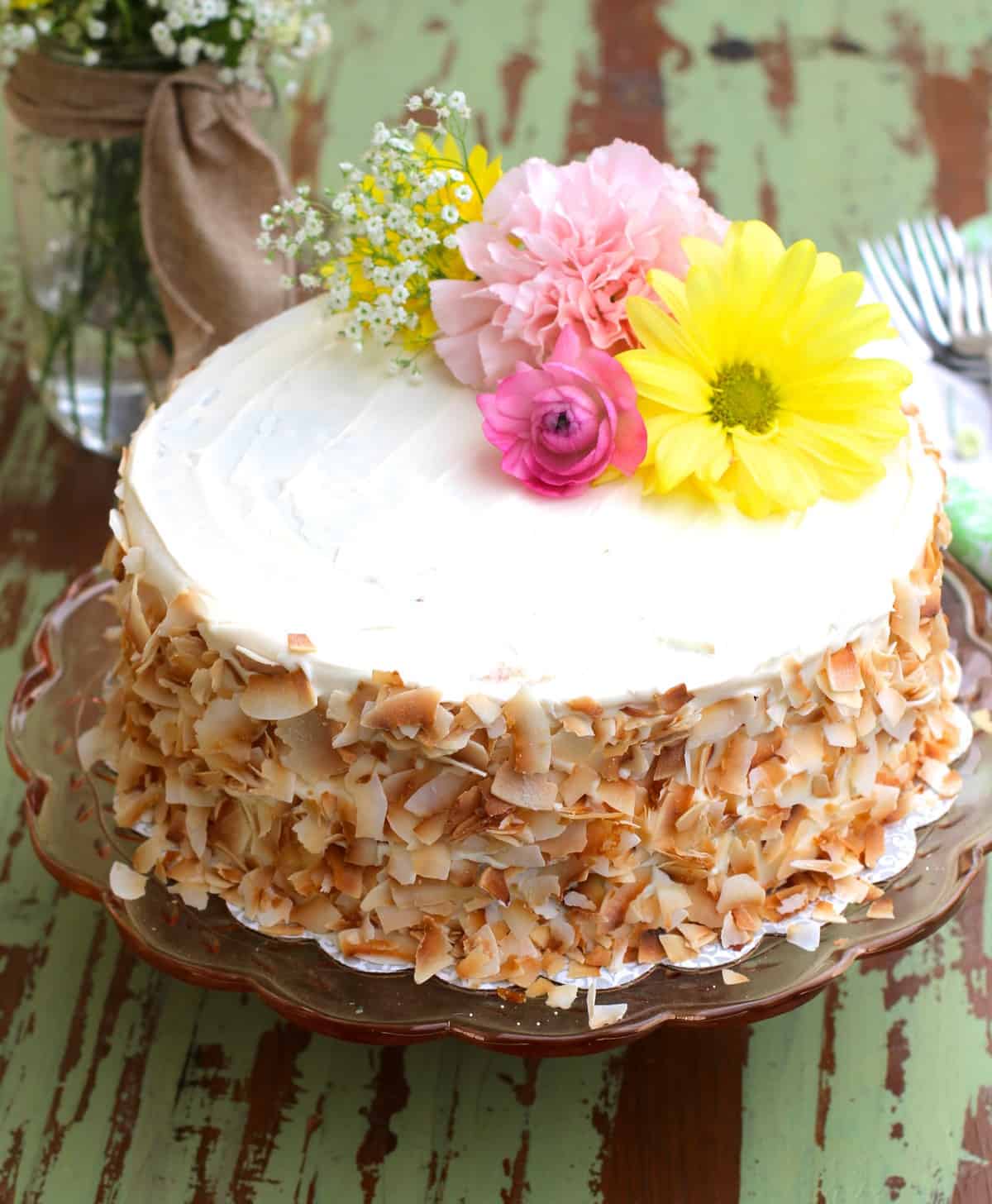 Mango curd is one of my favorite curds to make. The fruit is naturally smooth and tart, making the curd a delightfully delicious spread. I had leftover curd from the cake and used the curd in my morning oatmeal, spread on toast, and even put a dollop on my ice cream! But, I must say my favorite way to eat it was with this coconut cake.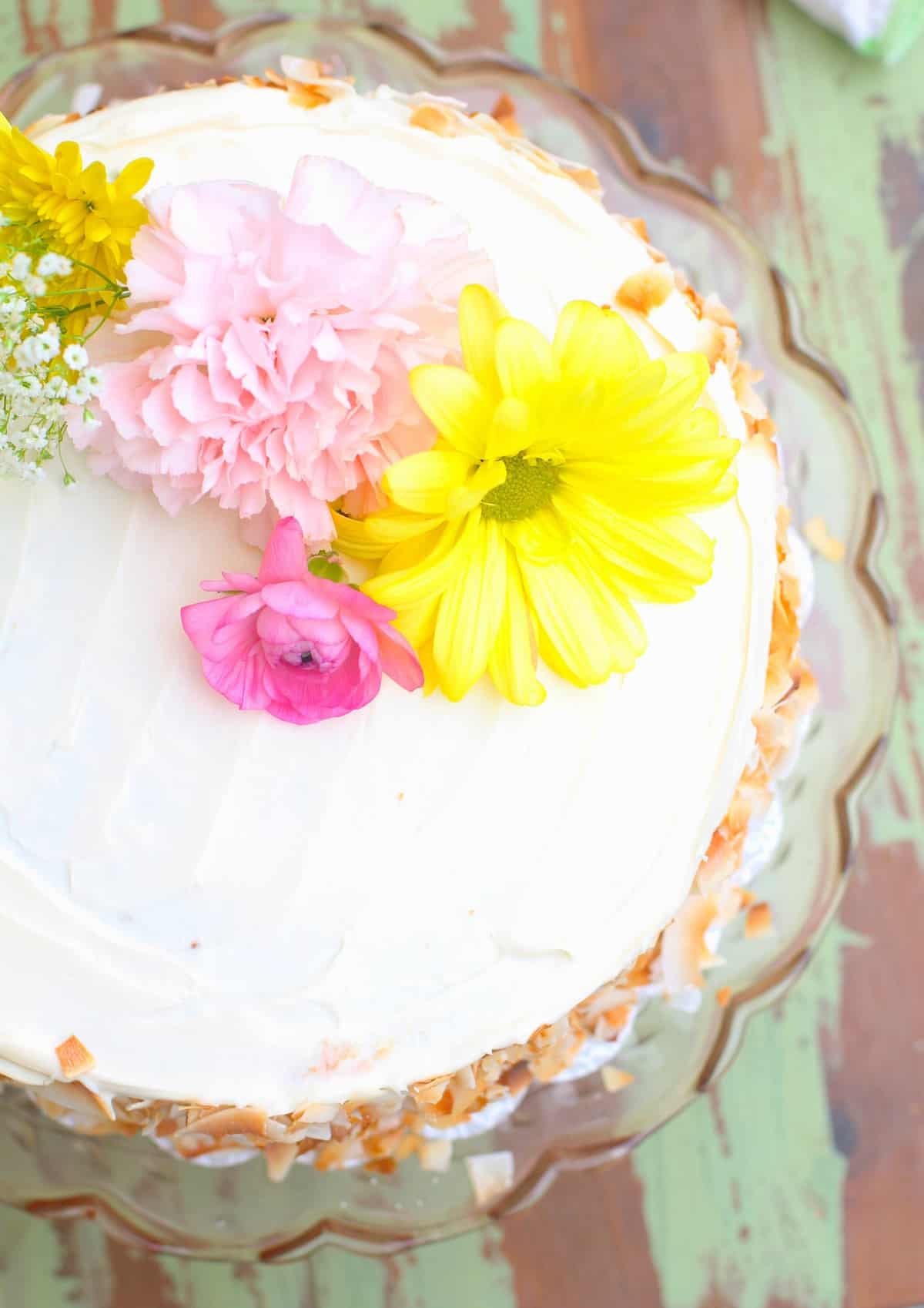 If you are looking to make a gourmet cake, this is it! Enjoy!
Coconut Cake with Mango Curd Filling
A sweet coconut cake base combined with a smooth tart mango curd will have you dreaming about the tropics and trying to do the hula!
Mango Curd-
1 15-ounce ripe mango, peeled, pitted, cut into 1/2-inch pieces
1/3 cup sugar
3 tablespoons fresh lime juice
Pinch of salt
4 large egg yolks
1/4 cup (1/2 stick) unsalted butter, cut into small pieces
Coconut Cake Layers-
2 cups cake flour
2 cups all-purpose flour
1½ tbsp. baking powder
1 tsp. salt
2½ cups unsweetened coconut milk
1½ tbsp. vanilla extract
1 cup sweetened shredded coconut
8 oz. butter, unsalted and at room temperature
1½ cups granulated white sugar
2 eggs, extra-large
1 cup egg whites (about 7 to 8 extra-large eggs)
½ tsp. cream of tarter
1½ cups granulated white sugar
Coconut Cream Cheese Frosting-
8 ounces unsalted butter, softened
8 ounces cream cheese, softened
4 cups powdered sugar
1 tbsp milk
1 teaspoon coconut extract
Toasted Shaved Coconut for garnish
To make the curd, puree mango, sugar, lime juice and salt in processor or blender.
Add yolks; puree 15 seconds longer.
Pour the mixture into a 2 quart saucepan and cook over low heat until thickened (about 10 minutes), stirring constantly.
The curd will thicken at about 170 degrees F, or just below simmer.
Whisk in butter 1 piece at a time.
Remove from heat, carefully transfer to a glass bowl or jar and cover and refrigerate overnight.
For the Coconut Cake Layers-
Preheat oven to 325°F.
Butter two 8-inch pans or three 9-inch round cake pans. Line with round parchment paper; butter parchment, dust lightly with flour and shake off excess.
Sift together cake flour, all-purpose flour, baking powder and salt.
In a separate bowl, combine unsweetened coconut milk and vanilla; whisk to blend, add coconut and stir to blend.
In a bowl of a stand mixer fitted with a paddle attachment, beat butter and 1½ cups sugar for 3 minutes, or until light and fluffy.
Add eggs, one at a time, and mix until incorporated; transfer batter to a large bowl.
Alternately add flour mixture and coconut mixture to batter in 3 batches, until blended.
In the bowl of a stand mixer fitted with a wire whip, beat egg whites with cream of tartar and 1½ cups sugar to form medium stiff peaks; add to batter, stirring slowly with a balloon whisk until incorporated.
Spread batter evenly in pans; tap pans on counter to eliminate air bubbles.
Bake for 35 minutes, or until a toothpick inserted in center comes out clean; cool on cooling racks for 5 minutes. Run a knife around outer edges of pans and invert cakes onto racks.
To make the Coconut Cream Cheese Frosting, cream cream cheese and butter together until fluffy.
Turn mixer to low and beat in powdered sugar, add coconut extract.
Beat on high for 5 minutes.
To assemble the cake, place cooled cake layer on cake plate.
Pipe a thick ring of frosting along the edge of the cake, then fill with about 1/2 cup of mango curd.
Top with next layer and repeat. Once middle layers have curd, place cake in fridge for 1 hour.
Once set, frost the outside of the cake and garnish with toasted coconut shavings.