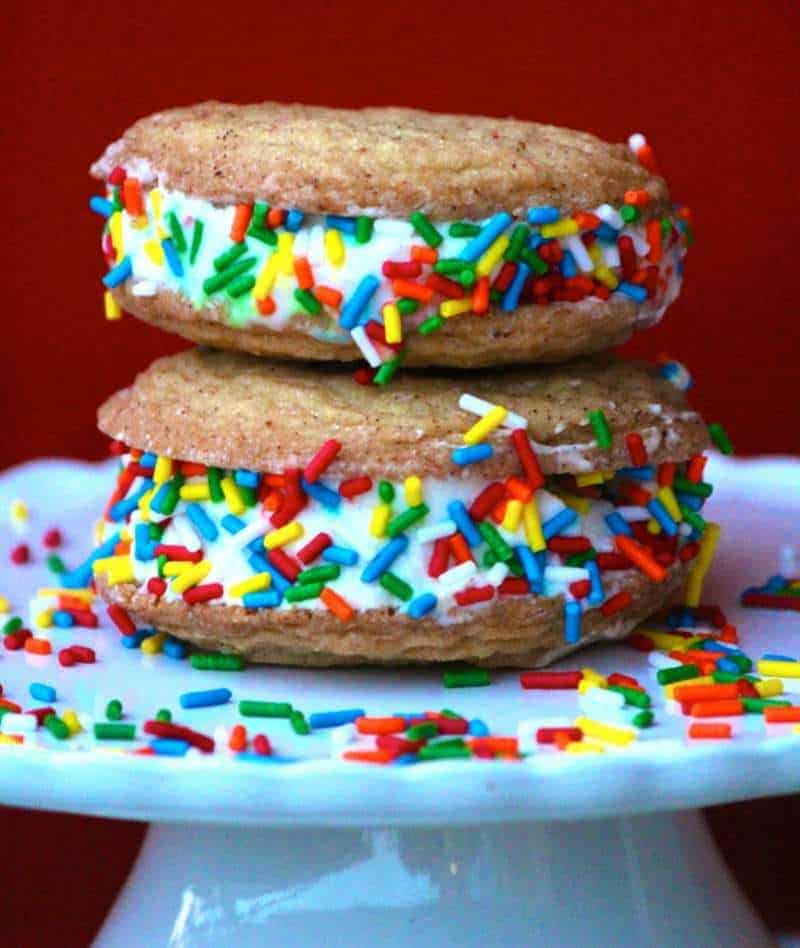 Growing up, every afternoon at 4pm you would hear the tune. Everyone would grab their stash of coins and make a be-line to the sidewalk. It was no other than the famous "Papa Joe", the local ice cream man, making his rounds. I will always remember what he looks like…a tall, skinny older man who was missing his middle finger. He was always helpful and boy was he patient. Making a decision on what type of ice cream was serious business back then.
I unfortunately never had this problem. My budget would only permit a Big Stick. However on special occasions, when I had a couple of quarters more I would purchase a cookie ice cream sandwich.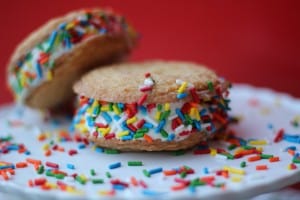 *Funny story- I still to this day love cookie sandwiches, and so do my children, and actually apparently so does my husband. I had made 4 of these ice cream sandwiches right before my husband got home from work and stuck them in the freezer so that they would be hard enough to withstand a couple of minutes outside while I photograph them. Anyway, so while I am folding the clothes in the other room I start to hear some rambling noises. I walk into the kitchen, and see my husband's faced stuffed into the freezer. He immediately closes the freezer and pretends that nothing ever happend…except for the fact that his mouth had ice cream all over it (sandwiches were still soft). I thought I was going to kill him!!!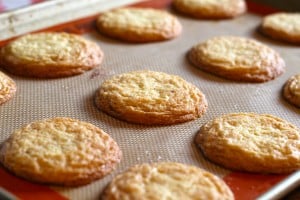 Chai Snickerdoodles and Cinnamon Ice Cream
Ingredients
Chai Snickerdoodles
1 cup butter
1 ½ cups sugar
2 large eggs
2 ¾ cups flour
2 teaspoons cream of tartar
1 teaspoon baking soda
¼ teaspoon salt
1/2 teaspoon vanilla
Chai sugar:
5 tablespoons sugar
3/4 teaspoon cinnamon
3/4 teaspoon cardamom
1/4 teaspoon ginger
1/8 teaspoon cloves
1/8 teaspoon nutmeg

Cinnamon Ice Cream:

2 cups heavy cream1 (14 oz.) Eagle Brand® Sweetened Condensed Milk
3 tablespoons butter, browned and cooled
1/2 tsp ground cinnamon
1/2 teaspoon vanilla extract
Instructions
Chai Snickerdoodles:

Mix dry ingredients together in a separate bowl.
Beat butter and sugar together on medium in a mixer fixed with the paddle attachment until fluffy and pale.
Add eggs, one at a time, scraping after each addition.
Add the vanilla. Gradually mix in the dry ingredients, but do not overmix.
Refrigerate dough for 30 min.
!Chai sugar:
Preheat oven to 350 degrees F.
Mix sugar mixture in a separate bowl. Roll dough (I used a hefty tablespoon for each ball) into sugar mixture and placed on a lined cookie sheet.
Bake for 10 minutes.
Allow to cool for 5 minutes on cookie sheet then transfer to a baking rack.
Before making the sandwiches, I froze the cookies (for about 15 min)to ensure that they would be sturdy enough to put ice cream on.

Kevin and Amanda's No Ice Cream Machine Required Recipe:

Cinnamon Ice Cream:

Whip heavy cream to stiff peaks in large bowl.
Whisk sweetened condensed milk, butter, cinnamon, and vanilla in large bowl. Mix well.
Fold in whipped cream.
Pour into a 2-quart container and cover.
Freeze 6 hours or until firm. Store in freezer.
http://theseasidebaker.com/chaisnickerdoodles/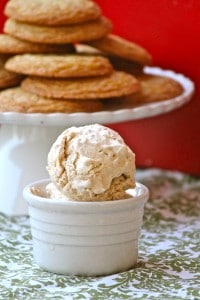 I love the traditional chocolate chip cookies with vanilla ice cream filling however I wanted to change it up a bit today. Something along the lines of sugar cookie meets cinnamon ice cream was calling my name. I settled on Chai Snickerdoodles with Cinnamon Brown Butter Ice Cream as a filling.
These cookies are amazing on their own. They are crispy on the outside and soft and chewy on the inside. The chai spice is so good and really compliments the cinnamon brown butter ice cream.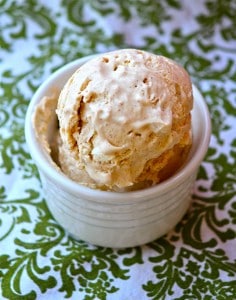 As much as I love my ice cream maker, sometimes I just do not have the room in my freezer to store the bowl. This was one of those days. I had recently seen a post on Kevin and Amanda about a no ice cream maker required recipe. It was super easy and very good. If you are going to make the cookie sandwiches like I did, I would suggest making the ice cream a day ahead of time so that it has time to throughly freeze.